Head of Household: Tera
Nominations: BETH and JED
POwer of Veto Winner: Jed
Power of Veto Ceremony: ?
Have nots : Beth, Ty, Jed
Big Brother Spoilers – Jedson won the Power of Veto. Lots of interesting maneuvering going on. Tera, Ty, and Kiefer are trying to convince Jed to use the Veto on Beth. They are pushing to him if he uses veto on himself Ty goes up if he uses it on Beth Breydon goes up. Jed for some reason thinks this is a huge GOAT move to do. This could be one of the most ridiculous things. I love it.
10:30 am Feeds come back on after 15 hours plus downtime.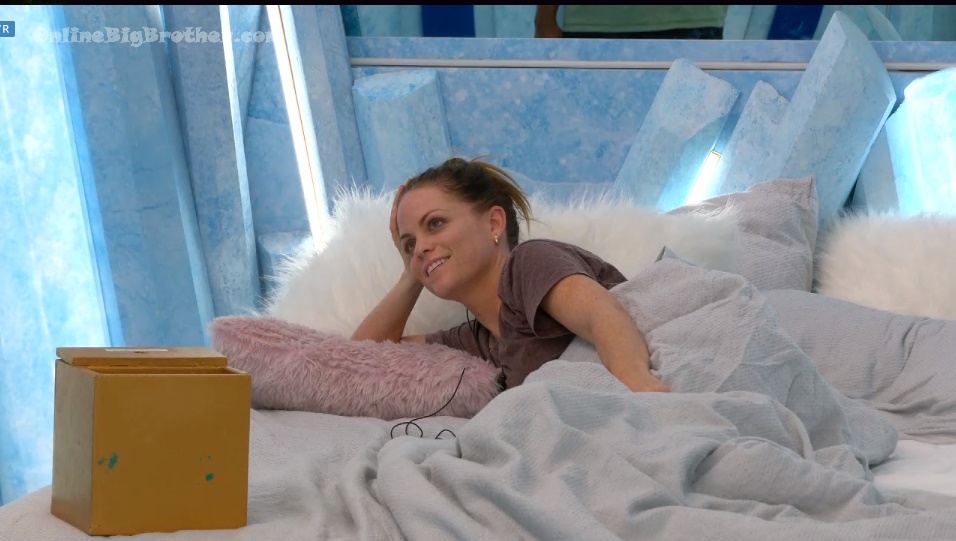 10:40 am Breydon and Tera
Breydon talking about when he was on the block with Austin JEd went on about how cool it would be if the person on the block used veto on the other nominee.
Breydon says Kiefer is trying to think of a way to tell Jedson if he uses the veto on Beth then Breydon will go up.
Breydon – In his mind he would have Beth, Ty, and Kiefer. They all stay in Jed's mind
Tera – what do I say if Jed uses it on himself I put up Ty?
Breydon – sure. If it works it works.. can you imagine?
Breydon says Jed is an egomaniac he might think nobody will vote him out it might work.
Breydon leaves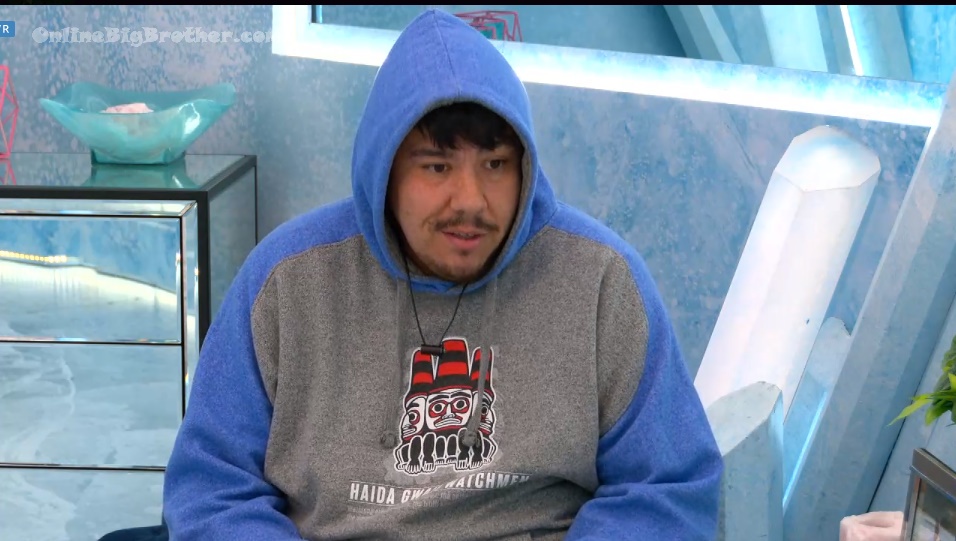 Kiefer joins her "did Breydon tell you?"
Tera – yeah, do you think it'll work?
Kiefer – It'll be the biggest move in Big Brother history if it did. IT's worth a shot. If he doesn't we just vote out Beth if he does we vote out Jed and it's US against BEth.
Kiefer – they are going to pitch BReydon hard..
Tera asks who does she put up if Jed uses the veto on himself?
Kiefer – Tychon
Tera – and we vote out Beth
Kiefer – Tychon is our only hope beating Jed in a veto.
Tera – he is.
*missed a bunch of feeds today..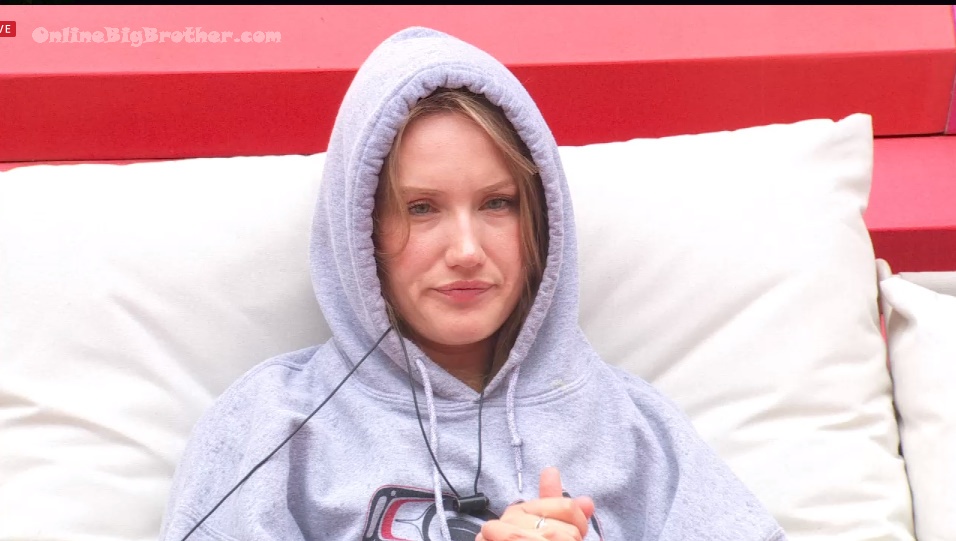 4:42 pm Beth Alone studying.. Jed joins her. He goes on about him using the veto on Beth so BReydon goes up is a GOAT move. Jed brings up always thinking that would be the ultimate move to be on the block use the veto one the other person and they both stay.
They have trouble believing Tera is sincere in this move.
Beth thinks no matter what she stays this week if hit's her against Ty or Jed. She also thinks Jed stays against TY. Jed seems to be agreeing to all this.
BEth – I thought she wanted to split the trio up really she just wants me to stay.. (LOL)
Beth says Tera is like spicey V says this is the messiest HOH every. Tera had no plan.
Jed – so messy I don't understand
(Jed is very much considering using the veto on Beth I still don't thin it'll happen)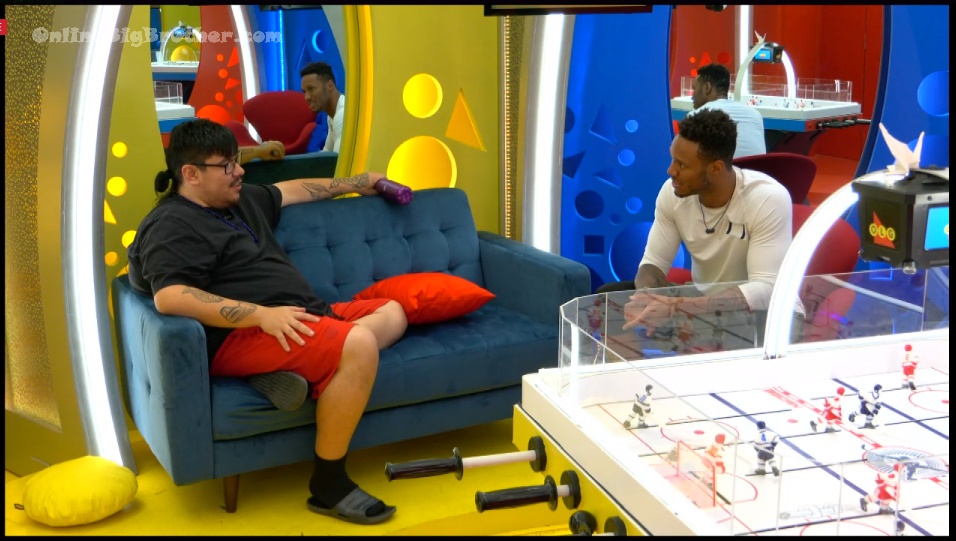 6:24 pm Kiefer and Ty
They're talking about being more capable of winning the competitions against Tera, Breydon and Beth.
Kiefer brings up breydon's abilities in a recent comp "39 minutes holy sh1t dude"
Ty – I don't think he's good under pressure.. I think he's smart just not under pressure
Ty – if he stays and Jed's gone.. holu sh1t. Final 3..
K – Easy, [Beth] doesn't win the veto.. She's way less likely to win HOH
Ty – you know the loss of confidence with Jed being gone? Her mindset ..
K – ohh yeah. All she thinks she'll have is Breydon and she doesn't have him. That's why I think if I won I would put up Beth and Breydon. To make Beth think that all she has is Breydon.
Ty – or Beth and Tera.
K – we can't tell Breydon this
K – it's going to work… Beth's going crazy right now with the idea of Jed pulling her off the block
Ty – I asked her. she said Jed's still adamant to make a deal another way.
Ty – I haven't had a chance to press them yet. You haven't spoken with them yet and they value your opinion too
Ty – when you come in with your wisdom it's usually a home run after that
Kiefer is going to tell Jed him using the veto on Beth is their only shot of not having 2 sunsetters on the block.
K – Why are you not taking it. You have me and Beth and potentially Tychon voting if it works like we stay we go to the final 4
K – We literally make it out with two of us having gone on the block this game is like a movie man and this is just one of the ending scenes like let's go.
Ty – Jed, Takes the risk.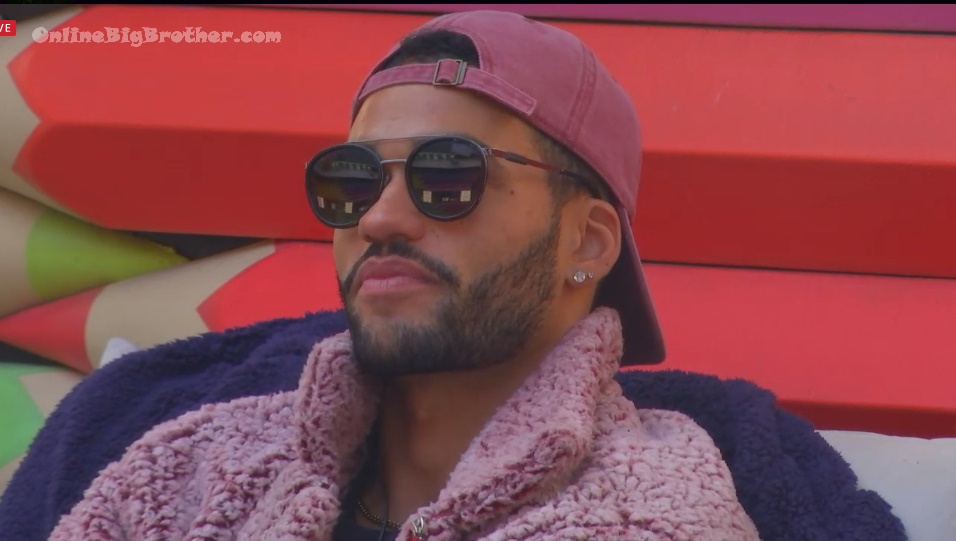 6:37 pm They're trying to get Jed to use the veto on Beth..
Kiefer – if you use it on yourself one of us goes home if you use it on Beth there's a glimer.
(OMFG)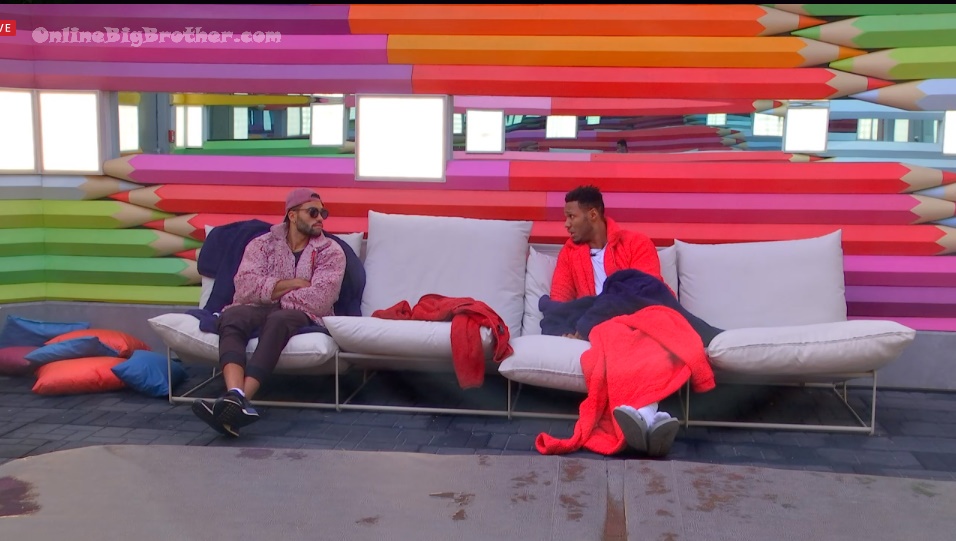 7:00 pm Ty and Jed
Ty working on Jed to use the veto on Beth.. (OMFG)
Ty says stuff like this has never been done before. "Sounds" like Tera really wants Ty and Beth to stay. It's the only way they can keep 3 of them off the block.
Long pause of silence……
The silence is broken with them laughing at Tera "She's two weeks behind"
Jed says Tera's plan was to get him out. "It's sketch to me.. her whole plan is to get me out it's her life goal to get me out"
Jed – there's a reason this has never been done..
they laugh
Ty – it's risky..
Jed – I just don't trust her to put Breydon up.. I feel she will get so much satisfaction putting yo up
Ty – f*** she could
Ty – part of me thinks she doesn't care for Breydon. Because Breydon can't guarantee her sh1t.
Jed says if he keeps himself on the block and she puts Ty or BReydon up Tera will still try to convince people to vote Jed out.
Jed – she knows I'm coming for her next week no matter what I said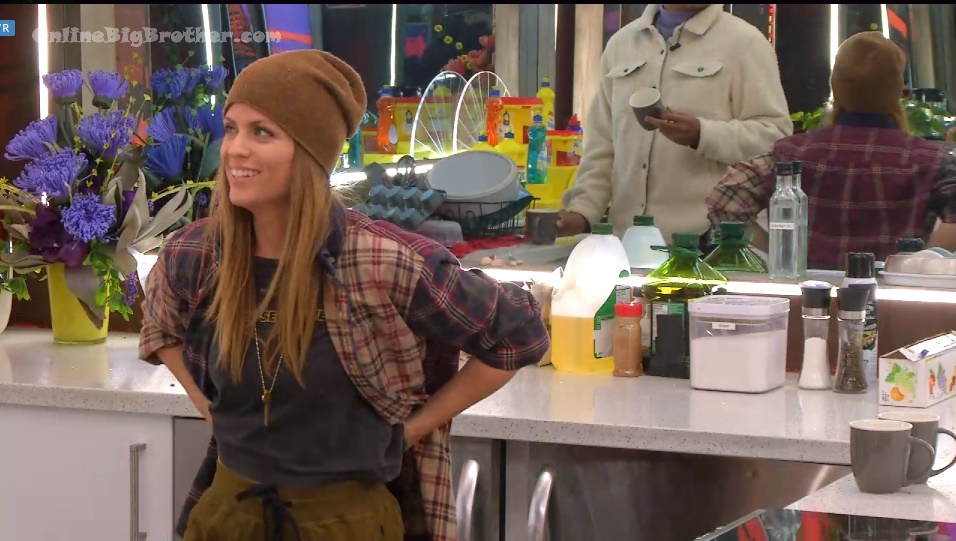 11:30 pm Kiefer, Breydon and Tera
Tera says Jed is using the veto on Beth and She will put Breydon up.
Kiefer – we did it yo did it oh my god
Keifer says they have to play it up all week that Breydon is going home
Tera says it'll either be a blindside for Jed or me and Breydon.
Tera – this is our only shot.. if we lose this opportunity.
Kiefer – why would Ty put in all this work to flip..
Breydon – we'll see tomorrow..
Tera – Beth is hyped
Kiefer – oh my god we're all going to hell
Breydon says Austin is at home shitting her pants.
Keifer – there's shit everywhere adult diapers are flying off the shelves.
Tera – this is a team effort
K – HUGE team effort
Tera – I just want to tell you guys the good word. I honestly can't believe that you cooked this up and it's going to work. (Kief)
Kiefer – I'm telling you Tera I made every f***ing move they made it was me.
K – It didn't even take 24 hours
Kiefer – this is called a blindside.
They talk about once Beth goes down Ty goes up Beth will spearhead the charge to evict Jed.
K – that's what I've been saying.
Kiefer – I feel like I can accomplish anything. You to. YOu might be the greatest big brother player in the f**ing game Tera..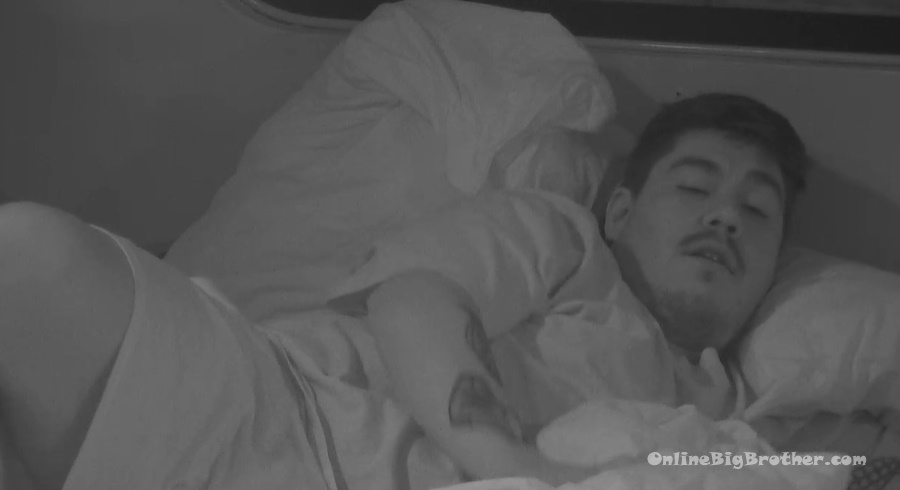 12:10am Bedroom. Breydon and Keifer.
Big Brother switched to the bedroom feed. Keifer – orchestrates a flip. Breydon – I would assume but I don't know. I would hope so. I don't know what she is telling me is real. She will tell me that of course. Keifer – me and Ty are for sure voting one way. Breydon – unless Ty flips. Keifer – It just wouldn't make any sense. Breydon – yeah but things don't make sense in this game. You know!? Keifer – I think Ty wants to be a part of something crazy. Breydon – I think he does too but its crazy not too ..if you think about it that way too. We convince Tera to put Breydon up. Keifer – no, I've been in this too deep with Ty for too long. Breydon – I trust you Mr. Keifer. I just fear this will be a rogue vote situation. Big Brother cuts the feeds. Breydon – and then they pin it all on you. Keifer – I just don't see why we would leave him in the game. Breydon – I don't see it either.. and if this works and you guys keep him… then you're all idiots.. and I hope you all lose the game. Keifer – me too and I will lose the game if we keep him. That is why I need to get rid of him. Breydon – you I get.. I just worry about the other two. I am not stressed out about you.. I am stressed out about the other two. Keifer – well you only need to strass out about one.