Want to watch the Big Brother Canada 5 live feeds but live outside of Canada?
Bypass the geoblocking with HideMyAss VPN and be Canadian Anywhere: VPN Help Guide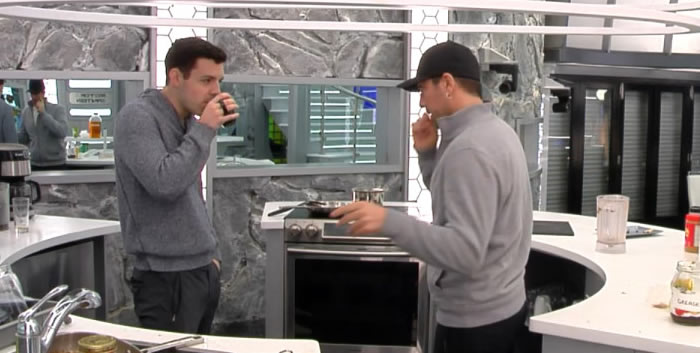 8:46pm Kevin and Bruno
Bruno and Kevin don't buy Ika and Demetres saying they voted with the other side on purpose.
Bruno – they got caught..
Kevin – if they would just admit they were playing both side I would respect that more
Kevin mentions how dangerous their showmance might be
Bruno – they're definitely together
Kevin – we're super luck 4 weeks in no nominations, we haven't had to win a HOH either.. I didn't expect that
Bruno – I know.. It's HUGE
Bruno mentions his conversation with Gary last night.
Bruno – he believes I was his final 2
Bruno says that Gary asked him "Help me get the numbers'
Kevin – No gary
Bruno – ya
Bruno – he's gotta go.. He's gotta go.. He was blaming Dre for the flip
Kevin – it was more him..
Kevin saying that Gary was telling him he had the numbers to flip the house but he didn't because he didn't want to go against Kevin.
Neither Kevin and Bruno believe him they both say Gary didn't flip the house because he didn't have the numbers to flip the house.
Bruno – he tried but didn't have it
Kevin – we had a twist go our way
Bruno – I know…
Kevin – that's a new thing
9:00pm Neda and Sindy
Neda says that Ika's people are the other side.
Neda – he literally haven't done anything.. It sucks it really sucks.. she was like you're my number one you're my number one.. no you're not..
(Ika had some words for Neda last night because Ika didn't nominate the same people as Neda's side)

10:00pm Dre, Ika and Demetres
talking about Jackie and Sindy being "Up Neda's A$$hole"
Dre – If Neda poops Sindy will be the first one to fall (HAHAHAHA)
Dre says Jackie is further up, "She's in deep"
Ika – they're both poop emojis
I believe the POV is being played this morning.
Power of Veto Players Dre, Gary, Kevin, William, Neda and Emily
[polldaddy poll=9712548]