POV Holder:
Zach
Next POV
April 17
POV Used
?
POV Ceremony
April 19
HOH Winner
Zach
Next HOH
April 22nd
Nominations:
Godfrey and Jordan
Have Nots
Godfrey, Sarah, Jordan, Bruno
POV Players
Zach, Jordan, Godfrey, Sarah, ?, ?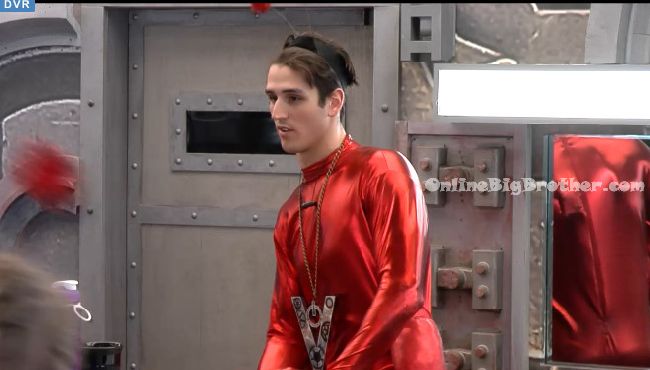 In the kitchen – When the feeds return – Zach is in the kitchen wearing a red one-piece body suit with antenna. They were ants. He has the Veto around his neck. Sarah is also wearing a bug costume. The talk about the veto competition. Sarah says I can't believe I came in second in a power of veto competition! Bruno says that was a close competition! Willow says it was like 45 seconds. Cindy is back in the house. Cindy says this episode was all about me.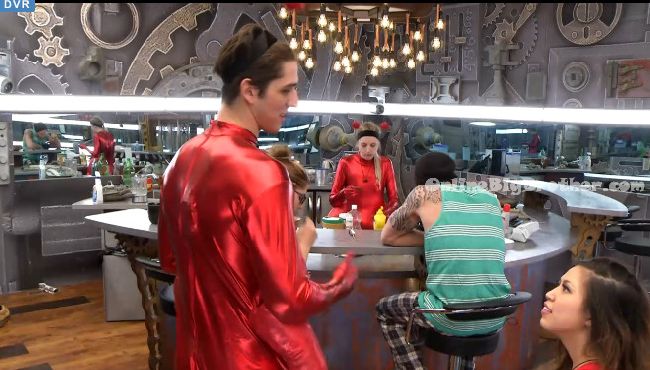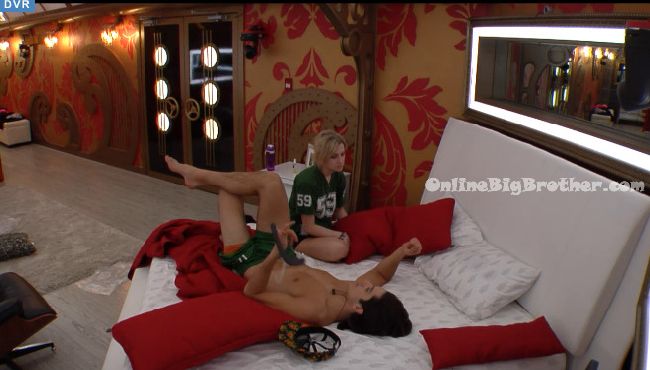 Early in the morning – Up in the HOH room. Zach and Ashleigh are up in the HOH room. Zach says we just have to keep playing on peoples emotions. You keep playing Bobby. The best thing is she won't go after you. They think Cindy will be going after Bobby. All the competitions before this I've been just dog f**king around. I didn't care or try at all. I didn't give a sh*t. I am so happy I won that. Think if Godfrey had won it. I told JP that I have to keep the nominations the same. I said the only way I could make that happen is if he and Godfrey threw it. Zach says this house has put me through a roller coaster. Ash says I don't know what the heck is going on with Bobby and Bruno. Zach says B said that I go after Bobby and Bruno and told me she would go after you and Pilar. Ash asks she said me? Zach says its no secret she's coming after you. Zach says just like Johnny says she's jealous. Zach jokes that she (Ash) killed him in early comps that I threw. You're going to kill me in endurance comps. You and Pilar are going to kill it in endurance comps. We're sitting pretty good ..we're sitting okay right now. Ash says I honestly don't know what the worst case is .. for winning HOH next week? Would it be B. Zach says yeah because she would put you on the block, you would still be safe though. Actually she probably wouldn't put you up right away if she's targeting you in a couple weeks. Zach says I told Godfrey I was going to use the veto on him. He doesn't deserve to make it to jury. He hasn't made any alliances, he doesn't talk to anyone. He's just slept.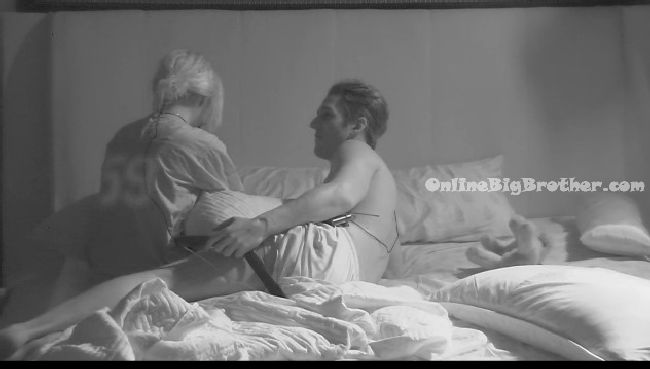 10am – 11:15am
Big Brother wakes up the house guests and then blocks the feeds again..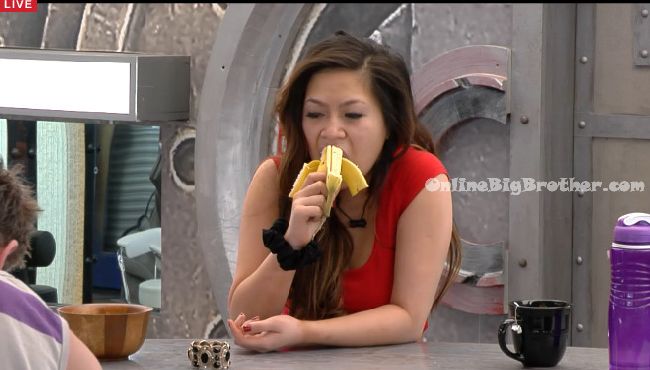 11:20am – 11:35am The live feeds return – Jordan, Bobby and Bruno talk about playing more cards today. Bruno comments to Jordan – Your girl is back. Jordan says yeah. Bruno asks Jordan how hard the competition was. Jordan says I took 20 minutes. Ash took 45 minutes. He says that everyone else just smoked us. Bruno talks to Godfrey about needing to talk and figure out the votes. Cindy lays down with Bruno on the couches. She says that it feels like I never left. Like I took a 2 week vacation and now I'm back!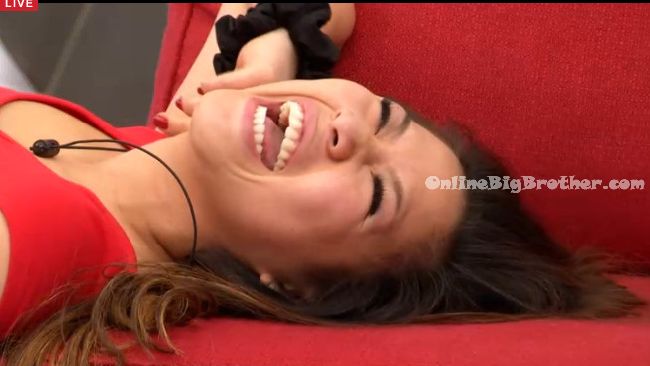 11:40am – 11:50am Up in the HOH room – Godfrey and Jordan are talking. Jordan says you have my vote and I would have your if either came off. Godfrey says I don't want to get behind your back and say use it on me. I want to discuss it with you. Zach joins them. Jordan says Godfrey wanted us to come in together so that we don't campaign against each other. Jordan says Zach uses it on me or you and hypothetically Zach puts up Kevin. If you won HOH next week hypothetically what would you do? Godfrey says ideally I would say Sarah. She has had way more time to make connects than Cindy. Godfrey says if I stay on the block Cindy will vote for me for sure because I yelled at her. I know if she won HOH she would be after me. Jordan says I don't want you to go Godfrey I love you. Obviously its Zach's decision. What can we do here? How can we spin this? Jordan and Godfrey agree to give Zach time to think about it and talk again later.
12pm – 12:20pm Big Brother blocks the feeds. The house guests are put on an HOH lock down due to another leak in the kitchen. Zach asks Jordan if he's ever been to "rippers" in Vancouver? Jordan says no, I've never been.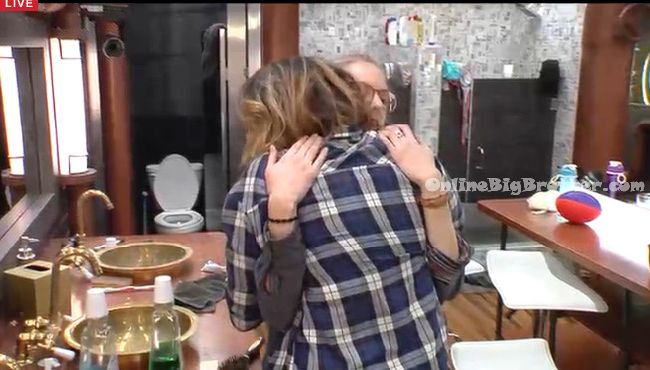 12:25pm In the bathroom –
Brittnee tells Sarah "I am so frigging bi-polar in this house" "I just feel… lonely." Sarah hugs her. Brittnee starts crying. Sarah says you can get through this. Britt says its just so hard. I feel so fake.
12:35pm – 12:50pm Meanwhile in the storage room – Zach, Kevin and Jordan are talking. Jordan says that Godfrey is sweating it. He said he is going after the girls next week if he stays and wins HOH. He's going after Cindy. He knows she's coming after him. Zach says I am just not ready to blow it up. Kevin says if you're not ready to blow it up yet I will just take a little more heat next week. That's fine with me. Kevin says that JP's mind is really going. I think we should sit down and crush some situations. Zach questions going after Bruno.. I know if I put the knife in his best friends back .. there is no way he would trust me. Kevin leaves. Britt joins Zach. Britt asks if the plan is still on. Zach says that he isn't sure. Britt says this is your HOH. Zach says If I'm making a move for Kevin then I would go after Bobby. Bobby has said he is going after Kevin. Britt says Bobby is going to stay loyal to Bruno. Zach says that's why I don't know if I want to blow one of them up with 12 people still in the house. If I'm doing my play for my game its Godfrey. If I'm doing it for Kevin it would be Bobby.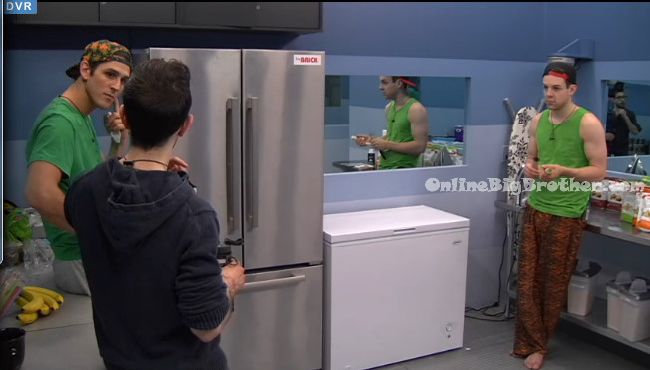 ALLIANCES IN THE HOUSE
There are always a lot of Alliance but we've tried to make sense of it all.. Read our alliance help guide
[polldaddy poll=8803897]
[polldaddy poll=8797487]
[polldaddy poll=8803903]