POV Holder:
?
Next POV
April 17
POV Used
?
POV Ceremony
April 19
HOH Winner
Zach
Next HOH
April 22nd
Nominations:
Godfrey and Jordan
Have Nots
Godfrey, Sarah, Jordan, Bruno
POV Players
?
2:10pm
All of a sudden the house guests start screaming as they see the First 5 evicted house guests on the living room TV screen. The all run over to the living room screaming. WILLOW screams "They're playing to come back!!!" "I TOLD YOU!!"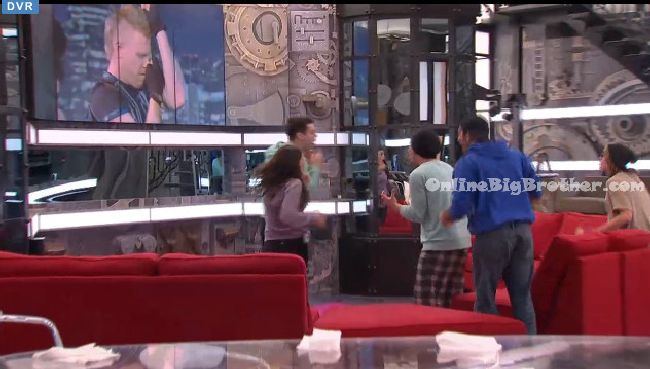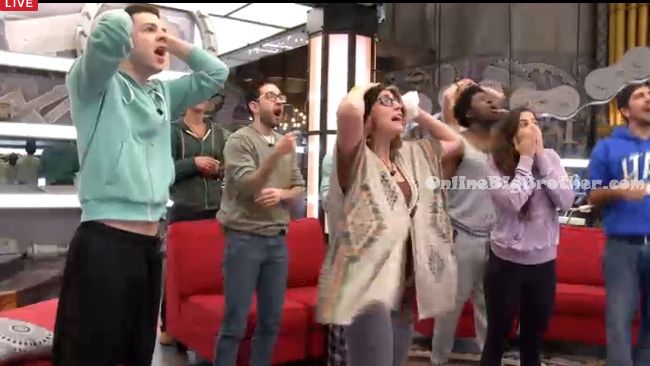 Big Brother blocks the live feeds. The live feeds return and all of the house guests are in a circle in the living room. They all agree to a top 11 alliance where if any of them come back they're booted right back out the door.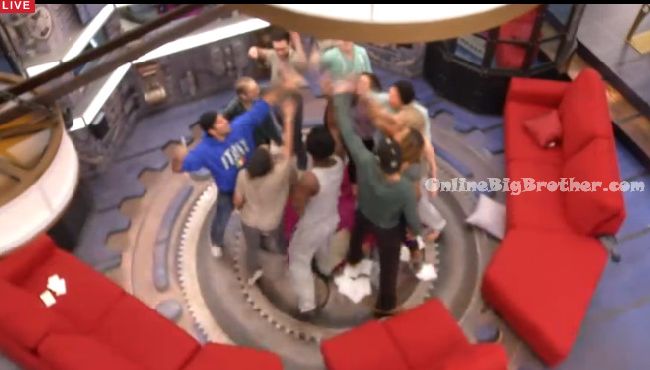 Up in the HOH room – Bruno, Bobby, Zach and Godfrey agree that this doesn't change a thing. They agree the person that comes back will go right back out the door. Bobby comments how they need Graig to come back. "They've been standing up there for awhile." (Sounds like the first 5 are competing in an endurance competition) Willow says she's going to stand right at the front door and close-line whoever comes back in the house. Godfrey wonders if the person that comes back will be the head of household. Zach says we might not even know until Wednesday who comes back.

In the storage room – Zach, Jordan and Sarah second guessing the plan to backdoor Bruno. Jordan thinks they should still stick to the plan. Zach says If I blow up that side of the house and then someone comes back.. I don't know. Jordan says who is going to go to that side? If G saw your goodbye message he is coming after you. If Cindy comes back no, if Naeha comes back no, if Johnny comes back no. Honestly I think Cindy will come back. Brittnee joins them. Brittnee is really worried about her goodbye messages. Jordan says if Risha comes back .. she is in love with Zach. Jordan says we'll be okay. we'll be okay. Sarah says the thing is Bruno is 100% coming after you no matter what!! Brittnee says you're sitting pretty because no one got blood on their hands. Jordan says I think Cindy is the best! If Johnny comes back that would be the best. Sarah says and Johnny looked so f**king strong up there! Britt says I would prefer Naeha over Cindy because my message to her wasn't the greatest. If G comes back I'm f**ked. Ashleigh joins them .. she gives her opinion of who will drop out in what order and ends with Cindy. Cindy is coming back. Sarah says f**k this! F**k this!! Britt is really worried about her goodbye messages. Sarah says it'll make you think twice about being a sassy pants wont it!!
Up in the HOH –
Willow, Bruno and Jordan are talking. Jordan says we just wasted a week. Willow says that the two girls weren't shaking yet. They were good. Zach asks do you think Arisa was standing there for 5 and a half hours? Willow says no she just come in there for that clip. Bruno says as a house we have to stick together. Zach says they have to be immune this week. Bobby says its unfair! Pre-jury man! Jordan says its unfair you only deserve 1 life in the big brother house. Bruno says we all said it before if anyone gets evicted.. Willow says they know when they come in they're going to have to make those relationships again. Zach says if they come back after a Double Eviction that is such bullsh*t! Bruno says there is no way they saw the goodbye messages.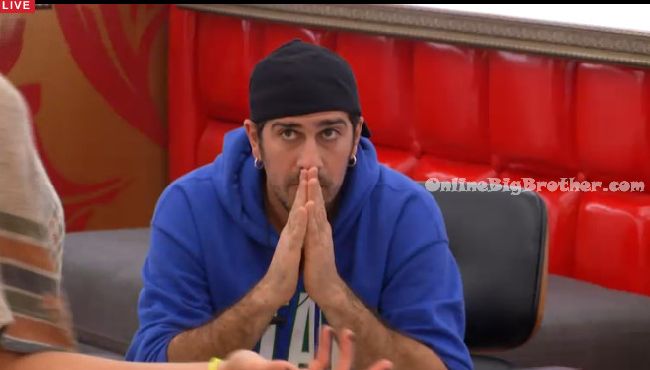 2:55pm Big Brother orders all the house guests to the HOH room. Bruno thinks its to move the couches around. All the house guests pile into the HOH room. Sarah wonders if they'll have to play out the week not knowing who's returning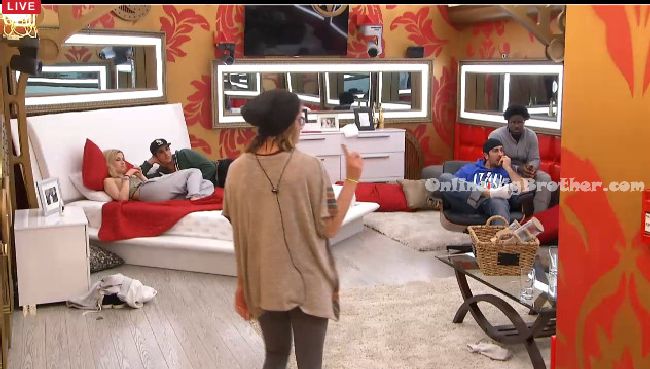 3pm Big Brother blocks the feeds.
4pm The live feeds are still blocked and likely won't come back until later today as Big Brother tweeted that the feeds will be down for most of the day due to multiple competitions taking place…
6:15pm Still blocked.
11:04pm Feeds still down..
12:33am Feeds still down..
1:33am no feeds never
3:00am no feeds for you (Vote Dawg Or Maintenance) #Pentacut
4:48am no feeds never
10am Big Brother wakes up the house guests. The feeds returned early in the morning only to show all of the house guests sleeping.
*** Spoilers report that Cindy won the competition to return and that Zach won the veto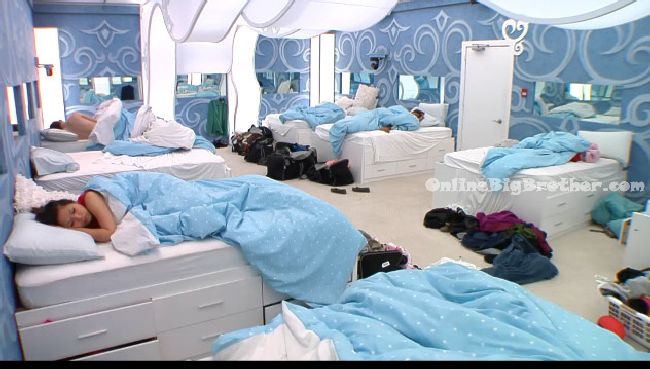 ALLIANCES IN THE HOUSE
There are always a lot of Alliance but we've tried to make sense of it all.. Read our alliance help guide
[polldaddy poll=8803897]
[polldaddy poll=8797487]
[polldaddy poll=8803903]