POV Holder:
?
Next POV
April 9th
POV Used
?
POV Ceremony
April 11th
HOH Winner:
Maddy
Next HOH:
April 14th
Original Nominations:
Jared and Kelsey
Current Nominations:
? and ?
Last Evicted Houseguest
Paige, Sharry, Christine, Kelsey, Loveita, Dallas, Mitch
Have Nots
Raul, Nikki, Kelsey
Watch the Big Brother Canada 4 Live Feeds anywhere in the world with HideMyAss VPN.
ALLIANCES IN THE HOUSE
There will likely be a lot of alliances during the season – keep track, read our alliance help guide.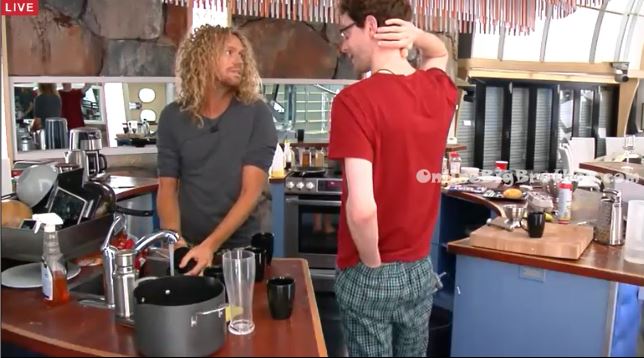 8:50am In the kitchen – Tim tells Joel that he thinks Jared might end up going over her (Kelsey). Joel says I think he would if its the two on the block at the end. Tim says we need to think about .. I know Cassandra said that she doesn't know what's the best thing for us and the three. Tim says when she (Kelsey) left he gained the groups trust in that he became quite exclusive .. people respected him as a leader .. and when she came back he went straight back into the three (Jared/Kelsey/Raul). I think if he hadn't had done that he wouldn't be up. If he hadn't gone and slept in the HOH room .. that sense of exclusiveness and then when there was that big argument he didn't step in. He picked his side. We know what happens when Kelsey leaves.. Jared becomes stronger and Rual becomes stronger. I think perhaps its time to do something different. Joel says whoever stays will be mad at Maddy the following week if its a Double or Triple (Eviction). Tim says he thinks if Jared is still in the game, Maddy will want to work with him and go against other people before Jared. Same with the brothers. Tim says I don't even know if I want to win today because it's a tough decision. Tim says if we were to save Jared he would be indebted to us and I think he is loyal like that. I think we would have him them and perhaps include him in the three. And say if we do this, Rual is next. Because we do not want .. if Jared stays for him to work with Rual. Raul's got to go, he's gunning for you, for me, he's gunning for Cassandra. Joel asks if we say that to Jared though.. would he just tells us what we want to hear? Tim says that's what we would have to assess. I just don't think that Jared would think us 3 are a threat. I think his biggest threat is Raul and the brothers.
9:15am n the kitchen – Nikki asks Phil if he wins the veto would he use it? Phil tells her no, not again.
9:45am In the bathroom – Kelsey tells Rual & Jared.. We need to make a plan in case I go. I want you to get Maddy out but she loves you (Jared) so much I think you would be okay.
10am In the kitchen – Tim is asking questions about the provinces and capitals of Canada. A lot of the house guests get the information wrong. Maddy keeps saying the capital of British Columbia is Vancouver Island. (Its not, its Victoria) (The most horrifying fact is that Maddy used to lived in Victoria) Tim thinks its crazy they don't even know their own country. Tim says when he goes back to Australia he wants to say he learned something about Canada.

Power Of Veto Players:
Maddy, Kelsey, Jared, Cassandra, Nikki, Raul
POV Host:
Joel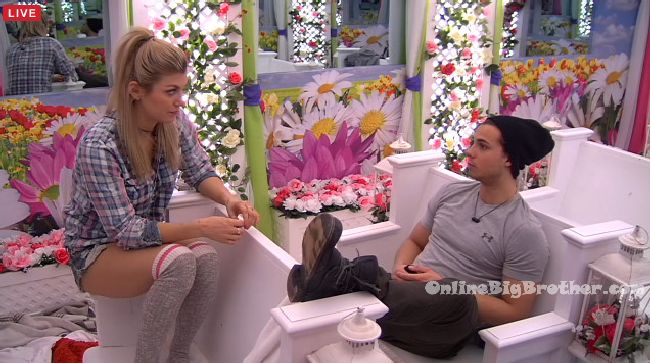 10:40am Havenot room –
Kelsey says its just has to be something that Maddy isn't good at. Jared says exactly I think anyone else would use it. Kelsey tells Jared if she wins the veto she will use it to take him off the block because she feels like she's put him in this position. Jared says if I had gotten player pick I would have picked Nikki… f**king write off. Kelsey says I would have picked Raul. Jared says he thinks Raul it closer to Maddy than we think. Kelsey says she doesn't want Jared to be alone if she leaves. Jared says I'm not. Kelsey says you've got Tim, Cass and Raul. Jared says I don't want to work with Raul. I'll keep him in my back pocket. Its not even a bad idea for me to do everything I can to screw Maddy up in this competition. She's the only one we don't want to win. Kelsey says Cassandra would use it. Kelsey says even if Maddy won and became a movie star … I would still rather be me than her. Jared says stop. Kelsey says I just hate her. Jared says stop that. Enough! Raul says I just hope they don't give me another gay a$$ outfit! They're so bad.
10:50am – 11am In the HOH room –
Nikki tells Maddy that she needs to win this. Maddy says I don't care who wins it. Either way one of them is going home. I'll just put up someone up to ensure the other one goes home. We have 4 votes no matter who it is.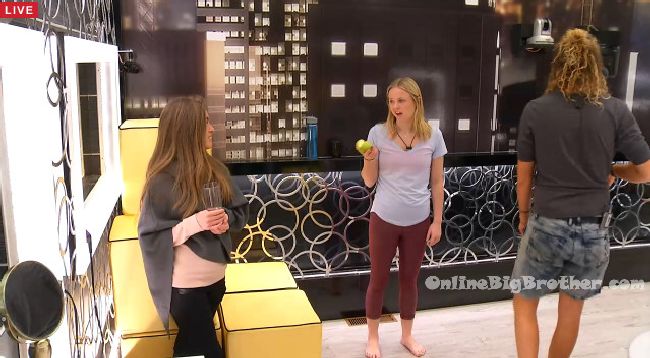 In the havenot room – Ramsey finds the brownies Rual hid in his bag in the havenot room. Ramsey screams and tells him he hates him. (Raul is saving them till he's off slop and didn't want to share them with the other house guests.)
11:35am – 11:55am HOH room – Ramsey, Tim, Nikki, Joel and Phil. Ramsey says how you do one thing is how you do everything just like hiding brownies from everyone. Nikki says it has to be addressed. Tim says it can only be addressed in a vote. Tim says if you say something maybe he'll correct the behaviour. But its almost too late. Let them dig their own grave. Nikki says hopefully the underdogs fight back. Tim says oh they will fall. Nikki says that Raul cooks all the salmon and then grazes on it all day long with his trolls. That's why I put him on slop which worked .. unfortunately I'm there too.

In the bathroom – Kelsey says if Raul wins and takes Jared off … you need to talk to Tim and get him to convince Maddy to put the brothers up. Cassandra says she'll try. Kelsey says if I win I will take Jared off.
Maddy tells Phil if you (Kelsey) really want to stay campaign.. and don't cuddle with your boyfriend.
In the havenot – Raul tells Kelsey if he wins the veto he isn't using it on Jared. I have to start thinking about myself instead of others.

1:30pm – 1:55pm Bedroom –
Cassandra says I have a good relationship with everyone in the house and at least Kelsey and Jared will always have a target on their back. Cass says she wants Kelsey to stay because she feels like Maddy will always go after Kelsey over her. Phil says like we need to keep this so undercover. I never talk about you in conversations. They agree they feel like they're in an alliance with Tim/Joel. They agree its better to not make it official. Cassandra says once you put a name on it it ruins it. Phil says he thinks its better for Kelsey to stay. She is indebted to us. Cass says I feel like its safer for use to keep Kelsey. Cass says I think your brother wants me out. Phil says no. Cass says I know you run the show. Cass says she wants to win the double to get Maddy out and say your a$$ is grass.
2:30pm Havenot room – Jared says if you leave this house .. there will be no more Mister Nice Guy any more. Raul joins them and gets a brownie out for Phil. Kelsey asks why he hid them, just to give them out to people. Raul says so that he can give them to the people he likes. Kelsey talks about how she's okay to go. She wishes she was going home though. Kelsey says I don't really like this game, I didn't know what I was getting into. Jared syas I just wish everyone played the way I play. Kelsey tells Raul and Jared that they need to stick together and trust each other. Can you guys promise me that? Jared and Raul says yes.

2:55pm – 3:15pm HOH room – Maddy tells Cass If Jared, Kelsey or Raul use it then I'll need to decide that when it come to it. I know that if me, you or Nikki win it.. none of us would use it. If you do win it, make them think that you will use it. I have the votes no matter what. Cass says I am trying to build our bridge this week so whatever you want I will do. Phil joins them. Maddy asks Phil if one of them comes of and I put up a pawn will you vote out the other? Phil says he will. I would not vote for your pawn.
3:16pm Joel is called to the diary room. (The veto might be happening soon as he's the host.)

3:20pm Big Brother blocks the feeds for the power of veto competition to take place…
5pm Still blocked ..
6:25pm Still nothing..
If you're using an Adblocker, PLEASE consider disabling it for www.onlinebigbrother.com by adding us to your whitelist. This is very easy to do: simply load www.onlinebigbrother.com in your browser, left click the adblocker and click "disable for this site"
Use the Hide My Ass VPN and watch the live feeds on your mobile phones and tablets. One subscription pays for all. It works on any device. Including internet enabled TVs and games consoles. You can even use it on two devices at the same time. HideMyAss VPN
Share it YO!!
Tweet