Head of Household Winner – Cody
Have nots – Kevin and Enzo
Nominations – Kevin & David
Power of Veto Players are –
POV Host: –
Power of Veto holder –
Power of Veto Ceremony –
Live feeds —-> Grab your Live feeds here. Try it free.
Rank the houseguests —-> Big Brother 22 Ranking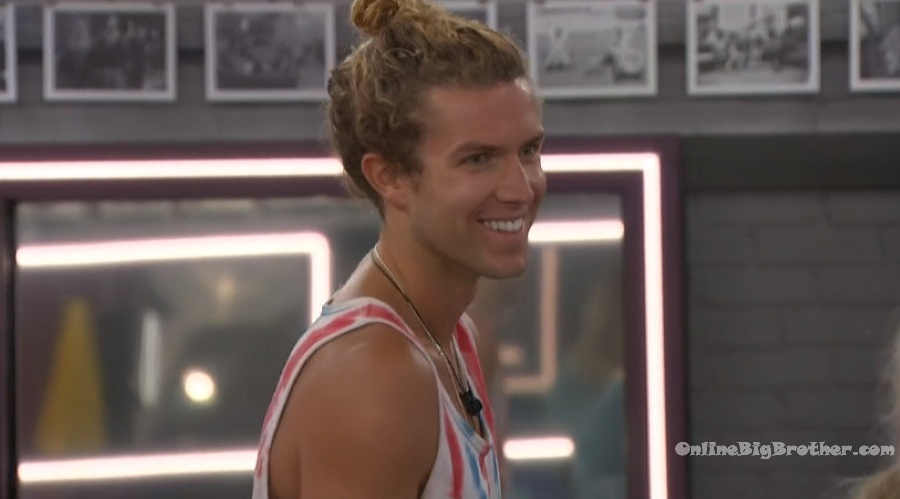 4:20pm – 5:23pm Big Brother blocks the live feeds for the Nomination ceremony. Cody nominated Kevin and David.
Nicole – what happened with the convo.. Tyler – Me and Memphis heard .. it kind of got loud. Nicole – oh it must have got serious. Tyler – I want to know now but I don't want to run up there right away. Nicole – because it didn't need to go badly right. Tyler – no. Nicole – it was more just I told him to be straight up. He (Kevin) was mad about being a havenot so I was like maybe give him a warning he is going up. Tyler – he is going to be mad anyway. Nicole – yeah you're dammed if you do and dammed if you don't. Tyler – it is what it is.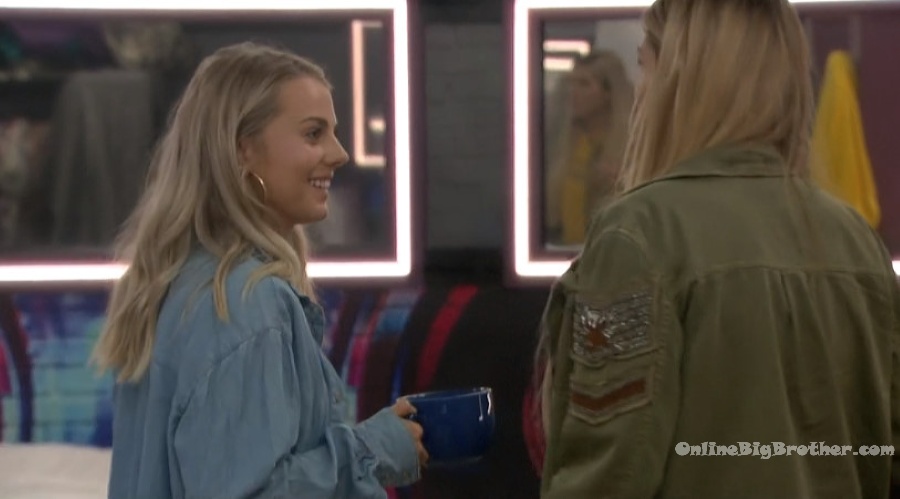 Nicole and Dani.
Nicole – how did the convo go? Dani – they got into it. He was like everything is not about you Cody. I was like is there yelling going on. It got a little heated. Nicole – did Kevin tell you or Cody? Dani – Cody. He was like I know you're in an alliance with Dani, I know you're in an alliance with Enzo… and bla bla bla. He told Cody that DaVonne was actively coming after him and wanted to get him out and bla bla bla. And he was like so you're telling me that you're number one ally was coming after me .. and you're not. He like literally just called him out. Nicole – why would Kevin do that?! He must just be sick of ..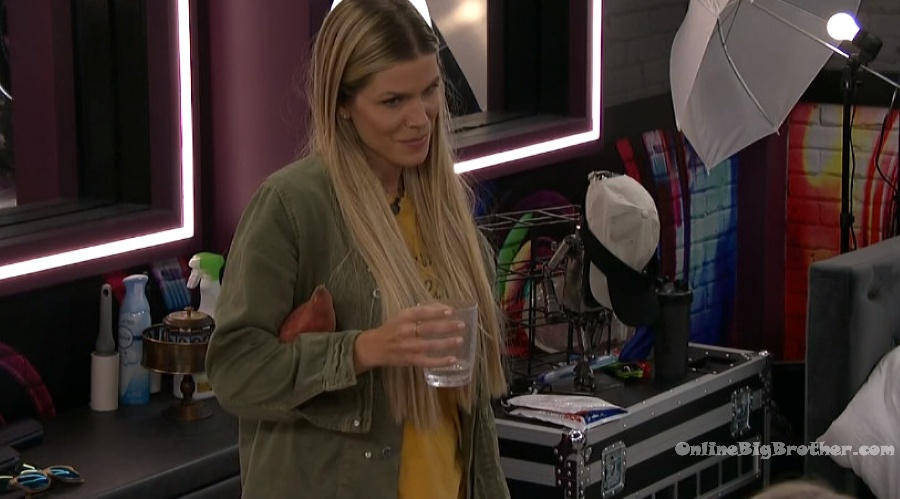 David and Christmas.
David – from a viewer stand point its the same thing every week. Over and over and over .. Big Brother blocks the feeds. David – here we are .. the third time this season. Christmas – Its not your fifth. David – its not my fifth .. poor Kevin. Christmas – my heart hurts for him and he is still taking it like a champ. David – he's used to it. What is happening isn't a surprise .. but annoying. Christmas – and frustrating. David – part of me is like damn this sucks .. this is going to be a boring season to watch. I can just tell. Christmas – here we go again. David – yup. People don't want what is expected to happen. I'll try and stay now and win HOH and hopefully save this season from being a boring season. Christmas – he is going to piss off a lot of people with how he reacted to that. If my name is drawn .. I am going for all the prizes. If you pick me, if Kevin picks me or if the HOH picks me I am going for all the prizes. But as far as they're concerned I'm a comp beast and I would never throw anything. Okay!? I want to see you here. David – I try. I try. Christmas – if you do pick house guest choice and you do pick me don't get all excited because I never get picked. I don't want them to know because then I get bumped to the top of their list. And if you stay we might have a fighting chance. It just takes one of us to get HOH. You get it next week and I get it the week after. I am putting the remaining team up. David – the best comp you can win is the one to save your life. That's only happened once this season. Christmas – if the nominations stay the same .. I have to go with you and I will fight for that. If you win the veto he might put me up in place of. (Yup he will.)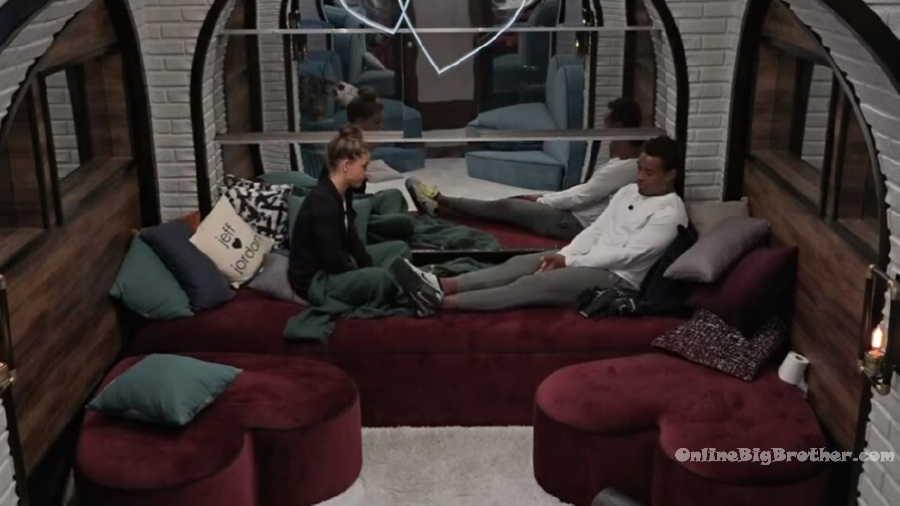 5:50pm – 6:10pm Kevin and David.
Kevin – Block buddy. You know you're staying .. there isn't a scenario. If you win veto .. you're staying. If I win veto ,, you're staying. There is no scenario. If he (Cody) wins veto .. you're staying. If someone else wins veto .. you're staying. David – I don't feel so confident. It would have been great if he took a shot and put up someone who hasn't touched the block yet. Kevin talks about how Cody got mad. He got real mad. I was like its my prerogative to feel how I feel. I was like everyone doesn't have to like you. I know you're mad but I am going to enjoy my time here. And I am going to go to jury and act how I want to act. He was like can't you see how it was a good move. Kevin – I see how you targeted me since day one. He only comes to me right before a competition. He doesn't want to give anything .. he only wants to receive. I just think he lives in a bubble.. and normally people swallow what he serves. David – unlike Memphis .. he doesn't beat around it. He says it like it is. Kevin – yes.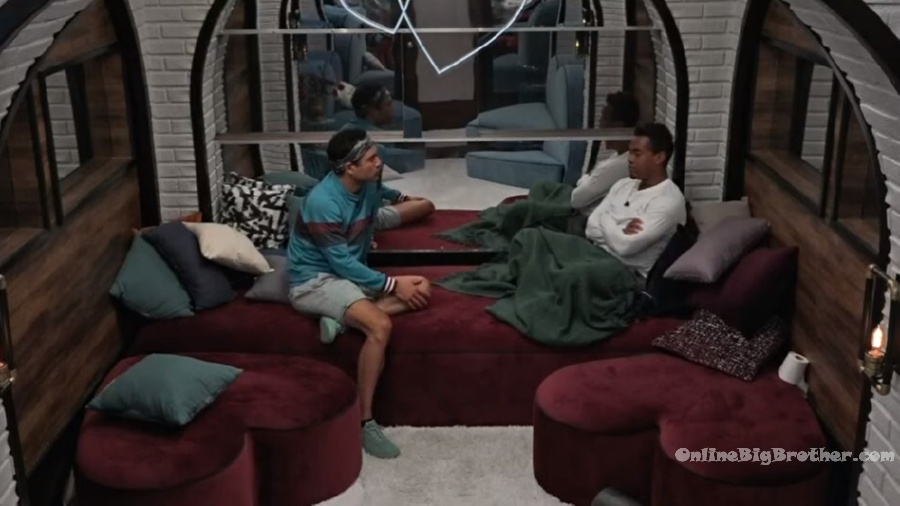 6:14pm Lounge room. Kevin and Enzo
Enzo – this part of the game gets ugly. You've already been on the block .. you know what its like. It get ugly fast! because everyone is intertwined .. no more because now you have to go after each other. That's it! David – I don't want no hugs! Enzo – Lets stop being fake. F**k you! Put me on the block! I'll win veto and I'm coming at your face YO! This is when it gets fun! That's it yo! Going on the block is nothing now. You're on the block every week. You're not a rookie no more! You've lived it! People that have been friends since day one are going to throw each other under the bus. It is going to get ugly yo! But its going to be so fun! Whoever he puts up .. I am backdooring.. because I am not getting rid of you and I'm not getting rid of him.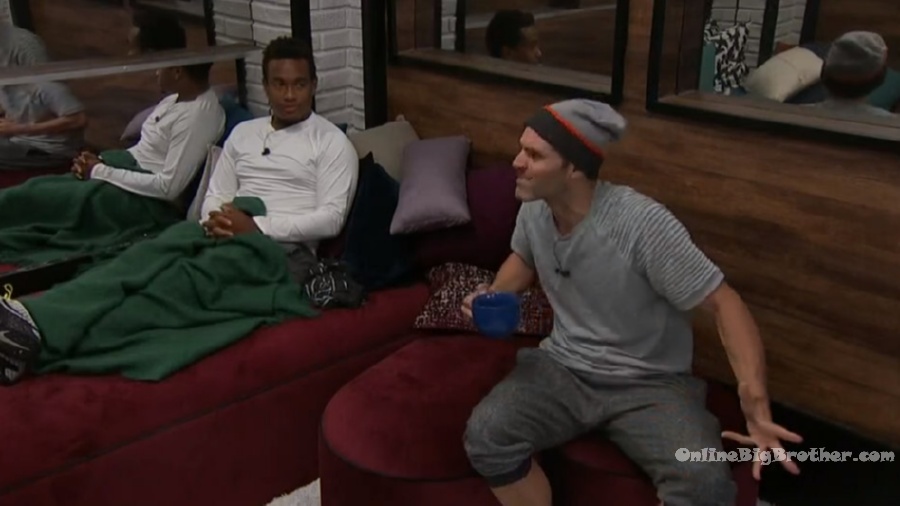 Cody and Christmas.
Cody talks about how it got heated with Kevin. Cody – he said that Christmas said .. or someone said he was made a havenot to weaken him. Christmas – 100% not true. Cody – then the conversation kept going .. he was giving me the f**king run around. I told him I was showing him that I had his back and I was like you were showing me that you weren't. And then he was like the world doesn't revolve around you. I was like umm that was personal. He was like pity Cody and I was like I am just done with this conversation. He said that Day wanted me out. It just escalated and I was like it is what it is. He was like I am going to leave because you're the big man Cody. Christmas – did he tell you who he would have put up? Cody – he said Memphis but I think it was all bullsh*t.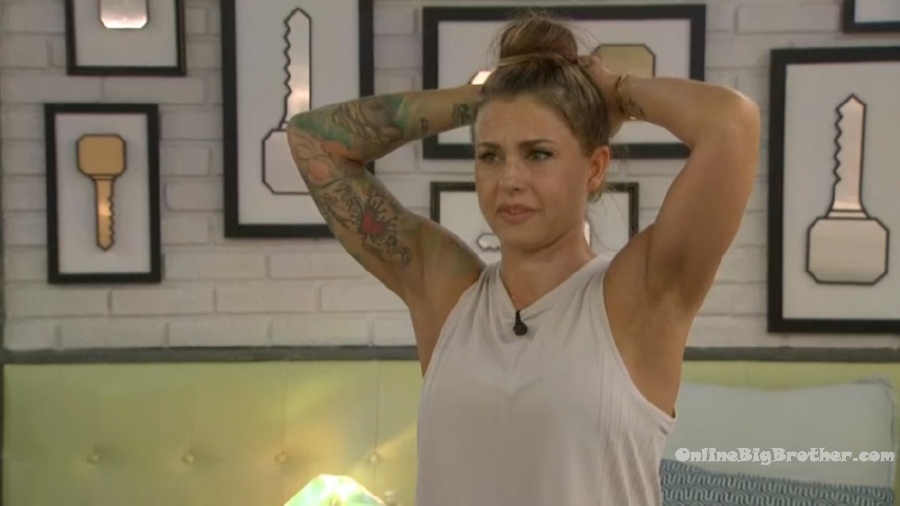 6:35pm – 7:05pm HOH room. Nicole, Tyler, Christmas, Enzo and Cody.
Cody continues to talk about his heated conversation with Kevin. Nicole – basically he would have rather wanted Cody to make up a big fluffy story about him being a pawn. Cody – I could have said you're going up but I have a bigger plan and sent him on his way.. Tyler – he would have rather been lied to. Cody – yeah. He was like jury management. Tyler – no that is lying. That is why I lost my season. Cody – I was like you would rather I shovel sh*t in your face. I was like Kev.. I could make up anything I want post anything happening… we're all pretty decent at doing that. I was like you would rather I do that than be straight up. Tyler – I hate how these people are playing in here like Day where she was planning on how she was going to vote in jury and I am like why are you not fighting to be here rather than thinking about jury. The people that are not going to be deciding the winner are not those two (Kevin and Day). Nicole – don't think about it, don't worry about it. Cody – I want to talk to David again because I REALLY like David. Christmas – I talked to him.. he was not surprised .. just disappointed. I told him if he is still up there and the noms are locked .. he has my vote.
7:30pm – 7:45pm David and Cody.
Cody continues to reiterate the heated conversation that he had with Kevin. I asked him if he would have nominated me and he said no but I heard that apparently he would have. It is what it is now.. I tried to be straight up. David – I am just frustrated with being nominated. Cody – and that's justified. What way would you want the game to go. If his (Memphis) previous play is what he can do .. I would not want Memphis to play in the veto every single week. But I have bias and feelings towards that. He put me up once before. We had conversations after .. It wasn't a natural. Cody – it was forced.. David – yeah. Cody – what you just said to me .. don't mention that to anyone else. I just don't want you to say anything to raise eyebrows. Its tough. I can't be more sincere.. you are someone I feel so tight with. Whatever happens in here .. it is a game. But you as a person I f**king love! And everything about you I love. Now with the game.. It was something I had to do. Cody leaves. David – I just dropped a seed and I don't know what it is going to do .. I just told him that he might have made a mistake in his nominations .. you nominated someone for the fifth time .. they don't care anymore. That was a poor game play decision. I wanted to show him some insight into another perspective on what that might do.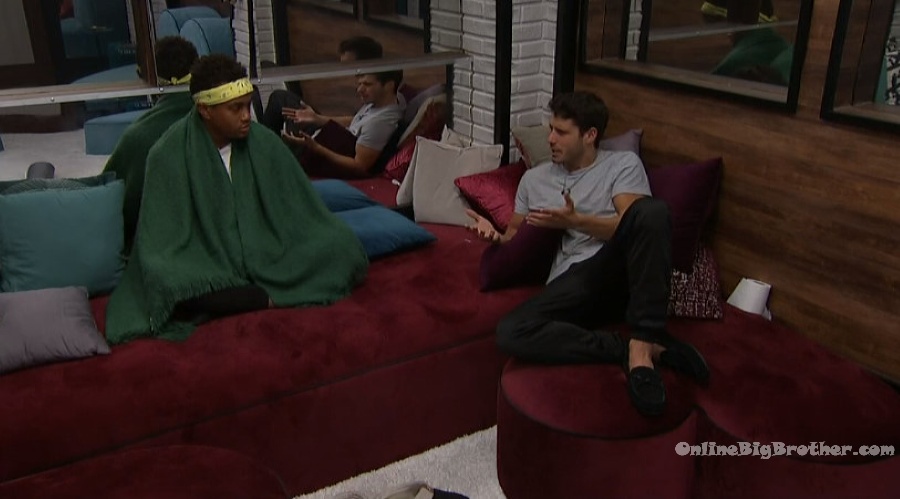 8:10pm Lounge room. Kevin and David.
David – I want to make a deal with you .. if either one of us pull each other down before eviction .. I will not vote you out no matter who is up next to you. Or whoever is up next to me. Kevin – deal! They shake hands. Kevin – that was easy. David – just so we don't even have to question it. I don't know who else he would put up. kevin – Enzo said he wants one of us to win to see who he would put up. David – it would show where the cracks are. Kevin – there aren't a lot of choices. Either its someone he thinks people would vote out or someone they wouldn't vote out. Kevin – I think we have a 33% chance to win the veto. David – I don't see anyone willing to change the noms. Everyone will go for prizes. Kevin – after the veto pick .. I am going to heavily campaign for them to not try to win it.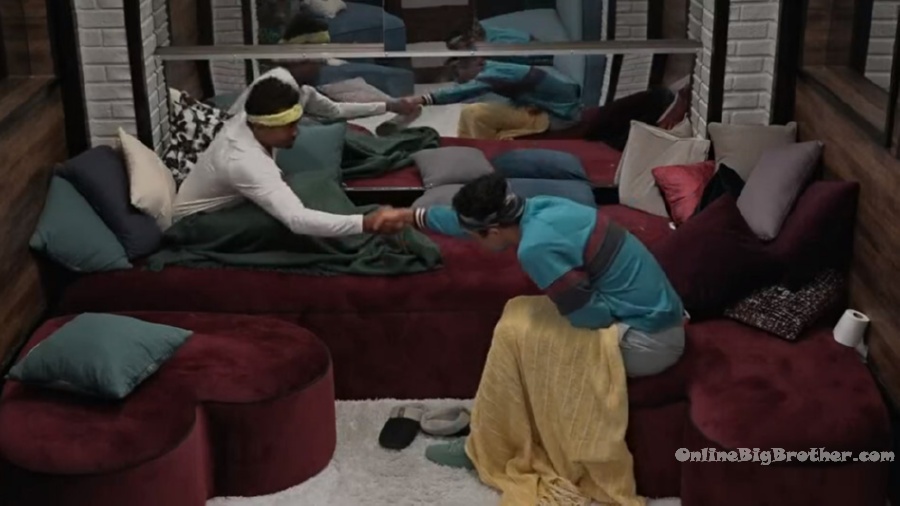 8:30pm – 8:40pm HOH room. Dani and Cody.
Cody – are you ready to win another HOH? Its at the point where we have to because if we don't its going to be uh oh! Dani – do you know what is annoying.. everything but also I really want David and Kevin gone! Obviously because they are clearly coming after us and not the other people in the committee. But I am also so ready to go after people in the committee ..like so ready. It is so frustrating to me. I am just dying inside. Cody – I just want this week to go smoothly and for Kevin to go.. and then cut David at like a 5 or a 6. Dani – I know because I don't feel like he is going to do anything either. Cody – no. Dani – you know he will put me up right? Cody – he will put me up too I think. I don't think our conversation went as smoothly. Dani – I think he will put up me and Nicole. But can he win anything? Cody – I bet on us winning stuff. I just want this veto to be done …to either have no conversations or have conversations. If noms stay the same .. I would have no problem sitting next to him for the rest of his time here. Dani – you would not want to. Cody – I would have no problem.. he would. Does this douche bag smell?!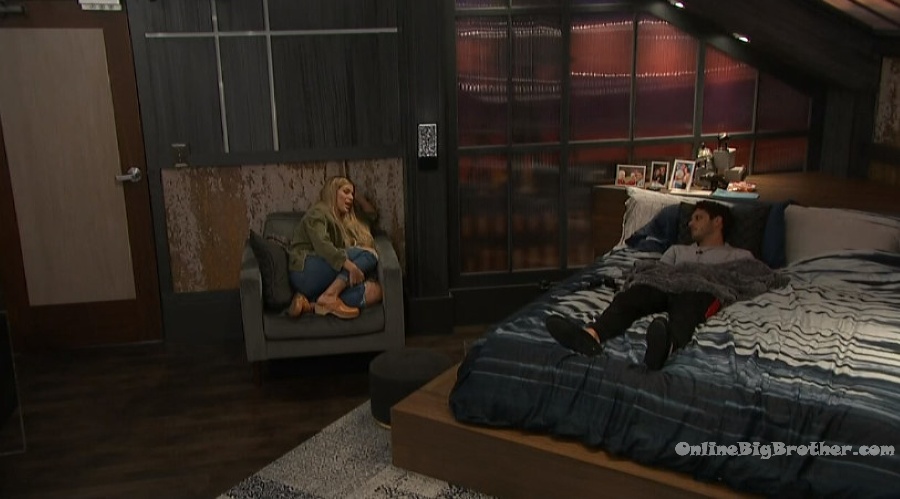 9:50pm The house guests are lazing around chatting about random things.

10:05pm Bedroom. Dani and Nicole.
Nicole – who do you want to go the most this week? Kevin or Christmas? Dani – I want Kevin gone but I also kind of want Christmas to go. I feel like everyone is getting ready for war. Nicole – yeah for sure. Dani – It sucks because I want them (Kevin & David) gone but I freaking want Christmas gone so bad. Nicole – what is more beneficial? Dani – best to guarantee us another week would be keeping her around but it is one week because if the veto is used there is only one person and we could go up and they could knock us out. Kevin and David are less likely to win competitions than Tyler and Christmas. And Enzo, you're telling me they're going to take Enzo out .. I don't think so. And they're already trying to recruit David. Do we sit around and wait or do we take a stab? Nicole – right. Dani – I do think we have Memphis on our side though. I just feel like things with Kevin and David are un-mendable. They're coming after us. We have four with Enzo ..which next week is half the house. If she (Christmas) is up there on Thursday .. you, me and Enzo have to decide if we're sending her home. Nicole – he (Cody) wouldn't break a tie would he? Dani – he would. I want to play in this veto comp more than anyone .. I want all the prizes! OF the Committee Memphis wants Tyler gone first. Nicole – I really hope its not a final five of boys. Dani – I would die if that happened.
10:35pm Lights out in the bedrooms..
10:50pm All the house guests are in bed.. Cody is in the diary room.
11:08pm – 12:05am HOH room. Cody and Enzo.
Enzo – Day said that she loved them to both of them. They're working on jury votes. Cody – I don't like that. Enzo – she was like stab me in the front not the back. I'm like dude you're getting played by everybody. Cody – I don't like that .. And Nicole goes so you're putting up Christmas as the replacement? Cody – and I'm like if it happens. She was like I feel like you're doing the dirty work for Dani. And I was like Nicole .. NO! Why is .. I asked her .. what is Christmas good for my game being here? She's like she will go after Dani. And I was like and who does she go after next Nicole?! Its going to be me or its going to be Enzo. Enzo – they're all f**king full of doo doo! Everyone of them. What I am doing this season is what is America thinking too. Cody – America for the first 8 weeks got to see how power hungry we were and now we're going to go at it. Enzo – there have been 18 f**king alliances this season. Now the action is going to start. Enzo – there are only two chairs in the end .. that's me and you. And like Nicole you better win sh*t yo! Cody – she gets all butt hurt but she has to win something. The only thing about Christmas is my name has never come out of her mouth. Memphis and Ty are beasts. I think I will pick Memphis if I get house guest choice. They talk about how they think the veto will be the prize / punishment veto. Enzo – Dani is too much yo.. too much. Cody – I need to go to bed ..because I need to be locked in ready to go (for the veto tomorrow). Enzo heads down stairs to go to bed..
12:11am All the house guests are sleeping..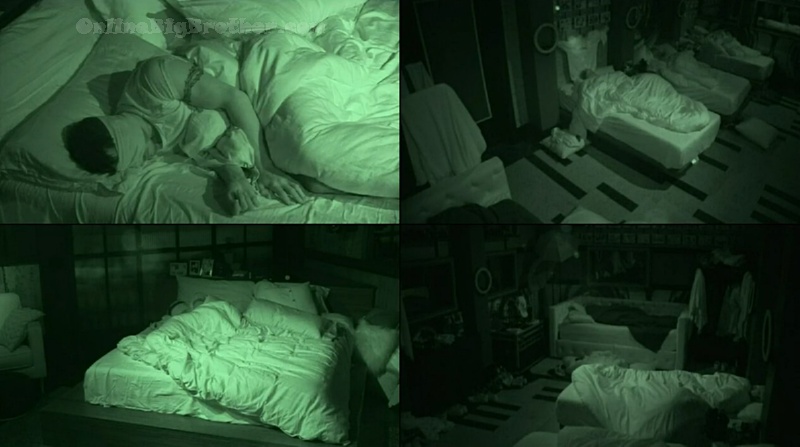 7:10 am Sleeping YO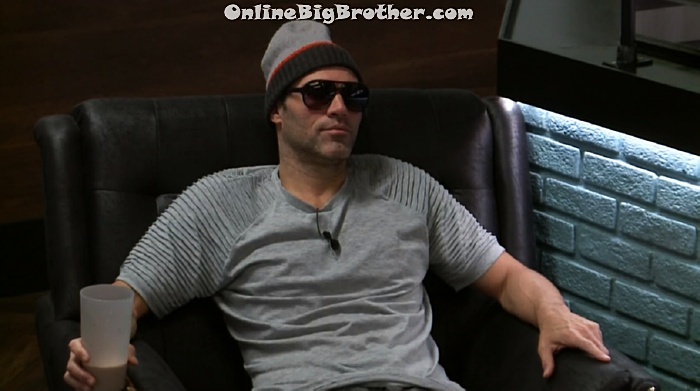 10:00 am Enzo is up.. YO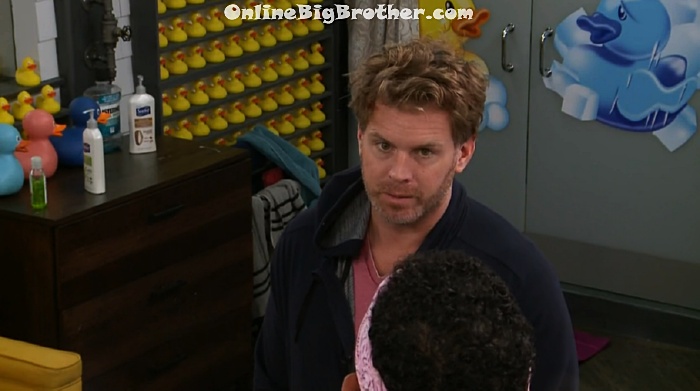 10:40 am Memphis and Kevin
Kevin – I'm going to try really hard
Memphis – if they do what I think they are going to do the button and the prizes .. like the graveyard or the guerilla cage or whatever
Memphis – Tyler went for the money straight up.. I think Enzo will do the same sh1t. If it is at least those two Its up for grabs because these f***ers .. the money part.
Kevin asks if Memphis will go for the money
Memphis – I don't know dude.. this is personal opinion about the whole money thing we're playing a game that's worth a lot more money than 10 grand For me it is not worth like ohh lest grab 10 grand. For me you gotta play the game
Memphis – if those two )Tyler/EnzO) get picked you have a better shot
Kevin – is there a way to throw the competition would you consider it? just consider it.
Memphis – I would consider it for sure
Memphis – Let's see what it is. If there was a way to do it .
Kevin – after that I want to connect with you.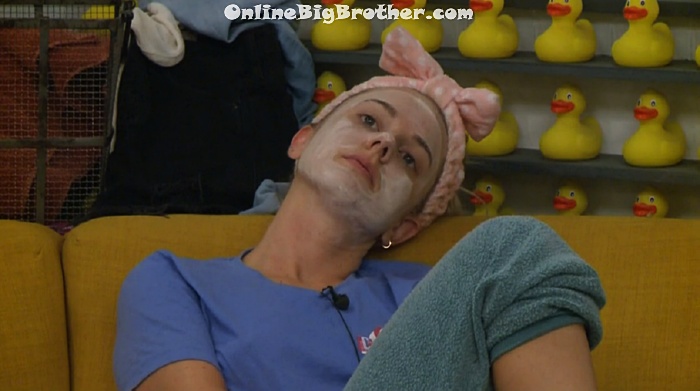 11:11 am Nicole showing off her nose
11:20 am Memphis, David and Tyler
Chatting about the power going out last night and now all the clocks need resetting.
11:50 am
Slow Morning #BB22 pic.twitter.com/aOz07Ll04a

— OnlineBigBrother.com (@bigbspoilers) September 26, 2020
Show your support by making a donation.
If you're enjoying our live feed updates this season, please consider donating.
Any amount is greatly appreciated! Your donations go directly to paying the fees required to run this site.