HOH: Kyland
SAFE: Claire and Tiffany
HAVENOTS: Brent, Derek X, Whitney, Hannah
WILDCARD Competition Winner: Sarah Beth (didn't take it nobody safe)
Nominations: Frenchie and Britini
Power of Veto Players: Alyssa, Frenchie, Britini, Kyland, Claire, DereX | HOST – Tiffany
Power of Veto: Derek X
Power of Veto Ceremony: – RANK THE HOUSEGUESTS –
View the previous day ranks on the – Ranking Grid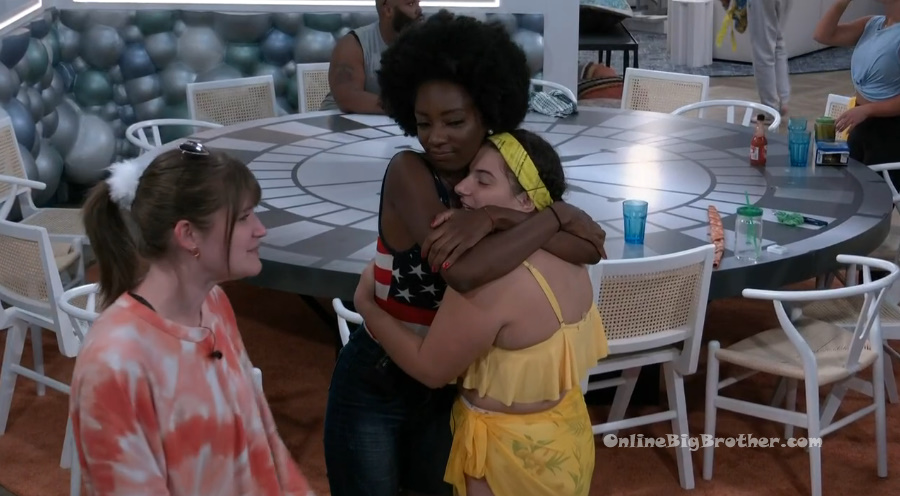 1:09pm – 5:40pm The live feeds are blocked for the power of veto competition.
Derek X WON THE VETO!!!
POV name was "Fun Tan Lotion"
HOH bathroom. Kyland and Derek X.
Derek – last week the veto mattered a lot but not this one. I wish I had won HOH. I'm going to play in every veto this summer.. that's my DR. So I'm going to take Frenchie off … just kidding! Derek – do you think there is a target on my back? Kyland – no. Derek – because that's two vetos. I was thinking of throwing it but I didn't know what everyone else was doing. He is falling apart. I can't wait what he (Frenchie) tells me. Kyland – I can't wait to hear. Derek – I will tell you everything. Kyland – what will you tell him? Derek – that he can talk and I will just listen. Kyland – that's what I was going to say to say.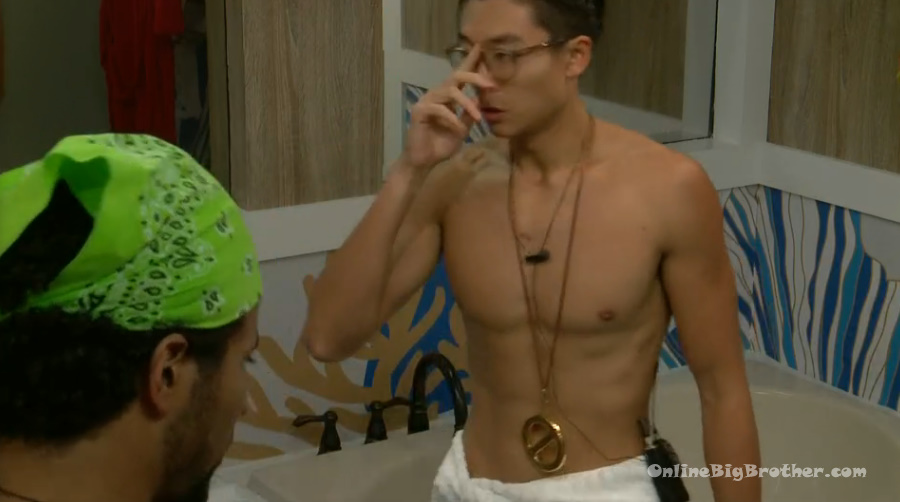 Bedroom. Frenchie and Britini
Frenchie – that was embarrassing. Britini – damn we had good times too. Frenchie – I swear if there is a battle back I am going to be pissed. At this point I just want to go home. Britini – we did the best that we could. That's all that we could do. They fist bump.
Frenchie – I am proud of us. Britini – I am too.. we were right there. It was a difference for 10 seconds. We played our hearts out y'all! Derek X has the veto .. again! Frenchie – nothing is changing. Britini – I know. I am sitting. I am sitting for the week. Frenchie – I wish he would slow down a little bit .. he's going to paint a target on his back.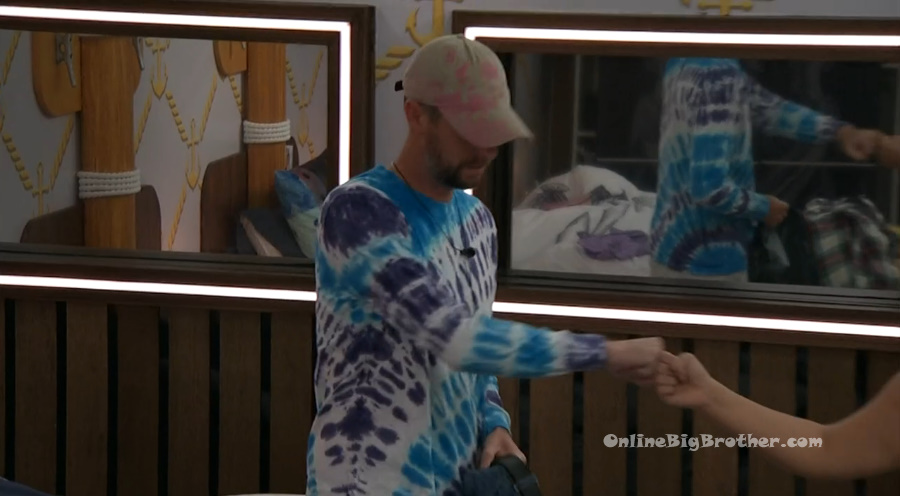 Chess room. Tiffany and Azah.
Azah – Frenchie told me that he went to Kyland's room and that they used you the same way that they used me. They got me to do what they needed me to do and then they threw me away the next week. Tiffany – who said that? Azah – Frenchie told that to Kyland. Tiffany – who is going to use him. Who got used?! Azah – Frenchie got used by Brent and Whitney. Tiffany – they wanted Travis out. Azah – they originally wanted.. they settled on Travis. Frenchie said day one he wanted Brent out.. and then Brent got in the room and used his used car sales man stitch and got all buddy buddy with Frenchie. He said that Whitney originally wanted Claire out. but they convinced him .. Travis instead. What I feel .. what it sounds like is that Whitney is behind a lot of things. Britini is Frenchie's right hand woman. The second day we went up to his room and told him everything that we knew and he told other people. That is when we couldn't tell Frenchie anything. And since that day Britini has not told him anything about game or strategy. That is why my heart broke for her.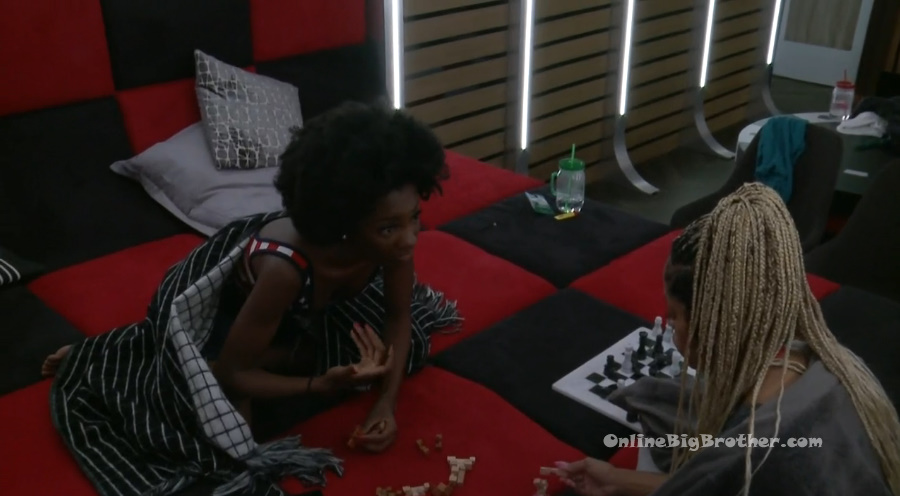 Bedroom. Frenchie and Alyssa.
Alyssa – its crazy he went from the block to up. You never know what is going to happen.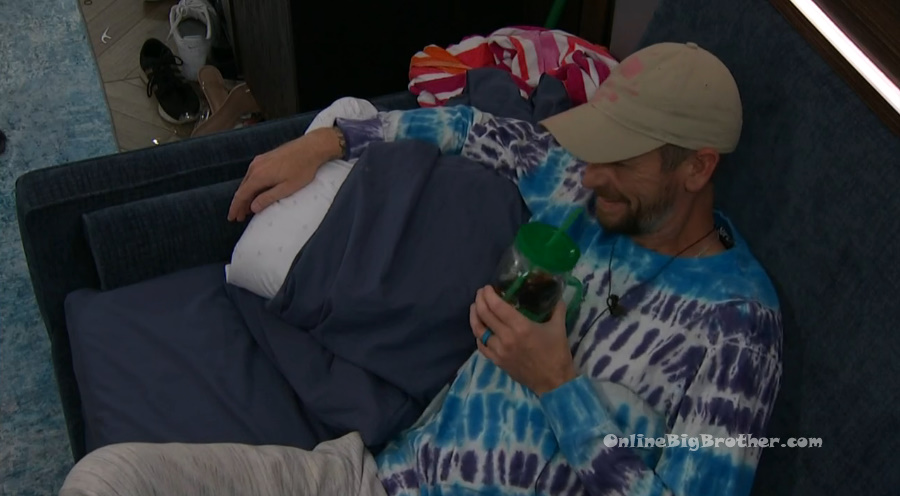 6:15pm Chess room. Britini and Azah.
Britini – I feel like I am staying no matter what ..it sucks. My question for Kyland is if your whole plan was for me to play in the veto .. can I come down now? Why do I have to stay up? maybe what you could do for Derek is propose something, not promise but propose. I would be 100% down with working with Derek X moving forward. That guy is a beast as proven today. He is unbeatable in vetos (Ok relax, there have only been two vetos). I feel like he would have reason to take me off. I understand that Frenchie is your target but Britini has been put in an unfair situation this week. Britini has been true to her word. She has legit done nothing.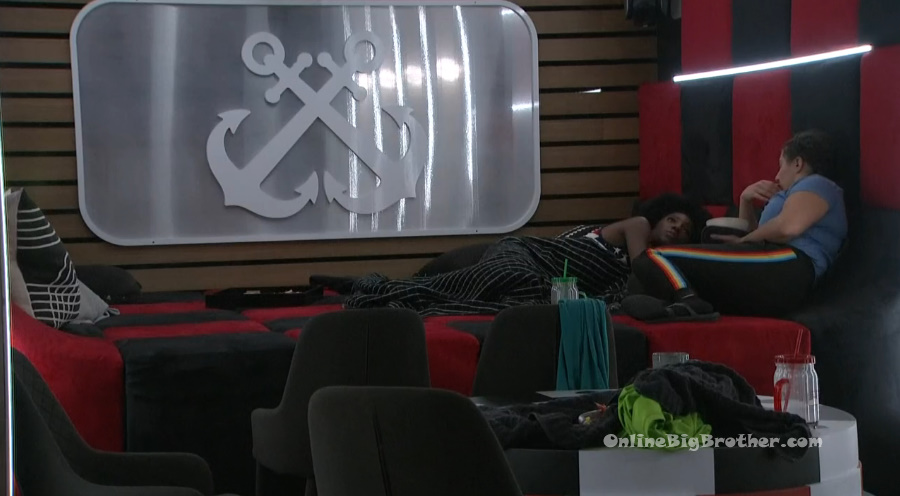 6:35pm Bedroom. Claire, Azah, Sarah, Tiffany.
Azah – we've been given a lot of info .. we need to win next week. We've got to figure out how to win these games. We've got to figure it out and put them up. We have your back if they try to retaliate. Tiffany – but what happens if one of them wins. Azah – then its just two, two, two, two until one of us wins. Tiffany – who do you think they would put up? Azah – I don't know. We've all been kind of laying low. Tiffany – we won't be able to fully move forward with anything until we know what happens with the veto. No one said it was going to be easy but I didn't know it would be this hard.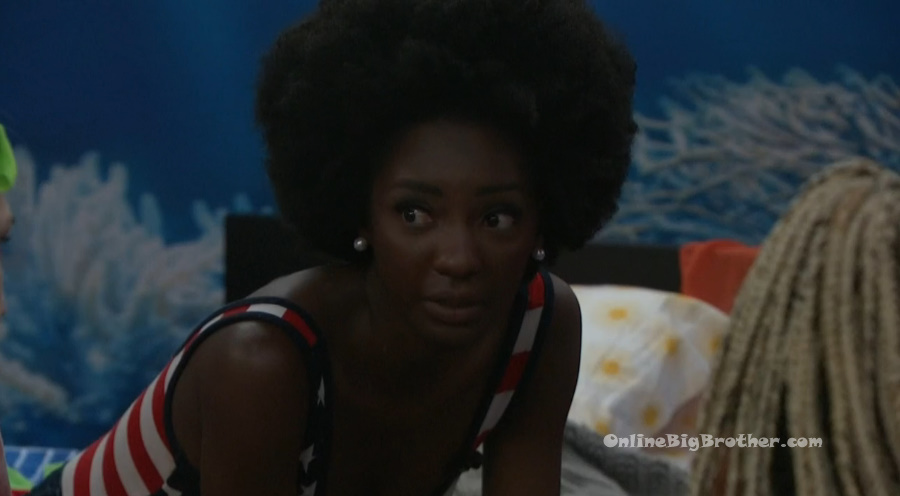 Bedroom. Xavier and Azah.
Azah – did Frenchie mention anything to you yesterday? Xavier – he was talking about fireworks and how he is ready to go home. What's on your mind. Azah – nothing. I'm not bullsh*tting you. You know me I keep quite. He didn't say anything to you yesterday? About who he is working with? Xavier – I've heard about it but he hasn't spoken to me about it specifically. I've heard he is working with pretty much everyone in the house.

7:10pm HOH room. Frenchie, Kyland and Derek X
Frenchie – I don't want to talk game. I meant what I said please do because I care a lot about this guy. Its been a f**king blast you know! And I want to tell you (Kyland) nice checkmate. They shake hands. Kyland – we'll see. You're still playing the game. If I go home, I just want y'all to know there are no hard feelings and I hope you do come to the farm because we're going to have a blast if you do. There is game and there are friendships.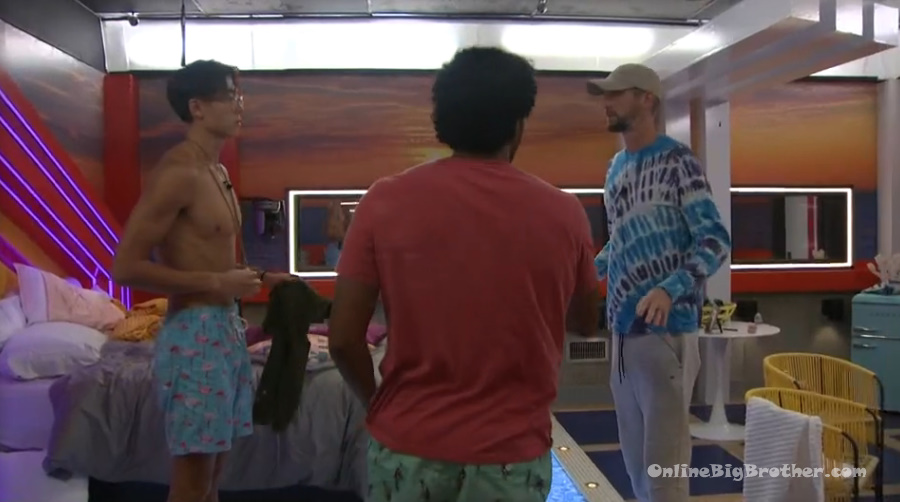 7:35pm Living room. Big D and Frenchie
Frenchie – the thing that I am most proud of is Dawg pound 2. Big D – I did not expect to be in here without you for the rest of the summer and its bothering me now. I don't like what is happening now and I feel like people are getting out of line and it looks like .. Frenchie – we knew this was going to happen. We read everyone like a book and it was completely accurate. My big brother radar is off the chain! I think honestly what got me was those paranoia bugs. Big D – I don't think that is what got us. I think.. Frenchie – it just sucks when you read the house so well. Big D – I don't know how I am going to keep running it without going up on the block. I don't know if I should curse you out on the way out. Frenchie – no. Once they find out the slaughter house has been outed they will turn on each other. Big D – what should I do? Frenchie – lay low. If you do that you will go a long way. I was taking you to that chair right there. Big D – Me too!
8pm Living room. Hannah, Frenchie and Big D
Frenchie – we both know you're a super fan of this game. Hannah – I'm not a super fan. I'm a pretty big fan. Hannah – my eyes are open. I'm perceptive. I'm surfing. Frenchie – you know as much as we pick on each other I really really really like you. Hannah – I know you do. Frenchie – I would always have your back. Big D – they will pick us off one by one. Frenchie – You're going to get picked off one by one. Y'all are definitely going to get picked off one by one. If one of them were to go up next to me, there is a possibility that there are enough votes to keep me here which I would be a bigger target than any of y'all. I would always have your back. And then week five you guys send me home. I'm ready to see my family. Hannah leaves. Big D talking to Frenchie – We could be better than Derrek and Cody if you could stay longer so I am going to do my best. Frenchie – all it takes is me sitting next to one of them and I think I would stay. Big D – I know, I am going to work that man.. Whatever I need to do. Rub his back. To get him to magically change his mind to get him to put someone else up next to you. But if he does, you can't go after him. Frenchie – absolutely not. We have to work with him. This is not how I saw the slaughterhouse working. Big D – none of us did.
If you like these spoilers and read this blog regularly please consider a donation to keep the madness going. We accept donations via paypal How to support OBB