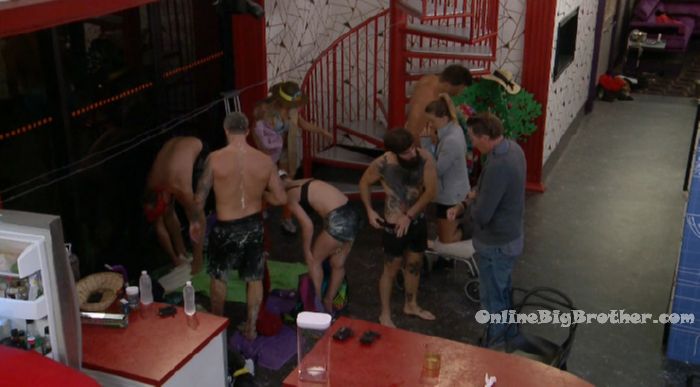 If you plan on buying anything from Amazon. Use this link Amazon home
Doesn't cost you anything and we get a small cut.
6:10pm – 9:20pm Big Brother blocks the live feeds for the POV competition.
POV PLAYERS: Christmas, Jason, Matt, Raven, Mark, Paul
Power Of Veto WINNER: JASON

See what they can't show you on TV Try the live feeds for FREE!
All of the house guest Paul – that's the comp that everyone wants to win but it f**King sucks a$$. Matt – I would rather do the wall comp. Kevin – everyone had their own way of doing it. It was a lot of fun. Very entertaining.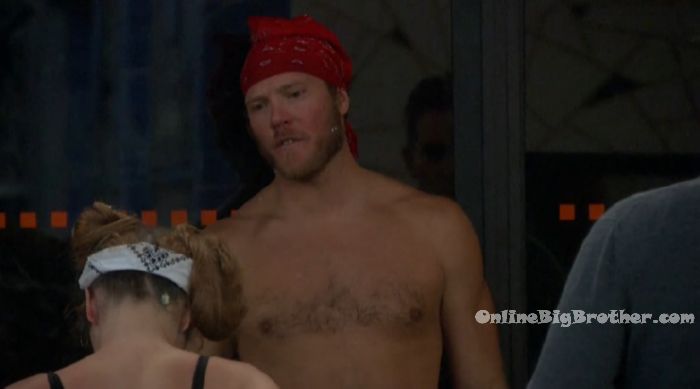 HOH room – Jason is showering. Paul comes up and says good work bud! I was chilling right behind you. Just in case you slipped. I am glad you went for the little one because last year I couldn't get mine out. (The POV competition was filling up the container to get the ball out.) Paul – congrats dude!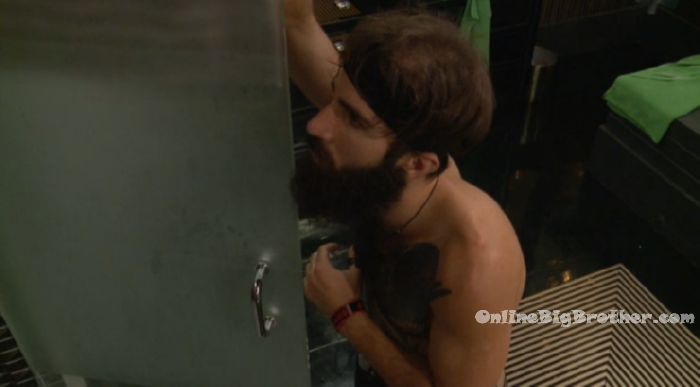 9:30pm Bedroom. Matt and Raven.
Matt – I was trying but whistle nut (Jason) was never not going to win it. As soon as I saw what competition it was I knew we were golden. Paul joins them. Paul – I just gunned it for that big one to make sure homie (Mark) didn't win. I say Jason before Alex because we could tie in Alex and she could take a shot. If Jason is still around Kevin is going to be tied to him. Matt – okay. Paul – if we remove Jason, Alex and Kevin will never work together. That's the bridge between the two if you've been noticing. Matt – you're 100% right. Raven – Mark weighed too much .. he was never going to make it up. Christmas joins them. They talk about getting Jason out next week. Christmas – I'll tell you what he is stepping it up for these competitions. Paul – lets not talk about it anymore. Its done. Raven and Matt leave. Paul tells Christmas he really tried to win it. Christmas – we just needed one person (Mark) not to win and he didn't. Paul – Kevin is getting on my nerves. Christmas – he is sucking up too much. Josh comes in and says whistle has to go! Paul – we know. Josh leaves. Paul – we can't make this obvious though so no more talking about it. Christmas – he is going to be lit the f**k up for the next HOH. They leave the room.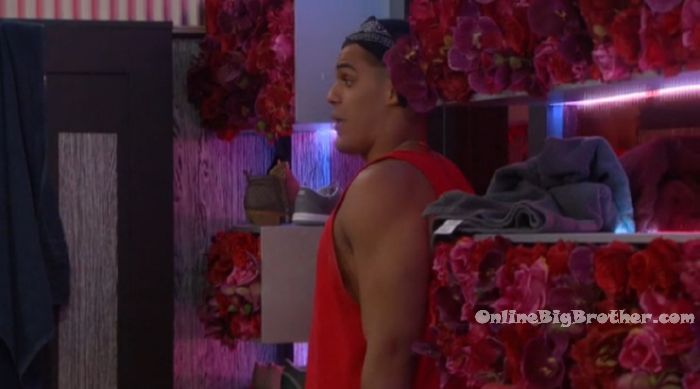 9:40pm HOH room. Paul tells Jason that Kevin is getting on his nerves. He tells Jason to be careful around him.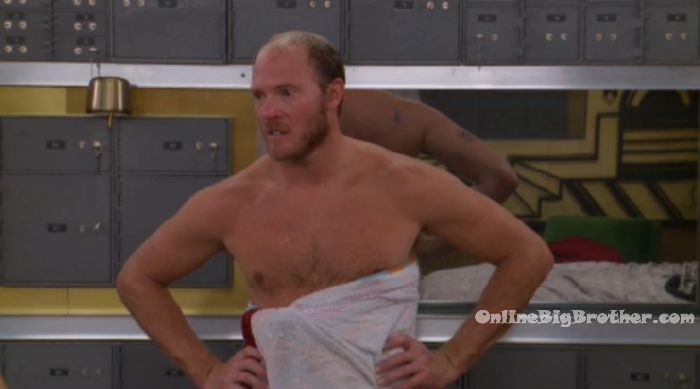 10pm – 10:10pm Kitchen. Alex, Jason, Matt, Mark, Josh and Raven are talking about the competition. They comment on how the comp had a steep slope. Paul stretches. Matt – that was the most amount of calories I've burned in years.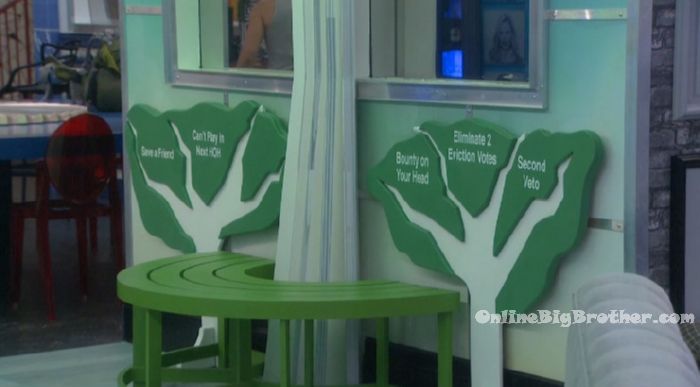 10:45pm Bedroom – Josh, Alex, Paul and Kevin.
Josh – I am honestly so proud. Out of everyone he is handling it so well. Paul – what? Josh – I am so proud of how he (Mark) is handling leaving. Paul – it says a lot about his character. Paul – I can't believe we played this comp today .. it was random. Josh – Zingbot today too.. I was like… Paul – I knew zingbot was coming. Josh – how did you know? Paul – the fact that everyone was napping and no one was getting called .. and they told me to turn down my music when it wasn't even loud. I knew Zingbot was going to go ZIIIIIIIIIINNNNNNNNNNNNNNNGGGGGGGGGG!
10:50pm – 11:35pm Kitchen – Christmas and Mark.
Paul – is there anyway you could see me as an asset moving forward instead of backdooring me this week? Christmas – I like the direct questions. You have to understand my hesitation given our rocky history. Mark – I know its easy to go with the group. If you feel its best for you game then do it but I have never thrown you under the bed. The only person I turned my back on was Cody. Mark – you're not competing next week. Christmas – I promise you I will think about it. Mark – for whatever reason if you keep me I am with you and Josh. If you think it will hurt you, then don't do it. Whatever you decide, I will respect. Christmas – my heart feels for you. You've had a hard week. Mark – I knew my fate was sealed if I didn't win this veto. Christmas – you got Zing'd. Christmas – I do have to say who thought Josh would have stayed after week 1. Mark – yeah I don't know what happened. I got too caught up with Elena.
11:40pm – 11:52pm Jason that was an extreme week! Good Job! This week is over! Jason jumps up and screams as he run through the house. Jason completed his week long punishment.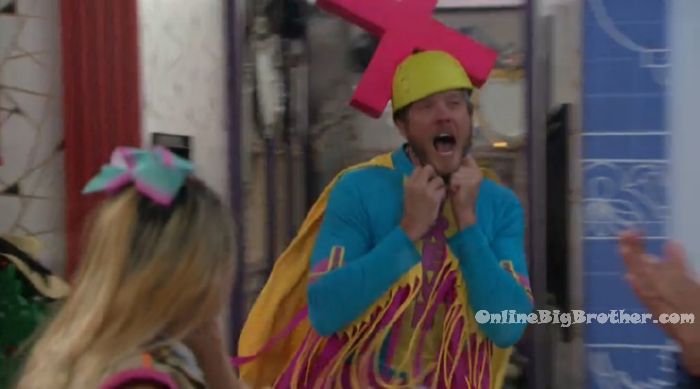 Donations support this site more than anything.
If you're enjoying the live feed updates this season, please consider donating. Simon and I work 24/7 all season long to keep you updated on everything that happens inside the house. Any amount is greatly appreciated! Your donations go directly to paying the fees required to run this site.