POV Holder:
Nicole
POV Competition
Aug 27th
POV Used
?
POV Ceremony
Aug 29th
HOH
Nicole
Next HOH
Sept 1st
Original Nomi1nations:
Paul AND Big Meech
After POV Nominations:
? AND ?
Have Nots
Corey and Victor
Care package
Corey
Watch the next week of the feeds for FREE – 1 week Trial!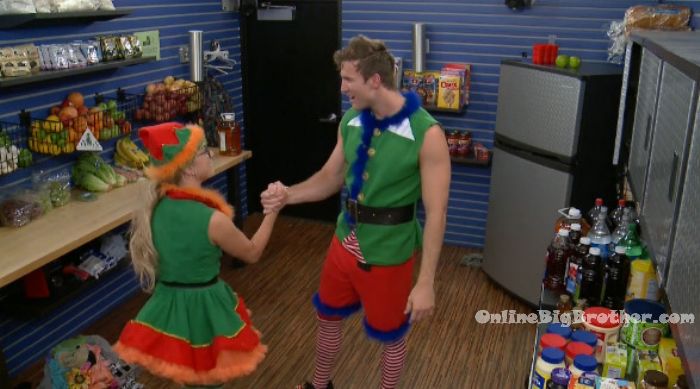 POV players – Nicole, Paul, Corey, Michelle, James, Victor
POV Winner: Nicole

It was the counting Veto – Stay or Fold
4:15pm In the storage room – Nicole says I had to just keep staying. We control the whole week. Corey says I threw that life line out there for you. Nicole says I didn't know you were going to do that. I was like was he trying to be funny ..or.. Corey says I was like I'm going to get out .. you take swing at it. Nicole says thank you.. you're smart. I didn't even think of that. Its never been done before. Paul's an idiot. Nicole says he thought you were going to fold. They leave the storage room.
4:20pm In the kitchen they congratulate Nicole on winning. Nicole says I really did nothing but stay the hole time
Nicole wins the VETO @bigbspoilers #bb18 pic.twitter.com/ft6XmTsctY

— Dawg (@DawgsBigBrother) August 27, 2016
4:30pm – 4:45pm HOH room – Nicole and Corey talk about the veto. Nicole says I can win comps if I want to. People are going to think we planned that but we didn't. Corey says he said 1 billion and then stayed. Nicole asked are you serious. Corey says he was hoping Nicole would stay too. And then she did. Vic joins them. They hug and say final 4. Nicole says its funny that we did that and Paul's not even here. Nicole says I know Paul is paranoid because he's on the block but I don't want you guys to go anywhere. Vic says now noms stay the same and Meech goes home. Nicole says I want her to go home so bad. She's good see. She was close. Vic tells Nicole she's catching up in comp wins. Fools pulling the whole team this week. Nicole says I'm going to need your help next week. Vic says nnaaa. And laughs. Vic tells Corey now he can give the 5K to Nicole. Or save it for the HOH. Corey says with 6 people left I don't think anyone would take it to drop out of the HOH. There's not many people left. They talk about him saving the 5K to be funny on the live show to bribe votes to vote out Meech.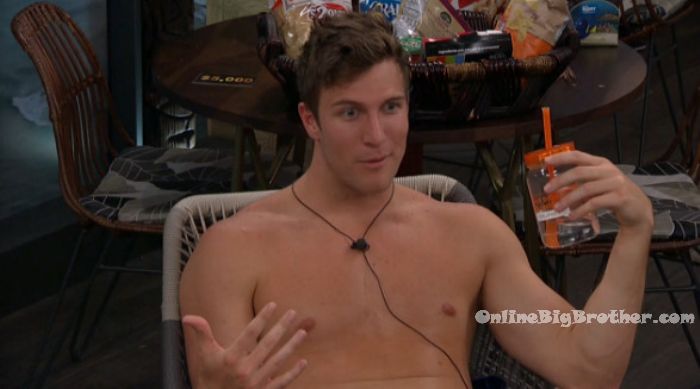 Nicole asks Corey what do you think dude? We could kick one of them (Paul or Vic) out this week. I'm just saying .. think about it. I don't want to but we could literally do whatever we want. Corey says I know we can. Nicole says I don't think its a good move moving forward. If Meech is here she is putting us up. Hopefully Natalie will go after them (Paul & Vic). Ok so we're not going to but my mom and dad would bescreaming at the screen saying get them out. Corey says you just beat them on Thursday and today. To be the best you have to beat the best. Nicole says that was my line to Frank. Nicole says tells Corey he should save that 5K and tell James if he drops you won't put him up. And then we get Nat out. Corey says I can pay someone to throw it but it can't help past the HOH.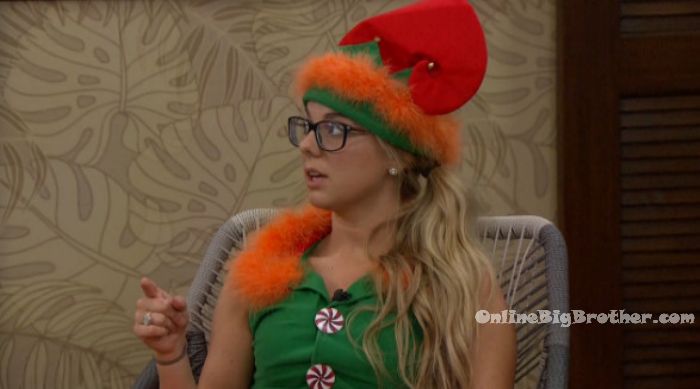 5:10pm – 5:50pm Vic joins Corey and Nicole in the HOH. Vic says Paul is taking a nap. He didn't want to run up here right after. Vic and Corey talk about random stories. Paul joins them. Paul says did you hear how when James went out he was like f**k. Vic says but he didn't want to change it, he would keep the noms the same. Paul says I'm stoked but I can't act like it. Meech is walking around happy. Nicole asks so she thinks she's staying. Paul says oh 100%. Nicole says well the thing is Paul is good for my game and Michelle isn't. Paul says she's doesn't need to know that. To keep your game under wraps keep the noms the same. Nicole says she will. Corey says I don't want to give Natalie 5K, I would rather give the crew 5K to play with. Paul says in any scenario its done, we win. Paul says I don't care if I'm on the block I trust you guys.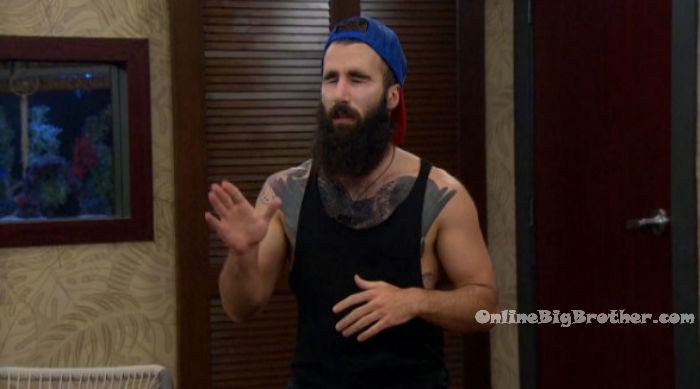 5:50pm Bathroom – James asks Nicole do you know what you're doing with the veto? Nicole says not using it. James says does Paul know? Nicole says yeah. Kind of. James says oh damn. Nicole says I put my noms up why would I change them. James says I wanted to come up and hang out. Nicole tells James to come up. James says every time I see them (Paul & Vic) they're going up to your room. I'm like damn give her some time to herself.
6pm – 6:10pm HOH room – Paul says if you swap me out with Nat .. then me and Vic are two votes. Vic and I won't tell them how we're voting. Nicole says they (Meech & Nat) will have to campaign against each other. Paul says Nat will be stressed and talking James ear off. It will change his temperament. If Nat is on the block she is f**king going .. But if you think that will put your two games in jeopardy. Nicole says I don't want to put up someone else. Paul says I would want to f**k someone emotionally and mentally. Keep it the same if you want. I'll act down and stress all week. Nicole says I do feel bad because I am loyal to you guys but I can't show my cards right now. Paul understands. Nicole says I want to work with they best.

6:10pm London bedroom – James asks Nat how close are you with her? Nat says she's my best friend. James asks do you have any other friends that you might be able to get to know? Nat says I mean you're my number 1 best friend. James says because you're ……going to hold on to this best friend. Nat says that's not funny. You're mean. James says they're going to lock in the noms. She is not going to use the veto. Paul and Vic are going to try and get her to use it. She said that Paul and Vic are always up there and she can't get a break. I told her I want to come up there but feel like I'm kissing your butt. She said she made her targets very clear. I think Corey is going to use the bribe to get Vic to drop out of the HOH. Nat says okay I trust Nicole now. James says if I win HOH and put up Nicole and Corey .. they would kill me if I put them up. James says or I put up Meech and Vic. Nat says that's a sticky situation.
6:30pm HOH room – Vic and Corey.
6:35pm In the kitchen – Meech, Nicole, James, Paul, and Natalie. Nicole says she thinks Frankie Grande is a B list celebrity. James agrees because his sister is Ariana Grande. Meech says she thinks Rachel Reilly is a D list celebrity.
6:45pm Vic asks Corey what he would do if he won the 500K. Corey says I would buy my parents something cool. I would talk at least 10 – 15K and just blow it. Have as much fun as possible. Vic asks like a trip or something? Corey says yeah a couple trips. I would spend like 30 or 40K on a boat. Maybe get like a like house.. like put a down payment on a lake house and then invest like 250K. ANd then use the rest as a down payment on a house. Vic says I would take some trips. Put 100k in a portfolio and invest in property somewhere. Help my parents and my sister out.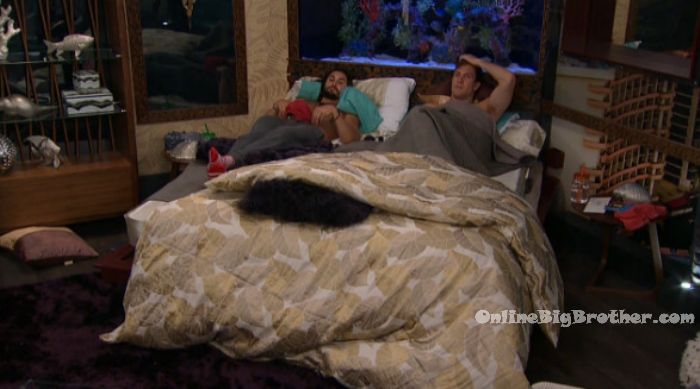 7:35pm HOH room – Corey, Nicole, Paul and Vic are hanging out in the HOH room talking about trips they'll take after getting out.
Show your support by making a donation.
Donations support this site more than anything. If you dig our spoilers please find a way to support us.
"BB BRIBE"
WEEK 5 – August 25 to August 26th
The winner gets $5,000 to bribe one house guest. Bribes my influence voting, competitions, vetos or nominations. The bribe can only be given to one house guest, for one action, within the week leading up to the next eviction.