POV Holder:
?
POV Competition
Aug 27th
POV Used
?
POV Ceremony
Aug 29th
HOH
Nicole
Next HOH
Sept 1st
Original Nomi1nations:
Paul AND Big Meech
After POV Nominations:
? AND ?
Have Nots
Corey and Victor
Care package
Corey
POV players picked = Nicole, Paul (picked Corey), Michelle, James, Victor
Watch the next week of the feeds for FREE – 1 week Trial!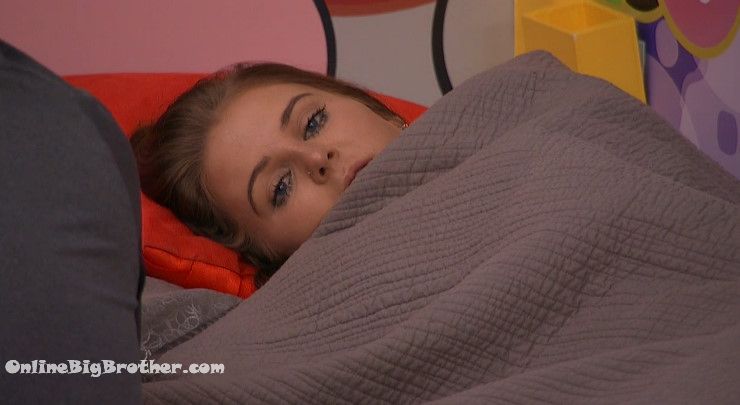 9:12am Tokyo room Michelle and Natalie
Talking about how sick they are of Paul and how they want Paul out of the house. Natalie doesn't think they are the target.
Michelle – why are they so confident though.. Picking Corey.. Why
Natalie and Michelle agree Nicole and James love each other and Nicole will never put James up.
Natalie says Michelle is a pawn and the real target is Paul if Paul pulls himself down they will put up Victor.
Natalie – this was a perfect game move on their end.. They put one of them up.. That is why they are being so nice to victor because if Victor stays they are buddy buddy..
Michelle – I'm just really discouraged right now that draw… I wanted you to get drawn..
James joins them.
Meech – why would Paul pick Corey.. That was weird..
James munching on a sandwich .. "Who knows I might be a target"
Michelle – Nicole won't do that to you
James- who knows backdoor me..
Michelle is pissed that Paul keeps talking about winning the veto, Michelle really thinks she's the target this week.
Michelle – who knows maybe those 4 are coming after us three… (Ding ding ding)
Michelle – it just sucks going in there knowing Paul and Victor are playing.. It's not fair..
Michelle – i would feel confident if Victor wasn't playing..
James – they're still a bribe in play
Meech – why would they be hanging out with their target..
James- I dunno.. My turkey sandwich is really good though
James points out that Victor and Paul are hanging out in the HOH.
Nat – you better gun for that Veto..
James is calling Paul and Victor Flip Flopper saying they ran to the side with power. (WTF James you guys voted Victor out 2 days ago why would they work with you)
James says Corey and Nicole are shooting on Victor winning and Corey will Bribe Victor to not use the veto if Paul wins they will put Victor up and Michelle will go home
Michelle – Really
Natalie says it's the best case scenario is Corey being picked to play than her.
Michelle again saying it's not fair having strong guys in the house to compete against.
Michelle – It's me against Paul, Victor, Corey and james.. And Nicole..
James – we'll assume Paul and Vic told them the same things they told us.. I'll go after JAmes James voted me out. Nicole put me on the block
Michelle – wouldn't Corey and Nicole be smart working with them
James says they are friends no doubt..
JAmes- Victor is starting to bump up his social game he's building relationships.. Paul's got a good social game.. The thing is Corey knows at the end of the day Victor is the BIG THREAT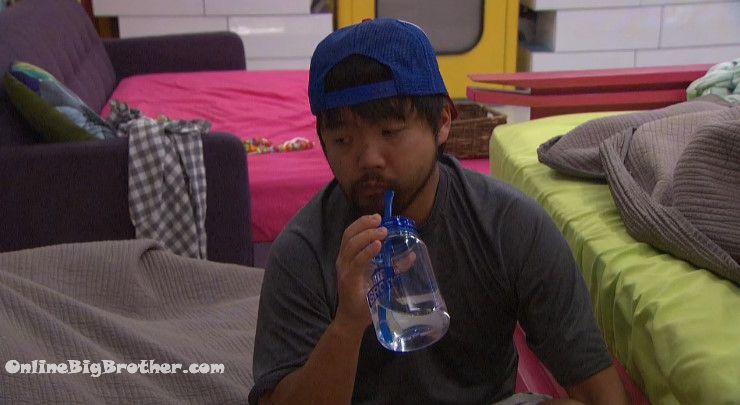 9:41am Tokyo room tears..
Natalie says she would lock the noms for 5K to keep them both safe even if it meant she went home.
James – 5 grand i aa lot of money
James- I'm hoping and praying.. I mean if someone else gets it I'll be happy for them.. .like I'm kinda
Michelle -America's favorite
James – I'm kinda banking on that
James- if I go out I feel like I have a good chance getting that at least that.. Not saying I'm going to win it there's some good people here to but I know Julie is going to call my name at least for the running.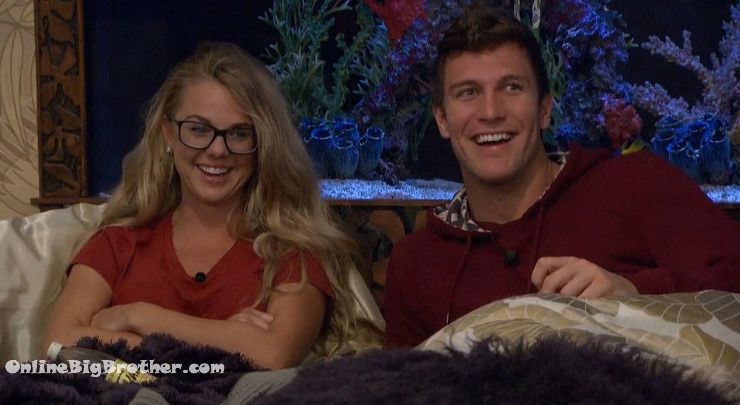 9:17am HOH Paul, Corey and Nicole
Talking about the POV player picked
Paul says he's sorry he sh1t on Corey about not being able to win Comps that is why he picked him.
Nicole – it wouldn't have made sense for you to pick Natalie
Paul – exactly I told Natalie I didn't pick her because she's good at comps and she'll take Michelle off..
Paul goes over a argument he had with Natalie telling her she's good at comps while she's denying it.
Victor rolls in..
Paul – we have 4 against 2 right now.. If one y'all win the veto do what you want with it.. If you do pull me off it'll be 'Titght T1tties"
Paul tells them he's confident about their loyalty but Block paranoia is still something that will happen. Paul stresses he's not paranoid right now .
Paul – if you do pull me off I don't mind put all their heat on me..
Paul offers to blow everything up and make everyone hate him more to keep the target on him.
Victor points out if Paul stays on the block it will be a tie vote. (James/Nate for Meech, Cor/Vic for Paul)
Paul- I don't mind making myself public enemy number 1 I liek it.. I will bait..
Corey asks Nicole if she wants it to be a tie or 3-1 vote
Nicole – I never had to break a tie before..
She laughs.. "It's kinda scary for me"
Victor says the need to play the POV first then they can make a decision.
Nicole – we can't get Cocky
Paul – worst case scenario Michelle wins and is pulled down
Corey – James won't use it.. He'll know Nat goes up
Nicole agrees says the worst case scenario is if Nat wins than they have show their cards.
Nicole stresses they cannot have Michelle win otherwise they will expect her to put Victor up.
Nicole tells Paul if it's days Michelle might win they can't let that happen. She tells Paul he can beat her on days..
They start to study dates..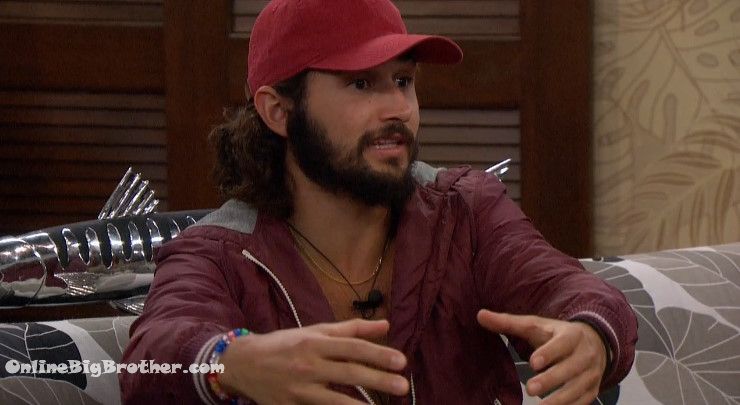 9:45pm Victor, Nicole and Corey HOH
Victor tells them how they were working with James and Natalie and before he knew it he was on the block going home and now that he's back they are acting like it's a mistake. "they're so stupid, that was their dumbest move"
Nicole – but itt got us to work together
Corey – DUDE.. crazy how the tables can turn like that
Vic – they are shitting their pants.
Nic – we were just by ourse;ves last week
Vic – now we have the strongest people in the house working together
Nic – we're just done with the stupid crap we just wanna
Corey – all Michelle's crap
Nic – I just want to stay loyal
Corey – I hate getting screwed over but I would rather get out and be like I got fricken boned rather than having to screw over other people..
They talk about when Julie asks those tough questions when you're evicted .
Victor – I don't mind going to talk to Julie.. I haven't screwed anybody over.. I don't get those questions.. And now we are the FINAL 4
Nicole says production is excited they are eager to film it. (Final 4)
Nicole talking about how sketch James, Natalie and Michelle were especially last week. She got the feeling that they were holding out to see what was the better option. Nicole didn't feel like JAmes and natalie were scincree with working with them.
Nicole says she could never get a full answers from them she thought Corey was getting evicted.
Nicole – I didn't know until the day of the votes.. I couldn't get a secure answer..
Victor says he was backstabbed by James and lied to.
Nicole – I can't work with them moving forward
Corey – Too sketch..
Victor says they are normal up until they get power once they get power they "become super sketch"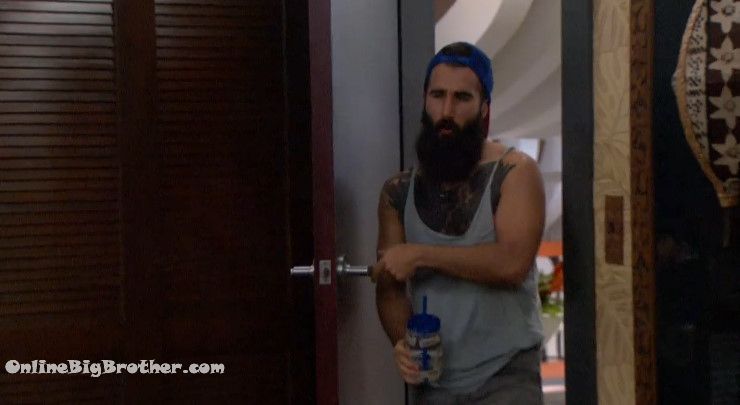 Paul – comes back They (James,Nat,Meech ) are sh1tting their pants.. Shitting
Paul says that natalie asked him "So you are hanging out with them"
Nicole – well everyone likes Corey so that's our excuse.
Victor – and what do they expect from me? THEY PUT ME UP.. I WENT HOME
Victor – DO I OWE YOU AN APOLOGY .. I didn't get a sorry from them..
Paul – you told me it was a mistake he went home (Natalie to Paul)
Vic – I lieterealy did not get an apology
Paul says Natalie told him "Oh my god I can't believe the worst player in the game sent the best player out by mistake.. "
Paul remember
Victor remembers retells.. That natalie said she can't believe the worst player sent the best player out "By accident"
Corey – Oh my god..
Vic – yeah heck of accident.. Mistake my ass …
They say that Natalie was telling him she knew Victor was coming back she saw it in a dream.
Paul – she said 'I knew that was going to happen everything worked out for the best"
They laugh everyone knew Victor was coming back Victor says when he was fighting on the wall he knew he was coming back "i got this" (He's being sarcastic)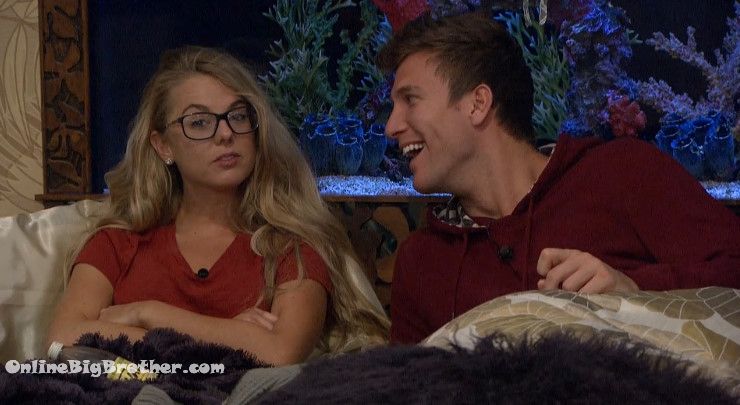 9:59am
Corey says if Michelle wins the Veto he'll bribe her with the 5K to not use it
Corey says the best thing to preserve their games is if Victor wins the veto PAul will throw the veto to Victor if he can
Corey – freaking James can win I don't care as long as MEECH doesn't win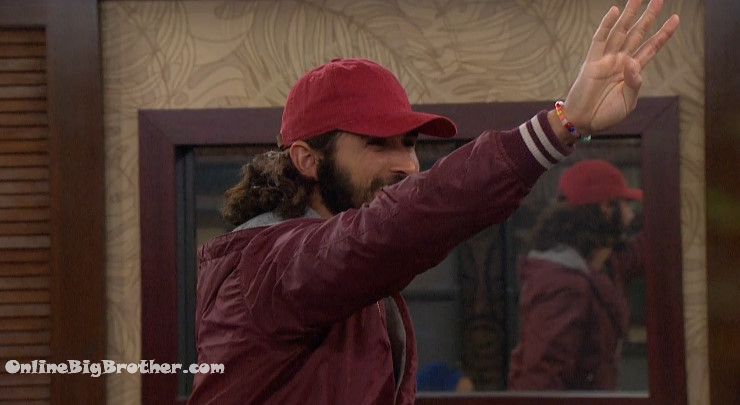 10:12am
Victor – you were my targets but now we're FINAL 4
Paul – what they wanted to happen was for me to go home Vic to stay as their weapon to take a shot at you two.. But it didn't happen.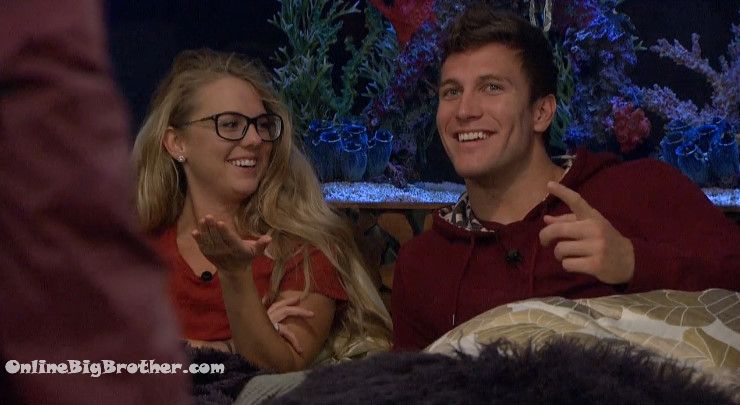 Nicole laughing at Victor being goofy..
Nicole – He is something else
Corey – he is man he's hilarious
(See image above)
They comment on James always saying how much of a veteran he is.
Nicole – I hate it when frank said that too..
Victor – I have the most selfies with Julie.. Best friends.. 4 selfies with Julie..
Paul says he is really pushing the fianl 4 in the DR "They" know this is goign to happen.
Paul – I don't think America hates us.. it make sense you got it.. you were in a better spot than us two leading up to the HOH.
Paul thinks that 5g's woldn't have been enough to save either Victor or Paul if James had won teh veto.
Corey says he would have loved 5g's (Corey doesn't want the care package)
Victor – ohh Corey you have 5 g's (See gif below)
Paul says Victor is the kind of guy that crosses a busy street to get a joke across..
Ahahahah
Victor – "Ohh Corey you have 5g's" #BB18 @DawgsBigBrother pic.twitter.com/2oj6EzvkPY

— OnlineBigBrother.com (@bigbspoilers) August 27, 2016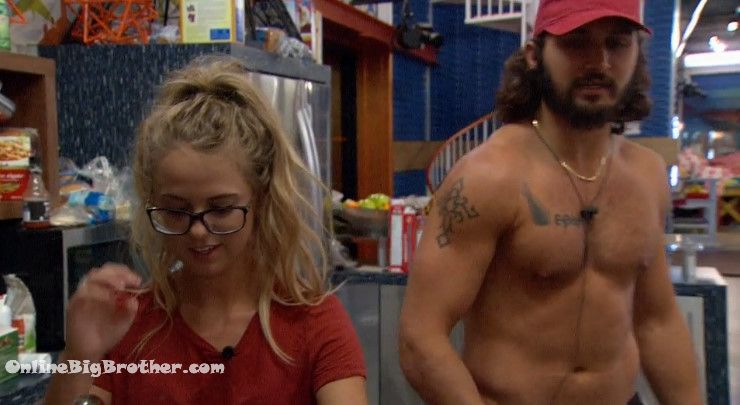 10:38am Victor and Nicole
Nicole – you've ever seen pitch perfect
Victor says he thought it was a baseball movie then 2 or 3 songs in he was like "WTF"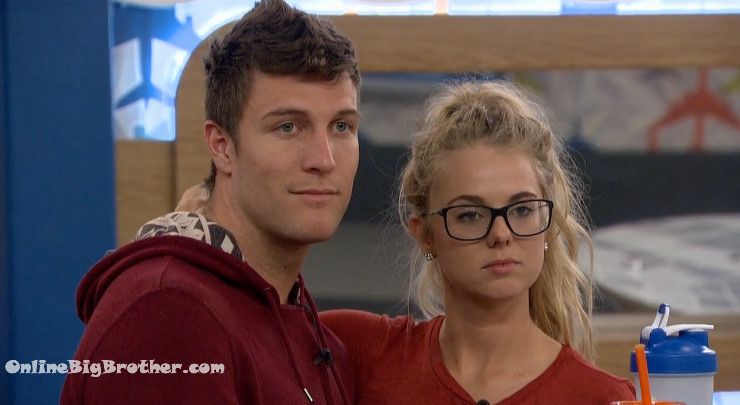 11:15am Paul, Victor, Corey and Nicole
Chit chat about philosophy
11:22am Paul and Corey talking about Natalie being "Miss Venezuela" because she always talks about the ONE pageant she's been in.
Victor joins them.
Paul – we cracked the code.. Natalie is miss Venezuela
Victor – umm no.. Height.. that's a big one.. a big one..
Paul – are you sure
Victor – 100%
Paul – I didn't think of that
Victor – height is a big one hommie.. think about the most beautiful women in Venezuela.. and the height factor
Corey – Not her..
Victor says Natalie is just a really pretty girl but not Miss Venezuela
They are wondering why Natalie keeps talking about doing pageants then says he's only done 1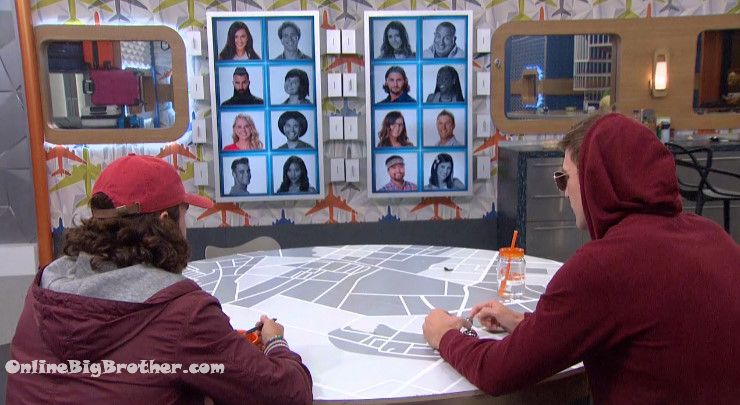 11:46am Bros.. Studying face morph
12:00pm Paul joins them..
Paul mentions how Cute Bridgette was. They agree Bronte was "jacked".
Victor now called into the Diary room..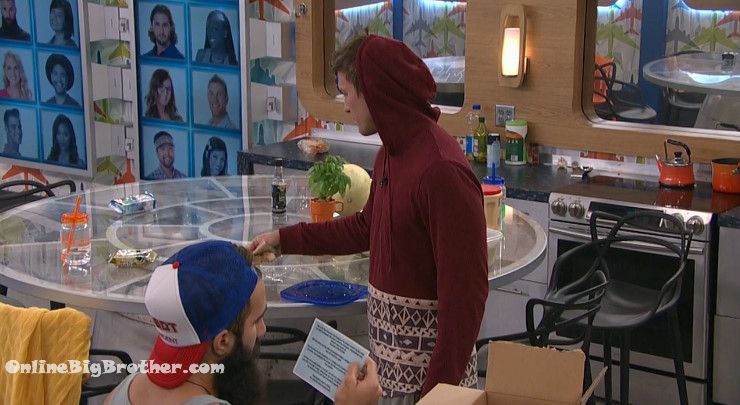 12:12pm Paul and Corey..
Paul reads the car.. Binding contract.. fool has a binding contract.. they must ..
Paul – they must? that is so vague what is the repercussion
Corey – well if you accept it you have to go through with hit
Corey – if you say you're goign to vote this person out you have to vote them out
Paul – what if you don't
Corey – you have to.. they'll just do it..
Paul – see it says in exchange for an action that will benefit your game.
Paul laughs "If no bribe is made nobody keeps the money"
Paul -there's not way that's a mental comp
Corey – no way bro.. zero chance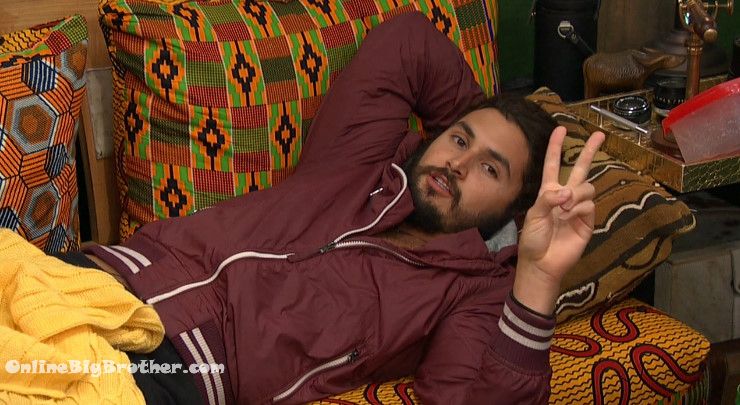 12:26pm Victor Safari room
Vic – evicted twice.. I have been evicted twice.. come back twice.. on the block twice come back twice.. evicted twice..
Paul joins them..
Victor says he'e not worried he's trusting Corey now even if Paul sits on the block.
Victor and Paul are going to fit hard for the veto.
Victor tells Paul he doesn't have to do anything extra. Victor trusts Corey and Nicole.
Victor – with them we don't have to worry.. they've never done us wrong"
Paul reminds him they've trusted people before.
Victor again telling him to relax and don't do anything extra they can trust Corey and Nicole
Paul – I don't want to get f****ed AGAIN
Victor – I feel like we're good with them.. i'm not worried at all..
Paul says if it's between the 2 of them he's goign to toss the veto to him so they are both safe.
Victor – I'm surprised i'm still here.. IO got shot twice… twice..
Paul – i'm just worried about the third time
They laugh at James, Natalie and Michelle thinking that they got the two of them to turn on each other.
They both want to win HOH so they can have the satisfaction of putting James and Natalie up
Corey joins them.. They hope Natalie gets called soon so they can play this comp.
Paul points out "they are still banging out there"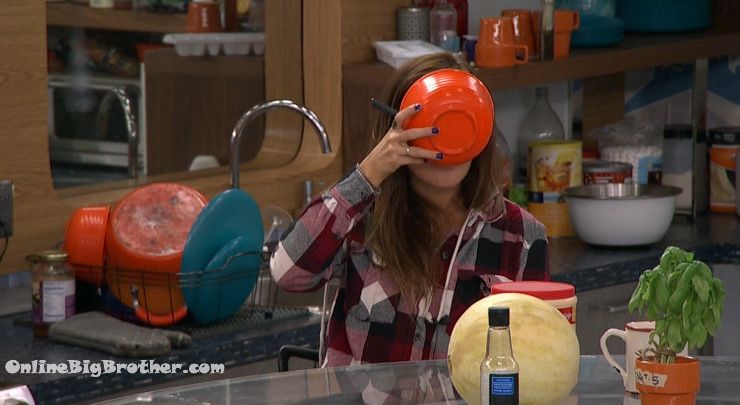 1:10pm BIG MUTHA F**** MEECH
1:24pm Michelle going through the dates..
1:41pm Feeds showing house guests either sleeping or studying..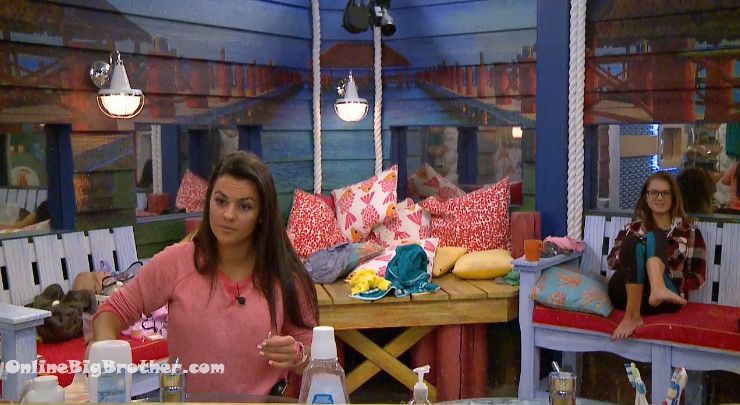 2:02pm Natalie and Michelle Bathroom
Natalie says Paul and Victor have all the luck.
Michelle agrees complains that Victor has come back twice. (Won comps to come back)
Natalie whispers that Paul had the round trip Ticket (Ohh shit I didn't know that)
Michelle asks her if she's seen the costume
Natalie smiles "It's my poker face"
Michelle – is it poker themed..
Natalie -no it's my poker face.. . (She's pretending to have not seen the costume)
4:10pm The live feeds are still blocked for the POV Competition..