Head of Household Winner – Cody
Have nots – Nicole
Nominations – Christmas & Tyler
Power of Veto Players are –
POV Host: –
Power of Veto holder – Cody
Power of Veto Ceremony –
Live feeds —-> Grab your Live feeds here. Try it free.
Rank the houseguests —-> Big Brother 22 Ranking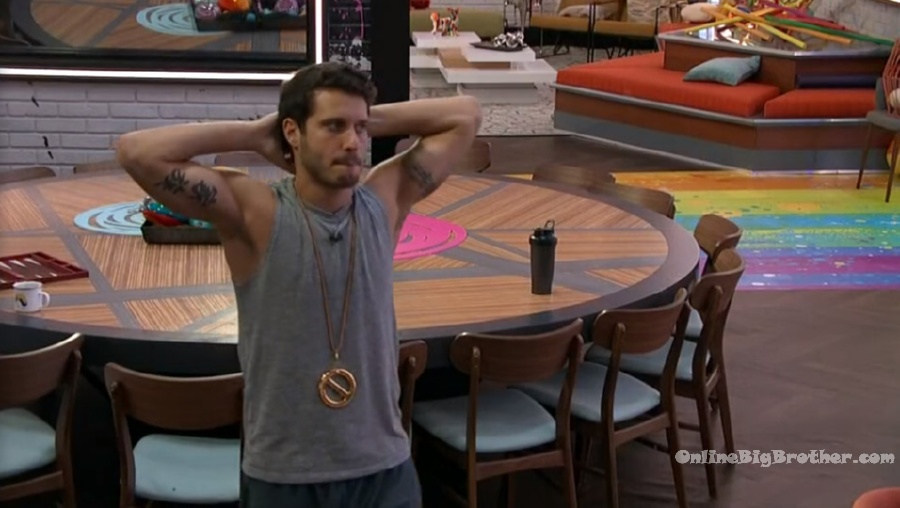 1:08pm – 4:50pm The live feeds were blocked for the Power of Veto competition.
Kitchen – Cody, Nicole and Memphis are talking about the competition.
Nicole – I am not going to lie if I knew what I was doing in the first three minutes I would have kicked your butt. Cody – its always something with this one!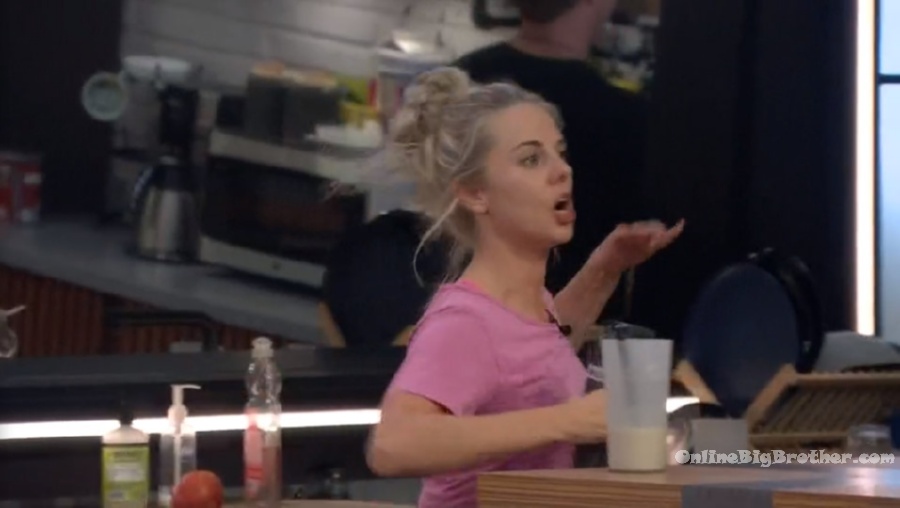 Bedroom. Christmas and Enzo.
Enzo – it is what it is! Man Cody is unreal YO! Christmas – I know. Enzo. he is a beast YO! Christmas – I haven't talked to him yet. Enzo – he isn't going to use it. Christmas – I don't know who he is leaning towards. Enzo – it doesn't matter we've got the votes. YO You've got me and Memphis. You know what I am saying .. like who the f**k cares! Christmas – I wanted to ask you has he mentioned my name? And have you seen his season? Enzo – somewhat. Christmas – The reason he didn't win.. he not only played comps very well .. he freakin like .. like dirty play. I can sit down and talk to him again about where I am. They talk about next week and how it all comes down to who wins the veto. That's all that matters. Christmas comments on how Cody did it in 4 minutes. And Nicole was right there too. Memphis joins them and says we're good! Memphis leaves. Christmas – I play pretty straight up and he (Tyler) doesn't… he has bags of shade sh*t everywhere. I don't even know what that means but you know.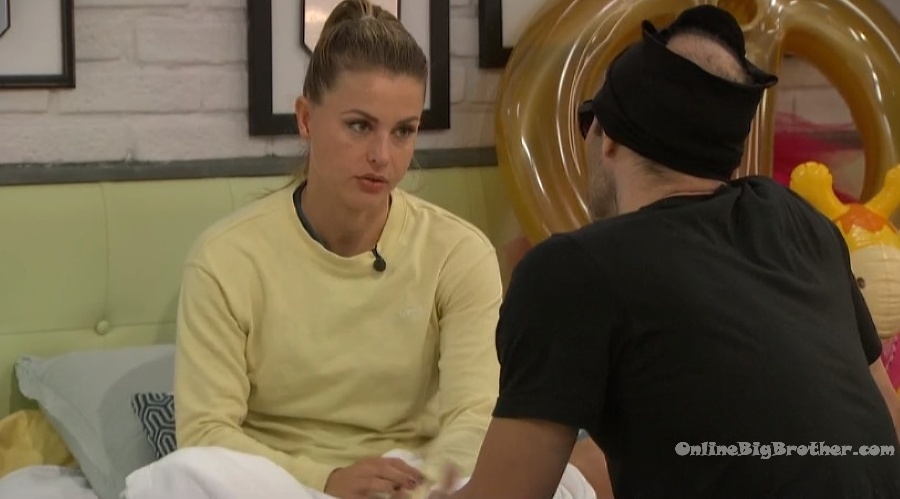 Tyler has his wounded baby bird sulk on in the bedroom. Enzo – Yo take some time for yourself and then we got to play the game Yo! Enzo leaves. Memphis comes in – You good man? Tyler – I'm good. Memphis – it happens man. Memphis leaves.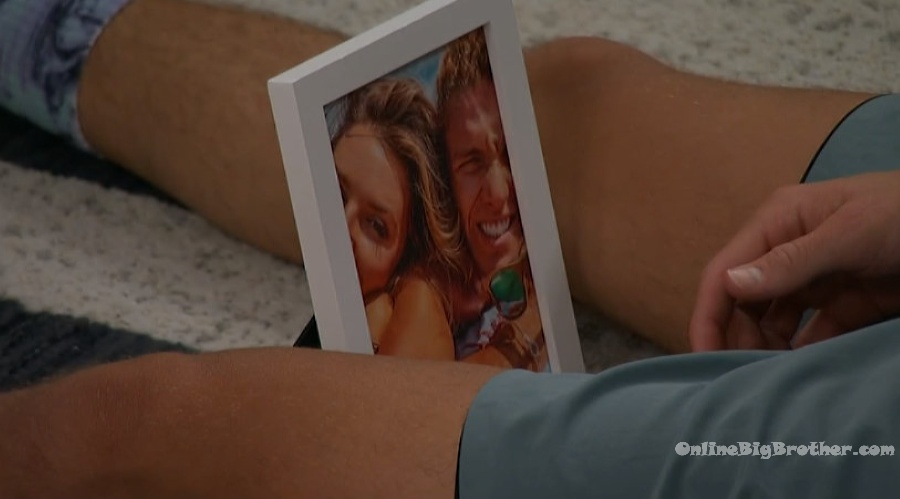 5:42pm HOH room. Enzo and Cody.
Enzo – Yo Memphis definitely wants Christmas to stay. He is pushing me hard as F**K. Cody – I know. Enzo – because right after the comp Christmas throws me in the room already talking this and that. Throwing Tyler under the bus. Tyler came clean about the Committee to me Yo! He was.. Cody – wait what?! Enzo – Tyler. Cody – oh he did?! Enzo – before the veto. In my mind I was like I know what he's doing. He was like I'm going to tell you tomorrow. I was like I know already. He was like I was TT to the end. Now Cody is upset. If I win the veto he is going to put you up. Tyler joins them. Cody – he (Memphis) wants to keep Christmas but we will just make sure that is not the case. Tyler – I just can't see who Nicole will F**King vote for me to stay dude. Enzo – I am trying on her… because I saved you yo! Tyler – we need to take her to the final four. Cody – what is she going to do? She hasn't done anything!!! Tyler – I want to tell her I want you to go far but she isn't going to believe me. Cody – dude I will f**king say it to her. What I want to tell her is she is not a threat .. you haven't won anything. Tyler – what if she said she wants to vote me out would you use it on me? Cody – and put her up? Tyler – no not her, Memphis. Cody – Maybe. She has already said that she want's Christmas gone.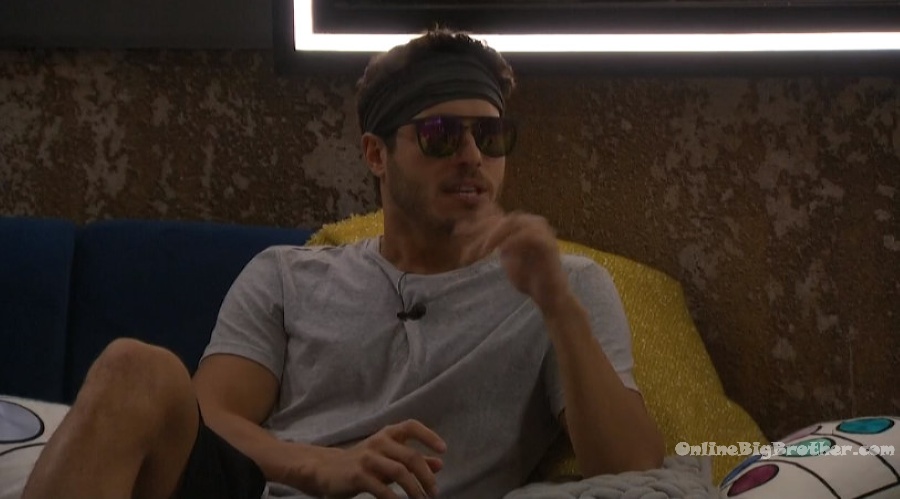 HOH room. Cody and Nicole.
Cody – keeping him keeps that target here for Memphis but what is he going to say that could possibly change that. Nicole – why does he have secrets on you? Cody – no but he is literally dogging Christmas. Nicole – Oh I see what you're saying .. he could try to team up with Memphis and make it seem like we're a thing. Cody – right. Nicole – I am down for whatever. I don't like either of them. Cody – they're both extremely good at competitions. The big thing is the final 3 that they have makes me want to clip it but Tyler being here could be just as bad. But knowing that and knowing how bad Memphis wants to keep Christmas .. how hard do we push. Nicole – he already wants to keep Christmas .. that's not good. I would rather get rid of Tyler .. I can't stand him. Nicole – Final five was the slippery slop for us. Cody – we're screwed because I can't compete in that. Nicole – Enzo won't win that? Cody – I have no idea. Nicole – I wondered if Christmas or Tyler would be better at that. Cody – Tyler will be a beast at that. Nicole – I know. I am worried about him winning that comp. For my game I think it is better if Tyler stays but.. Cody – honestly next week there are a million scenarios that are bad outside of you or Enzo winning HOH. Tyler joins them.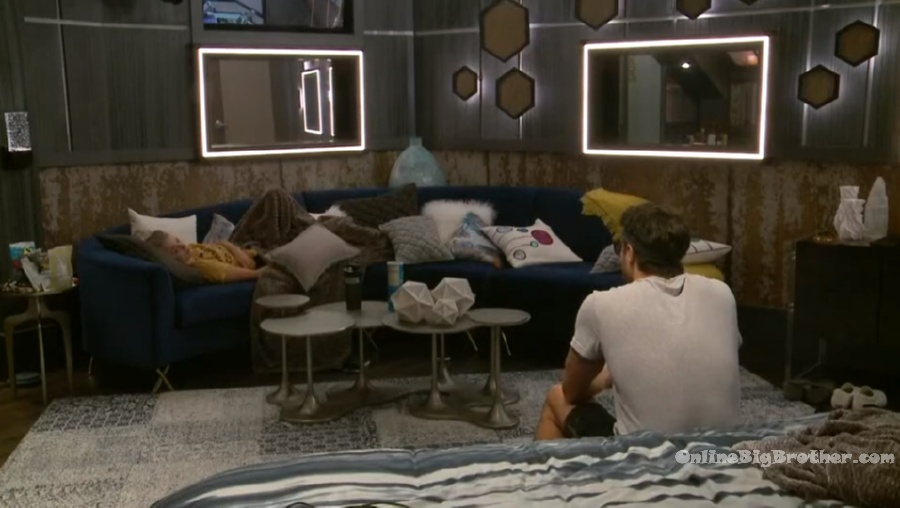 7:10pm HOH room. Christmas, Cody and Tyler are talking about drugs.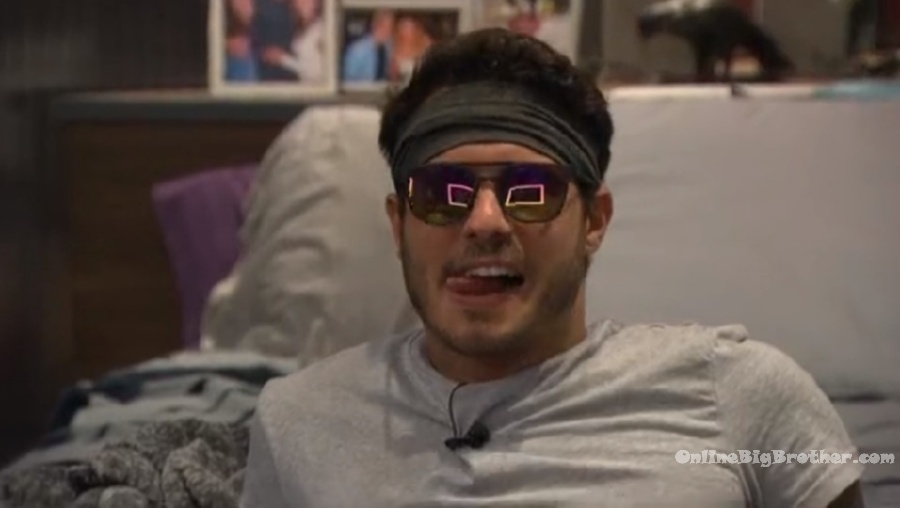 7:30pm – 7:50pm HOH room. Christmas and Cody.
Christmas – I was going to go ahead and assume that noms were going to stay the same but before I talked to anyone I wanted to talk to you. Because obviously I want you to know that I respect you for keeping the noms the same. Two follow up if you have any questions. And three explore where you feel. I don't wnat to just go and talk to people blindly. I want to know where you want the house to go. Cody – I don't… I just want to find out where that whole thing stemmed. I have just had so many conversations that were just so straight up .. how did that go to where it did. I don't view you any type of way .. like what is good for me is I need Christmas gone. You know what I mean? Christmas – yeah. Cody – I am not pushy at all I want to talk to Memphis, Enzo and I feel like Nicole is indifferent. I am just going to talk to them and get feelers from them. Cody – I feel like when we've talked we've been pretty transparent with each other. Christmas – The only thing I want to remind you of is how you've seen me play not only this season but my last season. And that should give me some credit.. Big Brother blocks the feeds. Christmas tells Cody that the way he nominated her was right. Cody – nothing has changed in my mind about you at all. Lets just see how this week plays out.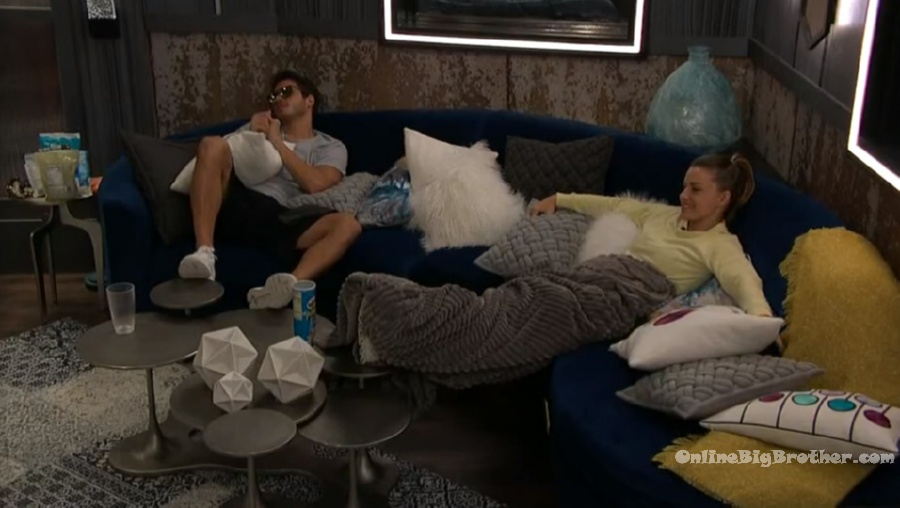 8:08pm Kitchen. Enzo and Tyler.
Tyler – Cody is in the final five! Enzo – YUP! He is f**king beasting it YO! Man today I was like holy sh*t! The last two comps he's turned it on. And he is a small fricken kid. He is a small f**king kid. Tyler – he's got 6 wins! That is crazy! Enzo – that is f**king crazy! F**king crazy!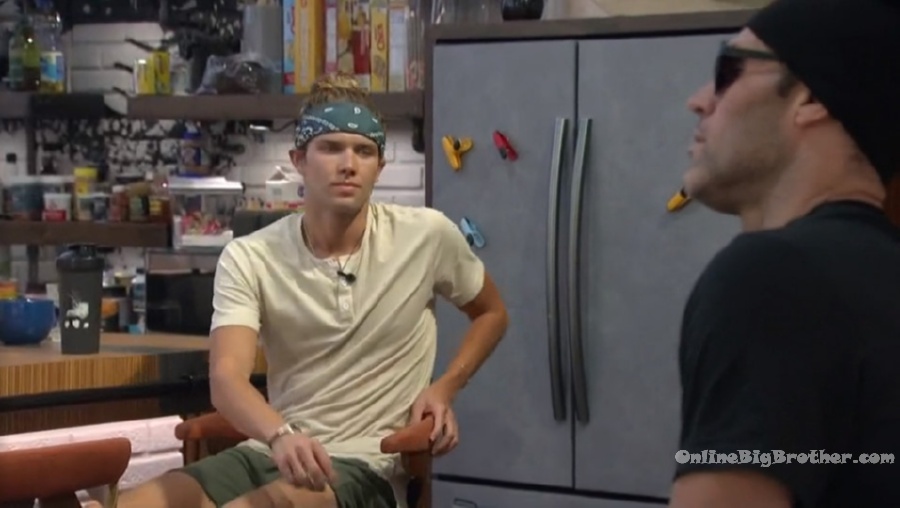 8:30pm HOH room. Memphis and Cody.
Cody – lets f**king go! We are absolutely killing this! Memphis – I think Christmas is f**king losing it. Cody – she is. She came up here.. let me tell you this .. I think it was Tyler because talking to her .. and then I talk to Tyler and hers is more like I felt like I was on the opposite side. I was this, I was that. I was like okay you're blaming Tyler .. whatever. But when he talks .. its .. he said to me what are we just going to go through with what Memphis wanted?! And then he was like I wanted Dani out. And so I wanted to send Nicole home because I thought David would go after Dani. And Nicole wouldn't go after Dani so that is why I was thinking that. So for me that is a thought out process that is not just a spur of the moment. Memphis – yeah if you're thinking about all that dude. Cody – Christmas in her mind is like "big move" not thought out .. thinking this is what I want. Christmas is thinking like lets send out Nicole because I want to send out Nicole and Dani. Memphis – for sure. She definitely thinks big move big move. Tyler is thinking methodical. It still throws me off them trying to do that. It just showed me that they're both working together. Cody – right. And for me it shows more so like I don't care what my relationships are because my relationship with Tyler is much better than it was with Christmas. It just showed me for both of them.. Christmas I never felt like crazy tight with. Like your relationship with Christmas is better than my relationship with Christmas. Memphis – yeah its good because I am not saying what I want to say. Because if I said what I want to say .. it would not be good. Cody – right. Memphis – which I think it is tearing her up inside. But if we decide to keep her I can't say it. Cody – Tyler wants Christmas out badly but he also wants to go after "Big Players" which is you and me. Memphis – he would be an idiot.. like I would be offended if he didn't put me up. The fact that he bombed today is a reason for us to send him .. because he ain't going to slip up again. And you know that! Cody – exactly! Are we going to get another chance that he slips up in a veto? Memphis – that is my concern. Memphis – I think we're on the same page. He f**king scares me. I walk into any comp and he is the only person I am worried about winning. I am not worried about you winning, I want you to win. They agree to talk to Enzo about voting out Tyler. Memphis – Tyler is an amazing player and its just a smart move. Ok, well that makes it easy.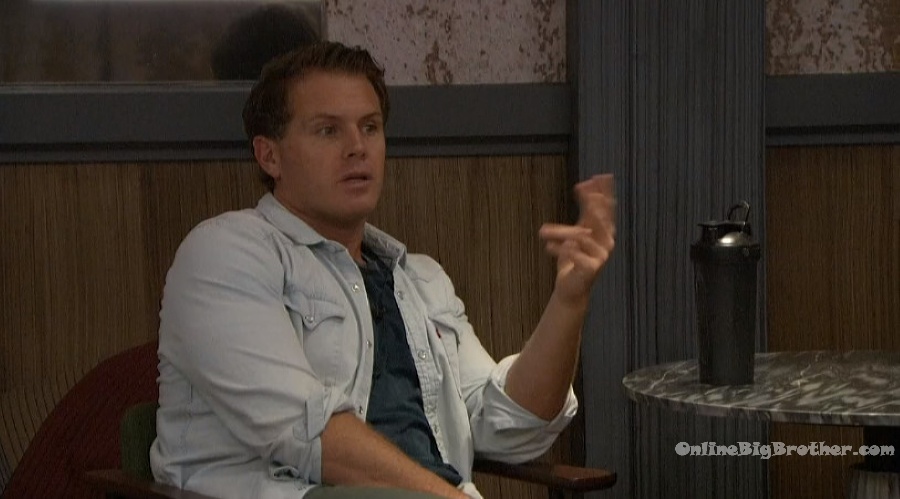 8:41pm HOH room. Enzo, Memphis and Cody.
Enzo joins them. Cody – we were just talking about Tyler being the smarter choice. Enzo – it is a good move for you (Cody) because your HOH's have been weak yo! Seriously, what are you going to say .. I deserve to win because of Keesha and Kevin. But you say TYLER! I am just saying! (LOL) Memphis – that is hilarious. Cody – what a punk you just said that. Enzo – the thing with him (Tyler) you don't know where his head is at. Cody – Christmas is chaotic and running around. When it comes to comps she was handed an HOH and a veto. Memphis – if we take the HOH .. no matter which way you slice it we all make it to final four. Enzo – that is why I would rather do it without Tyler in it.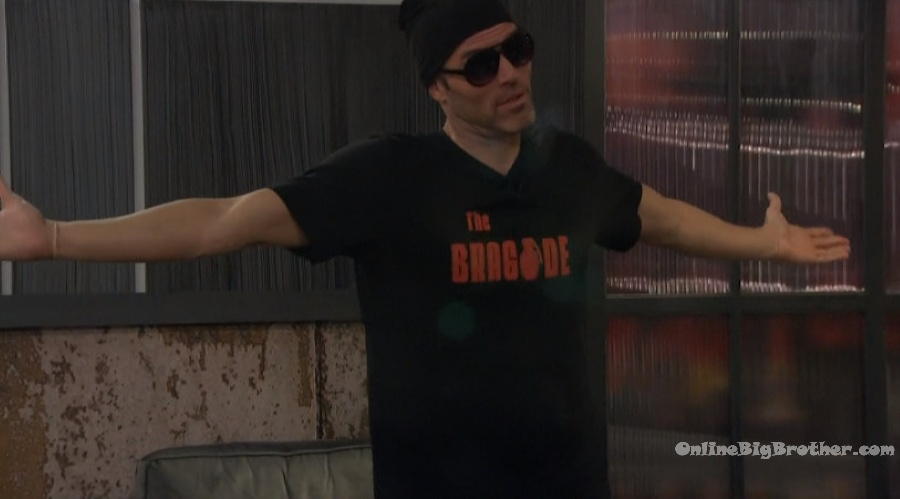 8:56pm Kitchen. Tyler and Christmas.
Tyler – Enzo should have listened to us. I told him in the hallway. Christmas – I think since they beginning they've had something. Tyler – he must just not have wanted to rock the boat. We got hung out to dry. Christmas – yeah but the boat is going to leave him behind! Tyler – that is what I am saying! You two got to link up once I'm gone because they're going to run through you guys. Christmas – I know.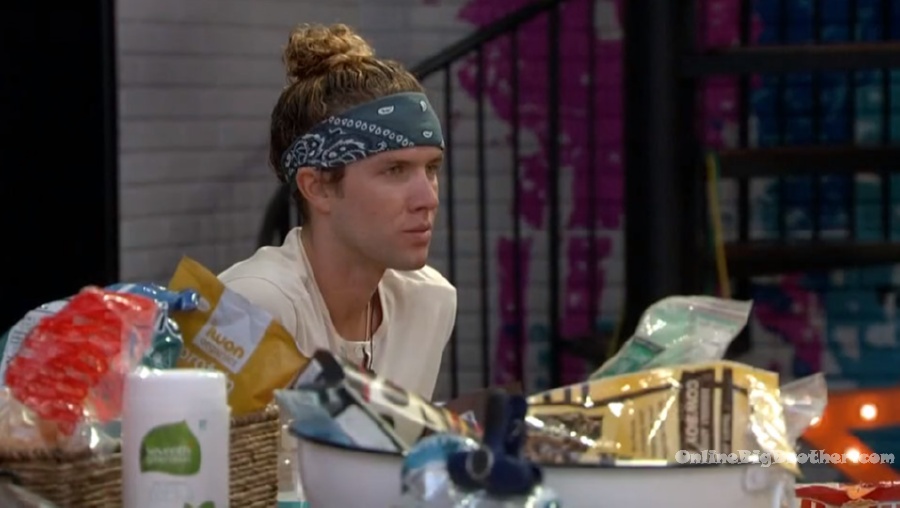 9:05pm – 9:50pm Big Brother gives the house guests beer and wine! Everyone but Nicole cheers. They wonder if they should get Nicole but Christmas says not to .. because it would be rubbing it in (that she can't have any as she's a havenot). They head up to the HOH room to drink and chat about the meet & greets / club appearances they did after getting out of their previous seasons. They talk about how they likely won't be able to do that this time for at least awhile because of covid.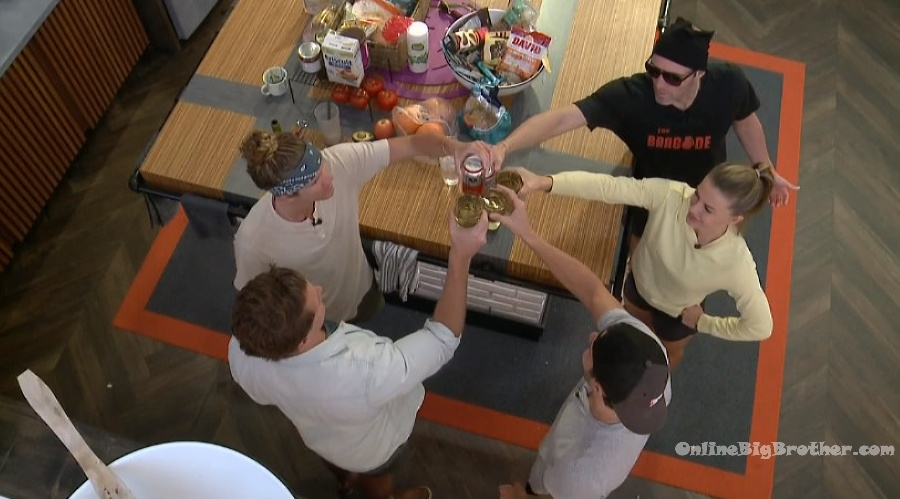 10:03pm Big Brother blocks the feeds..
10:25pm Still blocked..
11pm Still nothing..
11:42pm No feeds for you..
Show your support by making a donation.
If you're enjoying our live feed updates this season, please consider donating.
Any amount is greatly appreciated! Your donations go directly to paying the fees required to run this site.