Head of Household Winner – Cody
Have nots – Nicole
Nominations – Christmas & Tyler
Power of Veto Players are –
POV Host: –
Power of Veto holder – Cody
Power of Veto Ceremony –
Live feeds —-> Grab your Live feeds here. Try it free.
Rank the houseguests —-> Big Brother 22 Ranking
Spoilage – Tyler is getting evicted.. Next triple, please.
12:17 am
Feeds come back after a couple of hours of wine drinking..
Laughing eating pizza.
Christmas – he's going to hump your leg.
Memphis – the ice age chasing the little nut on the screen .. that's how I feel like for 100 days chasing the nut
Christmas – he's going to hump your leg.
Memphis – the ice age chasing the little nut on the screen .. that's how I feel like for 100 days chasing the nut
#BB22 pic.twitter.com/CJijeS9ZgY

— OnlineBigBrother.com (@bigbspoilers) October 4, 2020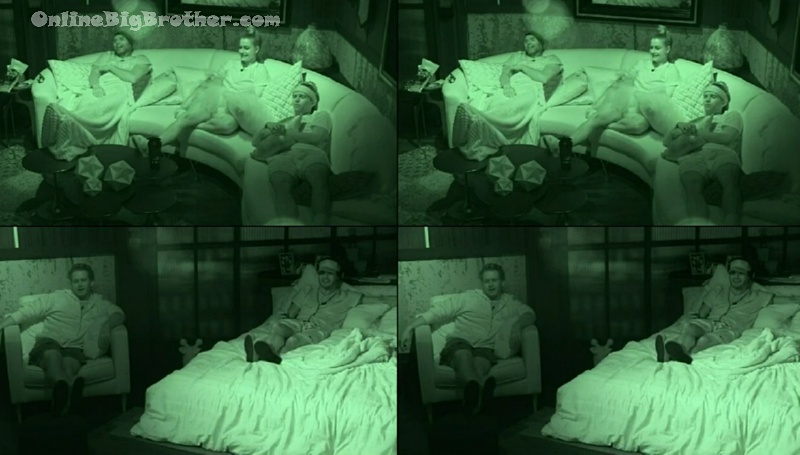 12:42 am Chit chat and joking around in the HOH..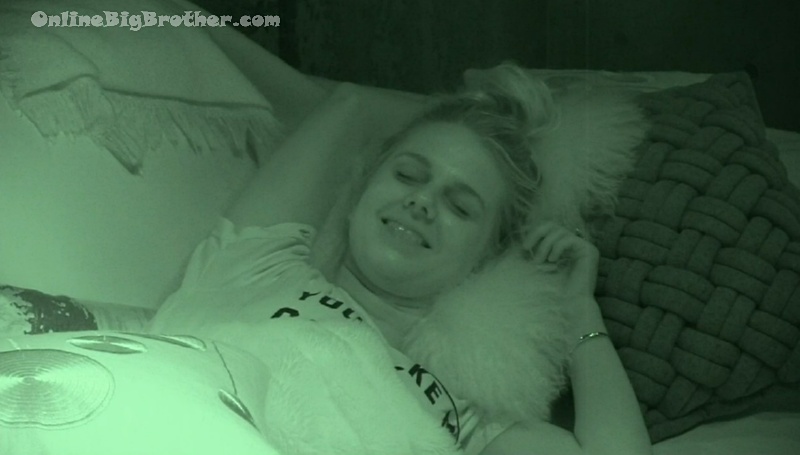 1:30 am Coins happy..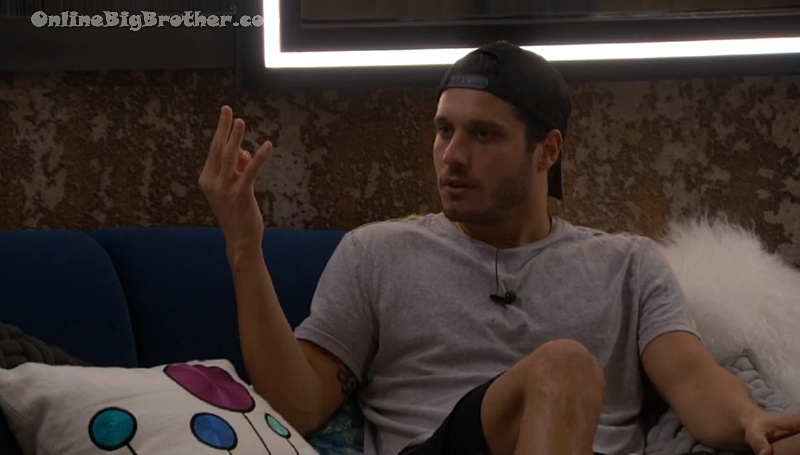 1:49 am Cody and Enzo
Cody – I'm so hyped ..
Enzo – I just wanted to touch base with you that we're good and sh1t.. he's going
Cody says Memphis will go after Christmas if he wins the next HOH.
Enzo – I hope he does I hope he doesn't get cute with us. I think he knows that she's a pawn in his game and he's using her.
Cody – 100%
Enzo – I think he knows he needs us to get to the final 3
Enzo says he thought Memphis was a douchebag on his season but he liked him now
Cody – gamewise he's been amazing for us.. he's going to put her up (Christmas)
Enzo – after what she pulled on his f**ing HOH
Cody says the best move they did was not crossing Memphis "now who's he most loyal to? you and mem"
The go through the people remaining and who they want to win HOH. Enzo wants Nicole to win. Warns Cody that Christmas will put up Cody and Nicole.
Cody says if Nicole wins veto and Christmas puts up Enzo as the replacement "I'm done in this game.. I'll go off."
Enzo – if I win HOH I have to put up Christmas and Memphis how the f**… YO… IF I put up Nicole and Christmas
Feeds cut When we're back. Enzo is talking about putting Nicole up as a pawn.
Enzo says he's been lying to both Christmas and Tyler all week saying they are fine and they have his vote. Adds that Tyler knows he's going.
They talk about letting Memphis win the next HOH so he can put up Nicole and Christmas. All they have to worry about is the Veto at that point
Cody says if Nicole wins HOH she's putting up Memphis and Christmas.
Enzo – if the noms stay the same do we clip Memphis? that's the question YO that's the f**ing Question
Cody – we'll think about that when we get there..
Enzo – that's the meat and potatoes.. I love the dude I do love the dude but we're in the final 4. Christmas and F**ing we're going to run through them..
Cody – the only thing about that with me is not knowing where Christmas is but knowing where Memphis is.
Cody says Nicole wants to send out Christmas over Tyler.
Cody – I said I don't trust Tyler he told Enzo about the committee.. she said HE DID?
Cody says if Nicole would have won the Veto curing the triple Memphis was going to backdoor Tyler.
Cody is adamant that Memphis will nominate Christmas and Nicole. Points out that Memphis wants Tyler gone this week. Them taking out Tyler will solidify things for Memphis.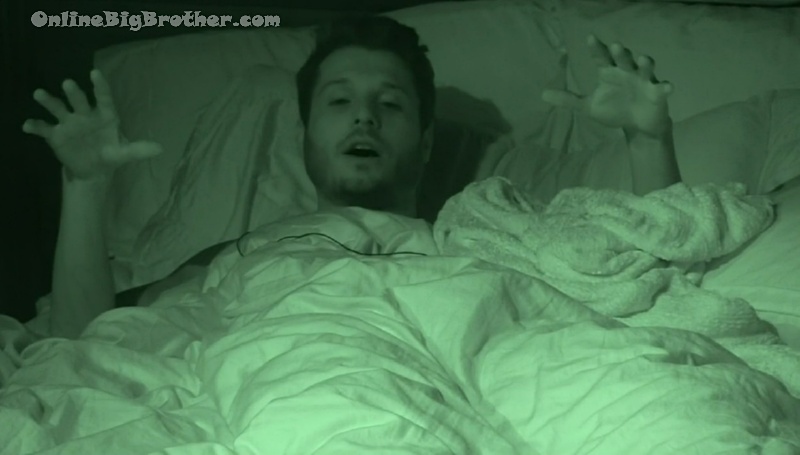 3:23 am Enzo and Cody
Enzo talks about there is no reason to start drama in the house to "Shake it up"
Enzo – yo..
Enzo – would have been great to see Christmas in there right after Dani YO
COdy – that's all I can think about BRO..
Enzo – Dani would have a field day on her YO.. She would have said interesting
Cody – Christmas would have walked in their reaction would have set her off..
Enzo – Christmas has a really short fuse YO
COdy – Christmas would have snapped that's it
Enzo – I don't think we've seen the last of Christmas snapping in this F**Ing house
COdy – I'm telling you now if Memphis wins HOH and puts her up she's going to f**ing go (off)
Enzo – Memphis knows how to massage her .. cause Memphis doesn't give a f** I've been doing that this week to these two.. Christmas and Tyler. YOu got my vote blah blah.. Thursday night someone will find out
Enzo – what are you going to do.. I'll say I'm sorry YO. you can't give a f** YO who cares YO
Cody says Tyler is a class act he's not going to do anything "He ain't bitter like that"
Enzo – When Dani was doing it I liked it.. but it seems an act of desperation. It's not me.. you guys got me f*** yo it is what it is YO that's the way I'm going to approach it.. YO what you say there is not going to do nothing. It's just not..
Enzo – yo should have played a better game I don't know what to tell you that's just not it at that moment.. it's not going to change nothing.. (eviction speech)
COdy starts complaining about Kaysar's speech.
Enzo – he had nothing figured out he thought he had the whole f***Ing season figured out..
Cody – he had no idea..
Enzo – everything was wrong
Cody – he just named me with a million other people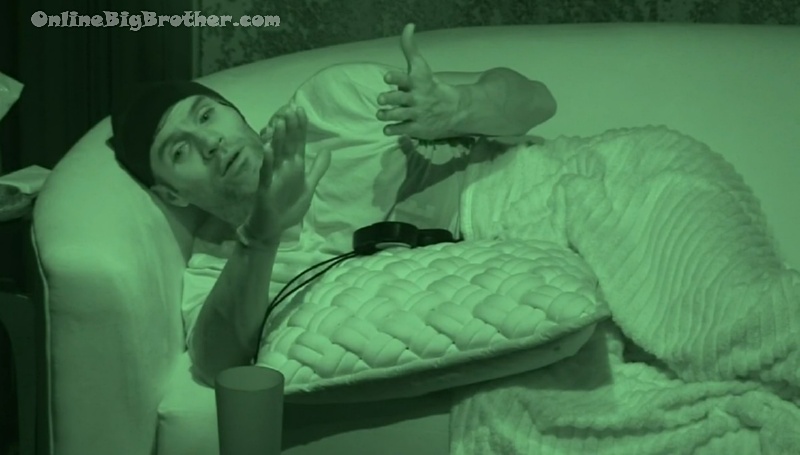 THey BRO out about Enzo's Enemein CD he got for his HOH. "Brought me back yo" "It was Dope YO" "Bro.. F**ing Dope Bro"
Enzo says if Kaysar had won the Veto he was going to backdoor Ian "YO"
They talk about Dani "YO we kept her 8 weeks YO.. we let it ride yo" Enzo says they gave Dani ample time to stop spreading and spinning things around the house.
Enzo – we got rid of her YO I don't feel back YO
Cody says if Dani had won HOH during the triple Tyler and Christmas would have gone up and Dani wanted Christmas gone.
COdy – that would have been ideal with us
Enzo – then we would have ride with her.. but not talk game.
Cody – she went out at the best time.. then I won HOH and we have everything locked. It couldn't have worked out better..
Enzo – YO..
Cody – we still need to take care of business next week
THey go on about Dani Spinning information and talking game all the time
Enzo – you don't need to talk game every day.. relax YO..
Cody – go home YO ..
Enzo says he's sleeping all day tomorrow
Cody – you can't sleep all day tomorrow YO I need you awake.
Enzo about Christmas "She's so F***ing funny how she game talks yo. I'm not going to lie she knows like how to word sh1t she knows how to game talk I'll give her that she's fULL of sh1t yo.. she's just full of sh1t but I love it yo it's so f***ing funny YO"
Cody – dude Nicole is ruthless.. she's like I'm telling Tyler I'm not voting for him she's like if Tyler is staying I want to tell him i'm not voting for him.
Cody – I'm like alright we don't know yet
Enzo – she doesn't know we're voting him out
Cody – I haven't had that conversation with her.. I feel like you me and her should have that conversation
Enzo says he's already had a light conversation bout it with Nicole. He brought up not wanting to play against Tyler in the next HOH and how getting rid of Tyler is good for Cody's resume.
Enzo – in the next HOH we're already fighting f***ing Memphis we want to fight Tyler to? She's getting rid of Tyler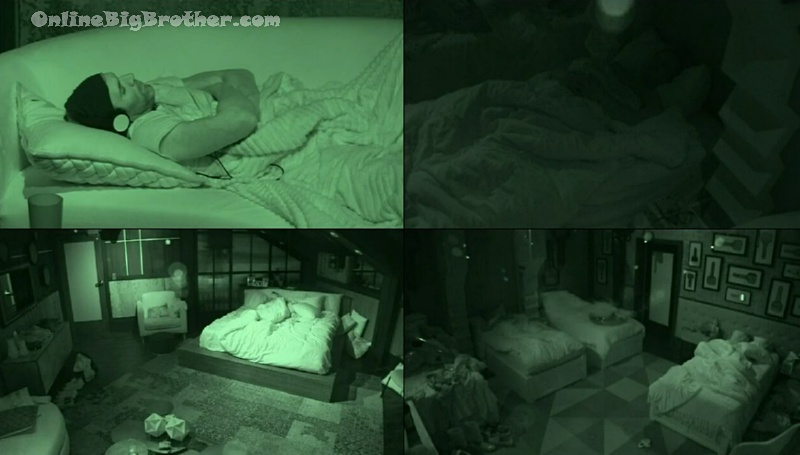 5:23 am Enzo heads to bed downstairs.
9:01 am Sleeping..
11:00 am Sleeping..
11:36 am We have movement everyone is up. They notice the squirrel statues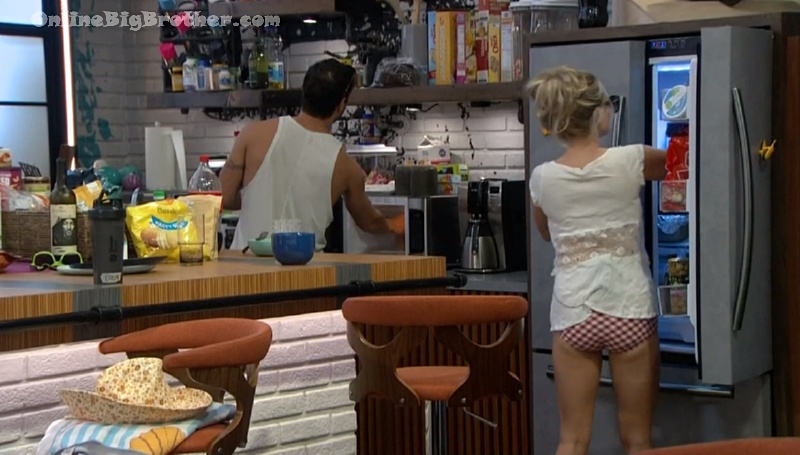 11:56 am Slow start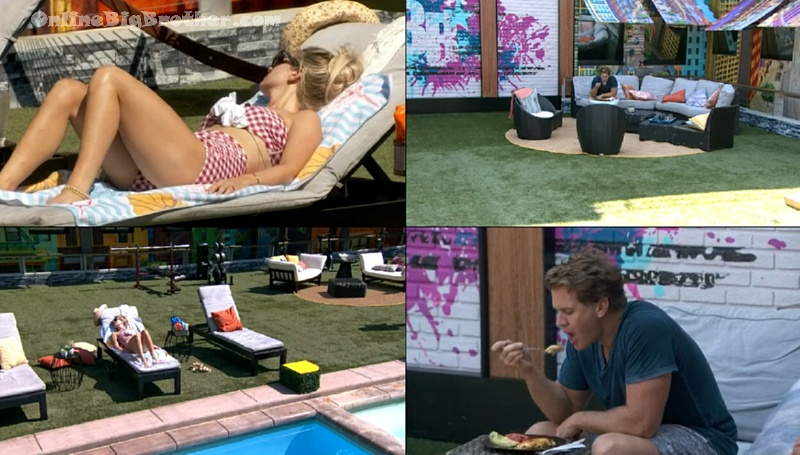 12:49 pm ooh neat feeds…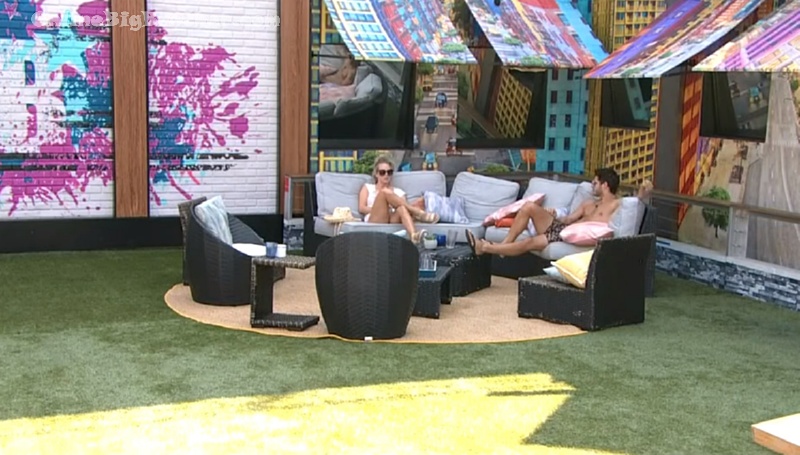 1:49 pm Nicole and Cody
Cody brings up Tyler's attempts with Enzo trying to play it up to him that he needed to win the veto and use it on Tyelr\
Nicole – did you, Tyler, and Enzo have a final 3
Cody – yeah we did. Tyler wanted to do it and only brought it up the week of Enzo's HOH and we never said anything about it EVER EVER
Nicole – I beat Paul in comps, I beat Cory in comps, I beat Victor in comps. I'm not bad at this game. my confidence is what's stopping me from winning competitions. It isn't my actual physical ability or my mental ability it's my confidence level. When I feel like I've been doing poorly over and over it just adds up I put more pressure on myself and I freak out. I have to remember who I am I'm the only freaking winner in this house I'm still here I'm making it to final 5 it's absolutely incredible and I can just dominate the rest of the season and .. my love ones know I can I just need to believe in myself
Cody – and I know you can. I've watched it. You won 2 HOH's our season
Nicole – I won three
Cody – on 16
Nicole – yes
Cody – seeya later dude
Nicole – when I was hearing what he was doing on Season 20 like coming up with all these lies and laughing behind the scenes I was like ugh ..
Cody – he said something to Memphis. ooh oh no he said to Enzo like he's going to go up to Memphis and try to be like alright everyone is voting to send Christmas out if you want to give a pity vote to me that's how he wants to try and trick him (huh)
They laugh "that's the stupidest thing ever"
Cody – that would never work.
Nicole – never in a million years
Nicole – First off Memphis does not believe in pity votes.
Cody – no.. no he's going.. it's more clear.
Nicole – I think we should blindside him too
Cody – yeah I want to
Nicole – otherwise he's going to say a bunch of crap in his speech
Cody – about what
Nicole – me and you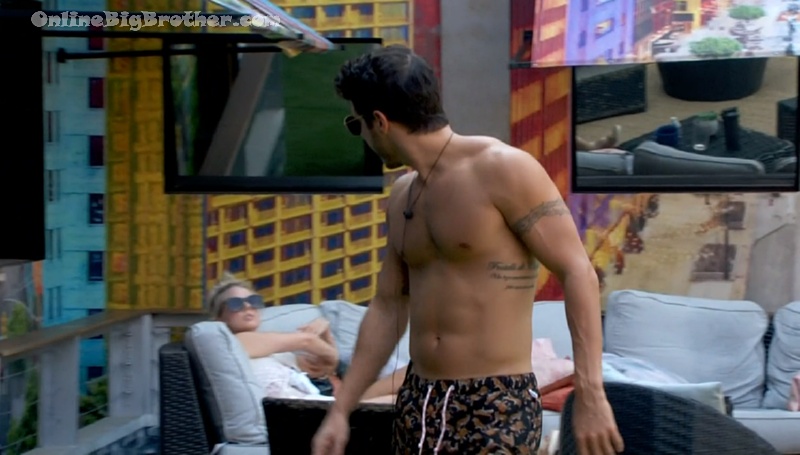 1:59 pm Cody and Nicole
Nicole – does final 2 get their stipend?
Cody – yes, Normally no but this season yes
Nicole – that's a big difference..
Cody – HUGE, cause I was like wait a minute if I get Second I was like HUH
Nicole – I did on 18
Cody – I did no on 16 that's what pissed me off because Donny made more money than me (OH that made my day)
Nicole – that's so weird
Cody – I was like it's such bullsh1t. that frustrated me a lot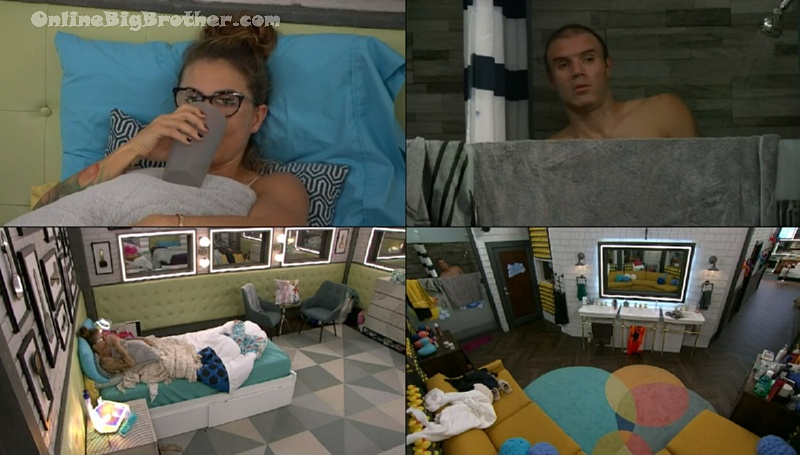 2:34 pm Christmas thinking "It's a hard week my ally is going home".
Enzo washing his butt.
Christmas says she needs to win the HOH. If Cody or Nicole win she's in trouble. She wonders if the guys will throw it to her.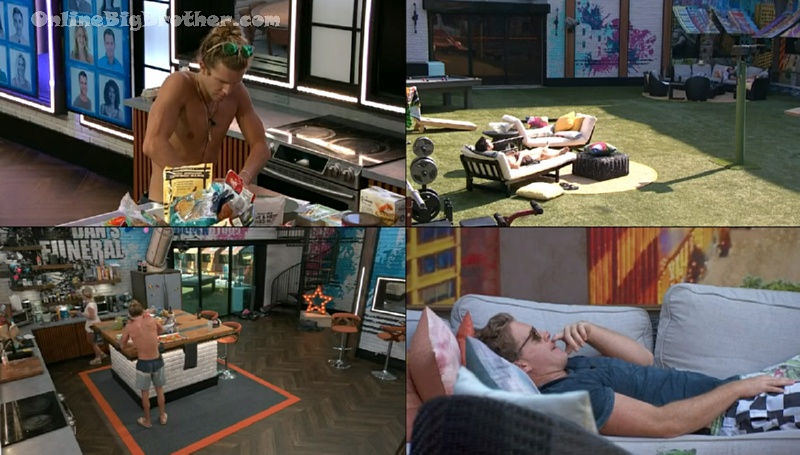 2:55 pm
3:40pm – 4:35pm The house guests are just sun tanning and relaxing. Memphis and Tyler chat about there being 3 weeks left till they see their "ladies".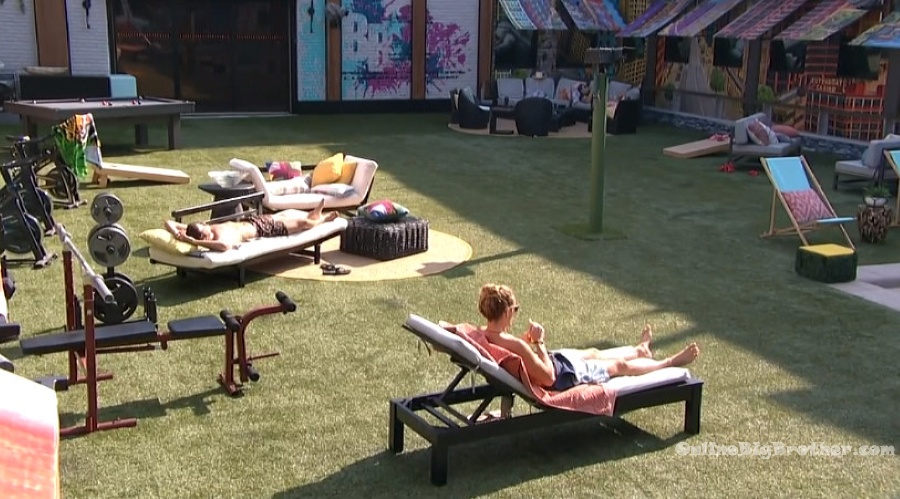 4:26pm Big Brother blocks the feeds..
4:43pm Still blocked..
5pm Enzo and Nicole relaxing in the HOH room. Meanwhile Tyler and Christmas are playing backgammon.