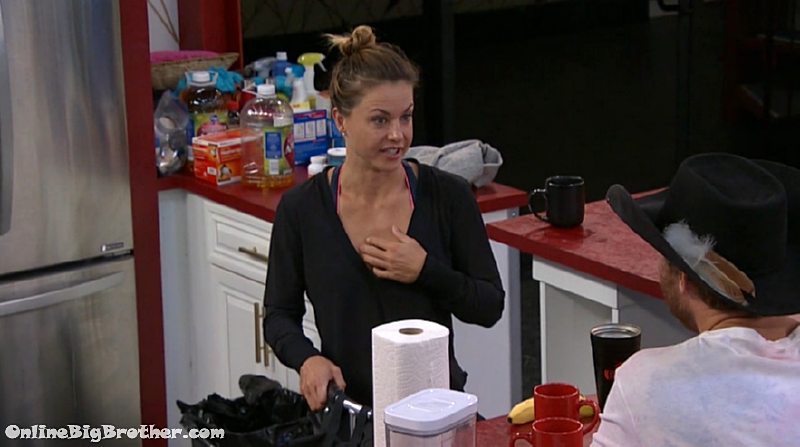 (I added a lot of side comments on this one if yo don't like that sorta thing skip this spoiler, #kraken)
9:26am xmas and Jason
Xmas comments that she needs to take a shower
Jason offers to carry her upstairs so she can take a shower.
they laugh..
X – makes me nervous when I see Josh run.. the turf is slippery
J – yeah
x – it was bound to happen it's ok
X – if it would have happened to one of the other girls.. other than alex.. (F off)
J – they wouldn't be here..
X – nope..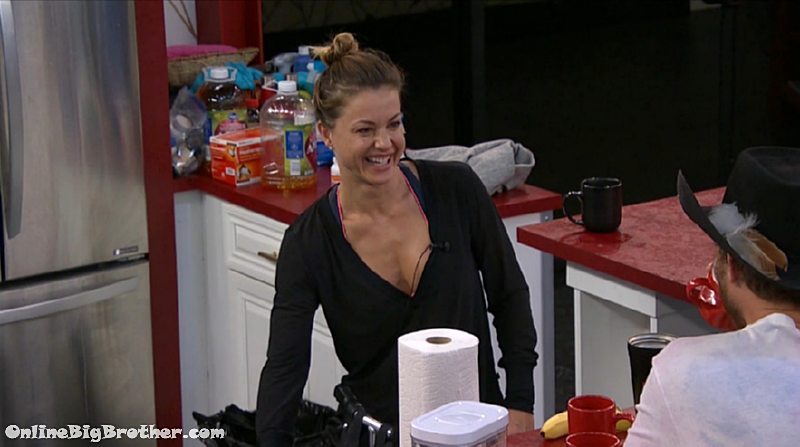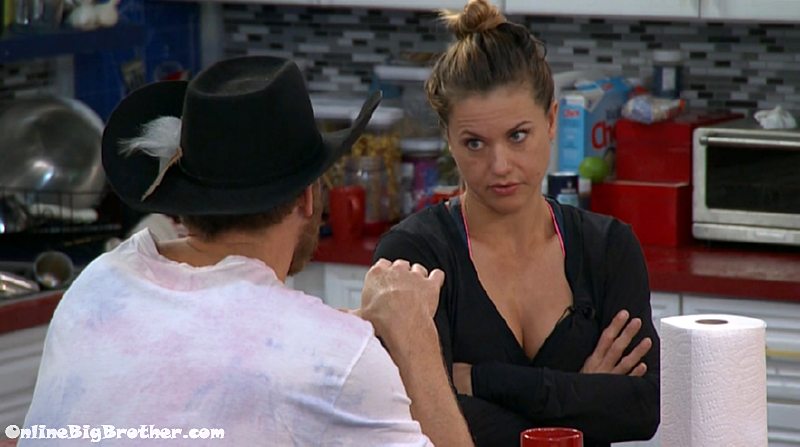 9:33am Xmas and Jason
Talking about Jessica and Cody
Jason brings how f*ed up Jessica's HOH was. He laughs at her nominations.
Xmas – that's because she was trying to get in the good graces with the house
they laugh..
Xmas says Matt, Raven and Kevin have the same strategy. don't win any competitions.
Xmas – this is the conversation I had with Matt early in the game a couple weeks in
X – I don't really f*ing care, I just want to make it to Jury
X – then we made it to jury and he's like I want Raven to get as far as possible
x – and so when I asked him about the veto, I was like look matt I know you['ve been throwing comps I know yo haven't been giving it your all and I know you're a capable player.
x – I was like so….
Jason – you can't have muscles like that and be that shitty.. (it's the tattoos they cancel; out the muscles)
Xmas – yeah it's called body building (F* off)
Jason – hmmm
x – you and I, and like Alex and Paul are athletes right, so our muscles are functional (F* off already)
x- we throw, kick, ride a bike, his and Marks were built for looks
jason – I believe it
x – what our sports our we have to be flexible and strong (ZOMG)
x – it's a different approach and we really want to be here
Jason says Matt and Raven instigate everything then go and hide.
Jason – what the f* is raven's game seriously
x – Raven's game is well… \
Jason – sympathy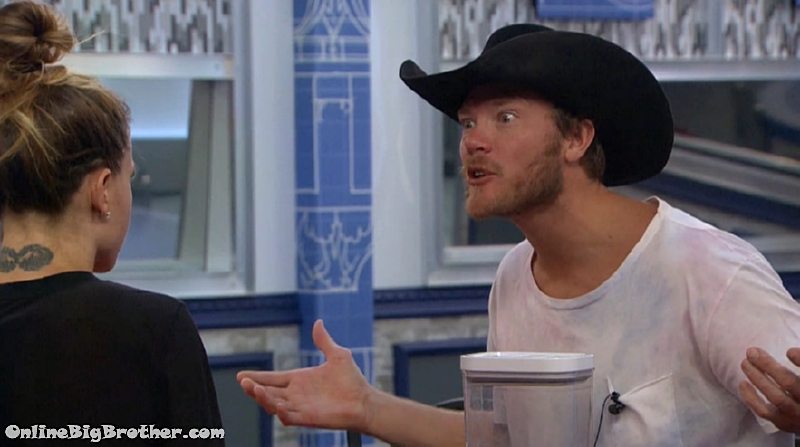 jason – is it legit though.. do you f*ing believe her
x – I beleive her disease is legit, there's no way she has that f*ing thing in there and the stories she's had
Jason – ohh I know.. that that that thing.. you can't deny the scar
X – she had a rough life (raven)
x – at the same time she's gotten a lot more blessing that we are aware of
x – it's like a hypochondriac right, they're like ohh ohhh I'm sick but i'm tough.. look how sick I am but i'm tough… (look my foot but I'm a bad b1tch… )
x – it's like a double approach.. they want your sympathy ..
x – that b1tch i'm going to get her a f*ing neck brace
x – it amplifies your sympathy if you think she's a badass and toughing through it
x – I swear to god I almost punched that b1tch in the face.. she was like I had to compete with 1 leg
they laugh…
Jason – what I hate most is being duped
Jason – she's gotta be full of shit, have you ever seen anyone so sick so healthy
Jason – she has to remind herself not to eat beef
Jason – i'm like you've just had tacos three days in a row and she's like … I can't eat the shepherd's pie because it has beef in it
Jason – I'm like that's the exact same beef you been (he impersonates someone shoveling food in their mouth) YESTERDAY!
X – she only eats carb
x – she's like my body can't process that.. but umm.. you eat ice cream every night
x – so your body can't process fruit and lean meat like chicken but you can eat ice cream and M&ms and caramilks.. .
J – and potatoe chips and f*ing bacon covered in brown sugar
x – if I eat shit I feel like sh1t
J agrees
x – our bodies are not made to eat this
x – garlic salt.. take that mother f*er away from her
j – I know
J – I told Alex I'm not eating another thing that b*tch makes
x – she (raven) gets butt hurt if you don't eat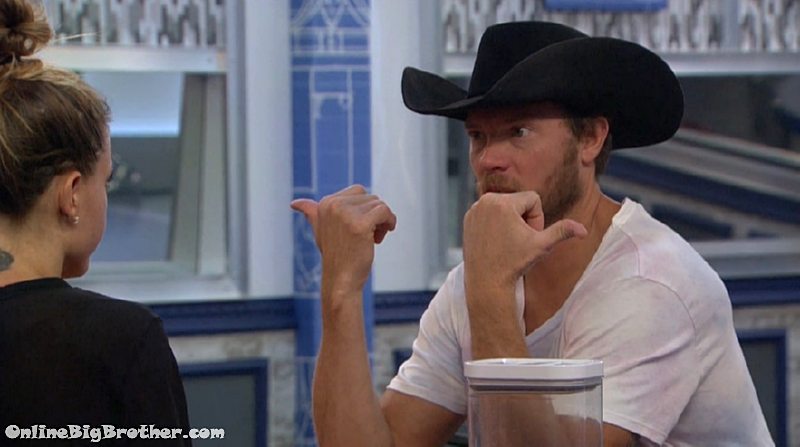 Jason – that last batch of chicken she made wasn't that spicy
J – I grabbed some outta that f*ing pan after they left .. it was sitting there
J – I told Alex I said.. if there was a fraction of that stupid red pepper bullsh1t that she does that everybody hates..
J – that f*ing b1tch does that on purpose
(she's putting some pepper in the food that nobody likes but her and Matt do )
J – why the f* would you do that
x – your burger was hilarious.. you took one bite of it
j – I wanted to punch her in the back of the head I was mad.. I was like you dumb b1tch
Jason – she comes into the bathroom and was like… You want a burger
J – I was like.. you cookin it plain
j – she like…. well I can …
k – I said, I really don't want one I just ate… But I'm like if you have an extra patty just don't put anything in it or on it and i'll eat the son of a b1tch (the use of son of a bitch has been lacking in 2017 glad Jason has brought it back into vogue)
j – she's like what about cheese
J – i'm like Yeah cheese is fine I'm american
Jason explains he stressed to her just do what you do and if you have one left just don't put anything on it.
J – I took a look at it
x – doesn't look any different
J- I took a bite of that Mother f*er and damn near almost spit it in her face..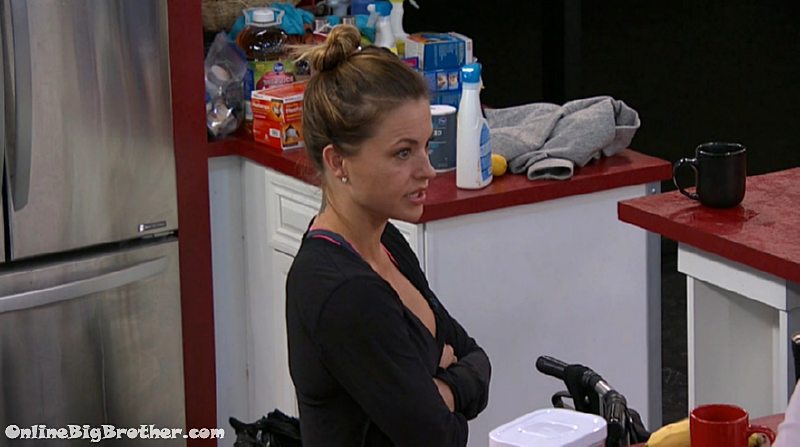 Xmas – she goes through my stuff…
Jason – I watched you teach her put the white shit on in the HOH room
Xmas goes on about how much of her makeup Raven uses..
Jason – they think they run the house.. they have an entitlement issue
Xmas – that mother f*er is 50% goen..
Jason's says Matt doesn't act like this in his regular life "that motherf*er keeps to himself, keeps his bed perfectly made f*ing sheets tucked in every day
Xmas – I have a feeling he's prior military
jason – or homosexual
they laugh..
x – didn't see that
J – he comes from a super rich family that works in the government. They get up and put f*ing suites on
Xmas – I know that demographic they're very booshie (f* off)
J – almost like he's spitting in our face tagging her acting like a f*ing hyena
J – he's going so f*ing crazy that's what he's doing
X – have you watched him.. he'll go to one room she'll follow him
they joke that Matt and raven are still glued together after being on the block. they're not sure Matt will stick around her after the show though.
X – at least he's sticking to her.. he chose that.. and he's sticking to her..
Xmas – I really think he might be prior military because he's so meticulous with some things
Jason – it's almost OCD..
Xmas- that mustache
Jason – clipping it with the f*ing clippers (LOL)
Jason again suggests Matt might be gay
Xmas doesn't think so "I don't have that Dartt on him"
Jason says he knows he's not gay he's joking around
Jason – there's gotta be something with this mother f*er
J – I think that mother f*er wants outta here bad
x – I don't blame him but he can't be too obvious because she puts him in check… at least she use to
j – yikes…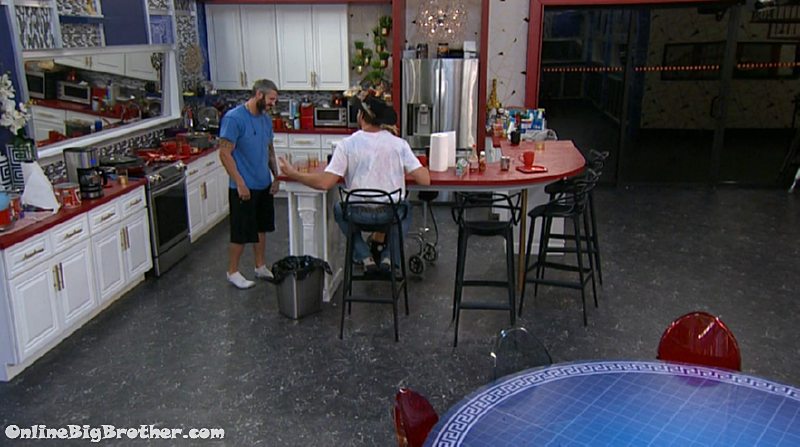 Matt joins them.. THey start talking how many Diary rooms they've been pushed to do lately.
Matt comments that ti's a new Diary room crew… They seem certain Tomorrow's eviction.
X – they woke me up at 6:30 to DER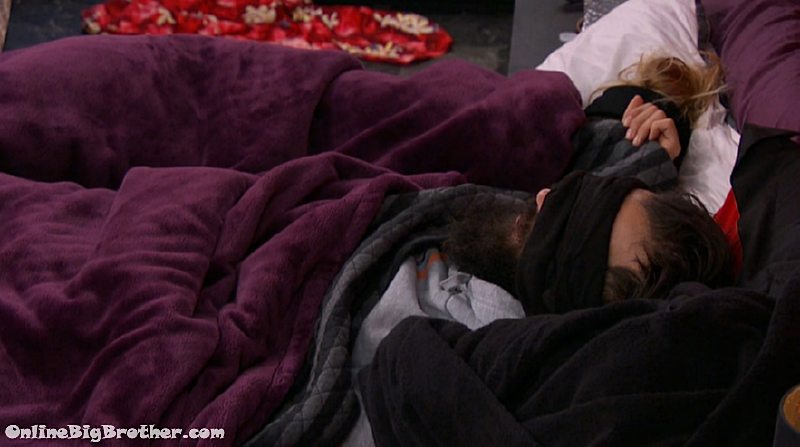 10:46am X and Paul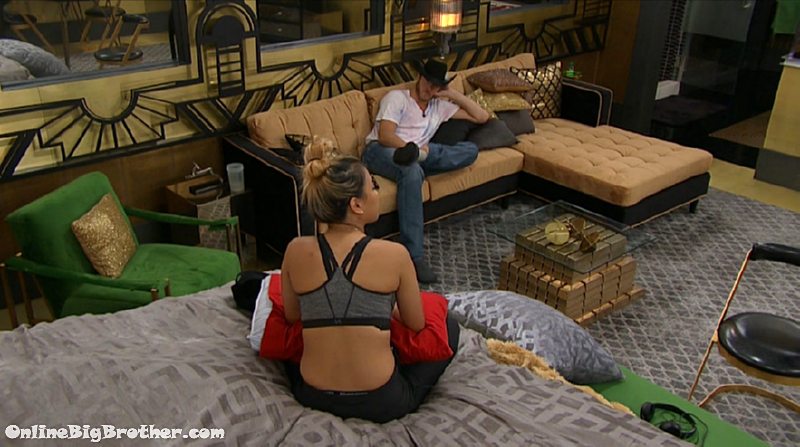 10:46am Jason and Alex studying
POV has started…
2:15pm Still nothing
3:40pm No feeds for you..
4:45pm You thought the feeds would be back …NOPE!
Donations help keep the lights on. If you would like to support the site please consider donating.
Links to the ranking system
Rank your house guests here
For those of you that like Statistics here are some expanded reports.