HOH: Xavier
SAFE: Christian, Alyssa and Sarah Beth
HAVENOTS: Claire, Kyland, Tiffany
WILDCARD Competition Winner: Tiffany
Nominations: Brent & Britini
Power of Veto Players: Xavier, Brit, Brent, DF, Whitney, Christian
Power of Veto: Christian
Power of Veto Ceremony:
Big Brother 23 Houseguest Rankings – – RANK THE HOUSEGUESTS –
View the previous day ranks on the – Ranking Grid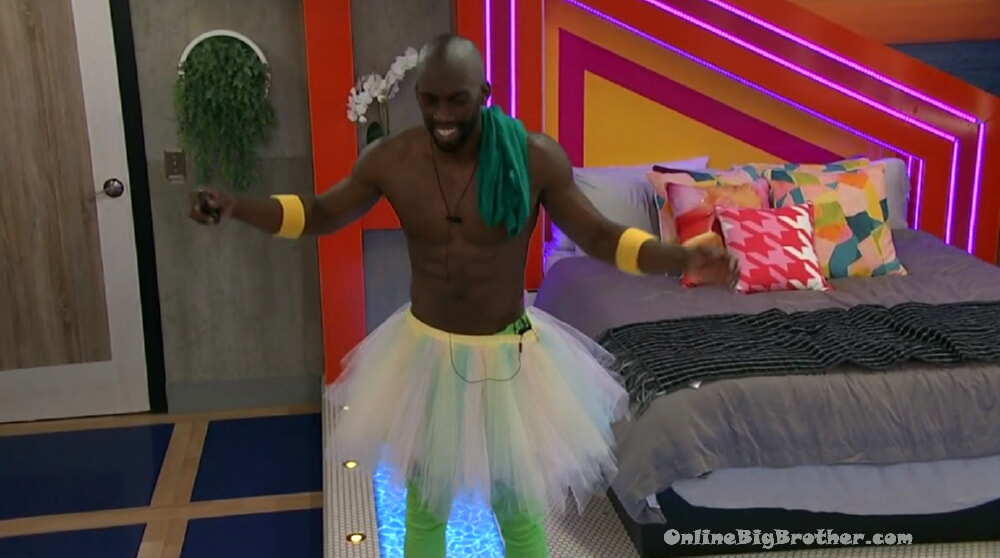 5:45 pm Christian wins the Power of Veto
Xavier is celebrating in the HOH "Best case scenario just happened.. that we go best-case scenario. Let things fall as they may"
Xavier – I can't even go back to the streets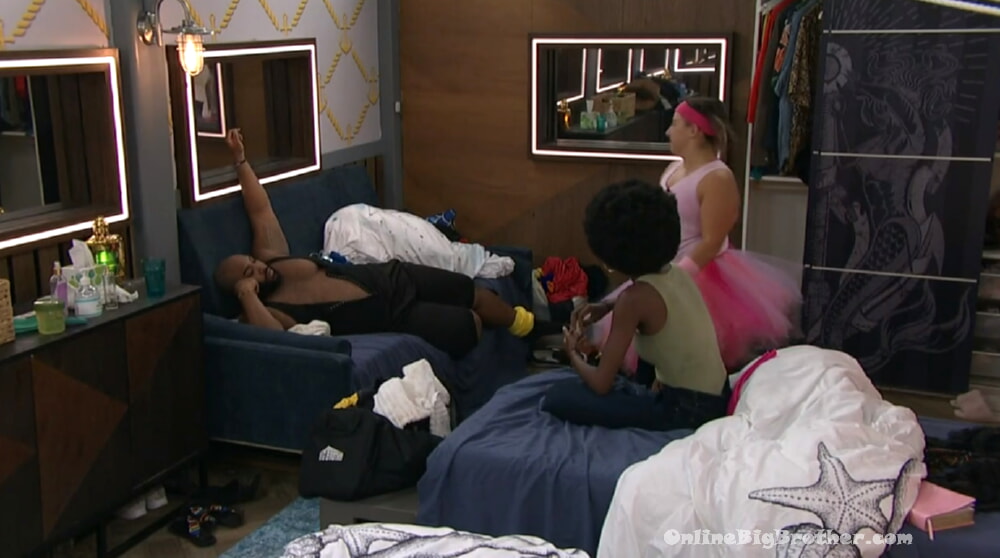 6:05 pm Britini, DerekF and Azah
Britini points out that she beat Whitney "I was moving.. I was moving
DF – that was one of the hardest comps.. the wall comp might be harder but that's just standing there holding..
Azah warns them that Brent is a very cunning man they have 2 days before the veto ceremony.
Azah – we need to chill. I've fixed my face and I've talked to him.. you do the same thing chill and keep with the plan to get this dude out.
Britini – Get me off the block that's the plan X told me there's potential getting me off the block.
Britini – X told me there was a possibility he would use the veto on me and Christian told me if I ever felt the slightest of doubt he would use it on me. My thing is this.
Britini – I'm going to talk to X say HEY LOOK I did your due diligence I sat up on the block as your fake target now you can put somebody up for the next five days you don't need to keep me up there.
Azah – Girl I ain't going to lie to you I don't think they will. They like to say you all sorts of things to make you feel better that is why I told you gun for that Veto .
DF – SHE DID
Azah – the best thing is that Veto did not land in BRent or Whitney's hands
Britini – Also also.. I tired Brent out so much. I didn't have to win I just had to take him down so he didn't take it .
Britini- I keep assisting people can I stop assisting people in comps
Britini – there is no reason I have to sit an entire second week on this block when you can easily put someone from his own team and have him go home.
Britini – I'm going to ask him to apologize for the speech cause he made me sound like an a$$hole and that should be even more alarming. So you should use the power of veto on me and apologize for your speech YOU MADE ME LOOK HORRIBLE
Britini – if you want to come with me you can come with me.. YOu can me real with him say look you made her look like an a$4 you made her look terrible.
Britini wants the two of them to go up there and get an apology out of Xavier for his nomination speech.
Azah isn't keen on the plan – "you should first talk to Christian"
Britini – if I stay on the block that's 14 days I've been on the block. My whole thing is.. he hugged me and told me I was going to be safe. Someone else can sit there for three days.
Britain – I don't feel comfortable sitting next to him when he's been degrading my name to this whole damn house.
Britini – I did my job I don't need to stay on the block any longer.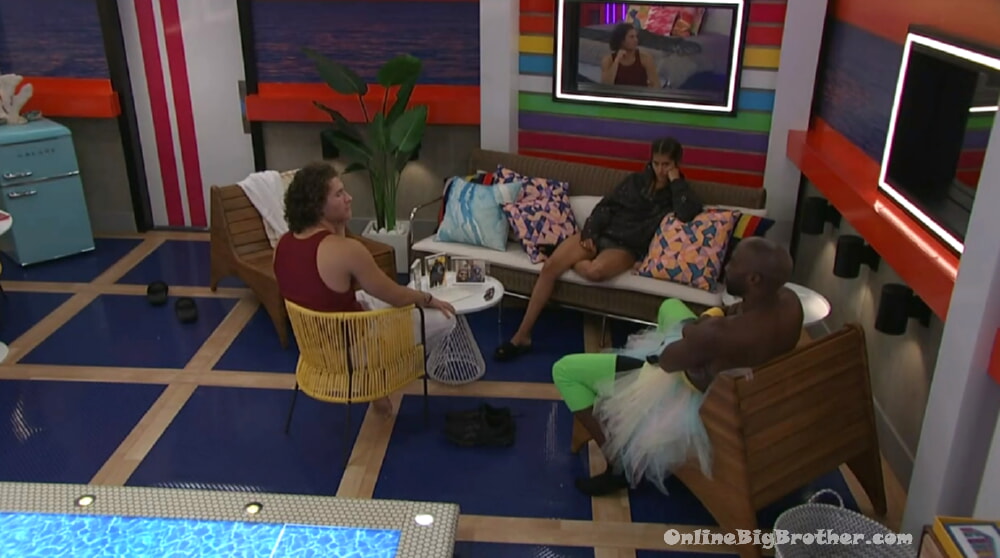 6:38 pm Alyssa, Xavier and Christian
Christian has no plans to use the veto.
Christian says Whitney was out first during the veto.
Alyssa – I'm just glad it was britini and X that picked him so it doesn't look bad
Christian about Brent – that was the worst challenge for him to play I did feel really bad when he started Throwing up (Yikes)
Christian – he handled it.. he's like I do this, this is what I do
Alyssa – that does suck.. he probably said that and said f**. I totally forgot he said he was like that
Christian – he's trying to get me alone. He doesn't care if you are there.. you're his best ally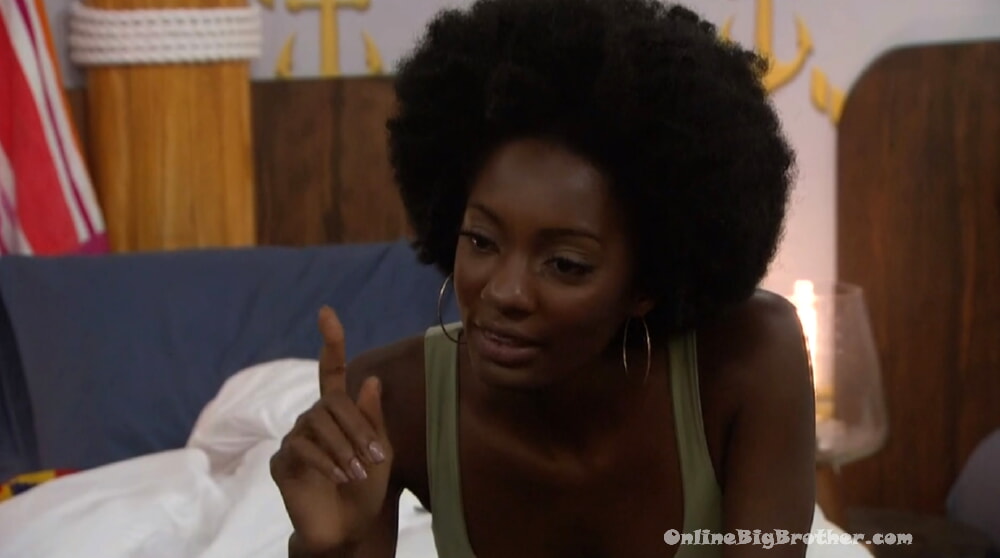 6:43 pm Azah, Britini and Sarah Beth
Scheming to get Christian to use the veto so Whitney goes up.
Azah is warning them how turbulent the house will be if those two go up together
Azah – they can completely turn on the people on their team. Frenchie did a lot of things. He lied about me, He lied about you, he lied about all of us. but we still have enough character not to like throw him under the bus to people in pursuit of this"
Brit – if I come down we have majority votes.
Sarah Beth says she doesn't think they'll take Brit off and if they do she's worried he lied to them and would put Azah up.
Britini's "eviction speech" for flight attendant Brent #BB23 @bigbspoilers pic.twitter.com/MZEWzfYjbQ

— Dawg (@DawgsBigBrother) July 25, 2021