HOH: Xavier
SAFE: Christian, Alyssa and Sarah Beth
HAVENOTS: Claire, Kyland, Tiffany
WILDCARD Competition Winner: Tiffany
Nominations: Brent & Britini
Power of Veto Players: Xavier, Brit, Brent, DF, Whitney, Christian
Power of Veto: Christian
Power of Veto Ceremony:
Big Brother 23 Houseguest Rankings – – RANK THE HOUSEGUESTS –
View the previous day ranks on the – Ranking Grid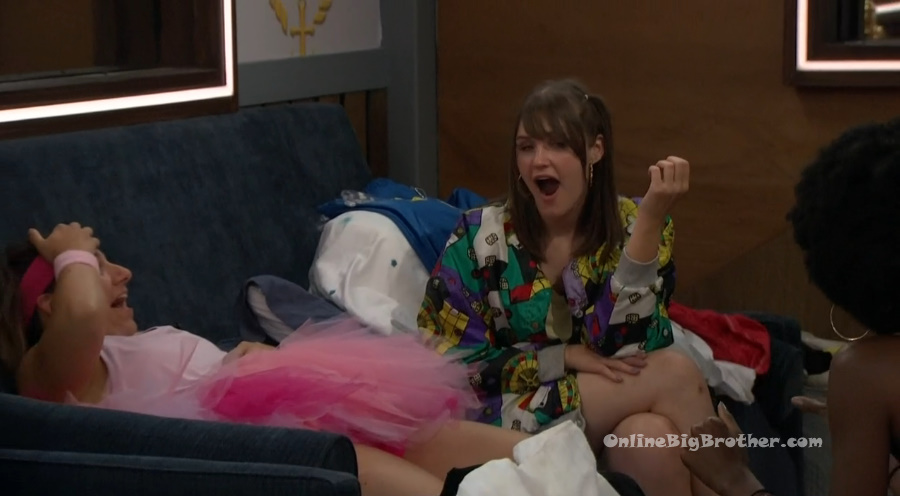 Bedroom. Sarah, Azah and Britini
They talk about Britini having to do another eviction speech. Britini – those speeches took a lot of work. Azah – flashback to season 12, do you remember what Joe did. He was on the block. Azah does the hand motions of pointing to the other person on the block and pointing to the door. That's all he did and then sat down. Britini – did that work? Azah – yeah. I mean he wasn't the target and everyone was just cracking up. He was the one that got into it with Russell. Britini jokes that she will do the below "eviction speech" for flight attendant Brent.
Britini's "eviction speech" for flight attendant Brent #BB23 @bigbspoilers pic.twitter.com/MZEWzfYjbQ

— Dawg (@DawgsBigBrother) July 25, 2021
Britini – he did tell me.. Christian did tell me that if for some reason I felt uneasy about sitting next to Brent, he would consider it separately from X. Which I am going to be honest with you. I do. I do feel uncomfortable. Its one thing to just say my name out there .. you've (Brent) been throwing it .. and lying! Ky said he (Brent) doesn't talk to the girls that don't flirt with him. Sarah – its true. Britini – I don't find you that attractive .. sorry! And your personality turns me the hell off. This week it should have been Brent and someone from his team. You (Xavier) did not have to bring me into this hot mess. Sarah – I really feel like he is working with Whitney that's why he didn't put her up. Azah – I think Brent is going to go but Whitney is the girl that needs to go. Sarah – I 100% agree. Britini – I am sick of being on the block. I can literally go after anyone I want to next week. Azah – we've got two days.. and two days feel like a month in here. Anything can happen so don't give Brent any ammunition. Sarah – honestly (next HOH) if it comes down to us I will throw it to one of you. Azah – I don't really have a relationship with Christian. .. I would probably do Whitney and Christian. Sarah – it makes more sense that way. Britini – I need a week where my a$$ does not touch the block. I want a 21 day contingency plan with this entire damn house. If this is seriously how it is I will give up the next three HOH's.. let me get to jury. I am kidding, I am going for every damn HOH. Screw it. I am just mad. This entire week I have been assisting in other people winning. I don't want to sit there for another 5 god damn days but I am going to have to. Christian – of the three (Travis, Frenchie, Brent) count him (Brent) gone who do you think is the best option to come back (Battle Back)? Alyssa – I think Travis. Sarah – I would rather Frenchie to come back. Christian – Frenchie. Sarah – he's a target. Christian – and he's not a physical beast. Alyssa – true, I didn't think about that. Christian – if Frenchie came back he would be sent right back out. Sarah – I think the same for Brent, he would be sent right back too.
6:43pm HOH room. Alyssa and Christian.
They're making out.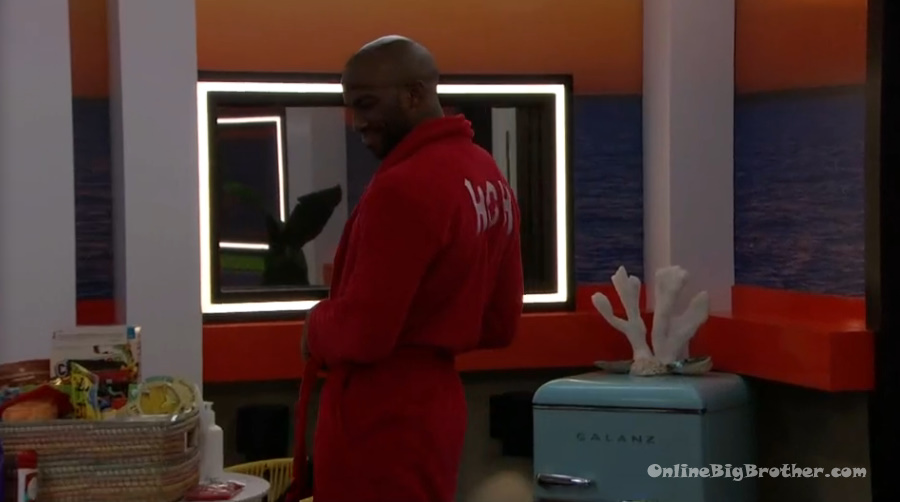 7pm – 7:50pm Then "Dad" enters… Alyssa, Xavier, Sarah and Christian are talking. Christian – so we are going to be the only group left that has four people. Sarah – so we are going to need to win next week. Alyssa – I will say if the Queens win they wouldn't put us up. I feel like the Aces wouldn't either. Christian – we are in such a good position. Alyssa – Do you think you can trust Britini more than Hannah. Christian – yes. Alssa – we're stuck in that room with him (Brent). Sarah – I feel so bad for you. Alyssa – keeps talking and I said you get to play in that veto tomorrow. And he said I don't even care if I win anymore. Chistian – it is going to be unanimous and he expects it to be unanimous on his side… he is going to be f**king shocked! Alyssa – I can't believe there is going to be another black and white photo. Christian – its going to be another white dude. Its going to be another white guy. (Why does that matter?!) So Whitney and Hannah next week. Alyssa – yeah which sucks because I really like Hannah. If one of them comes off the block Azah goes up. Christian – we have every aspect of this game covered. We picked a good f**king team. You helped me pick X. And we got SB (Sarah) handed to us. Xavier joins them. Alyssa – Imagine if we (Xavier, Sarah, Christian and Alyssa) made final four. They reminisce about how they met. Then they study the past days / comps. Alyssa – do you think America likes us? Xavier – the will either love you or hate you. Alyssa – I feel like they would like us because of how we started. We were the underdogs. Sarah – they probably loved us and now hate us. Christian – but we're unproblematic. Xavier – but that can be seen as boring. They agree that next week will likely be the last week for teams.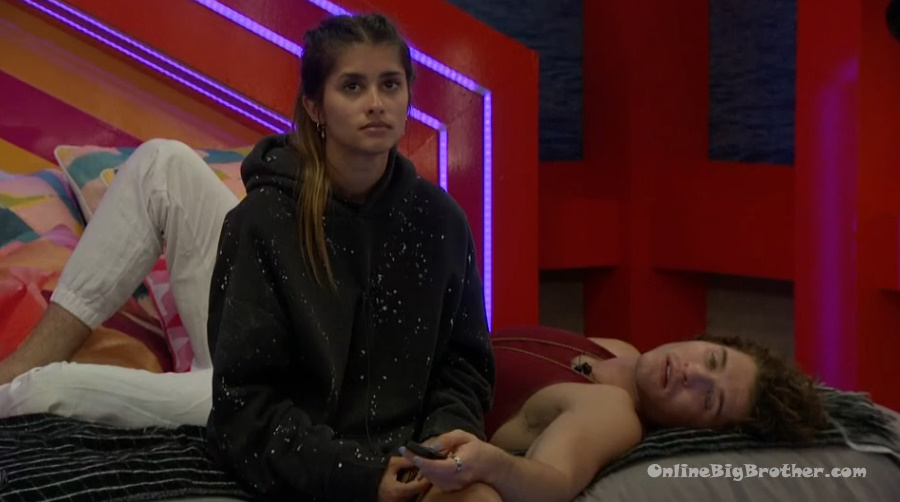 7:33pm – 8pm Bedroom. Derek X and Britini
Derek X – obviously the veto wasn't the best case scenario but it wasn't the worst. Britini – correct, I mean worst case it would have been him (Brent). But there is only so much you can do going first. Derek – I know. Britini – and everyone got to watch me. Derek – yeah that was a tough draw. But you are definitely going to make it through this week.. Britini – thank god! Derek – and I think everyone has your back. Britini – I am going to talk to X about using it but I can see it both ways.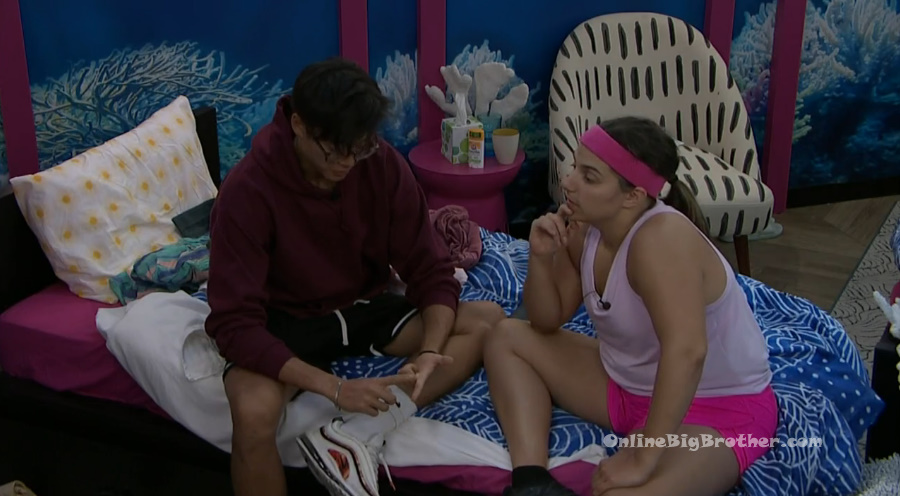 8pm HOH room. Christian and Sarah.
Sarah – you really think Brent doesn't think he is going home. Christian – ah.. he knows he's the target but he "knows" he's staying. He truly thinks he has the numbers. Its gone to his head. He said its going to be unanimous him staying but in reality its going to be unanimous him going. Sarah – yeah, I don't think there is any chance he stays. Everyone wants him gone. Christian – right. Unless there is America's vote. Sarah – and I don't think there is anything he could even say to save himself.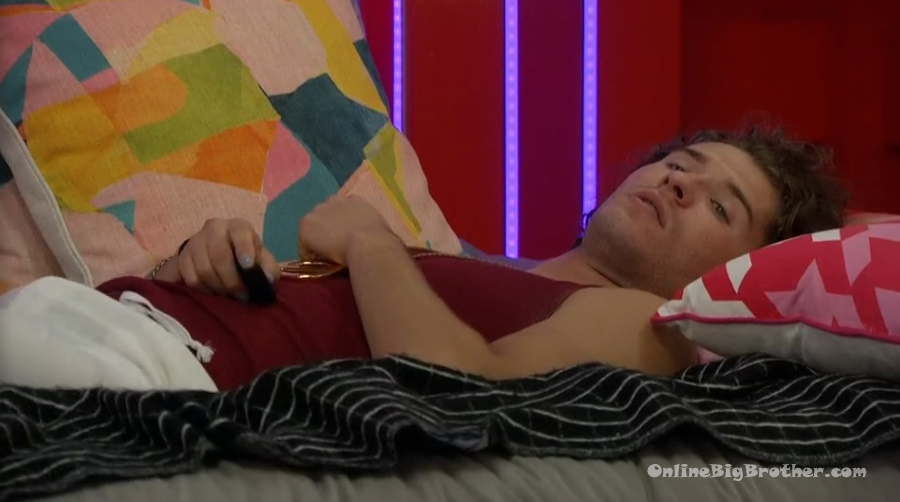 8:10pm Kitchen. Alyssa and Xavier.
Xavier – when he (Christian) wants to talk .. cool, make sure Alyssa is there. Because I know if she is there she is probably going to say exactly what I would say so I am not worried. Alyssa – yeah, same with you. Xavier – but if you (Christian) are off having meetings by yourself, I am worried as f**k! Alyssa – we're f**ked! Xavier – its going to be bad. He would be like .. I shouldn't have said that. Alyssa – I was talking to Hannah and she said we were doing much better .. saying that he used to be the puppy dog. And I said, is he though because if I am walking away I am not going to know. Xavier – he is, he is a puppy dog 100% You walk into a room and give it 5 minutes later he will come in. He falls hard and he falls fast. Alyssa – that kind of scares me because I don't. Xavier – just make sure it goes at your pace. Alyssa – we agreed that we were not going to affect our game for anything. I am going to go against him at some point and its not personal. And he said the same thing too.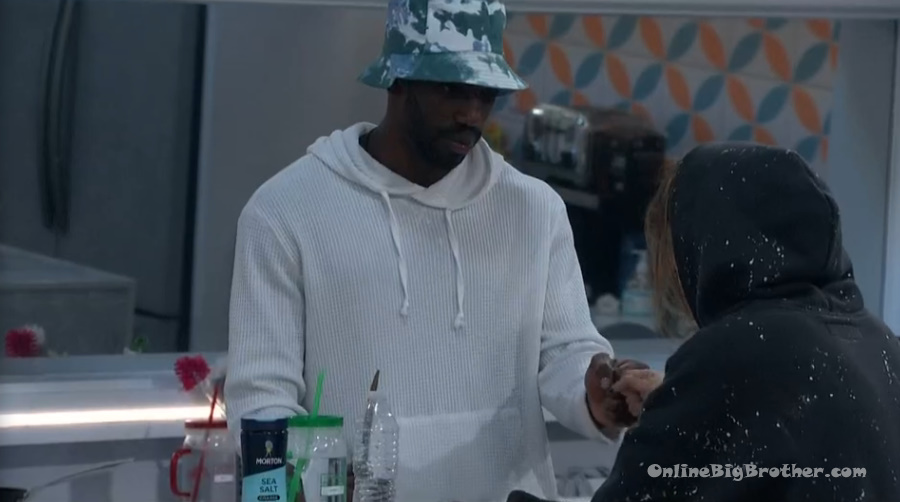 8:35pm – 8:50pm Bathroom. Sarah, Derek X and Alyssa.
Alyssa tells Derek about when Brent was reading her lips. Derek – what I don't get… Brent has to be throwing comps because he is a really smart guy. Alyssa – there is a difference between common smart and smart. Sarah – just because he is good at chess doesn't mean he is smart. Derek – he is actually not that good at chess. Alyssa – he is pretty smart when it comes to game talk. Derek – and he is hyper observant of people. Sarah – but I think he is wrong though. Every time he has said something when being hyper observant .. I've been like I don't think you're reading that right. Derek – true, you know what you're right! He just says things that sound so factual. He is just confident actually. Sarah – I feel bad for him. They talk about how bad he's done in the comps. Sarah – I don't like seeing people struggle really hard and then fail. Alyssa – I know I felt so bad we were rooting to get him out and then he got so sick. (in todays veto comp) And he is going to have to be blindsided. That is the worst part. Sarah – I think he knows though. Alyssa – he doesn't. Derek – I think I am going to get a black eye (from Brent when he's evicted). Sarah – I think he'll be classy. I don't want him to regret coming on this show. I don't think he deserves that.
9pm HOH room. Christian, Xavier, Alyssa and Sarah. Face mask time. Tiffany comes in – oh my god Christian you're so ugly!! And look at you (Xavier) with no lips! Look! Stop it, that's ugly! Y'all are goig to make me have nightmares. I don't want to look at that. Xavier and Christian follow Tiffany into the bathroom to scare her. Tiffany – that's terrible! Y'all look like clowns! I am so frustrated with them. Xavier – TIFFANY, want to play a game!?

Xavier "TIFFANY, want to play a game!?" #BB23 @bigbspoilers pic.twitter.com/addn0YoMiU

— Dawg (@DawgsBigBrother) July 25, 2021
If you like these spoilers and read this blog regularly please consider a donation to keep the madness going. We accept donations via paypal How to support OBB