POV Holder:

1

Christine
Next POV
March 5th
POV Used
No
POV Ceremony
March 7th
HOH Winner:
Jared
Next HOH:
March 10th
Original Nominations:
Loveita and Sharry
Current Nominations:
Loveita and Sharry
Last Evicted Houseguest
Paige
Have Nots
Loveita, Sharry, Joel, Cassandra
Use the Hide My Ass VPN and watch the live feeds on your mobile phones and tablets. One subscription pays for all. It works on any device. Including internet enabled TVs and games consoles. You can even use it on two devices at the same time. HideMyAss VPN
ALLIANCES IN THE HOUSE
There will likely be a lot of alliances during the season – keep track with our alliance help guide.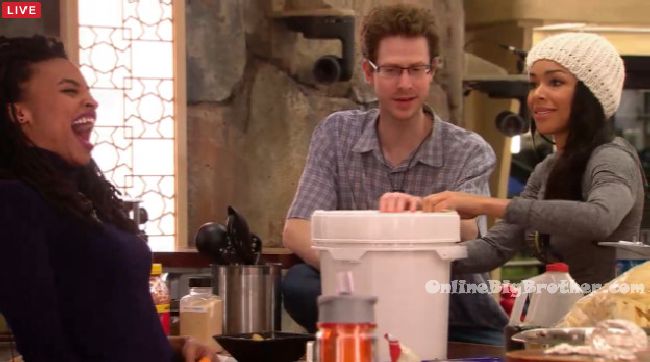 12pm – 2:30pm Big Brother blocks the live feeds for the Power of Veto Ceremony to take place. Loveita and Sharry are on the block and Christine has the power of veto. This morning Tim told Christine that she should flip to decide if she should use the veto or not. Christine loved the idea of leaving it up to fate. However, when the live feeds return – we learn that Christine did not use the veto and therefore either Loveita or Sharry will be going home this Thursday.
Power Of Veto Used: No
Backyard – Christine is playing pool with Mitch. Mitch asks her if she feels good? Christine says yeah, I mean I told them I was going to do that so its no big surprise.

Backyard couches – Dallas tells Maddy that he is already getting some funny looks. It doesn't phase me. This next HOH colossal. Maddy says do or die. Dallas and Maddy are continuing to make others believe they're mad at/not talking to each other.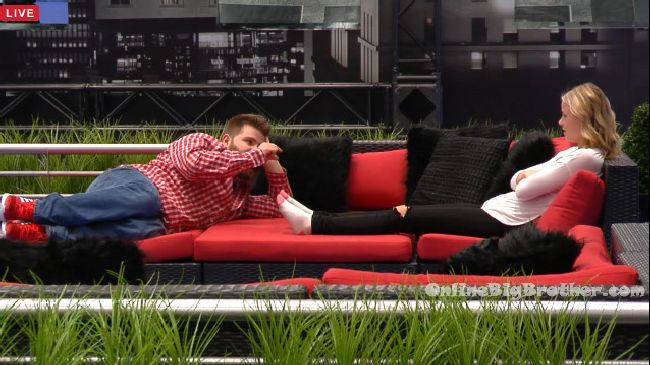 Hot Tub room – Phil says he doesn't care who leaves. Nick says me neither. Next week which other one is left should go back up on the block. Phil agrees. Last week what I needed to happen, happened. I needed Kelsey to stay. My chats with Dallas I made it seem like he was coming up with the ideas. He even admitted it. Nick says I know. Phil says he f**ked himself. He's screwed. I don't want to associate myself with him. I just don't want him to put us up. I want to cultivate that relationship. Nick says and he would put us on the block for sure if it happened tomorrow. He is being weird. Phil says he is a weird guy. He's sketchy. Nick says I just don't want to end up on the block with Jared because we would go home. Phil says no way, not the way I can talk to people. He can't talk to people like us. Mitch came to me last night and he wants to work with us. Jared joins them. Phil and Nick talk about who to vote out. Phil says the only thing is that he thinks Sharry is tighter with more people. They suggest flipping for it. Jared says he can careless.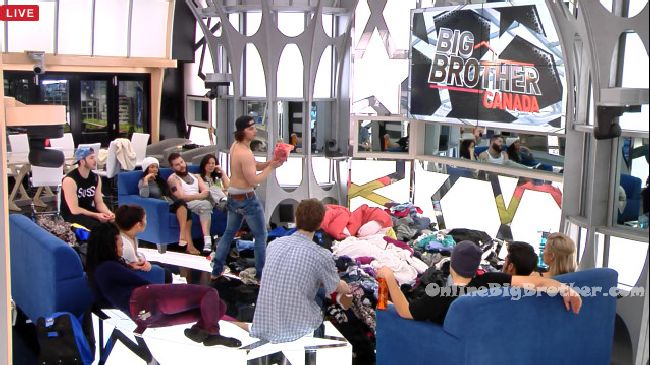 3pm The live feeds return from being blocked and all the house guests and bringing all their clothing to the living room. (Sounds like they're being punished for being so messy.) Nikki starts bringing her clothing to the stairs and says "I f**king hate this house already!" She says that she doesn't want to do it. Nikki brings her stuff down. Nikki starts complaining. Nikki says I don't want to moan all the time but they (Big Brother) give me no other option! Ramsey tells her that whatever they have to do, he'll help her through it. She says its so hard not to swear. I will be so excited to leave next week. I really am! I just want my freedom back.
3:15pm – 3:45pm Big Brother blocks the feeds again. When the feeds return – the house guests are getting all their clothes ready to be washed. Cassandra says after this we get a pizza party!! Christine says not you, you're a havenot. Cassandra says not after this! Cassandra is in charge of washing all the clothes with Joel helping. (Its obviously a shameless plug for oxiclean hd) The others comment on how its probably because she's said she's never done laundry before.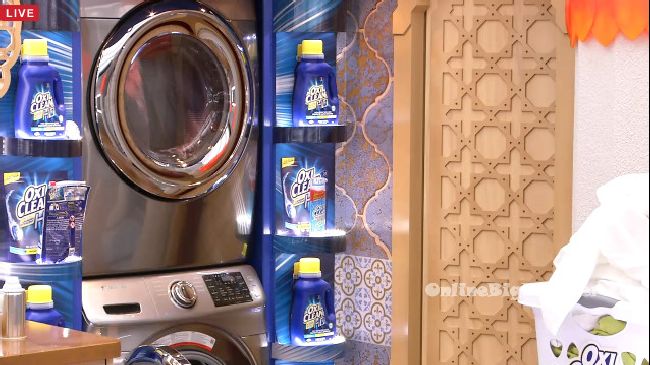 4:15pm In the backyard – Raul tries to throw Kelsey in the pool.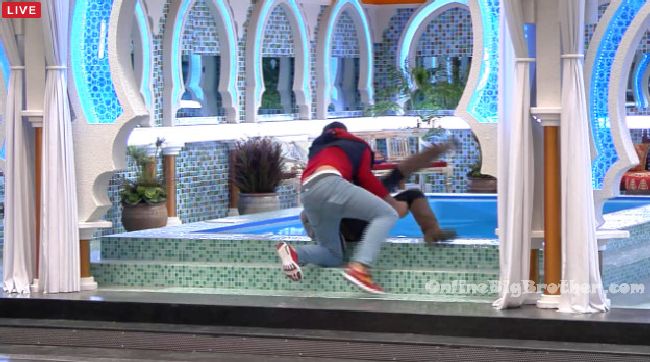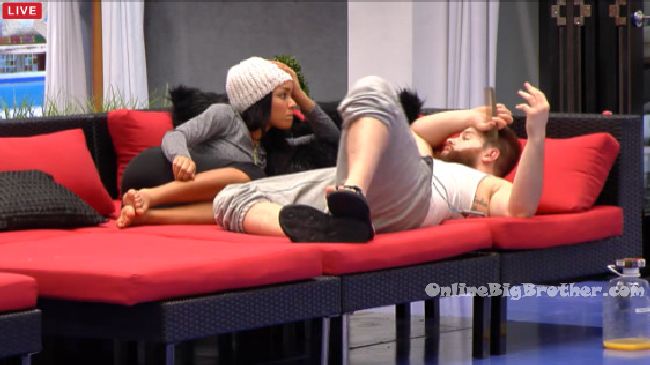 4:30pm Backyard –
Loveita talks to Dallas. He tells her that he's voting for her. Nikki and Tim are cancelling themselves out. Loveita says she's talked to everyone. Dallas says and they're not giving you straight answers? Loveita says no. Dallas says that he talked to Sharry and told her that if Loveita wants to stay I'll vote for her and if she doesn't I'll vote for you. He tells Loveita that you had my back and I've got yours. My consensus is that you're going to stay. I think Maddy is going to vote Sharr out.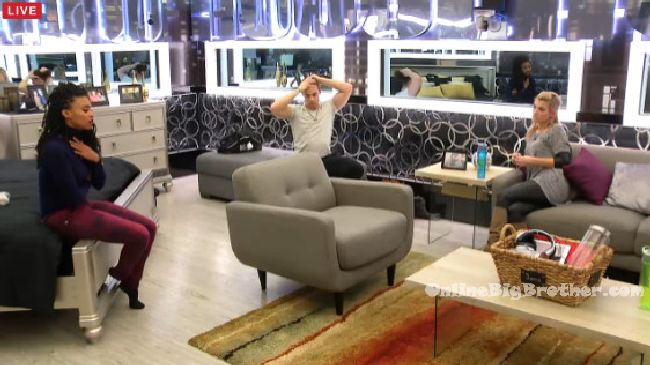 4:40pm HOH room – Sharry is talking to Kelsey and Jared about the votes. Kelsey says that she thinks Loveita not wanted to be here is working in your favour. Sharry disagrees and says it might be working against me. People are also trying to convince Loveita to campaign. Kelsey asks who? She says she thinks the vote is going to be super close and its basically going to come down to one vote. Sharry says she's going to go talk to people to see where they're at.

4:50pm – 5:10pm Jared says I don't really trust the brothers. Kelsey asks why? Jared says this morning he walked out into the hot tub room and they were talking about not being sure which one to get rid of and then they said we'll talk later and left. I want to get rid of them sooner rather than later. I just don't trust them. They're too young and dumb. I would rather have Dallas on my side to take them out. Kelsey says Dallas is such a wildcard. I know Dallas lied to us but he came clean. It might be our only option to backdoor the brothers. Kelsey doesn't know what backdoor means. Jared explains it to her how they would put up two people we don't want to go and then put them up after the veto so the don't have a chance to save themselves. Kelsey says why not just talk to them (brothers) more to get to know them better. Jared says I would rather put my gun to their heads rather than their two guns to my head. Jared says it wouldn't be something for next week it would be for the week after that or the week after that. Kelsey wonders if she should make an alliance with Cassandra. Jared says I don't think its a good idea. Look at everything that's happened so far she's been a part of it all. You can do what you what but its a bad idea. Kelsey says I think I might do it. Jared asks what do you gain. She is so stupid. All she needs to know is that we're all good together. Kelsey says she wants it to be official. Jared says then bring her in here and we'll make it official and she can make a stupid name for it. Just to make her happy and shut her up. Kelsey keeps saying she still wants to make an alliance with just Cassandra. Kelsey tells Jared to be cautious of Dallas. Jared thinks the brothers are just buying time until they become 2 people .. like until week 4 or 5. Jared says if someone is going to make an alliance I think we should do it together so that you get caught up in sh*t. I just want to use Dallas to get the brothers out and then I'm done with Dallas. Kelsey thinks its better to get Dallas out first. Dallas did a 180 and is now kissing your a$$.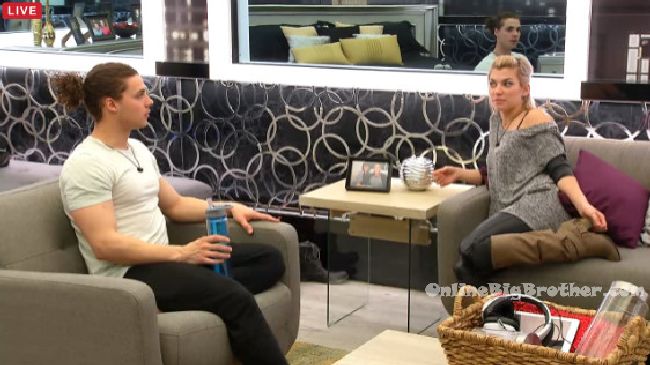 Kelsey asks Jared if he knows Cassandra from outside the house and big brother cuts the feeds.
5:10pm Big Brother blocks the feeds.