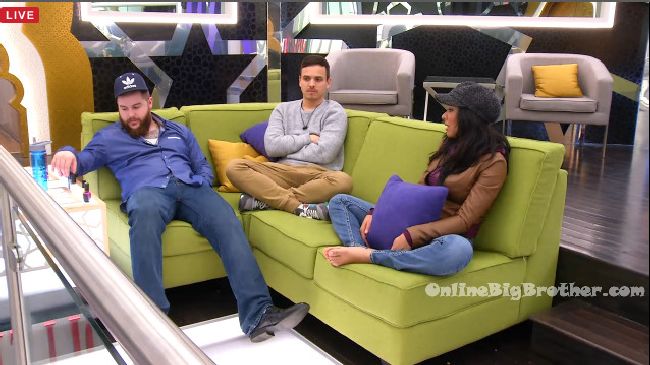 1:15pm
Dallas tells Loveita that Cassandra is pretty confident she is going to stay. I wouldn't be surprised if she does stay too. Loveita says this is so stressful. Dallas says I am giving you my word I am voting her out. Loveita says and you keep your word. Whatever happens, happens. It just makes me feel like I want to leave. Dallas says I wouldn't be surprised if Cassandra stays but then its another week of a weak player going home. Loveita says I just wish I had Sharry here. Everyone has someone. Mitch says I don't have anyone. Dallas says I know 4 votes going against Cassandra for sure. Mitch asks Dallas what do you want to happen beyond this week Dallas? Dallas says I am 100% on board with getting out Cassandra this week. I think Jared has the game in his palms and a clear cut favourite to win this game. Everyone is petrified about putting that guy on the block but I'm not scared. Dallas tells Mitch that he's (Mitch) never ever been on his radar. I think you're in a good spot because you're not making enemies. Loveita says I already know they hate me. Its more dangerous to have someone in the game that pretends to like me. I'm thinking people might keep her (Cassandra) in the game because of the drama she creates. That would be a waste of my HOH. Loveita leaves. Kelsey joins them. Kelsey says that at first she wanted Cassandra to stay but now she's not sure. The only person I'm worried about in this house is Maddy. Dallas says she doesn't have a strategic bone in her body. I keep her around because she could be a vote in my favour. Dallas says that brothers are spitting soon.
1:40pm Backyard – Jared and Maddy are talking. Jared says I'll leave this game always being honest with people and if that does me in then I'm okay with that. I think you and Dallas are fine. Loveita told me I was good but you just never know. Maddy asks do you know how you'll vote? Jared says I think the majority wants Cassandra out. I'm not going to be the one to rock the boat. I just want to build trust with people. If you're good to me, I'll be good to you.
1:55pm – 2:10pm By the pool – Jared and Ramsey are talking. Jared tells him he is good in his books. Ramsey says I want other people view other males as the threats. I think there are some people who are bigger threats. Jared says I don't know if Cassandra is really smart or really naive. Ramsey asks is there anything I can do to help you? Jared says just keep each others back.

Help Support Online Big Brother
Show your support and appreciation to help keep the updates coming: Support OnlineBigBrother.com
[polldaddy poll=9341582]
Share it YO!!
Tweet