Head of Household Winner – Dani
Have nots – Da'Vonne, David, Ian
Nominations – David, Kevin, Ian and Tyler
Power of Veto Players are – Ian, Kevin, Dani, Tyler, Enzo, Da'Vonne.
POV Host: – Nicole
Power of Veto holder – DaVonne
Power of Veto Ceremony – Da'Vonne used the veto on Kevin. Ian nominated in his place.
Powers – Christmas, Dani, David
Live feeds —-> Grab your Live feeds here. Try it free.
Rank the houseguests —-> Big Brother 22 Ranking
10:34 am Feeds go down for the Veto Ceremony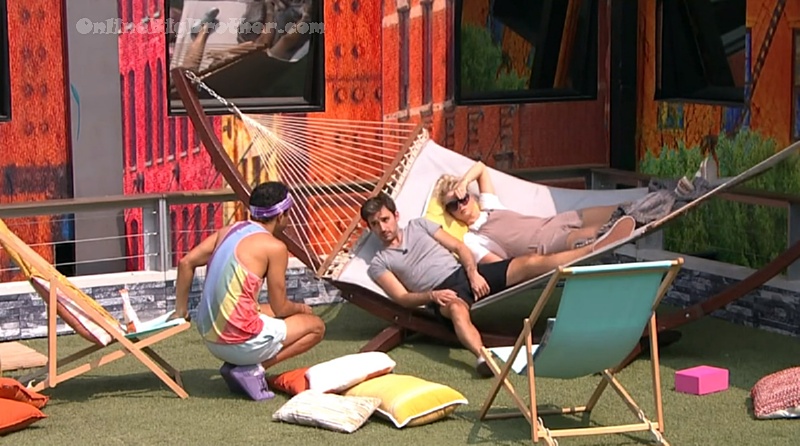 11:41 am Feeds return Ian nominated. Nicole says she cried during the ceremony.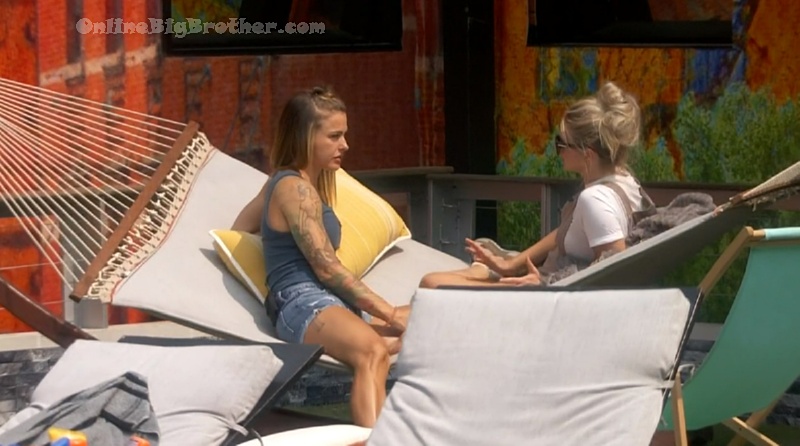 11:47 am Christmas and Nicole
Nicole – why did she use it.. we begged her not to use it and she used it so where is her loyalty
Nicole says she's only mad at Da'Vonne right now
11:48 am Dani and Ian
Dani crying (sounds fake) "you're are the only person he can leave against"
Ian – Dani it's not a thing and If I do go it's not a thing.
Dani – Everyone loves you.. you know i'm going to campaign all week for you to stay. Everyone trust me .. people know about Tyler and all the crap he's been doing..
Ian – it's okay.. I need four votes that's all because you will break the tie in my favour..
Dani – you have it..
Ian know to win this game he'll have to be nominated 2 or 3 times last time he got lucky and faced the chop only once.
Ian – it's not realistic you are going to come into this game and not face nomination.
Dani – stupid twist..
Dani – I'm really sorry I really hope you don't hate me.
Ian says he won't hate her it's just a game.
Dani brings up what Tyler was doing last week and the feeds cut…
When we're back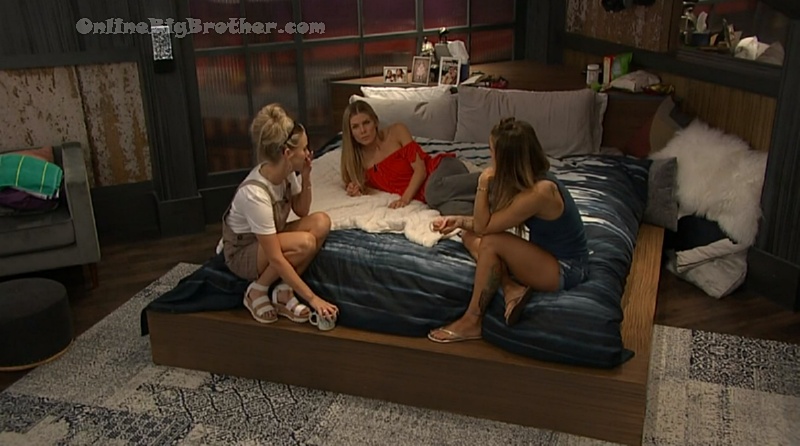 12:06 pm Nicole, Christmas and Dani
Nicole – Dani, another thing that made me mad.. she's supposed to be in this group and I looked her in the eye and begged her you begged her and I kept saying..
Christmas – she never came to us and asked us (ohh my pearls)
Christmas – I swear I thought she knew how to play this game much better
Dani says they have to figure out a plan.
Christmas – somebody has to win next week and we have to fricken slay..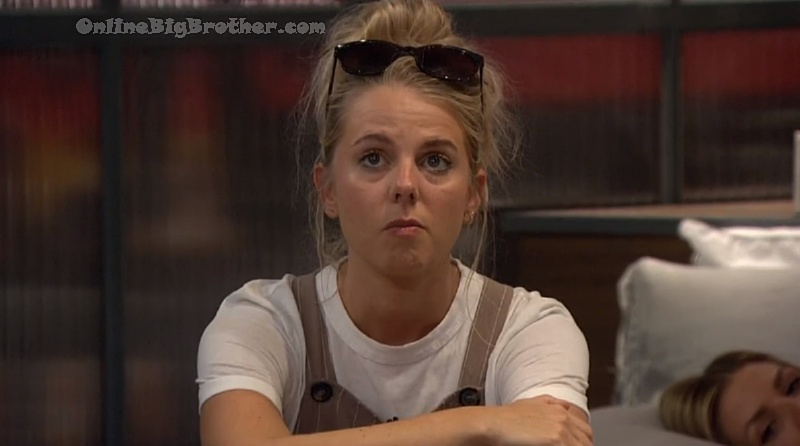 Cody joins them. Says that Da'Vonne benefited for one week what she did.
Cody about Da'Vonne – she said she saw untouchables everywhere what are you kaysar watching people's body language.
Nicole says the only reason she was crying was she was mad at Da'Vonne.
Nicole – I talked to her right before and Begged her not to use ot
Christmas – she wanted to bask in her glory of her tiny veto
Christmas says Da'vonne is playing week to week there's no longevity in her game.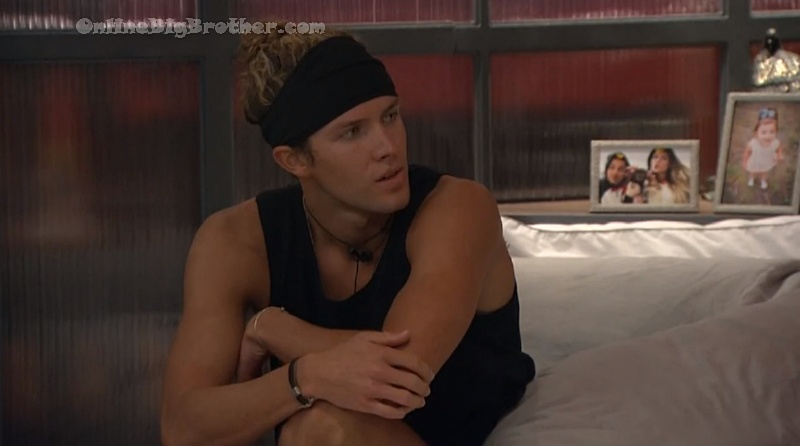 12:17 pm Dani and Tyler
Dani – I feel horrible.. I didn't mean any of that.
DAni – it's awkward because I keep saying I'm after you but it's not teh case.
Tyler – you don't have to explain yourself I get it
Tyler – I thought you were going to put Enzo up.. Nicole was gunning hard for Ian.. not to go up.
Dani – I just want to make sure we're cool
Dani – you and Cody are the closest people in the house.. like truly truly truly the closest people so because of all this I was taken aback.. he's literally like my top 2 people why would he be doing this..
Dani – I've been fighting so hard to make sure everyone knows I'm fighting for you to be here. It's hard I shook your hand and nominated you later that day.. I have your back and I don't want you to be coming after me after this because I genuinely ad not coming after you
Tyler – I swear on everything I wont'
Tyler says them hiding in plan site is the best play. They talk about keeping up the ruse they are against each other.
Dani says Da, Kevin and David are going to campaign heard to get you out this week. Says that Kevin is "Such a liar"
Dani – it's going to be 5 to 3
Dani says if it's a tie she will send Ian home. She told Nicole this she doesn't want want Nicole throwing a pity vote to him.
Dani says Nicole can just say David flipped in her goodbye message.
Dani says Tyler needs to really egg David on to target Memphis and Christmas.
They go one and on telling each other how good her putting Tyler up was for their optics "Nobody is going to put you and me on the block together"
Dani says if the committee doesn't win the next HOH it'll be two committee members on the block. (yeah you're like 70% of the house)
Dani fills him in on the meeting last night and her plans to have everyone raise their hands.
Tyler says Memphis and Cody are glad she put up Ian over Enzo.
Dani is surprised that everyone thought Enzo was going up.
Dani says Ian has to go in a few weeks anyway so this isn't a full lose just a partial lose.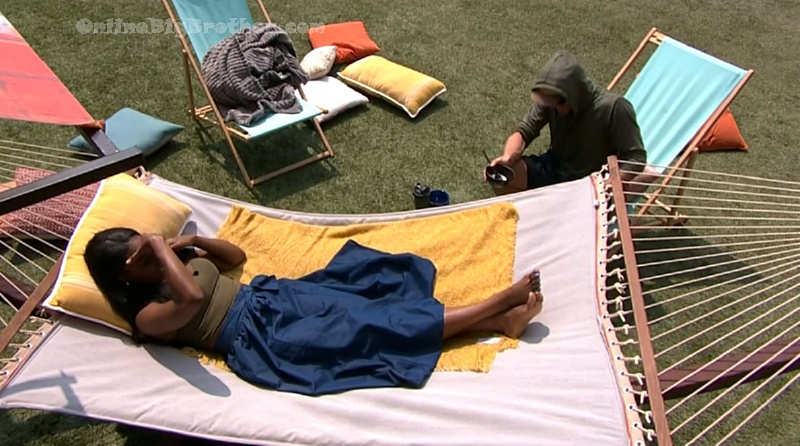 12:52 pm Enzo and Da'vonne
Da'vonne – I cannot believe she did that..
Enzo tells her he was going to vote Tyler out "I don't give a f*** now it's different dani's HOH is a mess if ian goes she nominated 4 people.. she's playing really messy yo.. it's a mess up there yo.. "
Da'vonne – who will vote to keep Tyler..
Enzo – if we were going to keep him over Ian..
Enzo says Memphis hates Ian.. Adds that Christmas will definitely if Memphis does.
Enzo says he doesn't talk game with Ian ever. "If we keep Tyler he's not coming after us right now.. eh's not.. "
Enzo – Tyler will go after Dani.. yo we have a couple days we can think about it that's it.
Da'vonne- who will Cody vote out
Enzo – I don't know.. i'm at the point now where i really need to thin about this.. we have a chance to take out two really good players which one is the best.
Enzo – Ian isn't coming after me..
Da'vonne – he's not.
Enzo says whatever Dani does Nicole is in it. Adds that they're in some whack a$$ alliance "Memphis is in there to"
Da'vonne – shots are going to have to get fired this week.. somebody heavy is leaving..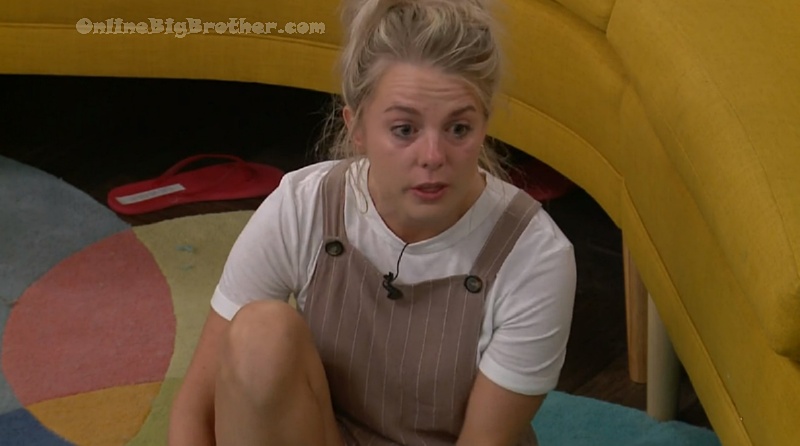 1:41 pm Nicole and Cody
Nicole is sniffling.. saying that Dani is yelling at her "I can't even breath in this house"
Nicole – in the last 24 hours she was saying why would you say this why would you say that..
Nicole says he's never played so "micromanaged before"
Cody says that is what Dani does she's talking to a million people so she needs to micromanage.
Nicole – she says .. you HAVE to vote out Ian you HAVE to
Nicole – they told me I have my own mother f***ing vote..
Nicole now appears to be doing some light crying.. says she told Dani that she will convince people to vote the other way so the vote doesn't go 4-4 she wants to throw Ian a pity vote.
Nicole – she's saying YOU HAVE TO.. you HAVE to back me up .. so you look good and I look bad!
Nicole – I just want him to get two votes so he thinks it's me and you
Nicole – then she runs and tells Tyler we had a meeting.. I feel stupid.. I don't know what she's told people
Cody – she plays the tell first game. what she doesn't realize it doesn't work with you and me
Feeds cut.. when we're back
Nicole – I'm frustrated..
Nicole – word on the street is Tyler is telling people that the girls are in an alliance.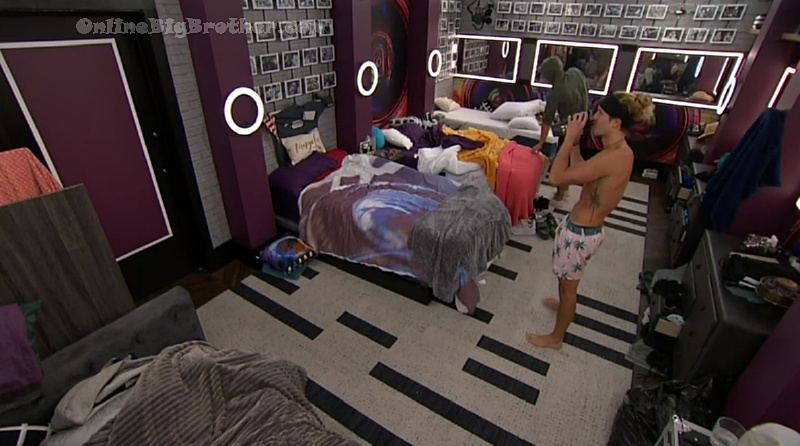 1:51 pm Enzo and Tyler
Broing out
Enzo – Dani put you on the block you can't trust her yo
Tyler – Hell no
Enzo – no matter what deal you can't trust her
Tyler – I'm going to be really nice to her
Tyler – I deserve it.. yeah
Enzo – whatever you want Dani.. yeah .. your HOH is a mess
Enzo – now she's getting rid of somebody that isn't coming after her
they laugh
Tyler points out that Dani put up her best friends best friend.
they laugh
Tyler – she should have put you up
Enzo – that's what I'm saying what the F**
Enzo says they start this week he doesn't trust Da'Vonne he doesn't trust Dani.. "Yo"