Head of Household Winner – Dani
Have nots – Da'Vonne, David, Ian
Nominations – David Tyler and Kevin
Power of Veto Players are – Ian, Kevin, Dani, Tyler, Enzo, Da'Vonne.
POV Host: – Nicole
Power of Veto holder – DaVonne
Power of Veto Ceremony –
Powers – Christmas, Dani, David
Live feeds —-> Grab your Live feeds here. Try it free.
Rank the houseguests —-> Big Brother 22 Ranking
2:14 am Feeds were down for about 8 hours due to possibly a wall yeller. When the feeds get back there's good indications Da'VOnne will use the veto on Kevin and that Ian will be the replacement nominations and the target. If the Veto isn't used looks like Kevin is the target. Keeping in mind with a high value target like Tyler on the block anything can happen this week.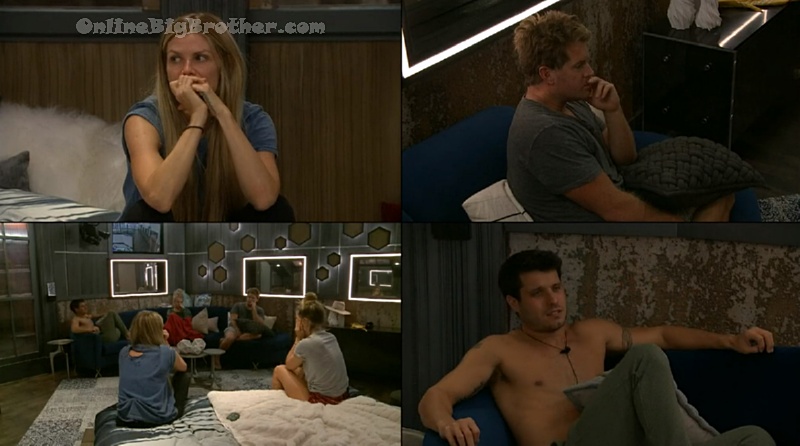 3:30 am Dani calls a Committee meeting
Dani – I just got done talking to Da'Vonne for every and she's 100% using the veto. I don't want to put anybody else up.
Dani – this is my plan if she uses it.. I am going to interrupt the veto meeting i'll let the nominees have their speeches and i'm going to stand up and have my own speech I'm going to say
Dani – I really would appreciate if you don't use the veto its going to break my heart to nominate somebody else it will put me in a bad spot please don't use it.
Dani – everyone in this room if she leaves the nominations the same raise your hands if you will vote out Tyler. That's her problem she wants Kevin to stay
Dani – I'm asking everyone to raise their hands either way because I don't want her to use the veto. She's place herself in a worst spot and this will place her into even a worst spot
Cody – I will raise me hand but I think we should tell Tyler before..
Memphis – I have a couple concerns..
Memphis doesn't think them all agreeing with her and raising their hands is a good idea.
Dani says that would be foolish "I'm getting every single person in this house to raise their hand"
Christmas – why the f* is she using it.
Dani – she's close to Kevin..
Christmas – well obviously she doesn't want to go all the way
They talk about how crazy it is for her to use the veto, "Crazy .. crazy"
Dani – I'm so annoyed by this.. It's giving me the middle finger.
Dani said she told Da'Vonne they have the votes for Tyler to go and she doesn't care
Memphis – she still might f**ing use it
Cody says if day's mind is set nothing is going to stop her.
They're trying to decide if Da'Vonne can be convinced not to use it.
Memphis points out they are talking about someone who has never won a power and this is the furthest she's gotten in the game. .."She knows the game"
Christmas – I don't think she knows the game
Memphis – she obviously doesn't know what she's doing.. Her, Kevin and David are the only three people in this house that are not part of an alliance.
Memphis says if nominations do stay the same and Kevin goes home they will have one pissed lady on their hands.
Christmas – right now we have great numbers in our favour and we're probably one week away from being able to completely steam roll
Memphis – I can deal with a pissed off women.. I'm just saying how mad she's actually going to get. It's one thing to play this game it's another thing to make a person look like a fool and that is what we are doing.. just FYI
Memphis – look f*** it I could care less.. I'm just saying lets just think about everything every angle.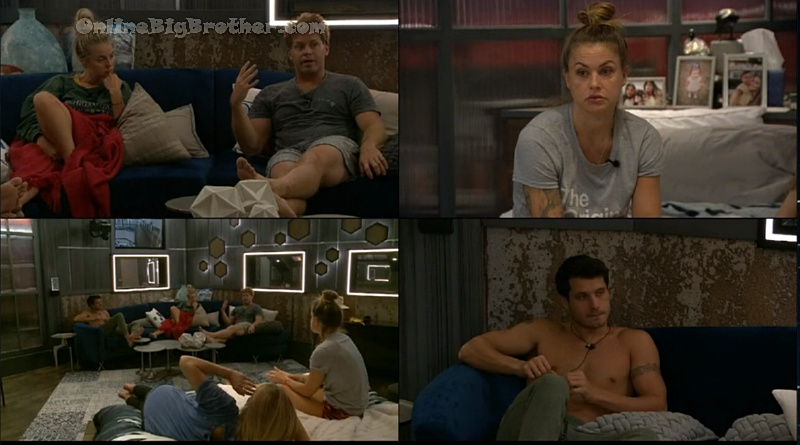 Memphis now saying "it's worth the risk.. if she decides to use it it's going to be a weird situation.. it's worth trying if we can pull it off it helps us. Kevin is a hardcore competitor.. "
Dani – he's coming after us for sure (Kevin)
Christmas suggests she tells Da'vonne that she's talked to everyone in the house and if she uses it they will all be pissed. "that now opens up the lsot for us to go on the block.. it's a unnecessary.. "
Memphis – if she wins HOH she'll put one of us up anyways.
Cody agrees says if Kevin, David or Da'vonne win HOH one of them is going up they might as well take a shot and limit the numbers.
Cody – if there's 2 of them theirs less of a chance of one of them winning than if there was 3.
Christmas now suggesting telling her right before the veto to not use it.
Cody – I don't think threatening her before the veto will work
Christmas – not threatening her
COdy – anything that makes her feel like her backs against he wall will force her to use it.
Memphis says doing the convincing outside of the veto meeting is best.
They suggest calling a house meeting before the veto meeting.
They talk about asking the nominees to leave during the ceremony so they can get everyone to raise their hands.
Cody points out that production wouldn't allow for that to happen.
Dani – you want me to hand them blindfolds.
Dani – raise your hands if you are voting out Tyler.. one of you is going up there..
Christmas – then I'm going to raise my hand because I don't want to go F***ing up there.
Cody agrees says it'll make her think everyone is raising their hands to not be the nominees.
They go back and forth whether to have the meeting before during or not at all. They talk about if they should let David know before hand.
Memphis – I wouldn't say sh1t to David that Idiot doesn't know his F**Ing mouth from his a$$hole
Dani – ohh my god Memphis
Memphis says they tell David he's going to beeline to tell Da'Vonne "I have nothing to say bad about David. I don't know him I don't give a sh1t I'll tal kto him never again in my life. But I'm telling you in this game he doesn't know what he's doing.. he doesn't know what to do in situations.. he has no methodical brain when it comes to this game"
they agree not to tell David.
Memphis and Cody mention that Da'Vonne already said to Tyler she would let him know in the morning if she will use it.
Dani – why is she telling Tyler
Christmas – That's not in the rules she's not allowed to do that (Shutup)
Memphis – are you sure about that
Memphis says at the end of the day if she uses the veto they will vote out whoever the renom is.
Christmas – not necessarily
Nicole – if there's a bigger target
Memphis – no ones a bigger target than Tyler Unless you're going to backdoor me.
4:14 am after a lot of back and forth..
Nicole – I'm thinking it's a bad idea.
Dani – if I don't do this sh'es 100% using it.. like 100%
Nicole – what if you just stood up and said Please don't use it in front of everyone.. you think?
Memphis – I like the idea I just don't like the repercussions for next week.
They start talking about getting Da'Vonne pissed at Enzo and them that way if DAivd/Kevin/Day win the HOH they would put up one committee with Enzo.
Dani goes on about how she can't believe Da'Vonne isn't seeing how bad it is for her game to use the veto.
Memphis – she's never been in this position.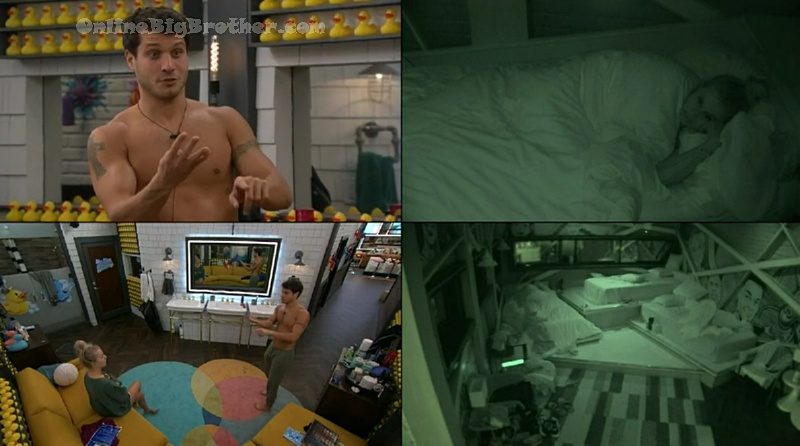 4:23 am Nicole and Cody
Nicole whining about the possibility of Ian going up and going home.
They talk about if Ian is up with Tyler they can make the vote 4-4
Cody says this might be a week where the line gets drawn.
Nicole – Dani won't vote out Da'Vonne or Kevin in this house why is it Ok for me to vote out Ian?
Nicole – It's hypocritical and pisses me off.
Cody – she's at the point where she doesn't give a f**
Nicole – you have to get David to flip.. if you guys are going to vote out my best ally
COdy – how many best allies to you need you have Dani you have me you have a ton
Nicole – Da'Vonne has a lot more than I do.. you have Tyler, Enzo..
Cody says he would vote Tyler out but not next to Ian.. "Because of the committee not because of a personal thing with Tyler"
Nicole goes on about losing Ian he's someone close to her.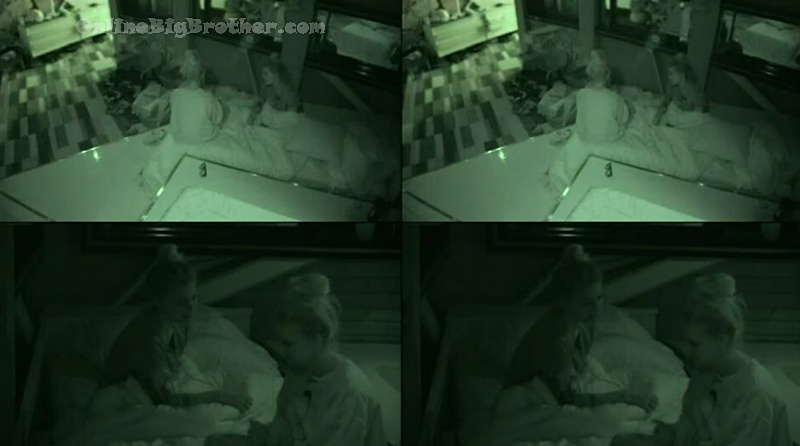 4:34 am Nicole and Christmas
Nicole says she's mad she can't give Ian a pity vote because of how the numbers work out.
Nicole – If I get voted out 9-0 and Ian didn't vote I would be hurt.
Nicole – I hate this unanimous sh1t
Christmas – I hate it too sometimes I wish people wouldn't discus their votes they just f**Ing vote.
Nicole – I don't care I'll stick my neck out for people I like..
Nicole says she has no choice than to vote Ian out. If she doesn't it'll being her more problems.
Nicole – he's so close to me but he's not part of my alliance. "I feel really bad already"
Nicole – I'm so mad she's using the veto
Christmas – it will make a mess of everything
Nicole – I really want Kevin to go. You know Ian will never touch you. Kevin probably would
They talk about making is a tie this week with Ian and Tyler on the Block. Forcing Dani to break it.
Christmas – we all share the blood..
5:15 am All feeds on sleepers
9:13 am Houseguests waking up. (updates will be sparse today unfortunately)