POV Holder:
Austin
POV Competition
Sept 5th
POV Used
Yes
POV Ceremony
Sept 7th
HOH
STEVE
Next HOH
Sept 10th
Original Nominations:
Austin and Liz
After POV Nominations:
Liz and Julia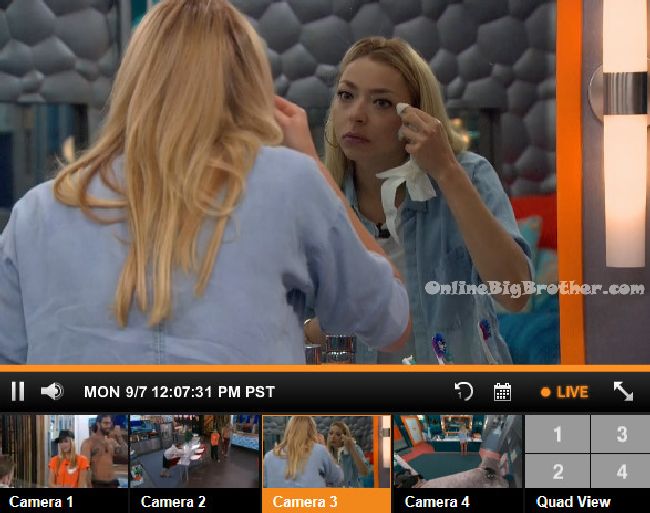 11:10am – 12pmBig Brother blocks the live feeds for the Veto Ceremony to take place. When the feeds return – Austin used the veto to remove himself from the block. As Head of Household Steve then nominated JUJU as the replacement nominee. One of the twins will be leaving this Thursday.
12pm – 12:20pm
In the bathroom Julia is crying. Vanessa comments on how strong Liz and Julia are. Steve comments on how he feels like he is going to throw up. Vanessa talks about being a cry baby. Steve comments that he cried during Toy Story 3. Steve says I can't fathom playing this game with a sibling. Steve asks did it come across that I was complementing them? Vanessa says yes it was really good (His speech). Johnny jokes and says don't lie to him .. I was like this guy is being a real d!ck right now. Vanessa says I'll be friends with those girls outside of here. Steve says I will if they want to be friends with me. Vanessa tells Steve his job is done. You can relax now. Steve says the Nolan's were definitely the more successful twins.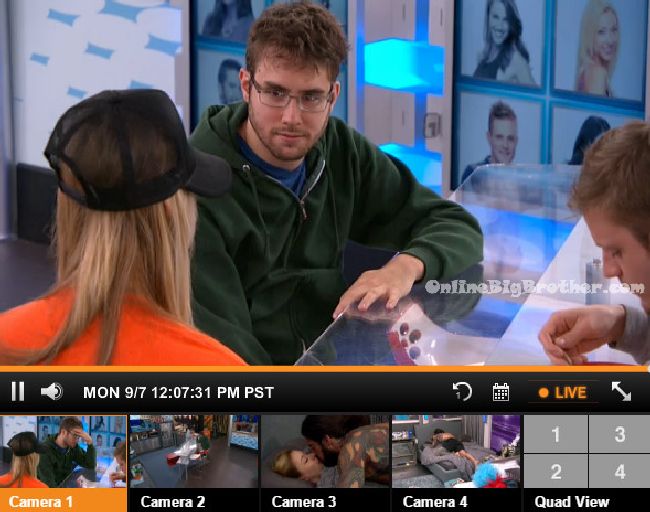 Liz heads to her bed. Austin joins her and they start making out. Liz tells Austin he looked very handsome up there. Vanessa joins them. She tells Liz that she looks up to her and Julia even though they're younger. You guys handled it with such poise and class. You will have America in tears. I would be shocked if America wasn't in love with you. Steve joins them. America hates me now not you. Vanessa says I highly suggest everyone move their stuff out of the havenot room. Austin says they'll move it. Vanessa asks wouldn't you rather move it, than them box it up. Never mind you wouldn't care. Austin and Vanessa leave. Vanessa tells Austin he did a really good speech.
12:40pm – 12:50pm Backyard – Steve is working out on the elliptical. Julia is suntanning. Meanwhile Johnny Mac and Vanessa are back in bed. Vanessa talks to Johnny and says they're (production) just trying to create drama. It would be the dumbest thing ever (nominating Vanessa) and Steve is to smart for that. Johnny says yeah. Vanessa says I wasn't even worried. The questions were like are you worried about being the replacement nominee. NO! I'm not, that would make no sense. So that's over with. Johnny says we made it to 5. Vanessa says what I realized if one of them win HOH and puts one of us up next to Steve. The other one of us could win the veto and pull the other one of us down and force them to put up one of their own. The difference is we're three strong competitors. I'm ready to compete against these motherf**kers. You should keep studying all your facts. Johnny says okay, sounds good. I'll start tonight. Vanessa says that's the one thing in our control. Johnny and Vanessa take a nap.
1pm Liz tells Austin that he never caught the kiss she blew at him during the veto ceremony. Julia tells him to go pick it up. Austin goes to look for it and finds it on the floor.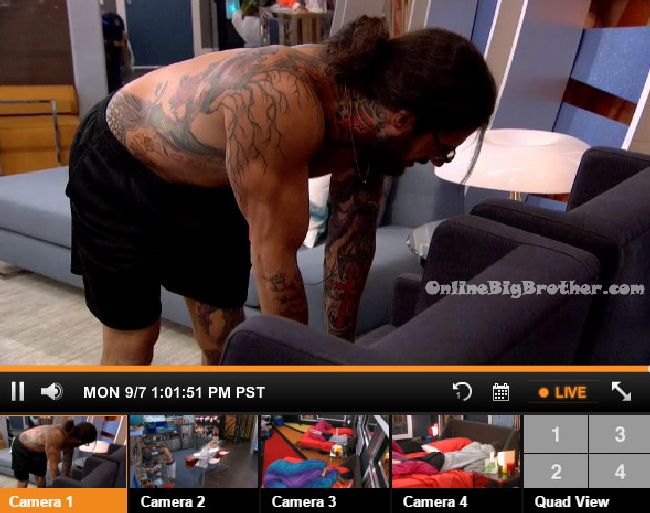 1:15pm – 1:30pm HOH room – Steve is talking to himself. Steve says I never thought I would be the one to do this. Unbe-f**king-lievable! You better appreciate this jury. Vanessa I don't trust you. I don't trust you Vanessa, I really don't. Johnny Mac I do trust you. Steve listens at the door and then says I'm going down there I don't trust you Vanessa. Steve heads down to where Julia, Liz and Vanessa are in the kitchen talking about music.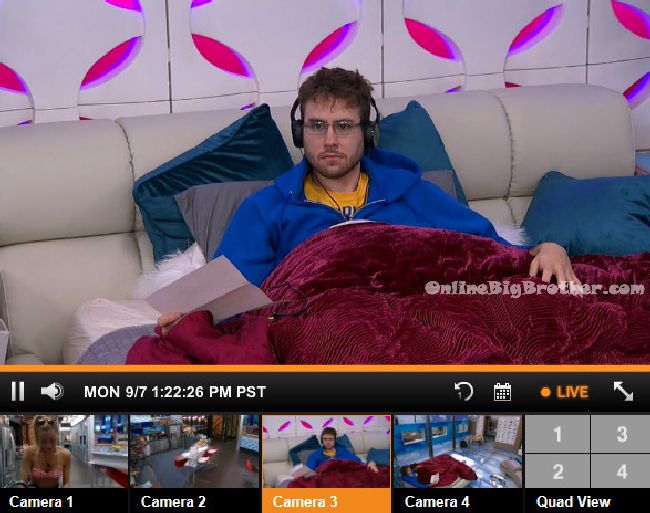 In the kitchen – Steve says we made it to final 5. Vanessa tells Steve that he'll be good next week.
1:35pm – 1:45pm Julia and Liz are by the pool. Liz told Julia she wants her to stay. Liz says it's you're time to shine. Julia starts crying. Vanessa joins them. Julia says if we were in the real world I would be drunk. Vanessa says its labour day, they might give us alcohol tonight. Julia says I really wasn't going to cry today until I heard what Austin and Steve said (In their speeches).
1:50pm – 2:40pm
Vanessa, Liz, Julia, Austin and Steve are hanging out by the pool. They talk about past big brother superfans and whether they were loved or hated. The conversation moves to Liz and Austin's relationship. Steve comments on how its weird they will go from living together to not living together. Vanessa says she hates long distance relationships. Steve says there's no enough camping in long distance relationships. (camping is code for $ex in the house)
Liz asks Steve if Johnny Mac liked Becky. Steve doesn't answer. Liz says by not answering, you're answering. Liz says if you ever heard Becky's type of guy you would know he doesn't have a chance. Julia asks do you think anyone camped this season? Shelli? Austin says no she would barely kiss him! Julia asks why was she so afraid to kiss she is 33! Steve says the four F's …French, Feel, Finger, and ….. (F**k). Steve starts talking about a joke friends played on him convincing him there was a football team called the "Cleveland Steamer". Austin tells Steve to stop. The twins want to know what it means. Steve says its a $exual fet!sh with fec@l matter. Austin says one of his friends tried that. Julia and Liz says gross! Liz asks Austin do you like a Cleveland steamer? Austin says I've never tried it. Steve says he doesn't understand the function of just the tip? Liz asks Austin and he says he doesn't know. Vanessa says its what people say to lower the resistance knowing it goes somewhere else from there.. They say just the tip and then once they're in you're f**ked .. literally. Julia says Vanessa doesn't have to worry about that. Steve says she might. Vanessa says stop. They head inside.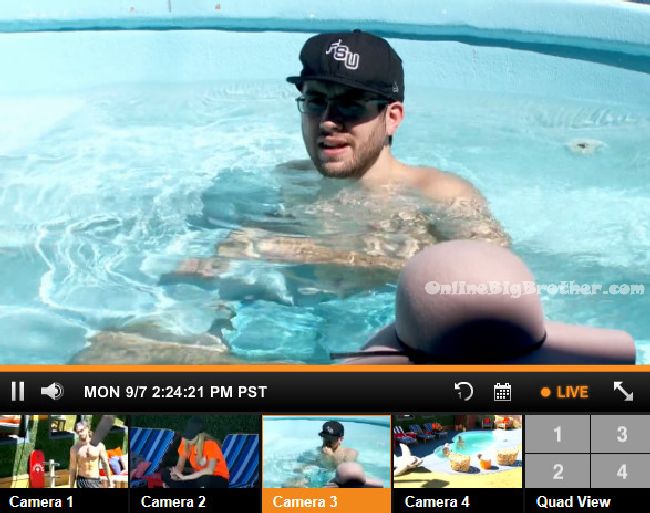 If you've enjoyed the spoilers please consider a donation using the drop down box below. Simon and I work 24/7 all season long to keep you updated on everything that happens inside the Big Brother house.
[polldaddy poll=9059938]

[polldaddy poll=9063299]