POV Holder:
?
Next POV
April 16th
POV Used
?
POV Ceremony
April 18th
HOH Winner:
The Brothers
Next HOH:
April 21st
Original Nominations:
Ramsey and Maddy
Current Nominations:
? and ?
Last Evicted Houseguest
Paige, Sharry, Christine, Kelsey, Loveita, Dallas, Mitch, Raul
Have Nots
Tim, Cassandra, Kelsey
Watch the Big Brother Canada 4 Live Feeds anywhere in the world with HideMyAss VPN.
ALLIANCES IN THE HOUSE
There will likely be a lot of alliances during the season – keep track, read our alliance help guide.
8:40am – 9:40am In the batheroom –
Tim, Cassandra, Ramsey, Kelsey, Jared. Tim says I just hope I'm in the veto! I'm going to save Maddy. Kelsey says as if! Tim says after he veto we could have another repeat of yesterday. Tim says I'm running out of things to be thankful for. The conversation turns to Tim telling Ramsey he should shave his head. Maddy says if someone won the veto I would totally shave my head for them to use it on me. Tim says I would. They head to the kitchen. Tim says he wonders what Mitch and Raul are doing in jury. Maddy says probably waiting for me. Tim laughs. Jared gets annoyed with Cassandra and how she gets everyone to do things for her. Jared says If I don't see you cook some slop this week, I'll be very… Cassandra says why don't you shut your mouth for 5 minutes! I'm going to literally make a scene! Jared says I really need you to start pulling your own weight around here! Cassandra says I don't need you to tell me to do anything. As soon as you tell me to do something.. I won't do it. I do my own things. You don't acknowledge anything I do. Jared says you don't do anything.. that's the problem. Kelsey says guys don't fight. Cassandra says don't clean your dishes. I clean other peoples. I didn't know this was Jared's house. Jared says maybe Kelsey doesn't like cooking for you all the time. Cass says if Kelsey has a problem with me, she can tell me. Not you. Jared says some people are too polite to speak up for themselves. Cass Kelsey can talk for herself.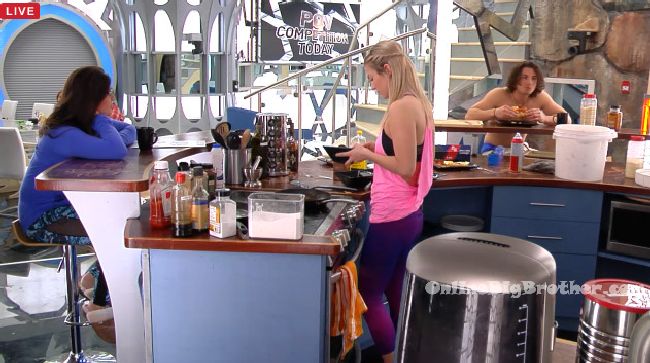 10:10am
The live feeds return from the feeds being blocked for the power of veto player pick. Jared comments on how this week is totally different with not being on the block and not playing in the veto. Jared tells Kelsey that she's going to do great in it. Jared comments on how he's never seen Cassandra cook anything other than toast in this house. That's pathetic! You're not her slave.
Power Of Veto Players:
Nick, Maddy, Ramsey, Kelsey, Tim, Nikki
POV Host:
Jared ?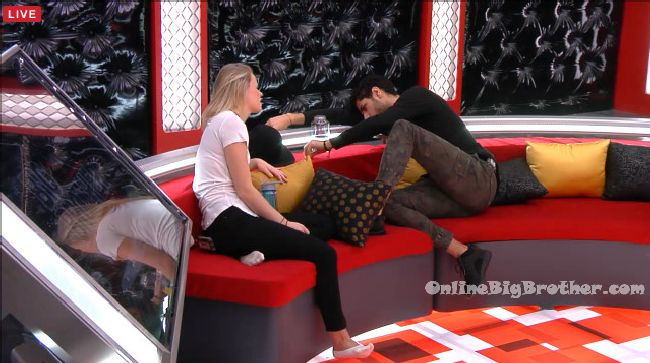 Maddy says I can't want to get on the f**king side show so that I can say I was the only person that didn't lie … other than you. Maddy says maybe if we don't threaten Phil but throw ideas in his head. Maddy says I'm going to f**k up as many peoples games before I leave this house! Maddy and Ramsey discuss how them going up was really because of Tim and Nikki. Maddy says I want to interrogate Nikki. Not so she'll freak out but ask her… News flash Nikki .. I voted for your little gay boyfriend to stay in this house.

10:25am – 10:50am Up in the HOH room – Phil tells Nick it was a really good player pick. Nick starts studying the days/comps. Phil corrects Nick and Nick thinks he's right. Phil asks "Are you a f**king ret@rd!?" Nick then realizes he messed up and was wrong. Jared joins them to study. Phil, Nick and Jared talk about how Tim is playing all sides. Jared says that Tim said he wanted me to win. Phil says he said the exact same thing to me too. And that I have his vote if he's in jury. Jared says me too. Jared says you know how he talks about cults .. we're his cult. Nikki joins them and they go back to studying.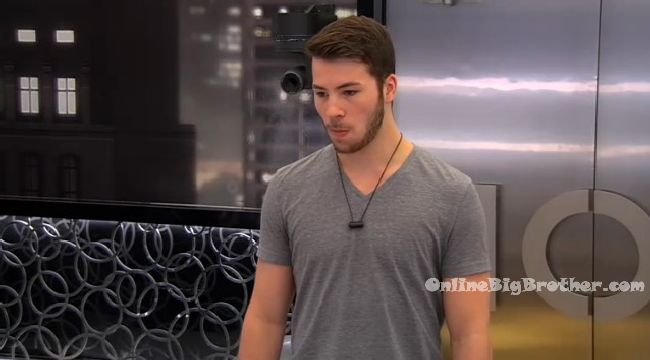 11am Cassandra apologizes to Nikki for how she's acted the last few days. I don't want you to think that I do whatever Tim says. Cass says she had a couple bad days. I hope you can still trust me. Nikki says I just really hope we can just stay friends. Cass says I want Maddy out of this house. Nikki says yeah. Cass says if you see me talking quietly with someone, we're not talking about you. Cass says she thinks this house is just getting to her a little bit.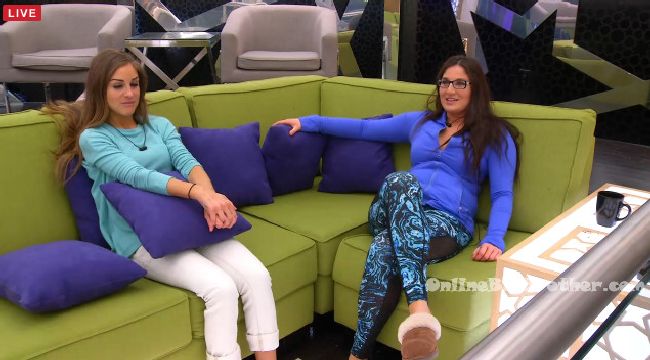 Maddy asks Ramsey if you stay and I go are you still going to work with the brothers? Ramsey says I think I'll just going to have a blank canvas and reassess everything. Maddy says I wouldn't have a blank canvas!! Maddy says If you leave and I stay.. f**k all these people. If you stay in this house and become everyone's best friend I will be so f**king disappointed.
12pm – 12:20pm Jared, Phil and Kelsey are in the high roller room talking about Tim. Jared says I think he (Tim) would put us two up. Phil says then he would destroy all of his credibility. Jared says that Tim didn't fly across the world to lose this game. I will tell you that much! Kelsey says that Cassandra told me that Tim told her that even Nikki wants to win. Phil says she wont ever win no matter what. Phil leaves the room. Kelsey says to Jared I guess we are just legit telling Phil everything now? Jared says he brought that up to me earlier.
1pm – 2:15pm The live feeds are blocked. When they return Phil and Nick are in the HOH. Phil and Nick talk about who they want to win the game .. Us, Jared and Kelsey.
Maddy and Ramsey bedroom laying in bed not talking. Maddy is sniffling saying she doesn't care about this game.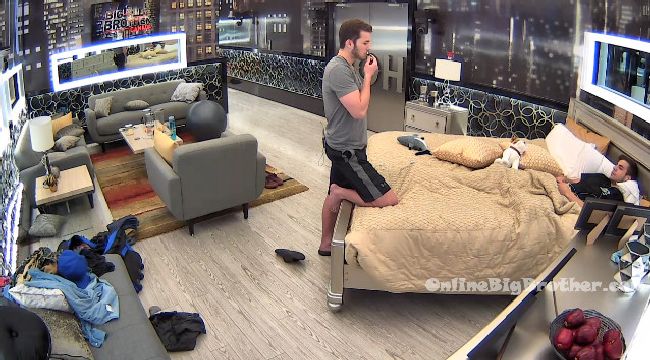 Phil comes in to talk to Ramsey and asks him if he's alright? (No idea what is wrong. There's speculation that something happened to a family member) Ramsey says yeah, Its just shocking and weird … just so many things running through my mind. Phil says just know you've got out support. We've got your back. Ramsey says I know that and I appreciate it so much. Phil says no one here can imagine what you're going through at this time.. Big Brother blocks the feeds. When then come back Phil says ..with family and home and stuff. We've got your back man. Phil leaves.
4pm Big Brother blocks the feeds for the power of veto competition to start..
7pm The live feeds are still blocked..
Watch the Big Brother Canada 4 Live Feeds anywhere in the world with HideMyAss VPN.