POV Holder:
Paul
POV Competition
Aug 20th
POV Used
?
POV Ceremony
Aug 22th
HOH
Natalie, Meech
Next HOH
Aug 25th
Original Nomi1nations:
Victor AND Paul
After POV Nominations:
? AND ?
Have Nots
Victor and James
Watch the next week of the feeds for FREE – 1 week Trial!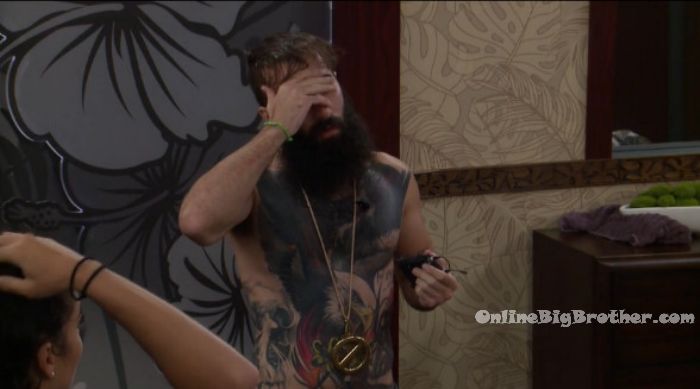 Power of Veto Winner: Paul
7:05pm When the feeds come back – Paul is wearing the veto. James and Natalie head up to the HOH room. James says damn. Nat tells James you didn't do that bad. Paul and Vic join them. Paul says lets un-f**k this situation. Nat says I'm sorry guys. Paul says thank you guys for staying up and studying. Now its the perfect back door. Now we fix the mistake and get rid of Corey and next week we get rid of Nicole.
Vic asks I wonder what Corey is thinking. Nat asks why. Vic says because he must know he's going up. Vic tells James he is the deciding vote. Nicole is voting for Corey. Paul would vote for Vic. They're (Nicole & Corey) are going to try and talk to you (James). Nat says I'm hiding out. Meech makes the decision on who goes up. Vic leaves. James says oh sh*t. Nat says it is what it is. James says our odds just shot up .. look what he just scored. Paul scored a 21. Paul is better at mental comps than Vic. Paul joins them and says thank you. Nat says you did it, I scored a 10. James says he scored 14. Paul says we did it, we un-f**ked ourselves. And that care package must be something like an HOH. We're flawless till the final 5. Paul says if there is something that really bothers you about us ..come talk to us. If they cause any doubt just cross reference it. Nat says she is going to pass out. Paul agrees they're all messed up from the cold, screaming plus the black box.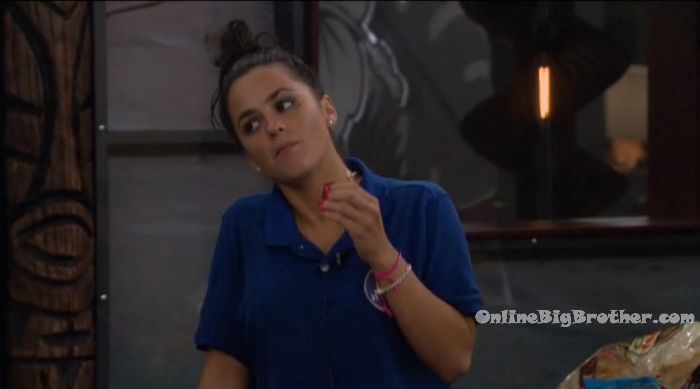 7:25pm HOH room – Meech says to be honest I want Nicole out. James says its your decision. Meech asks would you guys vote her out? James says whatever you want. Paul says the thing is the care package that Corey might get. James tells Paul Damn you beasted that comp .. perfect score. Paul says I guessed on 2 – 3 of them. Paul says it would be best to get Corey out. James says well I think Meech wants Nicole out. I wouldn't push her. Paul says yeah if she's open to talk about it then I will. Nat says she's worried about Nicole winning HOH and coming after her because me and Meech can't play. Paul says its me, James and Vic competing against her. We'll win hands down over her (Nicole).
7:30pm – 7:40pm In the kitchen – Corey comments on how its so nice to not have to wear the unitard any more. They comment on how Meech scored a 20 and how good that was. Nicole says Corey did pretty dang good for sleeping through 4 of them.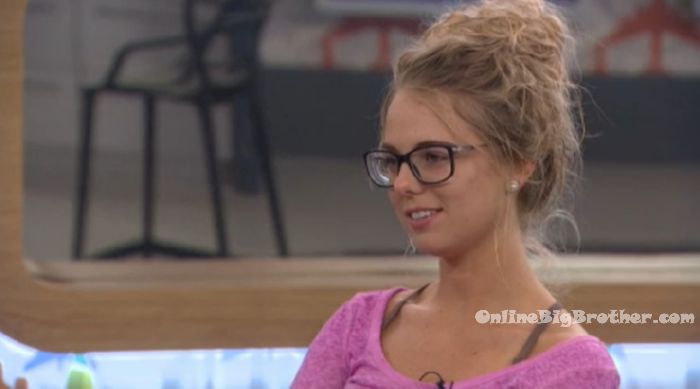 7:45pm – 8pm HOH room – James and Nat. Nat says Meech needs to know she can trust us. It's her HOH. If Nicole leaves that means Corey is trying to work with us. If He wins he's going to come to us because we're his last hope. I don't want to take out Nicole though. James says she (Meech) wants to take out Nicole personally. Nat congratulates Paul on his win. James says all we need to do now is execute plan B. Paul says I'm not going to push Meech to do anything but to me its a no brainer to get rid of Corey. Paul says its up to you guys too. What do you want? Nat says I don't care any more. Paul says you should care. We should be strategic so we don't get f**ked. James asks what does strategic mean? Being safe? Paul says yeah making good decisions so we don't get f**ked. Again I'm tired of getting boned, I'll be damned if they try to bone me again. Paul leaves. Nat says he (Paul) is trying to have control of the house. I trust him 0%, Vic I trust. Here is what's going to happen we're going to take out Corey. Vic and Paul will win the game. James says he used that word Strategic. .. I know what that means I was in the military.. I was just testing him.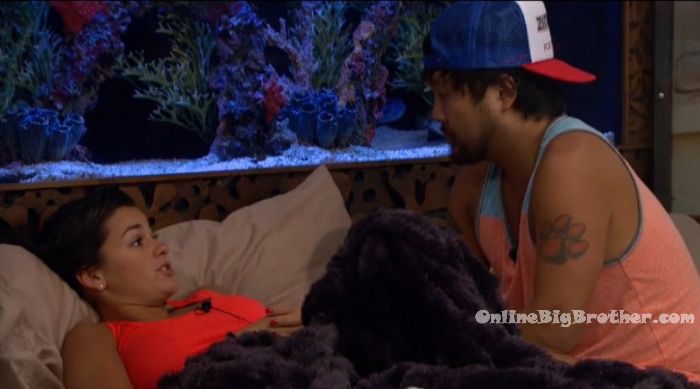 Kitchen – Nicole and Corey. Niceol says I feel alright about it too. James says if Vic is sitting up there at the end of the week its going to be hard for me to not vote him out. Nicole says and then you would have a 50% chance of getting the care package. If I go you would have a 33% chance.

7:50pm – 8:15pm Safari room – Meech says I am not going to put up James on Natalies HOH. Vic says you can talk to them (Nicole & Corey). Meech says and ask does anyone want to go home more? I was so close, I really wanted to win that. I was so close. I wanted to pull you off. It sucks being a havenot. Vic says its okay you just have to stay close to Nat and I'll stay close to James. Vic says I'm scared of being on the block.. ahhg.. f**k me. Meech says I tried. Vic says its okay. Meech says we said in the DR we're the worst HOH. Vic says Hopefully nothing crazy happens between now and Thursday. Paul joins them. He tells Meech he isn't going to push her. Meech asks do you guys care if I ask Nicole if I don't put you up this week will you not put me up next week. Vic says its up to you. But at this point she can say whatever she wants. Paul says its the obvious choice (to take out Corey). Paul says if you're the one that gets rid of Nicole and he (Corey) gets that package we are boned. Vic says and if Corey is here we aren't guaranteed a care package so we can't use it to protect you. Paul asks what was the reason for putting me up. Meech says that you were lying, eavesdropping and Nat was scared you would put up James. Paul says I'm worried they still feel that way. Meech says they haven't said anything to me about it. Paul says but maybe they wouldn't you're not voting.
Show your support by making a donation.
"BB BRIBE"
WEEK 5 – August 21 to August 26th
The winner gets $5,000 to bribe one house guest. Bribes my influence voting, competitions, vetos or nominations. The bribe can only be given to one house guest, for one action, within the week leading up to the next eviction.
[polldaddy poll=9501597]
Usernames will have to be a bit more PG please. At the least censor them with @*(#^%_