POV Holder:
Paul
POV Competition
Aug 20th
POV Used
?
POV Ceremony
Aug 22th
HOH
Natalie, Meech
Next HOH
Aug 25th
Original Nomi1nations:
Victor AND Paul
After POV Nominations:
? AND ?
Have Nots
Victor and James
Watch the next week of the feeds for FREE – 1 week Trial!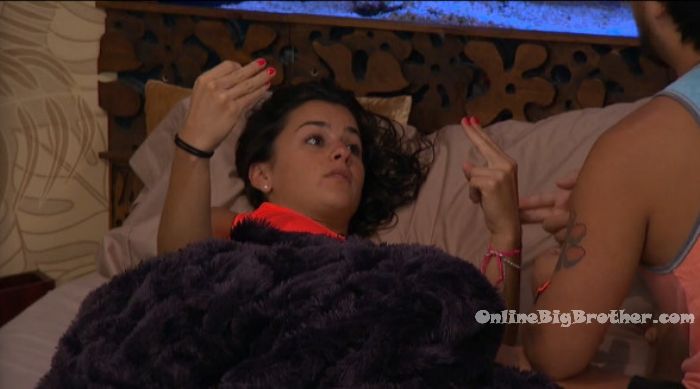 8:10pm HOH room Nat and James – Nat says if we take out Corey who is going to be in control of the house? Paul and Victor. We can't let them run the house. James says they're going to try and take out you, Meech.. Nat says we're taking out Vic .. he was my pawn but we're going to be f**ked if we.. I was hoping hoping Paul didn't win today. I can beat Corey, you can beat Corey. I know that Nicole and Corey woudl not put us up. They would put up Paul and Meech. We're about to save Corey so he saves us his life. James says yeah we saved him twice. Nat says if we don't take out Victor they are going to run the house. They're going to take each other to the final two. Honestly this is a big move.. I'm mad at myself for flipping and flopping but I had to do that to come to this decision. Vic needs to go. I was mad at myself and crying but if Paul pulls himself down Corey and Nicole are going to trust us even more. Nat says its better for us to take Corey and Nicole to final 4. Nicole is a nice girl. Vic and Paul are going to run this house. They're going to beat all of us. James says Vic is collateral damage this week. He has 9 comp wins. Nat says I really don't want Paul to win. James says if they get past this week .. one of them is making it all the way. Nat says the sucky thing is I trust Vic. Honestly I don't want Vic to go but Paul is going to run this house and he is going to use Vic to get to the end. Nat says he keeps saying he keeps getting f**ked in the house. I keep getting f**ked. James says this is Big brother, that's what you signed up for. Nat says I told you I wanted to make big moves. Today I wanted Vic to stay and Paul to go. I came to this without you even having to tell me.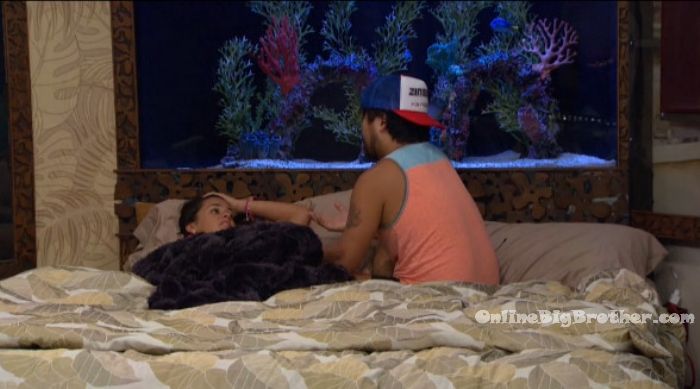 8:40pm – 8:50pm In the kitchen – Nicole, Corey, James and Nat. Nicole says there is a 75% chance we win HOH next week. Corey says no 100% motherfreaker! James asks if you win HOH ya'll are going to put up Paul and ? Corey says Michelle. Nicole says but she is not my target. Nicole says Vic is a beast at mental comps. He is not only a physical beast but a mental beast. James says if Paul wins HOH I can guarantee one of us will be up there. Nicole says I am confident we will win HOH next week. Nicole promises that if she wins she wouldn't put them (Nat & James) up.
9:10pm Nicole and Corey head to bed to chat about random things.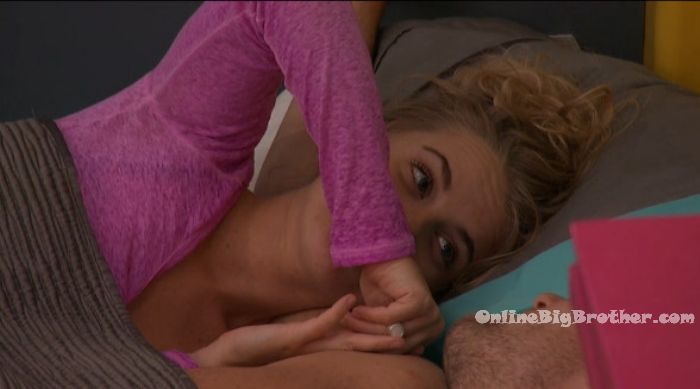 9:10pm – 9:30pm HOH room – Nat says Meech is going to be pissed. Can you just pretend that I didn't know. James says yeah. Nat says To get Nicole out is not going to be a hard thing to do.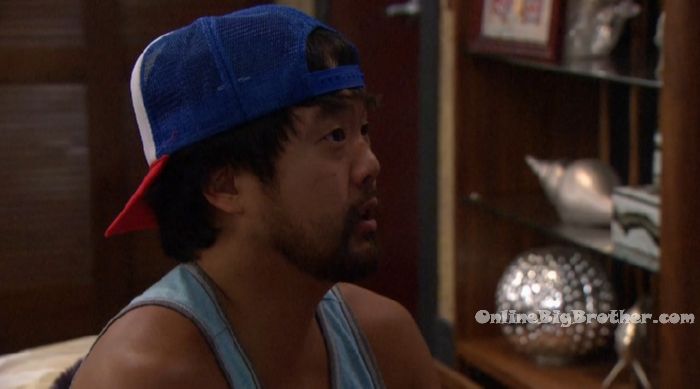 9:55pm – 10:30pm Michelle, James and Paul. Michelle asks James are you close with Nicole and Corey? James says not really. We never talk. Meech says they're not to be underestimated. Paul says they're not. James asks what they think the care package would be. Paul says its going to be an HOH take over. Think about it.. it went from Never-not, super safety, Co-HOH .. to HOH take over. James doesn't think it will be that. Paul says Nicole has a lot of fans its not unrealistic to think Corey might get the package. Why not take out that option since NIcole can't get the package. James says its your HOH if you put up Nicole and you want her out I will vote her out. Meech says Corey is a better competitor though. They talk about jury. Meech says Paulie and Z are probably boning every night. James says he's probably got a baby. Meech asks do you think anyone would come back? James says no. There's 28 days left that's like cheating coming back with 10 days left.
9:50pm – 10:30pm Natalie is doing her makeup in the HOH bed alone. She finishes up and then goes to sleep with the lights on.

10:40pm – 10:55pm Paul tells Meech if I somehow get evicted just don't let Corey and Nicole win. Meech says she wouldn't. Paul says I just don't think they deserve it. Vic joins them. Paul tells Meech to be careful when you talk to Nicole and Corey. Meech says don't worry about me .. what are they going to say put up James?
10:55pm Nicole and Corey are testing each other on what information the remember about each other.
11:15pm – 12am Safari room – Meech, Vic and Paul are chatting. Paul asks Meech how does if feel to be final 6. Meech says if feels great Paul! Vic says top 5. Paul says I'm taking it a week at a time. Meech says I'm scared someone is going to came back. Paul says if Paulie comes back I'll be like (he rolls his eye). Meech heads to bed.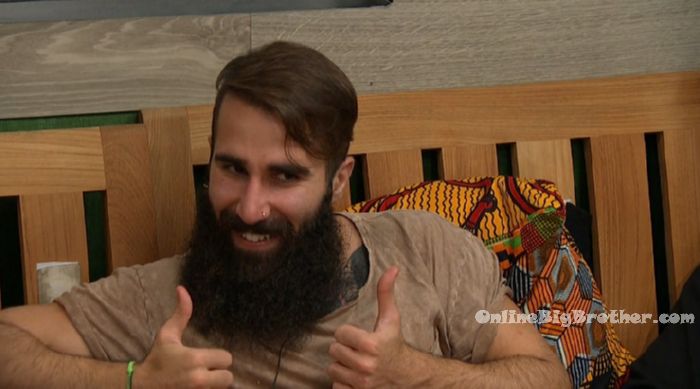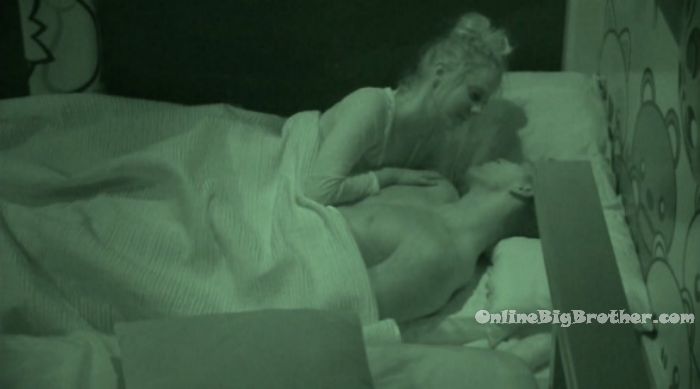 12:01am Nicole and Corey
Corey – you're being super rude tonight.. what do you mean I know you
Nicole – You're the only one that could have saved us not me
Nicole – you did better than 2 people that studied..
They pull the covers over ..
Nicole – the camera the camera.. don't do anything thats…
Corey – alright
You can hear kissing under the covers and a hand moving around waist height.. ..
Nicole – you want me to cuddle you or do you want to cuddle me
Corey says something about sleep..
Nicole – I just want to give you a big hug..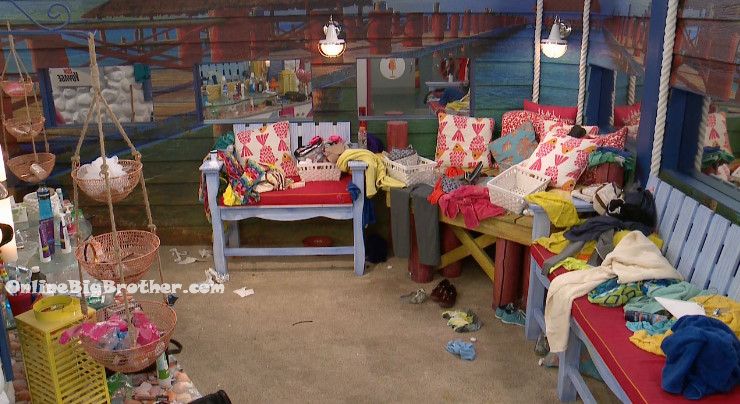 12:11am Nice and Clean..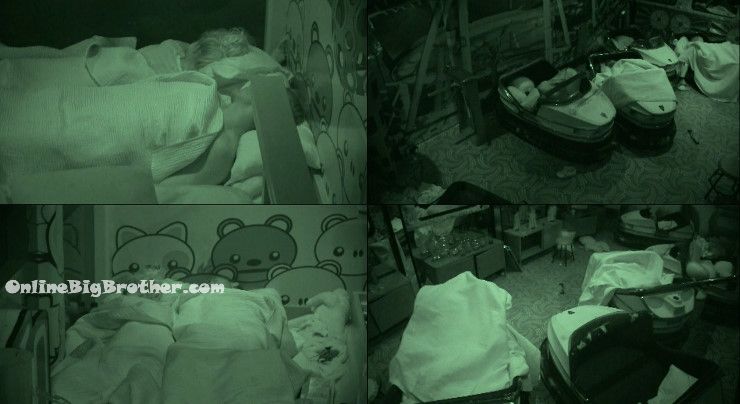 12:42am Everyone sleeping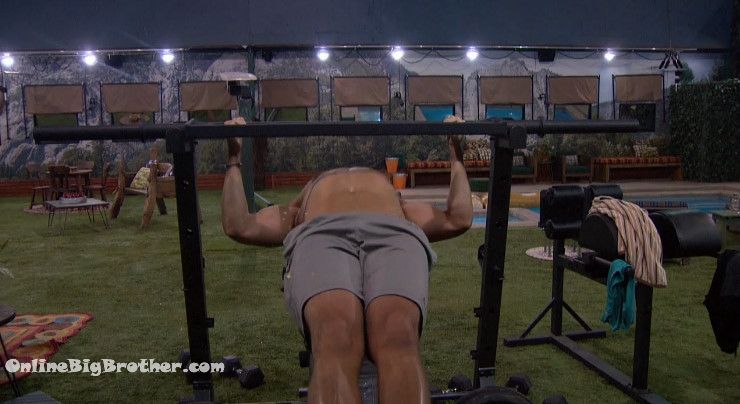 1:08am Victor backyard playing pool
Victor misses a shot – you son of a gun
Misses again "Ahhh you dirty son of a gun
Victor – alright lets go work out.. workout time..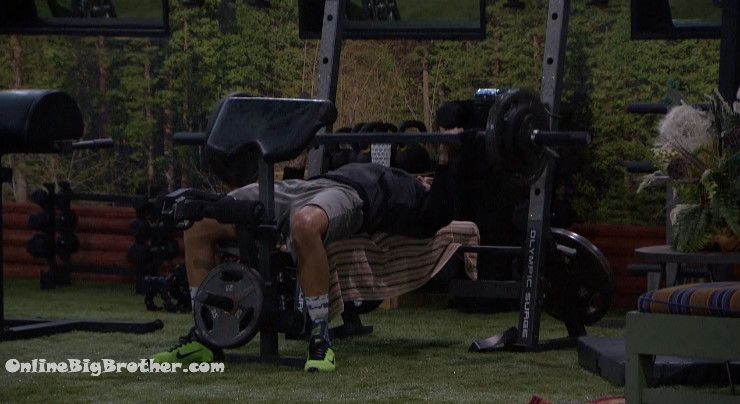 Victor working out.. "Hey live feeders.. Can't sleep because I'm a have not and those bumper cars.. thinking maybe workout and jump in the hot tub..
Victor – Hopefully I don't get voted out.. that is my biggest fear.. Corey BAckdoor that's the plan hopefully everyone stick to the plan.. Fit Vic still in the house..
As he lifts he gives himself encouragement "fit vic"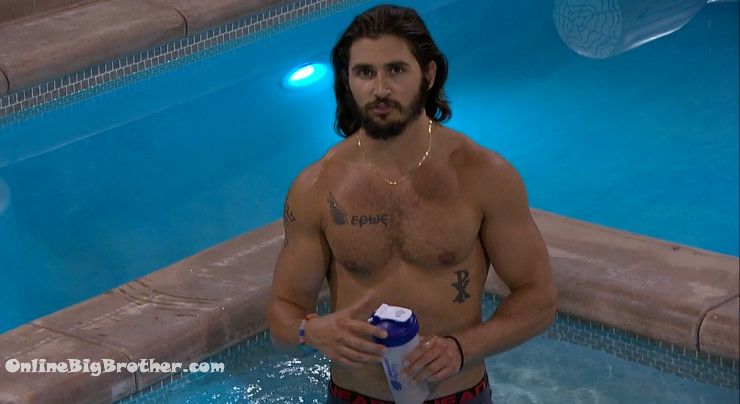 2:05am
Victor – whats up live feeders.. Now i'm have not Vic.. it sucks.. can't sleep.
Victor – first week ever on slop this is night one
Victor says his go to is basic slop with black bean salsa.
Victor- what really worries me is the sleep.
Victor – at least I lost it to Paul.. he's been my ride or die.. The sitting ducks guys we're trying to make it to the end.
Victor says it'll be him or Paul getting the care package if Corey leaves. Victor is nervous someone is coming back.
Victor – I don't understand the game play Natalie and Michelle.. when we weren't goign to put them up at all..
Victor – that didn't resonant well with me and Paul.. I love Natalie and Michelle to death..
Victor never wanted to take a shot at them he wanted to be
Vic – they nominated us and then they cry.. and we were legitimately not going for them. No me and Paul are pissed.. that was too close for comfort.. Get Corey up on the block hopefully James is true to his word.
Vic – I have to talk To Natalie.. just reiterate what Corey said about her and she'll tell James she wants him out.
VIc says Michele is real cool and awesome, calls her down to earth.
Vic – I really want her to com to final 3 with me and Paul.. now that i'm gettign to know her..
Vic – I feel that I can trust her and she trusts me.. her family look badass too, all her sisters look so alike..
Vic talking about how disgusting the downstairs bathroom is. He's been up in the HOH for the last 2 weeks and didn't realize how bad it had gotten.
4:01am all housguests sleeping.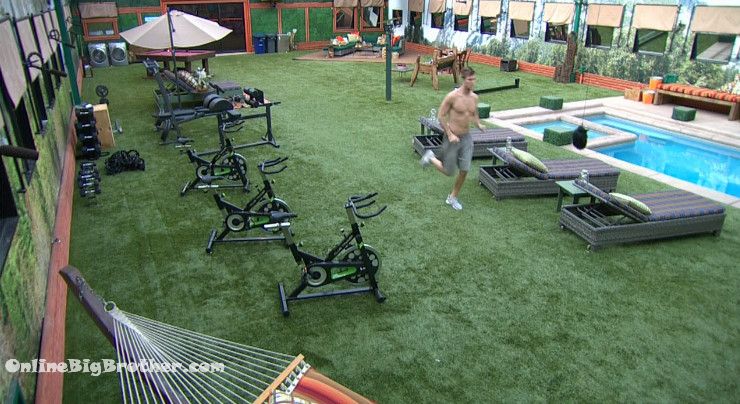 7:07am Corey running the rest sleeping or off camera
feeds #BB18 @DawgsBigBrother pic.twitter.com/TVLsMYBytR

— OnlineBigBrother.com (@bigbspoilers) August 21, 2016
8:50am
9:25am everyone sleeping…. .
Show your support by making a donation.
"BB BRIBE"
WEEK 5 – August 21 to August 26th
The winner gets $5,000 to bribe one house guest. Bribes my influence voting, competitions, vetos or nominations. The bribe can only be given to one house guest, for one action, within the week leading up to the next eviction.
[polldaddy poll=9501597]
Usernames will have to be a bit more PG please. At the least censor them with @*(#^%_