| | | | |
| --- | --- | --- | --- |
| POV: | Kaycee | Next POV: | Sept 1 |
| POV Used | ? | POV Ceremony | Sept 3 |
| HOH: | Tyler | Next HOH: | Sept 6 |
| Noms: | Haleigh & Scottie | Have Nots | ? |
A real easy way to support the site if you are an amazon shopper is to make your purchases through our link. You pay the exact same thing but we get a small % commission. It doesn't cost you anything and helps us out.
Amazon Canada
Amazon USA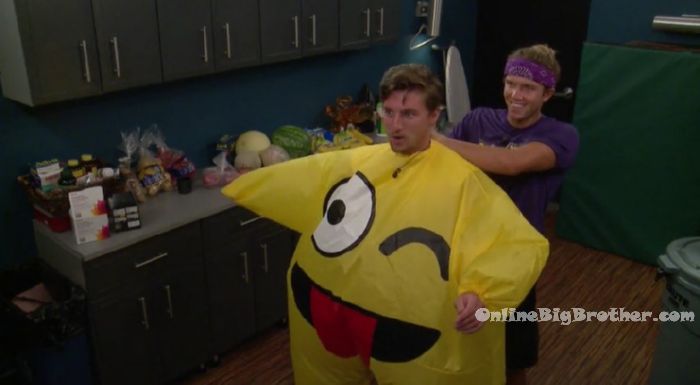 4:27pm – 6:56pm Big Brother blocks the feeds for the power of veto competition.
POV WINNER: Kaycee
– It was an emoji competition
Kitchen. Sam – I was like this is Kaycee's comp!! JC – I was trying to just not think about it. I was like you don't need to put the water on .. its hard enough without water!! Sam – you (Tyler) were in the lead for the longest time. JC – they kept calling the emoji names and I didn't know what any of them were. Brett – she (Sam) didn't even try.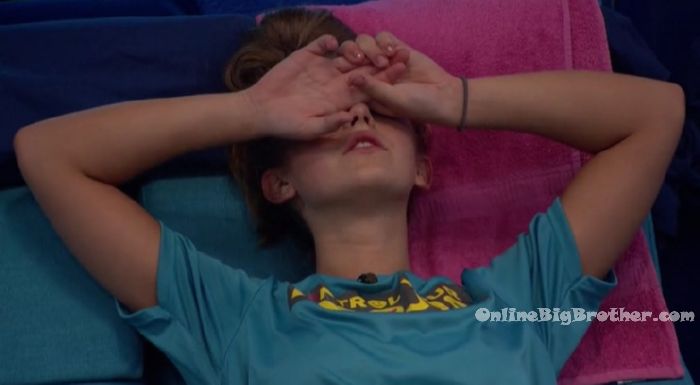 Bedroom. Haleigh and Angela. Haleigh – f**k dude!! When I sat down I got dizzy. Brett joins them. Brett to Haleigh – you were doing good. Yours was slippery as f**k. I was watching you. Haliegh – I really think they hit me as hard as they could with the pie. The greased up my lane. Just kidding. Brett – she (Sam) was like can you turn the water on again. Haliegh – she's just a f**king b***h. I stopped talking to her the last 3 days. F**K dude! Angela – you're fine! You're going to be okay! Haleigh – I should just go f**k myself!!! Like why am I even here. Kaycee joins them. Brett – I think the technique for that was to start with the biggest balls first. JC would have won but he was going so slow. Haleigh – she doesn't try in any of them. She was walking in the HOH comp. I wanted to win so bad just to put her up. I didn't even know who else I was going to put up. If I leave this week, someone better send her next week. Or just leave her because she isn't getting any jury votes. I am going to freak out on her this week. Brett – don't, you're looking good. Haleigh – no, I'm not .. well I guess everyone did vote him out. Brett – and he got a second life. He got a trip to Greece, 5G's and he got to chill in the jury house for a week.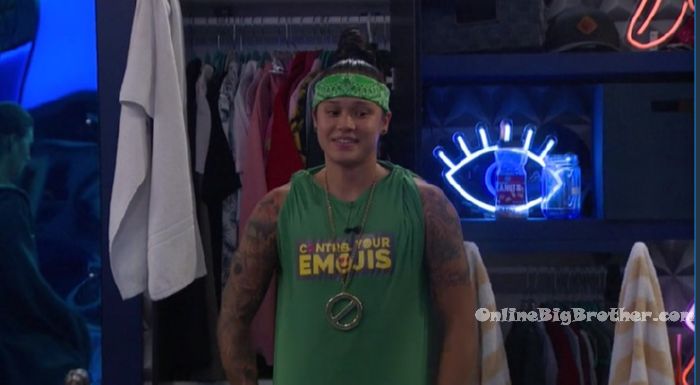 7:12pm HOH room. Tyler and Brett. Brett – We have to send Scottie out. So apparently Bayleigh, Rockstar, Scottie and obviously Fes coming in now have this big plan to pool votes in the jury house to decide who wins. Which is obvious we had an idea they wouldn't vote for us. If it ended up being me or you with Haleigh at the end they would all vote for her. We already knew that but they have this big plan to control who wins. Tyler – it has to be us at the end. Brett – exactly. Tyler – she said (Haleigh) today that she though you, me, Kaycee and Angela were working together. Brett – the only thing you have to be careful of .. if you want something to get out tell her. She repeats everything. Tyler – yeah I know that. Brett – are you thinking we keep them the same or? Tyler – yeah. Brett – that's the best move. Tyler – I didn't want to tell Haleigh she wasn't the target. I didn't want to tell her she was or wasn't. Brett – Sam 100% threw that comp. I watched her on purpose try to throw it. JC – tried to win it. Sam straight up threw it. So that is a nice little piece of ammunition. Haleigh said they have a plan to control who wins.. all they need to do is convince one other person to vote with them and they control the game. No sh*t that's how a jury works. Its just funny how they're going to decide to vote the same way no matter what. Tyler – sketchy as f**k! They just ruined the game if they do that. I mean not if its the best player but you know.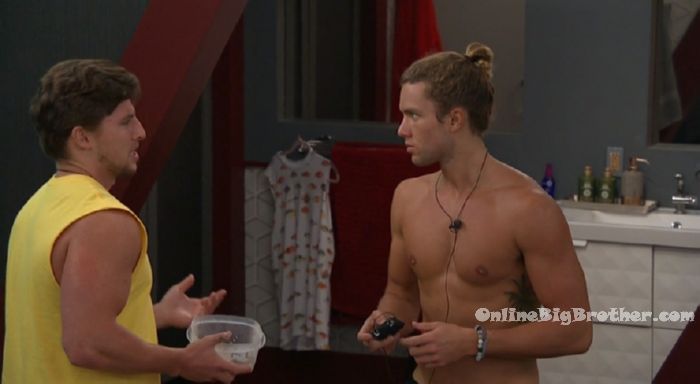 7:20pm HOH room. JC and Tyler. JC – I didn't care who won I just didn't want Scottie to win. I just know if he won HOH next week .. he was going to f**k us up! I am telling you, he's been on to us before he left. You know what I mean its going to be me and you on that block. Tyler – I know. That's why he's up there. JC – of all the times we've had meeting he is the only one that has walked in on us. How do you like that big brother .. you want a battle back, we send him right back out. JC – my main goal right now is we're taking out Scottie. And try to get closer to Brett. See where his head is at.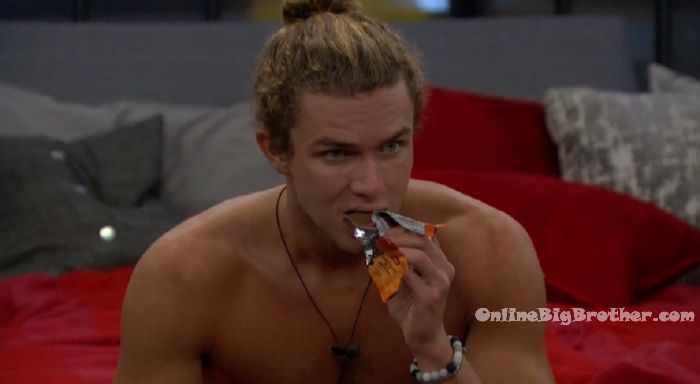 7:30pm Kitchen time
.. so this is happening..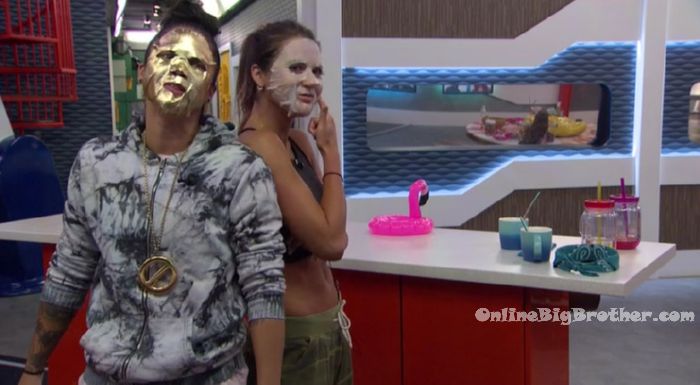 7:30pm Kaycee comes up to the HOH room to join Tyler and JC. They chat about the veto.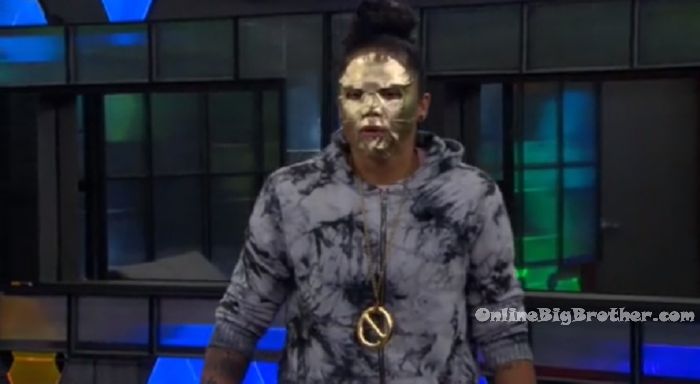 8:15pm The house guests are cooking and eating.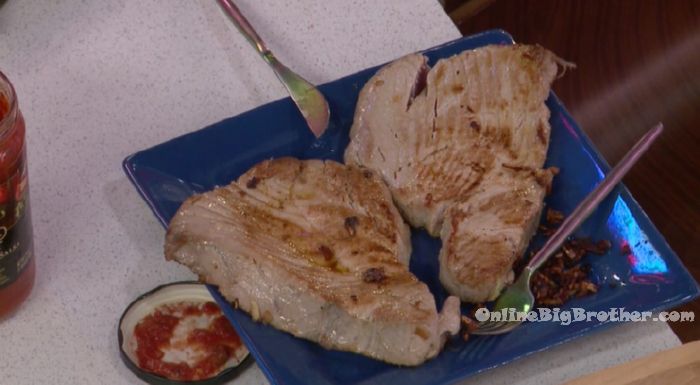 Without your support this website wouldn't be possible. Please consider making a donation. Any amount is greatly appreciated. All donations go directly to paying the considerable costs associated with running this site.
Rank the houseguests!
Easiest way to Rank the house guests use link below