| | | | |
| --- | --- | --- | --- |
| POV: | Kaycee | Next POV: | Sept 8th |
| POV Used | ? | POV Ceremony | Sept 3 |
| HOH: | Tyler | Next HOH: | Sept 6 |
| Noms: | Haleigh & Scottie | Have Nots | ? |
A real easy way to support the site if you are an amazon shopper is to make your purchases through our link. You pay the exact same thing but we get a small % commission. It doesn't cost you anything and helps us out.
Amazon Canada
Amazon USA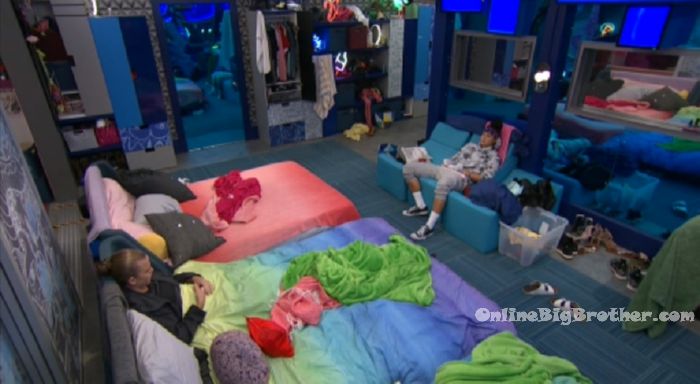 8:25pm Bedroom. Kaycee and Haleigh. Kaycee – how are you feeling about that? Haleigh – I don't know. Kaycee – you should be good. Haleigh – I've already had people come to me like Brett and JC. Kaycee – about what? Haleigh – about if it stays the same I am good. Its literally a repeat of last week. Kaycee – you just have to keep your mouth shut. Haleigh – I'm not saying anything. The only thing that could f**k me up is her (Sam). She is pushing me so f**king hard. Kaycee – just (gestures keep your mouth shut), even with Scottie. Haleigh – I know. 100%! Kaycee – that's the last thing you need. Don't say sh*t to him. They talk about how immature Fes is. Kaycee – he is just really inconsiderate and selfish. Haleigh – you are a grown a$$ man. My dad at 26 had a 7 year old and worked. You know what I mean. Kaycee – that's why for the longest time I didn't know his age. I thought he was younger. Haleigh – I thought he was 22. Kaycee – because of the way he was acting. Haleigh – yeah. Kaycee – this kid is very young. Haleigh – I've never met anyone .. well a couple people that act that young.. but I don't hang out with them. Kaycee – he talked about spoon feed.. I feel like if anyone in this house was spoon fed, it was him. Haleigh – and he wasn't getting his way so that's how he acted. Kaycee – I am sure his mom did everything for him. Haleigh – he doesn't know anything about her (Angela).. he doesn't know anything about me, you… like literally doesn't know that much about any of our lives. And he attacks her.. for what because she put him up? Kaycee – that is going to make him look so bad. People are really going to see that. Haleigh – I didn't even want to look up. That was the worst one. At the end of the day we still have to see each other again. He is going to look even more dumb when they run that store. I'm sure they've already run that story. And he doesn't even know it at all. Big Brother switches the feeds.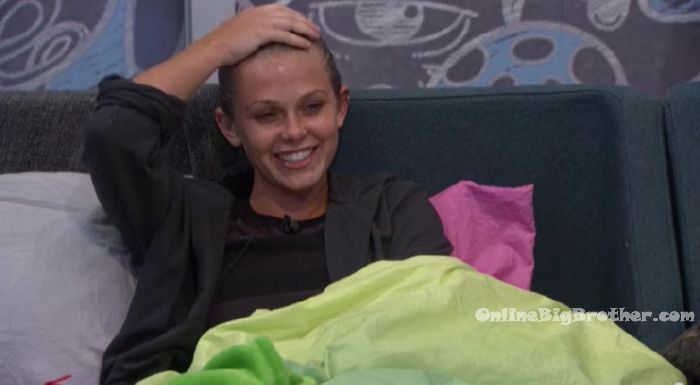 FLASHBACK and watch everything you missed: Live Feed 7 day FREE Trial!
HOH room. Tyler and Angela. Angela – I wonder if Scottie knows he's the target. Tyler – I tried to tell him he isn't. Angela – and you don't even vote. Its perfect. I am just so glad that Scottie is gone. He would have come after me and you. Tyler – yeah, maybe. I don't know. Angela – what do you think Scottie is going to do? Tyler – I don't know, he definitely isn't going to leave quietly. Angela – I think he is going to call us out.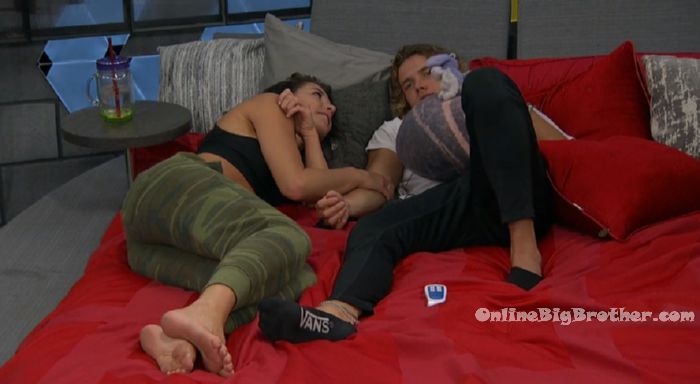 9:10pm – 9:41pm Tyler – are we still going to go on a date after this? Angela – MMmmhhh.. Tyler – what are we going to do? Angela – I don't know. What city are we going to? Tyler – honolulu. Tyler – its just funny how all these people think they know you. I don't think I could ever date a girl like Rachel. I mean I like Rachel but she was too over the top. Angela – yeah, she's not the type you bring home to mom. Tyler – she was just over the top.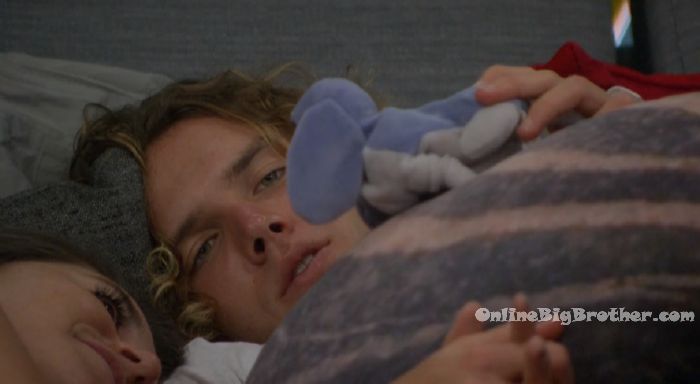 Tyler – You're going to have so many opportunities when we get out of here. Will you still talk to me when you're on the Sports Illustrated cover? Angela – don't even say that. Tyler – I'll probably go back to being scared to talk to you. This might be too forward but can I get your phone number after this? Angela – of course. It starts with 843. Tyler – really? Angela – yes. Tyler – that's cool.
Tyler – are we the good side or the bad side? Angela – the good side. Tyler – I go back and forth. Angela – I think we're more entertaining. Tyler – I think they're just not very good. Angela – at least we're funny and entertaining.
Tyler – you're so perfect. What's wrong with you? Tyler tells Angela that he's had a crush on her. Angela you're good at hiding your emotions. She admits that she said that about him during her twitter questions in her first HOH week.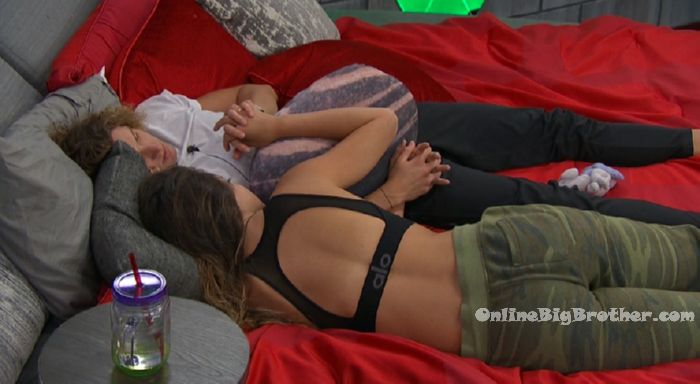 9:44pm – 10:20pm Bedroom. Brett, Haleigh, JC and Kaycee are playing would you rather. JC – Would you rather have Steve's flat nose or Haleigh's wart .. I mean mole and its right beside your eye so if you removed it you would go blind. Haleigh laughs .. I am not even going to the wrap party .. I am going to get mine removed. She says she would rather have the flat nose because she couldn't stand having the mole in the center of her face. JC – would you rather have Rockstar f*rt on your face with your mouth open… Haleigh – what the f**k is wrong with you! JC – or have Rachel lick every meal you eat for a week. Haleigh – Rachel licking every meal because I would make out with her. Kaycee – Rachel, I would make out with her. JC then changes it to Rachel spitting him every meal they eat for a week. They all say they would rather have Rockstar fart in their mouth. Brett – Fartstar.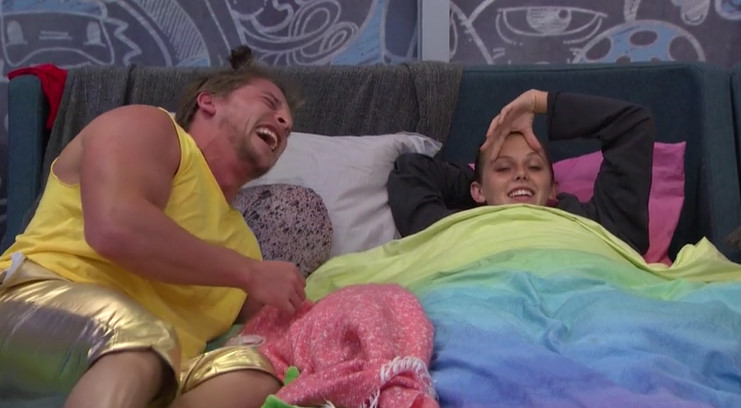 10:30pm – 10:45pm The house guests get a POP TV girft. Scottie – Dear house guests that competition was tough but you handled it like champs. Here are some items to let you relax and refresh. Your friends at POP. Havenots can also enjoy.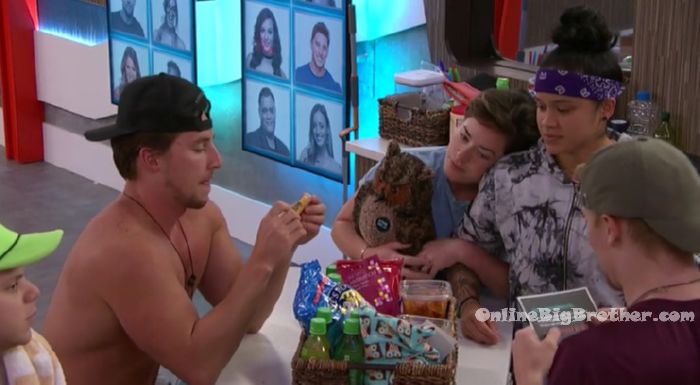 10:50pm – 10:55pm Tyler jumps up and says how have we not noticed that the backyard is open! They head outside. Angela and Haleigh and Kaycee continue making the havenots meal for when they're off it.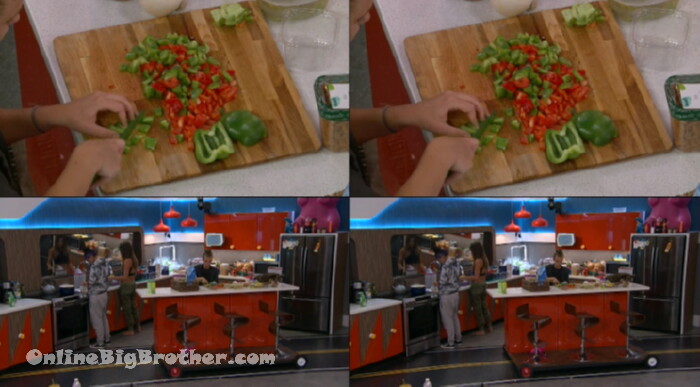 11:00pm Food prep..
Scottie and Tyler playing Pool talking about 80/90's horror movie characters.
Tyler is pissed that they edited the goodbye message he did for Scottie.. Feeds flip to cooking..
11:05pm Brett joins them.. – I feel like I have a wet pillow sheet on my face..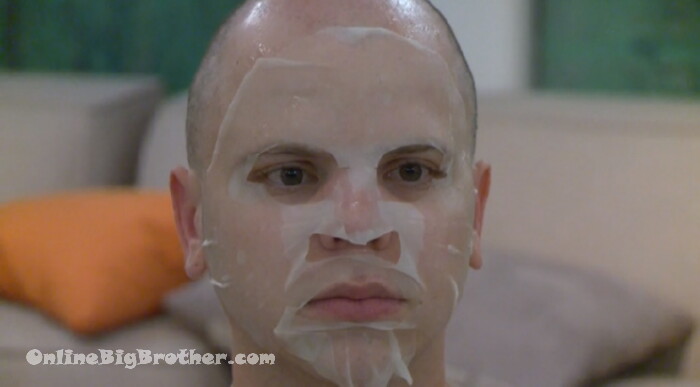 11:08pm My god does JC look look freaky
goofing around that the mask is melting his face SCottie – where is the mail in rebate..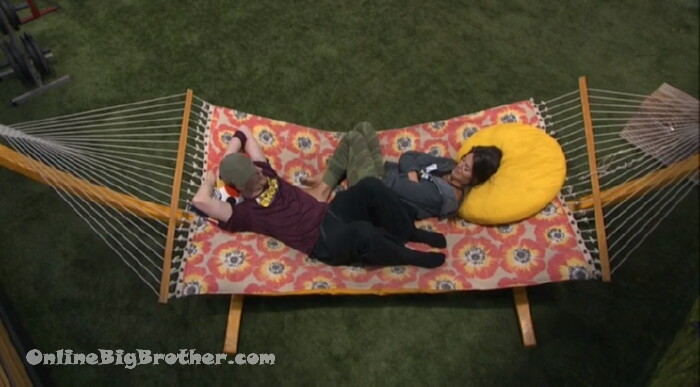 11:20pm Scottie and Angela
Scottie tells her he's assuming the three people in jury are going to be biter and not going to vote game wise.
Scottie points out to her that's 3 votes she doesn't have. So the next 5 people have to be people that love her.
Angela says she's just been busy staying in the game.
Scottie tells her about his nickname in high school being skittles.
Scottie – did you have any nicknames..
Angela – Killer..
Scottie – KILLER
Angela – my brother calls me princess.. so does Rockstar..
Scottie – I call my sister stink..
Angela hopes that there's one person in the Jury house that doesn't hate her.
Scottie says there's people that are talking this game too seriously.
They agree they're cast is very diplomatic with their Have nots selection.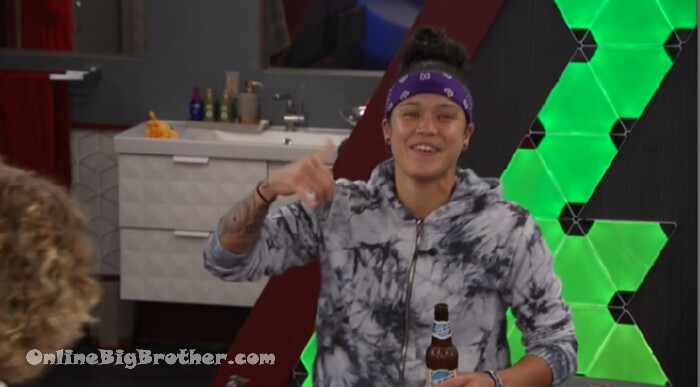 12:10am KAycee and Tyler
"COast to coast" They laugh that it's a repeat of last week.
Kaycee – dude lets go
T – lets f*ing go.. you are a beast.. I don't know how you did that it was hard as F*
K – lets go.. do we wait for Brett..
T – you're my best friend in the house..
T – take that one to the dump..
They chug their beers…
Kaycee – that's f*ing cold.. that's perfect though dude..
Tyler tells her that no one suspects them
Brett comes up with the mc griddles.. Tyler hands him a beer..
Brett to Kaycee – You are savage..
Brett – Sam straight threw that comp.. straight up.. couldn't be more obvious..
Brett says it pisses him off that Sam does these things..
Kaycee brings up Sam always throwing out the rouge.
Haleigh and Angela join them.. they quickly hide the beers.. .
Kaycee, Tyler and BRett go downstairs to eag nachos.. Angela tells her that it looks like Scottie is getting evicted. Angela goes to sleep Haleigh says she thought everyone was hanging out up here.. She heads downstairs with Angela.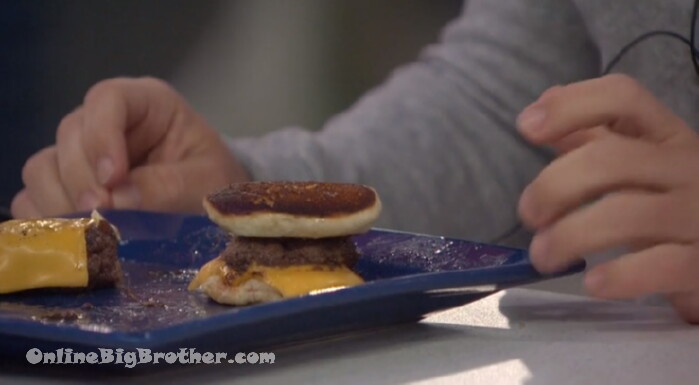 12:30am Brett gives JC his MC Gregor .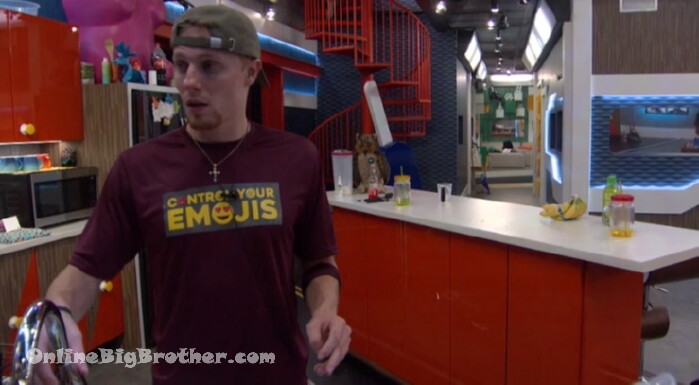 JC, Brett and Tyler are in the HOH starting the Veto win Celebration (AKA have one of Tyler's beers) . Angela and Kaycee run up .. Scottie looks up from doing the dishes. When they girls make it into the HOH room they whisper to them "HAleigh's coming.. she's coming"  Tyler hands the beers out to Angela and JC.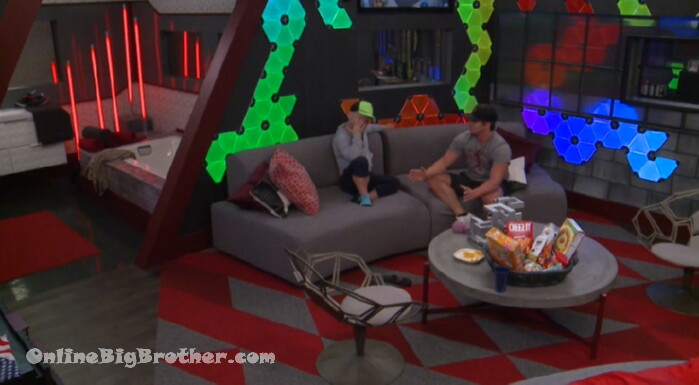 1:11am Tyler, Brett and JC in he HOH chit chatting about crazy Kaitlyn and Rocks. Brett tells them the story about when Kaitlyn came at him after they got in the fight.
Brett says that KAitlyn was claiming she had a dream about their fight.
BRett adds that Kaitlyn was treating him like a boyfriend that had cheated on her..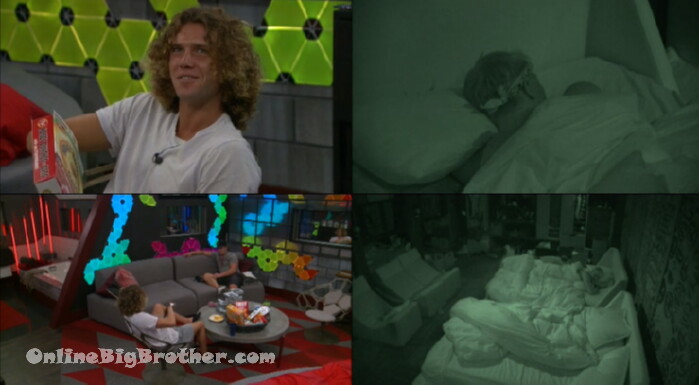 1:20am Scottie, HAleigh, ANgela sleeping. The boys up in teh HOH chatting about the season's notable events.
They laugh that up until the day he Left Fes really thought that everyone made their mind up about the vote Thursday morning.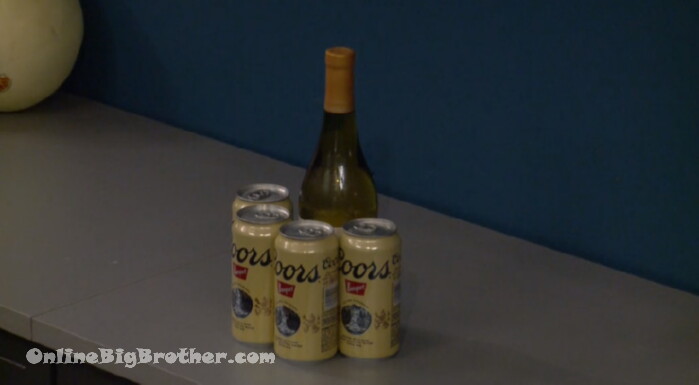 An uneventful evening.. makes you think what could have happened if any of them checked out the storage room.. LOL
7:31am everyone sleeping…
9:05am sleeping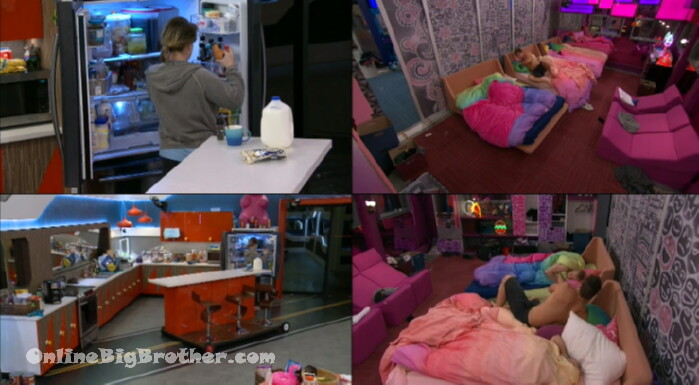 10:30am We Got movement..
It appears that the alcohol has been removed from the storage room. Production must have taken it back.
10:45am only Sam is up on the feeds.
Without your support this website wouldn't be possible. Please consider making a donation. Any amount is greatly appreciated. All donations go directly to paying the considerable costs associated with running this site.
Rank the houseguests!
Easiest way to Rank the house guests use link below