| | | | |
| --- | --- | --- | --- |
| POV: | ? | Next POV: | Sept 1 |
| POV Used | ? | POV Ceremony | Sept 3 |
| HOH: | Tyler | Next HOH: | Sept 6 |
| Noms: | Haleigh & Scottie | Have Nots | ? |
Big Brother Spoilers POV Players Picked: Angela is not playing Brett is hosting.
8:55pm Houseguests waking up.. Angela and Sam first 2 to get moving.
8:57pm Kaycee and Halegih
Haleigh says she'll pick Kaycee for veto if she gets houseguests choice and she believes Scottie will to.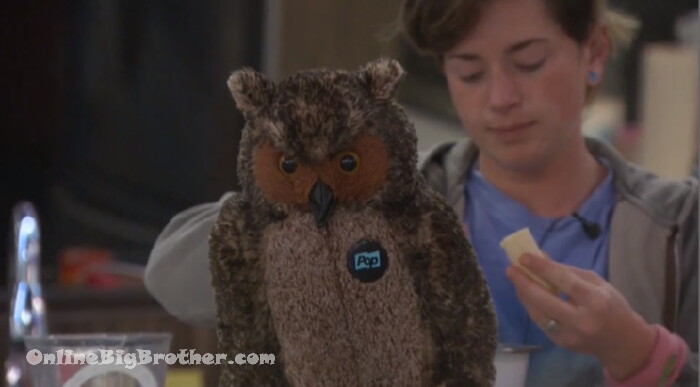 9:24am Kaycee and Sam
Kaycee says she was really nauseous yesterday after the HOH. every time she moved her eyes she felts ill. Today she's finally feeling better..
Sam wonders why they're up so early.. "there's something happening here"
Kaycee – picking veto players
Sam says she went to sleep with her patch on and she had the worst nightmares. she won't up in the middle of the night covered in sweat, short of breath.
Sam says she almost asked JC to come sleep with her "that's how freaked out I was"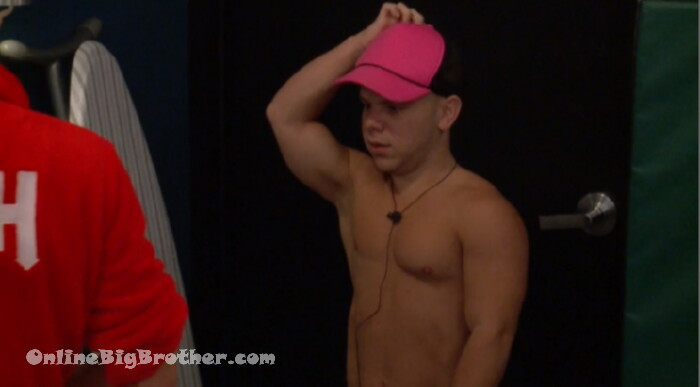 10:08am JC and Tyler
JC – I didn't want to play.. I just want to be sitting and not getting invovled..
Tyler – Poor guy
JC – don't pick me as a have not tomorrow
T – it's your turn
Jc – why dioes it have to be my turn
T – whos turn is it then
JC – Angela, Brett, and you can pick either Scottie or
Tyler – Scottie has done it three times
JC doesn't want to be the have nots.
Jc – Angela has done it once.. Brett twice
Tyler – Halegih has done it twice she just did it..
Tyler- if it's fair I will make you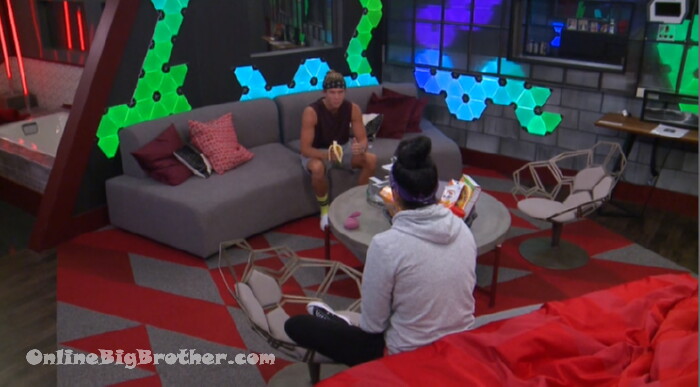 10:12am Tyler and KAycee
Tyler says it's funny how Brett and JC come up and tell him they are trying to convince the other that KAycee/Angela are not a final 2 with Tyler as the third wheel..
Tyelr says Brett and JC will be a problem, Maybe not right now or next week but after that they will be a big problem.
KAycee mentions how everyone seems fixated on KAycee and Angela nobody knows about Tyler and Kaycee.
Tyler tells her she needs to start spending more time with BRett in the short term. HE suspects taht Tyler and Brett have made some sort of deal
T – they say the exact same thing but blame the other one.. it's so weird..
Tyler says Haleigh is coming up to the HOH .
Kaycee groans…
knock on the door.. walks in
Kaycee – house of beauty this is cutie.
Angela is also behind.
Haleigh asks Angela if she can cheer for everyone during the POV
They comment how pissed JC is for getting picked.
Angela – if he throws this I'm going to kill him
Halegih – he probabaly will
Kaycee – he needs to f*ing play
Angela – play these f*ing competitions don't be a little poor sport..
10:28am Kaycee, Angela and HAlegih
Halegih – this veto pick didn't go great..
Angela – I know I wanted to get pick..
Kaycee says she's going to get some nausea medication she thought she was feeling better this morning but she's not sure now..
Halegih – I need to win this veto…
Angela – I want you to win .. you got nothing to worry about stay calm and have fun
Halegih – I can't beat Scottie or Tyler
Kaycee – it could be anything it might be something you are good at
Halegih – Like napping..
Halegih – If I leave this week and Sam isn't walking in .. i'm freaking the F* out..
Halegih says if she wins the veto she'll put it on her stomach and get a tanline
Angela – hell yeah.. that's genius ..
Angela – lay it on you spray sunscreen around it so you burn a veto onto you on your a$$ cheek.. (now we're talking.. Halegih for VETO build the shrnines)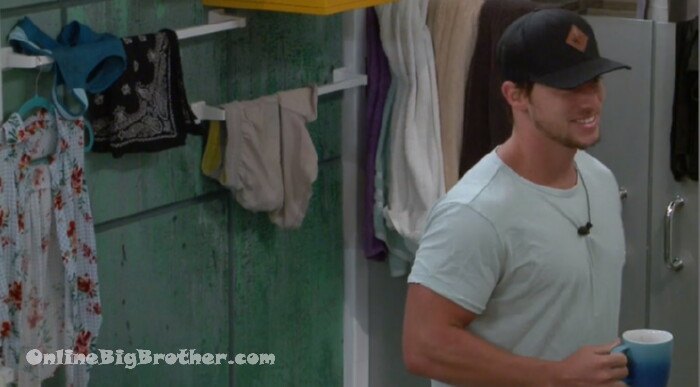 10:40am Kaycee and Brett
Brett is the "host" but they have a "celebrity" host for this POV.
Kaycee points out that JC doesn't even want to play in the veto
BRett – I really do have a feeling it's not going to be physical
K – yeah
B – everything has been so physical
K – maybe the comic book..
BRett – yeah.. good thing Ty is up there because if it's really physical
Kaycee – I know dude
Brett – I just want to compete I would like to win something else
Brett – you'll get your second
kaycee – the whole time i was BRett/Angela.. Brett/Angela (to be picked)
BRett – I know
Kaycee – f*ing JC ..
Kaycee – we got this.. or Haleigh to win
Brett – it wouldn't be the worst thing in the world for Halegih to win
Kaycee – oh yeah..
it's like her fingers taste like butterscotch or something.. #BB20 @DawgsBigBrother pic.twitter.com/uS1pxUg6Lc

— OnlineBigBrother.com (@bigbspoilers) September 1, 2018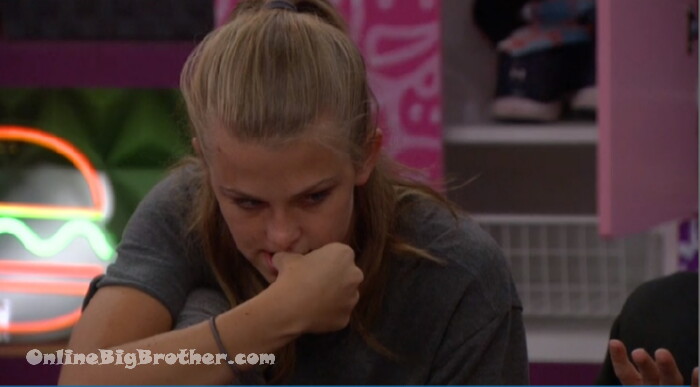 11:01am SCottie and Halegih
Scottie – they really aren't playing us very well
SCottie – we work shopped all this in the jury house .. say it's the six of them.
Scottie – we're going to make sure we all vote together in Jury..
H – yeah
SCottie – so what's going to happen is this is the deal we have so far between the 4 of us.
S – if when we get to final 5 or it's the six of them. we're all going to pick one person and none of us are going to vote for that person. So theoretical that's the five of us the winner is the one we decide is alright..
Haleigh – that's terrible..
Scottie- if none of us win the veto I'll probably say that in my speech..
Halegih – BRett has played the best of them..
Scottie – it assumes all 6 of them are in this thing together
Haleigh – I think it's 4
Halegih – When you left and Angela won. I walked in here it was BRett, Kaycee, Tyler and ANgela.. freaking the f* out.. and jumping..
Haleigh – I think they'll take Sam out next
Scottie – that's why I picked Sam.. shell use it on me not that she wants to she wants you out..
Halegih – whoever stays on is probably going
(of course the hive will be horrible jury members)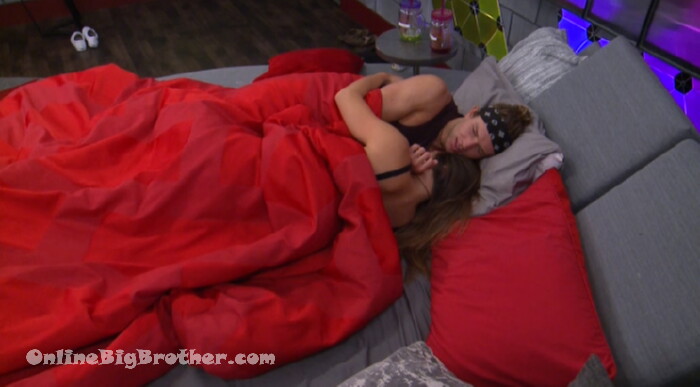 11:16am cuddles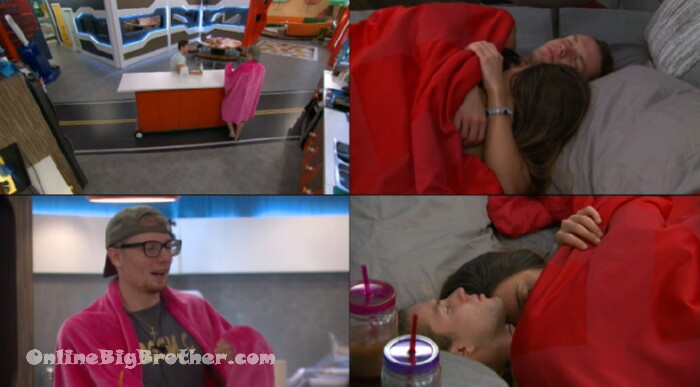 12:20am chit chat and cuddles
12:46pm Angela saying she would go crazy if Tyelr wasn't here.. She says the jury house is her nightmare.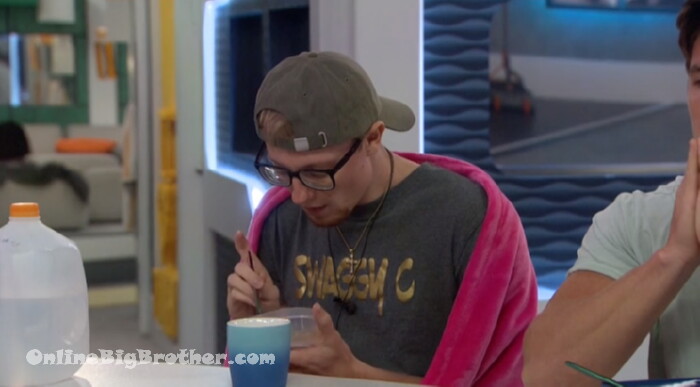 1:18pm This is the new SwaggyC shirt that SCottie's been wearing.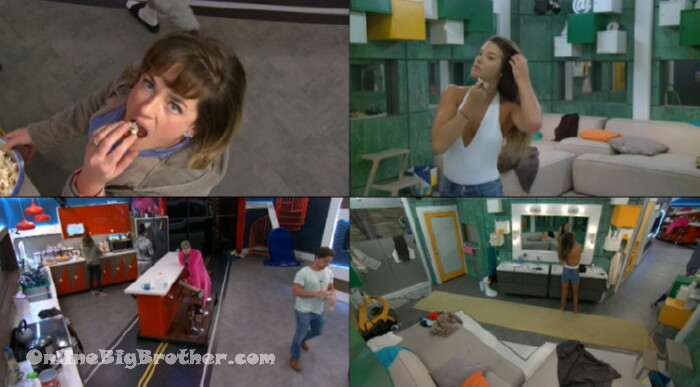 1:35pm ..
Kaycee tells them that she was told in the DR that their "Guests" arrive in 45mins to an hour..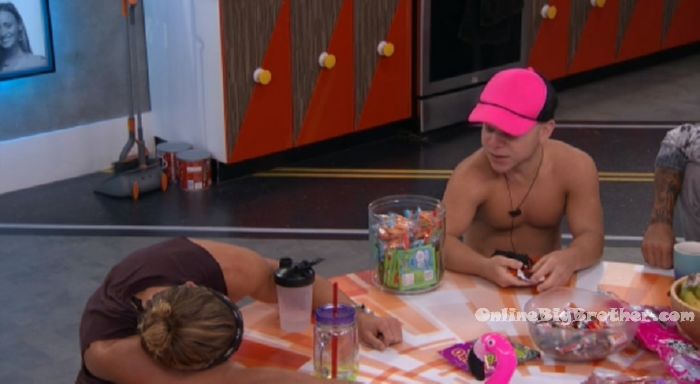 2pm The house guests are all sitting around the kitchen table. JC – they (production) asked me if "Ticky Ticky" is a bad thing. Tyler – what is it? JC – shut up. (Its just something stupid that JC says to the other house guests. He was trying to explain it to them yesterday) They chat about random things.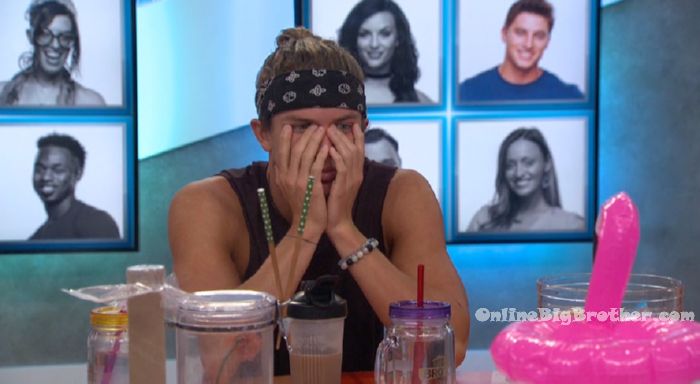 3:04pm Bedroom.
JC to Sam – you're competing again. Are you excited. Sam – yeah, I hope I don't have to catch things in my mouth again.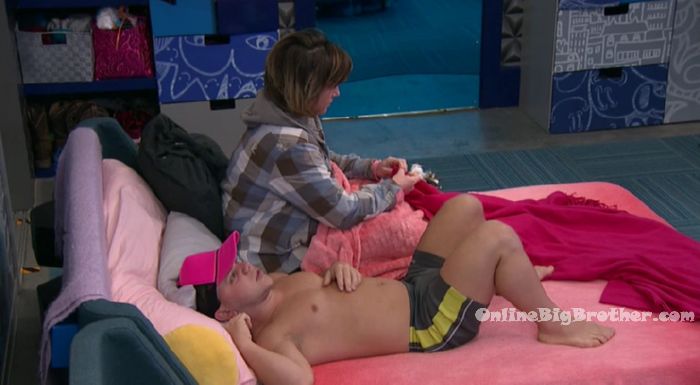 3:30pm – 3:45pm HOH room. Angela and Tyler are curled up on the bed talking about movie theaters in Hilton Head. They see Haleigh coming up to the room. Angela jumps up out of bed and groans. Haleigh joins them. She wants to get pumped up for the veto. She wonders if it will be the dark room veto. Angela – tell Tyler about what Scottie said about f**king everything up. Haleigh – he was just telling me what Bayleigh and Rockstar were saying in jury and he was talking about jury votes. And that there have clearly been sides this entire time .. just one side won more and made smarter choices and apparently that is what he is going to say in his speech. Angela – I just don't get what he means by that ..like how does that benefit him? Haleigh – I don't know. I don't know what he is expecting. I mean me personally if I leave and come back I don't expect anyone to be excited about it. Like I was excited to see him but we all unanimously wanted him to leave. Angela – he got a second chance to come back handed to him on a silver platter. He said whoever gets themselves off, the other is going home. Angela – that's a bold statement. Tyler – does that mean he would vote you out? Haleigh – no. He said he picked Sam because he thinks he can beat her and she would vote me out over him.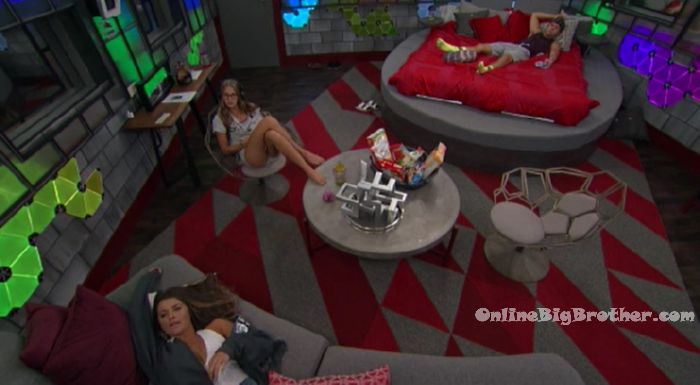 3:50pm – 4:15pm HOH room. Haleigh – So you and Sam must be super close? Tyler – no. We were in the beginning and then not any more. Tyler – then we went through that whole Kaityn sh*t where she felt like she was trying to protect me .. and being all noble and sh*t. Then after that it just faded. Now she throws jabs at me. Haleigh – She was very adamant about you winning over me. Tyler – I think it was just.. Haleigh – she knew for a fact that I was putting her up. Tyler – she was sketched out as she normally is though after an HOH is crowned. Haleigh – I hope I get that chance to take a shot (at taking Sam out). Would that not be a move that you would want made? Tyler – well yeah but not me. Haleigh – obviously. Tyler and Haleigh talk about how they're both over it and not coming after each other. Tyler – and eye for an eye now its done. Haleigh – I'm over it. (I highly doubt it – both of them would put each other back up if they get the chance.)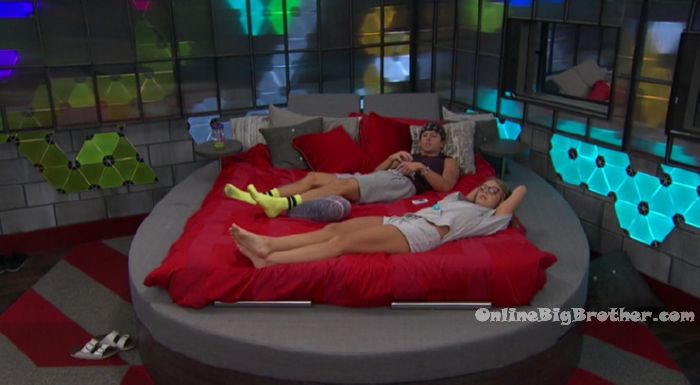 4:27pm Big Brother calls Brett to the diary room and then they switch the feeds to the BB re-runs. The power of veto is starting now…
A easy way to support the site if you are an amazon shopper is to make your purchases through our link. You pay the exact same thing but we get a small % commission. It doesn't cost you anything and helps us out.
Amazon Canada
Amazon USA