POV Holder:
McCrae
Next POV
?
POV Used
POV Ceremony
Sept 9th
HOH Winner:
Spencer
Next HOH:
Sept 11th*
Original Nominations:
Gm and McCrae
Current Nominations:
Last Evicted Houseguest
Aaryn, Amanda, Elissa
Have Nots
1:13am HOH Andy, Spencer and MC
Andy wishes there was a way they could guarantee GM not win the HO. Andy is certain that GM would vote out JUDD.
Andy – "I feel like it could either day a awesome move or a ohhh sh!t move.."
MC – "I dunno I trust you guys .. Any time you don't use the veto on your self it's the dumbest move ever'
Andy says the only thing is andy and GM are very loyal people, "If we can 100% guarantee we go to the final 3"
Specner- "Ya"
Andy – "I all honestly JUDD is more of a wild card he pissed and you for going up and winning the veto .. He's pissed at me for not going up"
MC – 'He'll be double pissed on me if I use it on GM'
Andy – "So much with GM fascinates me.. She was all like I don't know what to do with all my makeup.. after the show is over.. her makeup and NIck are the two things you can use to get her on your side.'
Andy leaves to go talk to GM.
Spencer – "What are you thinking"
MC – "I'm thinking F*** that.. ."
Spencer laughs – "That is what I'm thinking to"
MC – 'To me it doesn't make sense.. if McCrae did that it would be the perfect opportunity to get him out.. see you later"
Spencer – "Especially after our past conversation I don't want you to go anywhere"
MC – 'to me it just seems super weird"
Spencer – 'thats a ginamarie deal.. if it was me I would take my chances with GM trying"
MC – "exactly… it's 2 outta 3.. thats not too bad at all.. thats how I feel it doesn't benefit me as much as it benefits you and Andy "
S – "What do yo mean"
MC – "well you know..you could take a shot at me but JUDD will be more pissed at me .. theres no way I can come out of this looking better"
Spencer understands. MC wants to stick with the plan and doesn't want to use the veto on GM.
Spencer – "This is the think I would put Andy up if we wanted to get GM out.. I just don't want JUDD to pull out a bizarre power"
Spencer says he feels better to know that MCCrae will pick him over Andy.
MC doesn't want this to go out to Andy because he doesn't want to lose Andy's trust but MC doesn't think he can beat Andy in the end.
Spencer ios worried that Andy and GM are tight. MC says he gets the feeling that Andy is trying to make a move right now.
Spencer- "No I don't think it's Andy's style.. "
Andy comes back up after talking to GM about throwing the next HOH if they use the veto on her.
MC says he doesn't think he can trust GM, "There's no f*** way I would do it for little bit better odds"
MC says this is the craziest move he's ever heard it would make or break his game.
Spencer agree says it's a crazy move he understands MC's fear.
Andy says he's in the same boat just wanted to lay out all the options, 'She really hates JUDD she liked I don't care if that quitter goes home"
Spencer – "I can't believe how much shit she would talk about Amanda To ya when you were handcuffed. .. No offense bro that b!tch is total looney toons'
Andy – "I really think she likes McCrae when she says .. Amanda is a STD filled wh*re but your cool McCrae"
Spencer in his GM voice – "That b!tchs pu$$y is like a hatchet wound.. sorry i'm teasing"
McCrae says he will be using the veto on himself not on GM. Andy – "You are staying do what you are going to do"
Spencer – "you never know it might be a tough competition to throw.. like rolling a ball"
MC "I dunno it could be one of those things (GM voice) I went for the opposite and I got it right"
Andy in GM voice – "my bad bro I tried to throw it"
Andy – "If we lose with GM trying to throw it we don't deserve to be final 3"
MC again says he will use the veto on himself.. using it on GM is just crazy.. if it went bad it would be the stupidest move.
Andy – "I know it's such a gamble but I will vote to keep you and so will Spencer it ensures we win… but still I will not be mad at you it you don't do it"
You can re-watch ever second on the feeds using the flashback feature.. It's just like a DVR and is super easy to use. click this link for a Free Trial —> Subscribe to the Big Brother Live Feeds
1:42am HOH Spencer and Andy
Specner says that MC had suggested to him that Andy was trying to make a power move so Andy better squash that quick.
Spencer – "I trust MC more than I trust JUDD now"
Andy – "same"
Andy went downstairs to talk to GM about what they were trying tot get MC to do he['s worried that she is going to f** something up. Spencer suggests Andy goes downstairs and chaperone their conversation.
Andy – 'he very perceptive about seeing it could be me making a power move.. little does he know I've already made my power move and got AManda and Elissa out"
Spencer says he wanted to try whatever he could to save the exterminators.
Andy – 'can we all agree that we vote JUDD home.. even if McCrae tries to sway us I want JUDD outta here'
Spencer- "I do to.. i'm fearful that GM is closer to yo than me and JUDD is a bit more in the middle.."
A – "Did JUDD have a final 2 with you.. cause he did with me"
S – "I'm telling you the truth no.. I would feel better if he did"
S – 'from my understanding he's not going to use it'
Spencer says he wants JUDD to go this week not GM.
Spencer says that he is still down with getting out McCrae next week. Andy says MC is the scary one to have going into final 3 final 4 because he's so strong at competitions. Andy says they have to blindside JUDD just for the sanity in the house. Spencer – "well if that is the plan we're doing a crappy job of it'
Spencer – "I think JUDD this week and McCrae next week then exterminators final 3"
Big Brother 15 N*de flashback times here
1:50am Backyard GM and McCrae
MC and GM talking about him using the veto on her. MC trusts GM but say he doesn't trust Spencer and Andy. MC adds that he knows he was the target this week before he won the veto.
MC – "this could be the perfect move to get MC out now.." MC knows Andy is trustworthy but on the same note Andy wants to win and will do whatever it takes to win.
MC – "If he has to take me out he's going to take his opportunity if he can"
GM – "you know what i'm offering.. it's brought to the table and your choice is yours. whatever you do I will respect it"
MC – I pretty much have to use it.. i'm telling you now"
GM says she got in trouble with production for making a time line bracelet. MC – 'they called me out for making a calendar to"
GM -'I'm not great at the questions.. I'm still going to try my best and work hard.. I can't run I feel gross"
GM – "I'm a wounded bird with a wounded wing "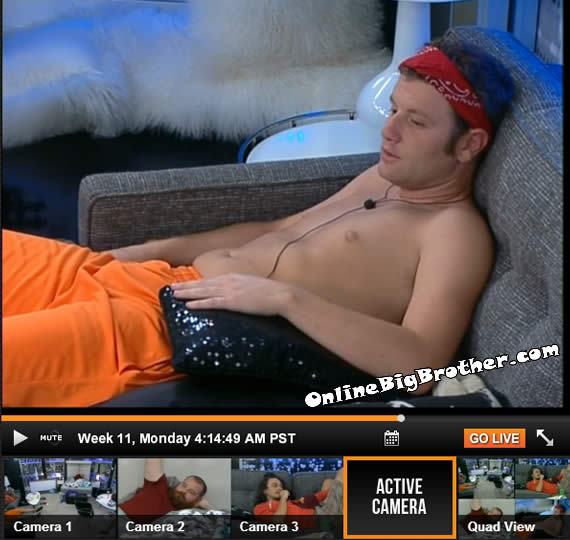 4:00AM HOH CHit chat
JUDD – 'I'm so tired of puzzles sooner or later we'll have to do a puzzle to go to the bathroom… solve a puzzle to get to the back yard"
JUDD – 'let talk about how much of a fool I look.. I got in a fight with Amanda in a chicken suit..I'm goign to be America's most hated houseguest of all time"
Andy – "I do not think so"
JUDD – I would hate me if I was watching"
Spencer is worried how Aaryn will be viewed outside the house. JUDD thinks she redeemed herself a little. Spencer – "I don't know.. that swarms thing never helped her" (??)
Specner – "I was in the bathroom talking to Candice about the racial stuff and Aaryn"
JUDD thinks Candice is over it.
They start talking about the biggest jury house fights. Specner thinks Candice and Aaryn. JUDD thinks Amanda and Jessie. Andy wishes they had a live feed at the jury house. Specner says that is all they would do.
Andy – 'The jury house has go tot be more entertaining than the Big Brother house"
MC says Jessie was like a mental patient the night of the returning player HOH. Andy is happy she fell.
Andy thinks Helen programmed Elissa to go after Andy after she left. JUDD – 'Who knows she was randomly after me after trying to work with me.. one day she wanted to work with me then the next day she hated my a$$"
JUDD says he tried two times to work with Elissa it's impossible, 'Like working with one of those fish in there.."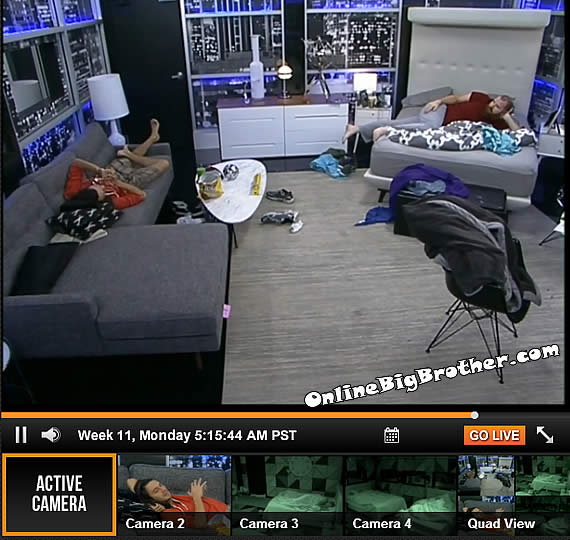 5:13AM McCrae and Spencer
McCrae tells Spencer that everyone wants to take him to final 2 because they think they can beat him. MC thinks Andy doesn't want to bring him over Spencer.
MC – "You are set up like perfectly setup"
MC – "I'm worried GM winning HOH and Andy winning veto or Andy winning HOH and Andy winning Veto"
Specner says he's worried to. MC tells him not to be he's going to final 2.
MC is wondering if he should make a deal with GM tomorrow in return for his vote. MC is thinking he'll offer GM his vote if she will let him influence her decision if she won veto next week.
Spencer- "If you are not afraid of Andy at this point you are f** stupid"
MC – "I will keep you safe always.. i'm down 100% moving forward"
Spencer- "I think you are good with And final 3.. "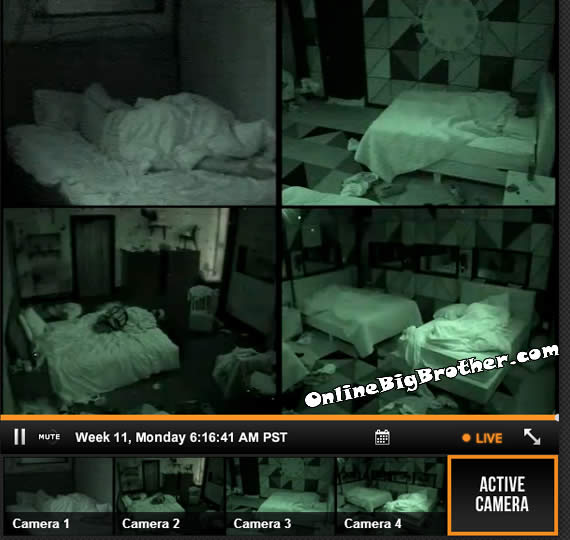 6:17AM sleeping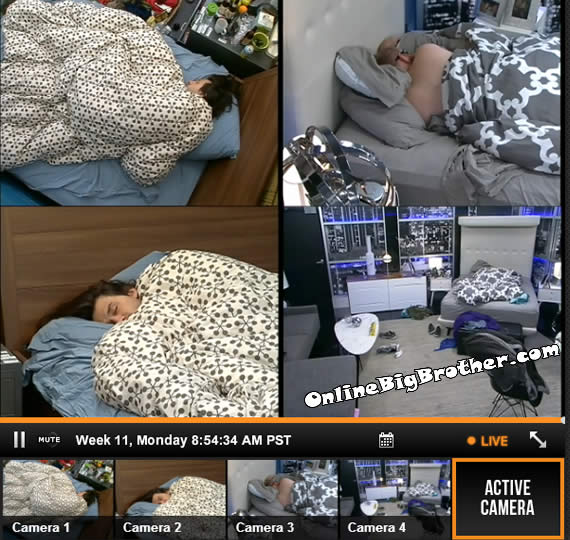 8:56pm Lights on WAKE UP!!
Only JUDD is walking around on the feeds. Spencer and McCrae were up until at least 6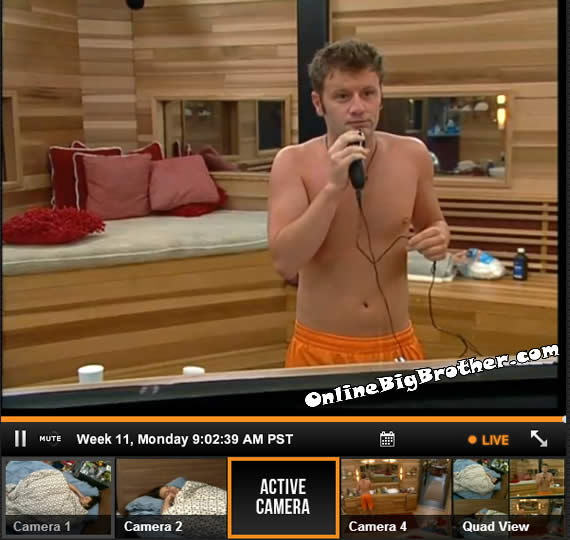 9:04pm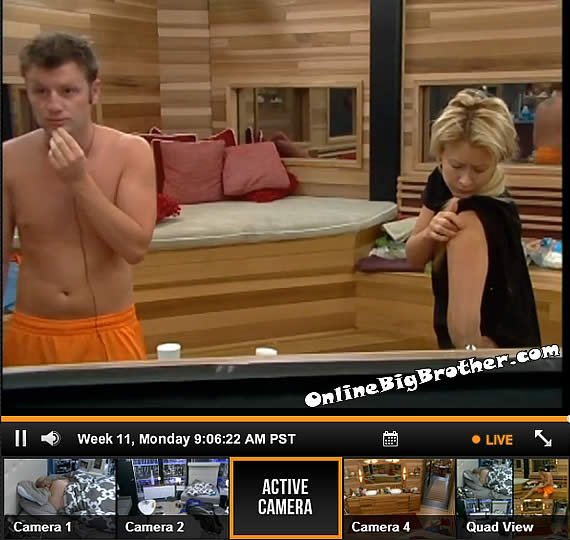 9:07pm GM is up
If you enjoyed the site this season please consider a donation.