POV Holder:
?
Next POV
May 15th
POV Used
?
POV Ceremony
May 17th
HOH Winner
Sarah
Next HOH
May 20th
Nominations:
? and ?
Have Nots
Brittnee and Zach
POV Players
?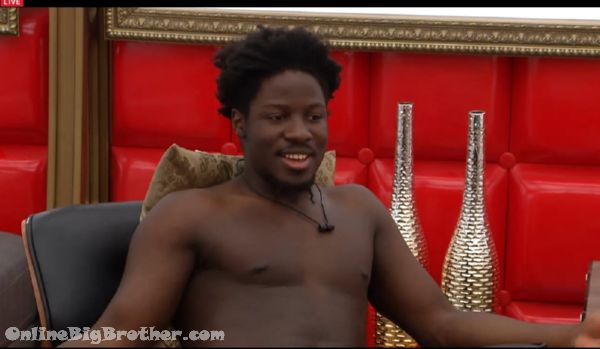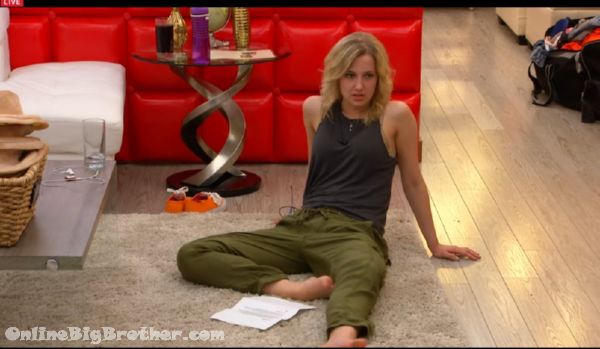 12:08am HOH Everyone but PIli and Zach
Godfrey laughing saying his sister told him to stay away from the loud black girl. She said they always cast a loud black girl but this season the black girls saved Godfrey twice they are probably loving Brittnee right now.
They start talking about the task they had..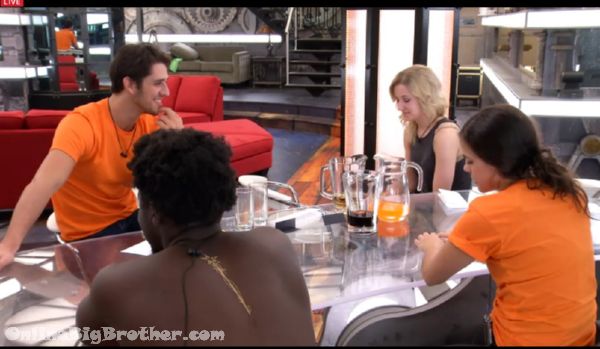 12:50am More chatting about the task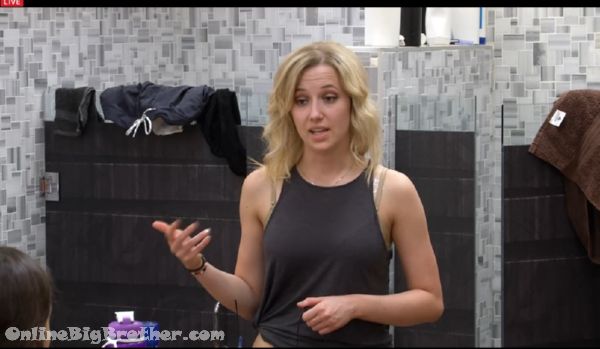 1:00am Ash and Pili
Ash – you have to win that POV
Pili – I know holy shit balls
Pili – I can't do it Zach can't go
Ash – part of the reason we got this far is because of him we can't do it.. Zach can't go .. we have to win that POV
Ash – this is a game but I don't have that in me as a person (To get Zach out)
Pili – I can't do it I know he's loyal.
Ash – I know if we sit next with him in the end.. no way we'll win.. I cannot think of sending him home.
(Watch 1 minute in)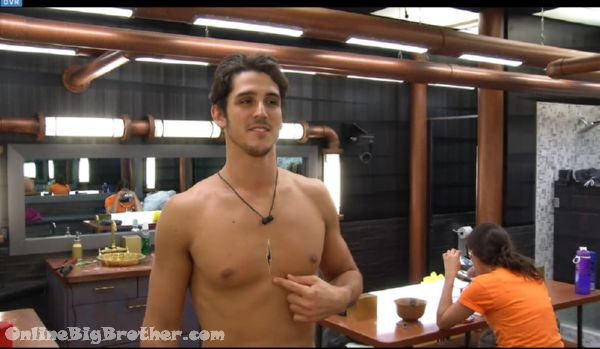 Zach joins them.. says if he wins the POV Ashleigh goes home, if Ash wins it Zach goes home if Pili wins it they all stay and God goes home.
Pili – I have to win for us to stay
Zach – odds are in our favour don't worry
Zach says if it's a comp where he can help Pili he will
Zach smiles says "Sometimes you gotta look up at the Big Brother gods and say a prayer sometimes they answers sometimes they give you the middle finger"
Zach tells them he's the number one priority on Sarah/Brittnee's list if he goes out Zach and Kevin will be in the Jury helping them.
Pili – I don't want to talk for Ash but I don't think we would be in her if it wasn't for you guys
Zach – maybe it will be something in your wheel house..
They agree if it's a individual time competition they have to just go for it but if it's a elimination competition they will throw it to Pili.
Ashleigh points out that Sarah won't win with Brittnee in the end.
Zach laughs says if it's a bucket filling comp he'll fill his to the very top but wait until Peels fills her up.
Zach says he can't complain he made it to final 6 and he's fianlly "Up against the wall" he thought this was going to happen final 10 or 8
Feeds block of awhile when they come back Zach is telling them about Bruno pointing out Zach was always taking baths with the girls being the audience.
Pili wonders why they won't put Godfrey up even if she doesn't win the POV. Zach explains Sarah knows as long as 2 of them are off teh block they contorl the votes and will vote out Godfrey. Sarah/Brittnee are out of the DR they join the Diapers in the bathroom.
1:37am Zach in the Tub Girls reading their letters from home (If they read them outloud the feeds get cut.. yes BB is that f***ed this season)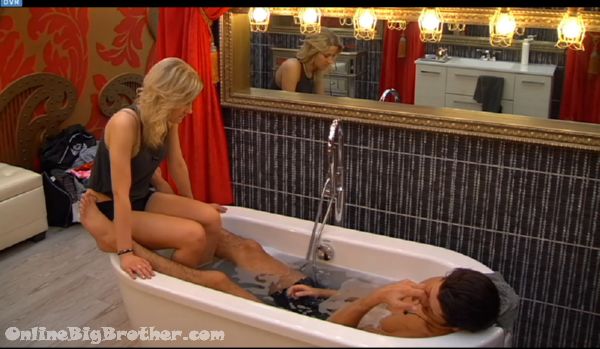 2:08am Bath Tub Zach and Ashleigh
Talking about the the craven music festival (I've heard this twice now)
2:25am Brittnee and Zach Have nots
Brittnee brings up his family not mentioning Ashleigh in the letter. Brittnee says she'll miss Sarah the most then only Zach.
Zach – we got a tight bond.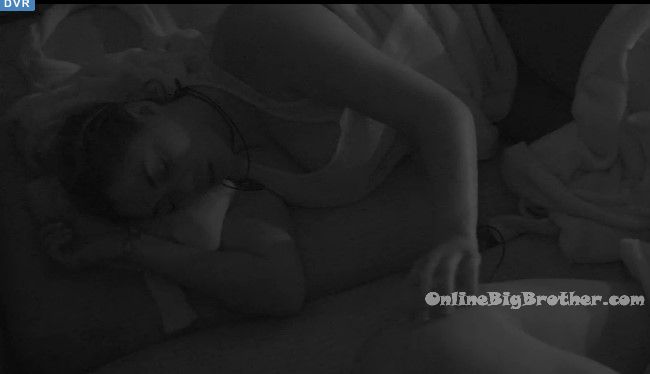 9:45am Big Brother blocks the feeds for the nomination ceremony to take place.
10:50am The live feeds are still blocked.
Please consider making a donation. This site is ONLY possible because of your support. (We received 1 cent in donations (Yes someone donated $0.01) since April 27th.)
For other ways you can help – check out our How to support OnlineBigBrother.com page.
[polldaddy poll=8865390]