POV Holder:
?
Next POV
April 24
POV Used
?
POV Ceremony
April 26
HOH Winner
Pili
Next HOH
April 29th
Nominations:
? and ?
Have Nots
Brittnee, Sarah, Kevin, Godfrey
POV Players
?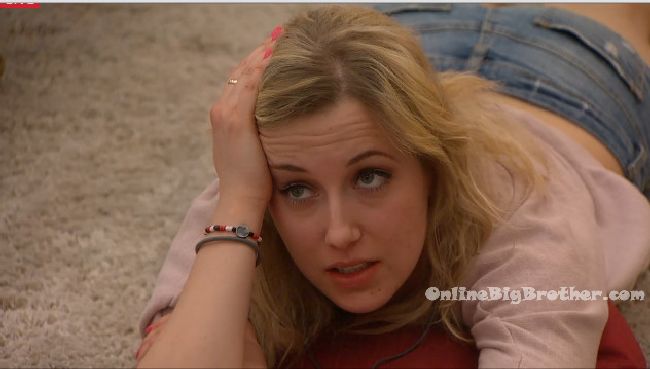 6:35pm Up in the HOH room – Ashleigh tells Pilar don't let her get to your head. Don't stress. Pilar says Sindy told me that Bobby has a secret veto. Ash says he does. He's not allowed to talk about it. He gets a stop that from big brother when he talks about it. Ash asks did you tell Sindy what you're doing? Pilar says yes. Ash tells Pilar you'll be fine though. You'll have a bunch of people competing for you in the next HOH. What she said about the chop shop was true. What bothers me is what she said about the Jordan vote. Pilar wonders if this next week will be a double eviction. Ash says it's clear Zach is a big target for everyone right now.. and by association so am I. The fact that she keeps coming in here to bully you into changing your mind is upsetting to me. I feel like I need to sit out side your door. Pilar tells Kevin. Its just frustrating that she keeps coming to me. I am not going to change my mind. My mind is made up. Kevin and Pilar kiss. Kevin says big brother asked me … they want us to tone it down with the kissing. Pilar asks really? Kevin says no.
Out in the backyard – Godfrey tells Sindy that she could win the veto. Sindy says that she is still thinking about it. It's not confirmed yet. I told her that she can trust Ashleigh. We're not targeting Ashleigh. Godfrey says in this house people aren't thinking rationally. They're stupid and thinking irrationally. Sindy says I am just wishing and hoping that its not me on the block because since week one other than last week because of my safety its been me on the block. Godfrey says if you are on the block you have to pray someone close to you use the veto. Sindy says no one will use it because it will be others at risk of going up. The only way I can get off the block is if I win it. I had a reset button, summer camp is over … and I am here to play. I really really hope Pili makes the smart decision. I will be so disappointed in her. Godfrey says don't feel way too down. We just need a double stroke of luck.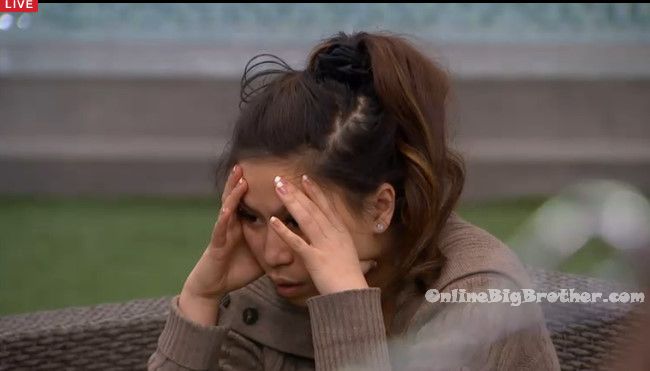 Storage room. Zach and Bruno are in the storage room. Zach tells Bruno that Sindy was up there throwing everyone under the bus. She said put Bruno and Bobby up and backdoor Zach. She was just throwing everyone under the bus. Zach says Kevin asked me how do you like how we picked those teams? We've got everyone weak now! Bruno says that's awesome.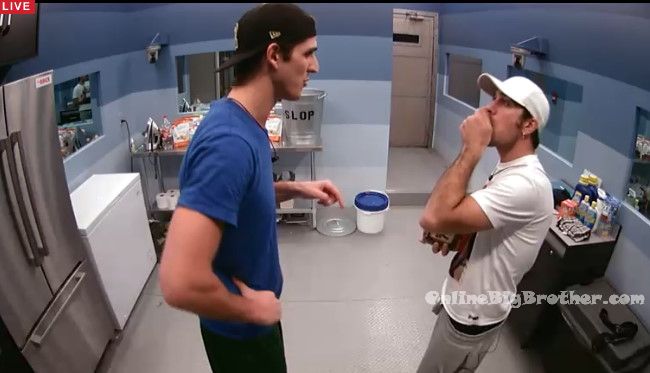 Kevin and Bruno talk about how they're good.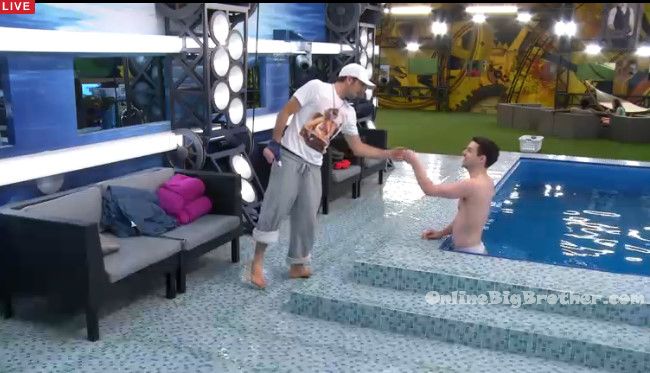 6:50pm – 7:20pm Out in the backyard – Pilar tells Godfrey "I am pretty much just putting you up as a pawn" I know you might not believe me. Godfrey says I've heard that before. Pilar says I feel like you don't trust me or believe me. Godfrey says No its not that, its just the last person that was the pawn went home. Godfrey says I just want to know your reasoning. I know you voted me out last night. Pilar says I thought I was going with the house and it flipped last minute. Pilar says I just haven't talked game with you. Godfrey says you haven't talked game with me. Pilar says that Sindy is smart, this is her second chance in the game and she's got a lot of information. I don't know what to believe and what not to believe. Godfrey says I believe you're putting me up as the pawn. You have to do what is best for your game. I respect your decision. You have to think about who are the people who have your back and who are going to come after you. Godfrey tells Pilar I like you! If you were someone else I would have told you … F**K YOU! Pilar laughs. Pilar says that people want her out. Godfrey says people want me out too YO! I got 4 votes cast against me last night. People think you're that dumb girl. Your family is watching and wants to see you put your foot down. You did the smart thing. I know you want Sindy out. I'm just saying moving forward you gotta think for yourself. Godfrey says I've got your back and I am open to working with you. I didn't come to you until now because I didn't think you were thinking for yourself. Pilar says I am though thats what people need to realize. Godfrey says I know and that's why I want to work with you. Pilar says you're not the target. People have been wanting the person that came back out. Am I right? Godfrey says yeah I guess thats right. At the end of the conversation Pilar tells Godfrey if it comes down to a tie she would break it in his favor. Godfrey tells her if she wants to ever talk to just come find him .. I might be napping.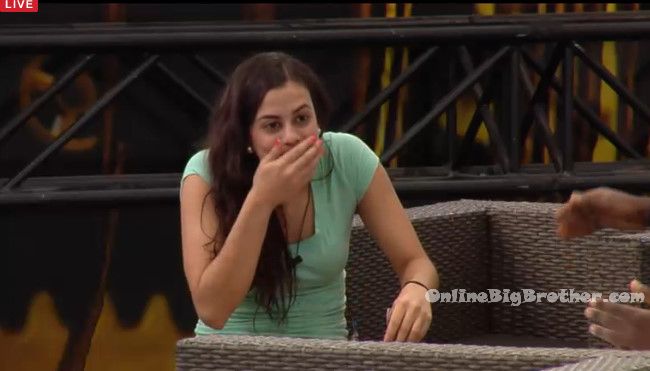 Sindy tells Bruno on the BBCAN Side Show there were 6 people in the audience with tshirts that said BBCAN #teamBruno in the audience. Bruno says that's crazy! Sindy says And when I said I was going after Zach they cheered. Just keep that in mind. That means something that they cheered when I said that. Bruno says everyone is gunning for everyone in here. Sindy says I know but that was a huge reaction. When I said Bobby they did nothing and when I said I was going after Zach they went nuts.
8pm
Godfrey tells Bruno & Sindy that he just had a talk with Pili. I tried my best on her. I talked to her for about an hour. I'm not surprised. I knew it from the beginning. Sindy says at least she came and talked to you. And listed to our sides before she put us up. I don't think I would do that. Actually as soon as I won HOH I would yell out this is who I'm putting up. Bruno tells Godfrey you've still got the veto.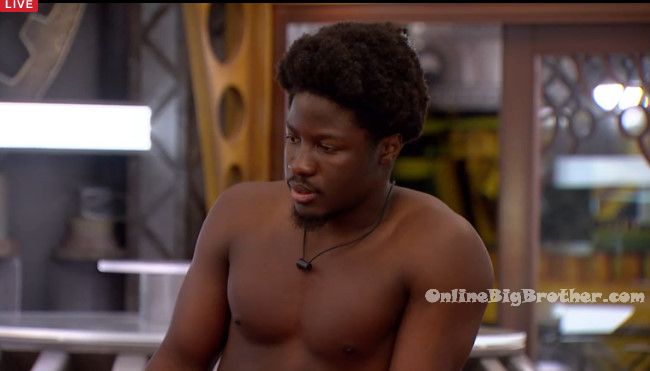 In the bedroom – Pilar tells Bobby, Zach and Ash that she told Godrey and Sindy that they're going up. Bobby says that's good. It shows people that you're trustworthy and that you do what you say you're going to do.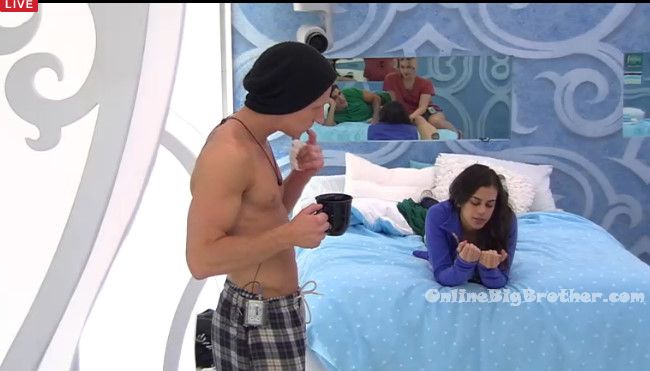 8:10pm – 8:30pm Out in the hot tub. Pilar talks to Kevin about her talks today. He picks up a plastic tube and says this is the "SS PILI" she's been taking tidal waves all day. Kevin says it just hit me today ..after this week there will be 10 of us. One of us is going to win $100,000! They talk about how nominations are still supposed to be tonight. Pilar says shes so exhausted. Kevin says the SS PILI is strong! Kevin "Normally you're cute.. but today! You're HOT! Not very much cute in there ..YOU"RE HOT!" Keivn says if you tell me something, Ash tells me something, Zach tells me something .. I take it at face value. If anyone else tells me something I just listen. Kevin tells her she is such a shinning light! What do you think your family thinks of this Kevin dude. Pilar says they like you. They're watching. They're actually watching. Kevin says what if they hate me? The fact that Sindy got a few boos is scary. Pilar says people aren't going to boo you.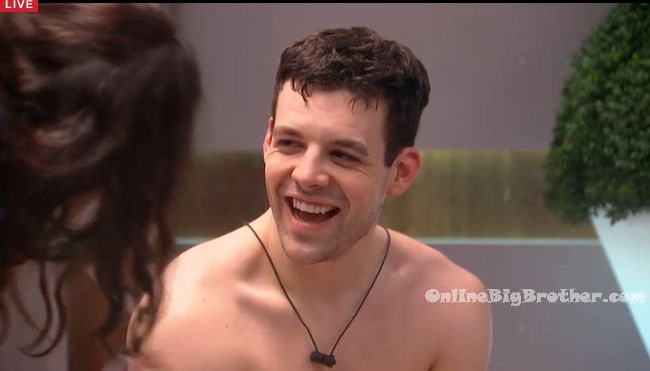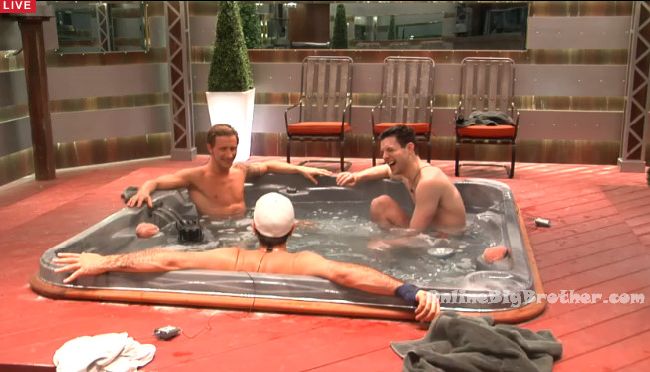 8:40pm Out in the hot tub – Bruno, Kevin and Bobby are talking. Bruno says people have been at Pili all day! Like give her a break! Let her enjoy her day! Bruno says and she's such a sweetie. Bobby says like talk to me after the veto. Bobby says as long as Sarah and B don't win next week we'll be good. They talk about how JP actually joked about unanimously voting to evict him. You asked for it. That's co*ky man! Bobby says we're sitting so nice right now. If Sindy doesn't win veto she is going out right now. Kevin says unless there's a twistos. They realize that Sindy's been on the block each week she's been there. Bruno and Bobby say oh yeah right. They talk about how the nomination ceremony is supposed to be tonight. Bobby says its going to be a late one.
In the havenot room –
Brittnee and Sarah are talking. Brittnee says about Pilar she is playing with emotions. I wish she would listen to her letter. I thought they were talking about Kevin. Brittnee says I am struggling to be fake as sh*t!
9pm – 11:10pm The feeds have been blocked for the nomination ceremony…
11:40pm The live feeds are still blocked..
ALLIANCES IN THE HOUSE
There are always a lot of Alliance but we've tried to make sense of it all.. Read our alliance help guide
[polldaddy poll=8819718]