POV Holder:
?
Next POV
April 24
POV Used
?
POV Ceremony
April 26
HOH Winner
Pili
Next HOH
April 29th
Nominations:
? and ?
Have Nots
Brittnee, Sarah, Kevin, Godfrey
POV Players
?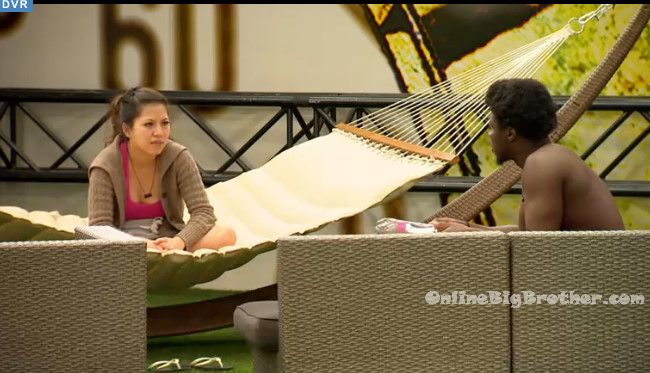 4:40pm Out in the backyard – Godfrey tells Sindy that this week Zach is safe. Next week we'll go after him. I told him we are good but next week if I win HOH I am going after him. Godfrey says I hope you're not up next to me. Sindy says if I don't go up next to you I am helping you out. Godfrey says we can't recruit one of them from their side. They're dumba$$es! They're too far up Zach's a$$. Godfrey talks about how the 10K offer was pretty sweet but that he wouldn't have taken it out of fear he might win.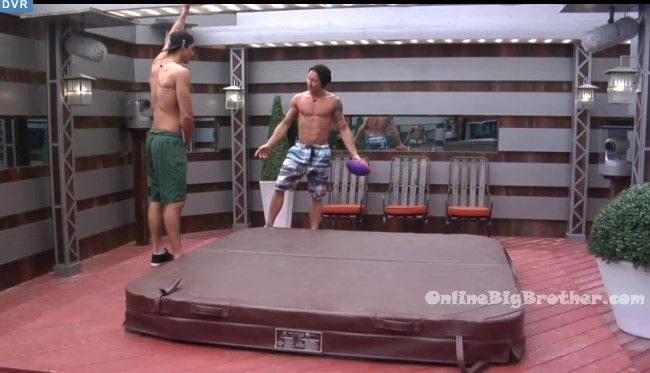 Out in the hot tub – Bobby talks to Zach about how up in the HOH they agreed to all work together to take out the other side of the house. Zach and Bobby leave and then Bobby and Bruno come back. Bobby says I think we're sitting pretty good. Bobby says I have a butt veto… Bruno says and they're banking on it too eh!? Zach joins them. They talk about telling people that the chop shop was real but that it broke up awhile ago. Godfrey joins them.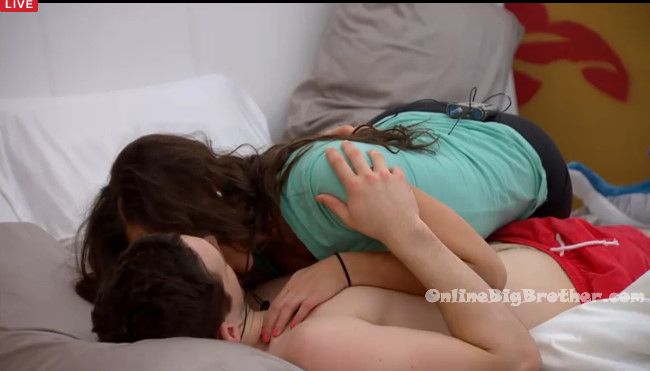 4:45 – 5:15pm Up in the HOH room – Kevin and Pilar are making out. Keivn says it doesn't make sense how people can work together and hate each other. Pilar asks since when does Bobby hate Sindy? Since she told everyone in the house? Kevin says yeah. Kevin says it just doesn't make sense why Bobby and Sindy would vote together when they hate each other. Pilar says they just hate each other since today. Isn't that right? Kevin says that Bobby and Bruno are 100% with us … they wouldn't expose the veto to us if they weren't. (The secret veto Bobby says he has is a lie. He doesn't really have one.) Kevin says I wish my team one. (havenot team) You just won HOH. He says I'll actually get more sleep down there. You know what I mean? Pilar says I do know what you mean. You'll get lots of rest down there. Kevin tells Pilar that her letter was amazing! Pilar says see my family knows who you are! Kevin says I just like you a lot and I hope your family likes me. Pilar says of course they do. Pilar says so honestly just trust these people. Kevin says I do trust them.


Out in the hot tub – Bobby, Zach and Bruno are talking about working together with Ash, Pilar and Kevin. Ashleigh, Sarah and Brittnee join them and the conversation turns to talking about past competitions.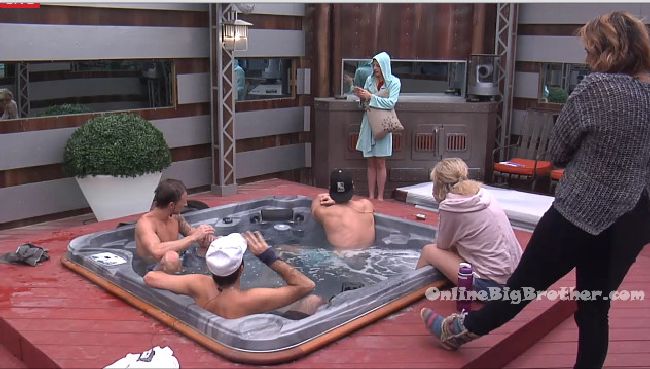 Out in the backyard – Willow tells Sindy that Zach doesn't tell me anything. I swear to god that other vote was not me. When you go home you will see I am not lying. Willow says I feel like a big idiot… the house split and I am sitting in the middle. No one tells me anything. Maybe Sarah and I are just friends. Sindy says I know you are a superfan but you don't act like it in here. Sindy tells Willow she needs to pick a side. Willow says I honestly just figured out there are two sides. Willow says I am not going to lie I was like Graig's puppet. Sindy says I am the kind of person that needs everyone to sit in a room and say lets work together. It's about numbers in the beginning. Willow says and Graig jumped around and started making deals with everyone. Sindy says I don't know if you can tell but my attitude has changed. Willow says yeah you are so focused now. Sindy says I feel like an outcast now and so do you and Sarah. Willow asks so you think the girls are working together. Willow asks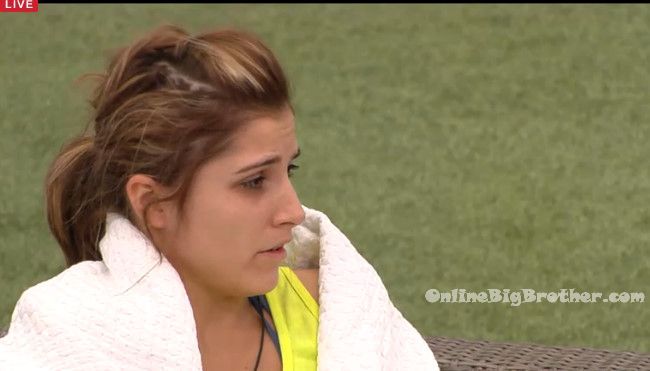 5:30pm Pilar tells Kevin "Just know I really, really, really like you! I really like you and I will tell you that everyday! You know?" So I was thinking out loud right now .. If I say Sindy I'm going to put you up.. Brittnee joins them. Kevin leaves to go get coffee.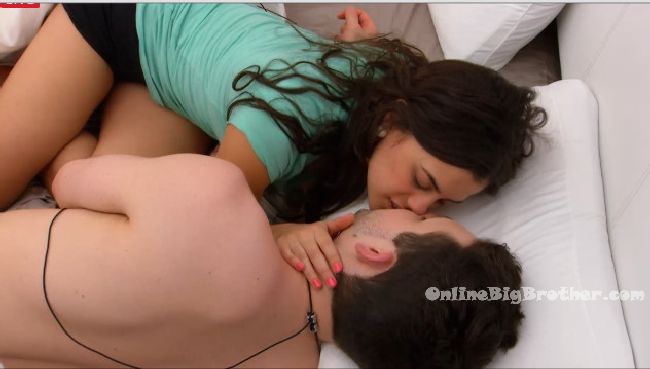 Pilar tells Britt I am just going to go with my gut. I am going to put up Sindy. I know you're going to be mad but.. Britt says no, go with your gut. Pilar says I just feel like I can trust people more than her. I really really really like you Britt and I hope you don't hold that against me. Brittnee says I don't.. When she pulled me in here I was just as shocked as you were. I hope they're not still working together. Pilar says I don't think so. I just don't trust Ashleigh. It really got me thinking. I thought about it and I need to stop second guessing myself. I feel like the whole house would understand putting up Sindy. It's really hard to trust people. Britt says I support you and if thats what your gut tells you then go with it. I like that you're going to tell her too. I respect that about you.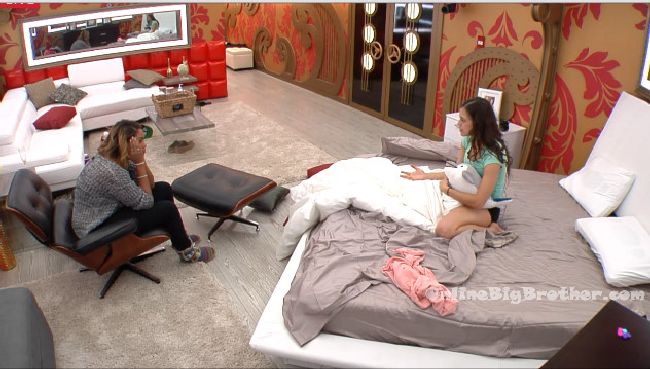 In the kitchen – Godfrey tells Kevin that he is going after Zach. He already has 1 vote in the jury. I've got your best interest at heart. I don't hide anything. Kevin says that's what I like about you. Godfrey says I don't beat around the bush.