POV Holder:
Victor
POV Competition
Aug 13th
POV Used
NO
POV Ceremony
Aug 15th
HOH
Victor
Next HOH
Aug 11th
Original Nomi1nations:
Paulie AND Corey
After POV Nominations:
Paulie AND Corey
Have Nots
Michelle AND Nicole
Watch the next week of the feeds for FREE – 1 week Trial!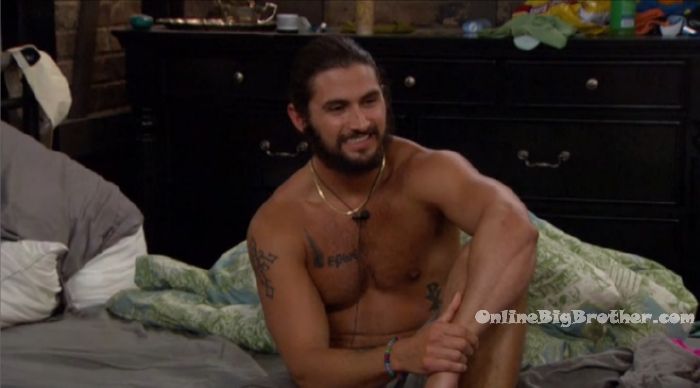 12am London bedroom – Paulie, Paul, Vic, James and Natalie. Paul says we're realistic when it comes down to us four. Vic says it just comes down to winning the comps. Natalie asks James are you mad at what I said? James says no. Nat says if me and James are on the block I would hope that he campaigns and I campaign too. Its the nature of the game as long as we don't tear each other down or talk negatively about each other. Vic says is what I tried to tell Paulie, you can campaign to keep yourself in without sh*tting on the other person. You don't even have to bring up the name of the other person. Nat says I'm winning the HOH tomorrow. Paul says what if he (Paulie) has the round trip ticket. Paul says I would be so not down. Vic says I would hit the red button. Nat jokingly says so should we evict Corey just in case Paulie has the round trip ticket? Paul says no that logic does not work here. What if he has it. They talk about how if there is a jury buy back comp Paulie would win it. Paul says Who is he up against.. Bridgette, Da and Z ..come on Bridgette is a gimp! Paul talks about how Paulie said if you keep me here he would take a shot at Victor for me. I said no I don't need you to take a shot at Victor. I'm not going after him. I shut it down right away.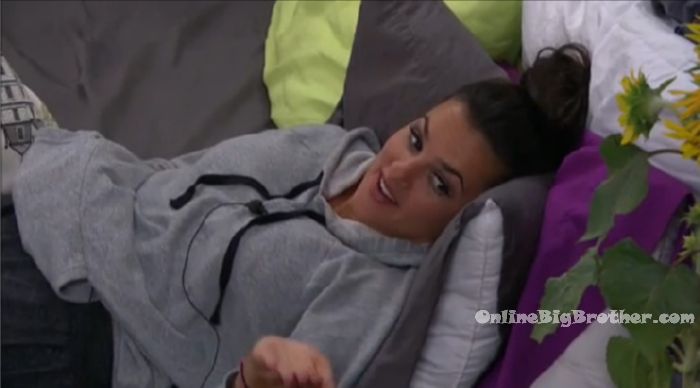 2:15am – 3am Nat says he said I was a cry baby to the whole house. Paul says fools a cry baby. Nat asks did you know he was spreading slander that I'm a cry baby to the whole house. James says no. Nat says I'm not mad about it. Nat says those guys have been protecting Nicole. Paul says she's not safe next week, she's going on the block. Vic says this is what makes me mad about Nicole. It was her that asked me out on a date. Vic says it feels nice getting some revenge. Nat says I'm happy that I played an important role in getting Paulie out. Paul says you know what I like about us 4 .. it is honestly a toss up who would win. Nat says it all comes down to your final speech. James talks about how he got called to be on the Bold and the Beautiful. He says they got paid to be on it. Only him, Johnny Mac and Meg got asked to be on it. They talk about how there is something else that has to happen. James says an other double eviction, round trip ticket or a rewind.
Watch the last month of the feeds for ONLY $5.99! Try it 1 week for FREE!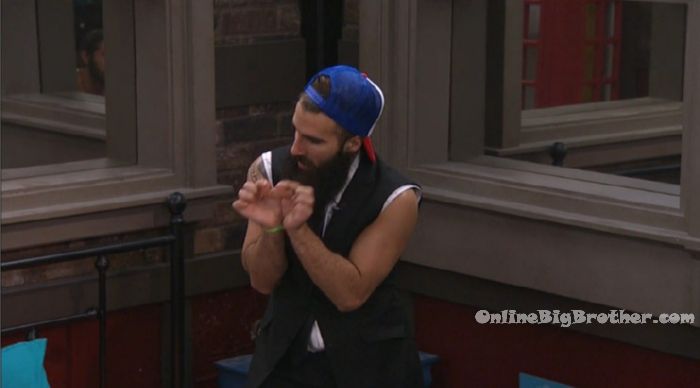 12:20am – 3am Safari room – Paulie, Nicole and Corey. Paulie says I'm going to have the round trip ticket and I will be going hard for the HOH. I will be going hard and will talk the most sh*t. I will be like Vic you're going up, Paul you're going up. Vic you're going up just because you're a competition beast. You called me out so I'm calling you out. Oh and you sent me out the door so lets call this even, even, now we're even. Paul if I can't get him, I'm going after you. You're a snake, a manipulative weasel. And if one of them pulls themselves down I will put James up. You started this whole thing. In my speech tomorrow I might say YO Vic congratulations on your wins in the house. No one counts the battle back ones like you do. Paulie says I'm going to go out classy if I go out. I'll say something about my family. And how I would be friends with everyone on the outside. I'd say something nice about you and Corey. Meech joins them. Paulie says if I do have the round trip I would have to win the HOH because I do not want to be a havenot. Meech asks do you have to make pies if you're HOH. Paulie says yup for the rest of the summer. They chat about events of the house and other random things and then head to bed.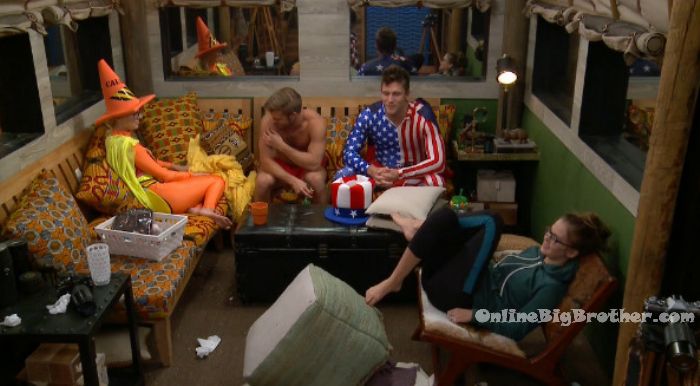 3:30am All the house guests are sleeping..
9:30am ZZZzzzzzzzzzzzzzzzzzzzzz

11:30am HOH lockdown
12:53pm no feed just jeff highlights

Show your support by making a donation.
"CO-HOH"
WEEK 4 – August 14th to August 19th
This winner automatically becomes Co-HOH, sharing all HOH perks and responsibilities for the duration of the week, including choosing 1 of the 2 nominees.
[polldaddy poll=9499483]
Usernames will have to be a bit more PG please. At the least censor them with @*(#^%_