POV Holder:
Victor
POV Competition
Aug 13th
POV Used
NO
POV Ceremony
Aug 15th
HOH
Victor
Next HOH
Aug 11th
Original Nomi1nations:
Paulie AND Corey
After POV Nominations:
Paulie AND Corey
Have Nots
Michelle AND Nicole
Watch the next week of the feeds for FREE – 1 week Trial!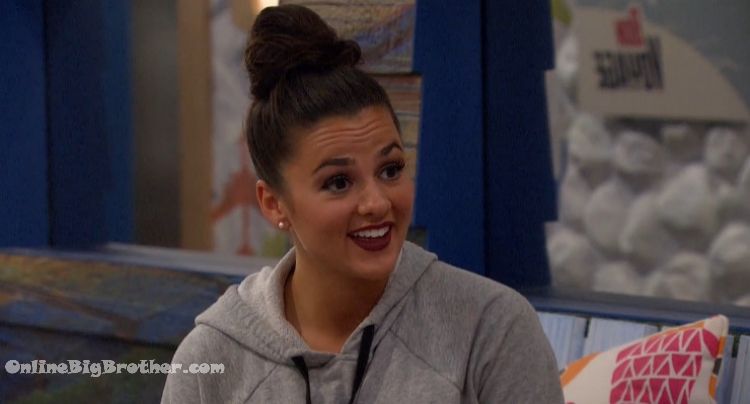 8:00pm Bathroom Paulie and Natalie
Paulie says real talk he does care about Zakiyah but "when she talks about how she drinks and parties.. When she got territorial, Jealous and Catty "
Paulie – these are red flags.. And the spitefulness..
Natalie brings up Zakiyah telling her that she slept with Paulie after the blow up because of game.
Paulie – She literally tried to fricken bang me in bed.. Hands down the pants all that stuff..
Natalie – OHhhh (Shocked)
Paulie – She always asked me to kiss.. How does that relate to caring about you.. Not on camera.. (but he'll have sex with her on camera.. 5 times)
Paulie – I'm not going to make out with you and kiss you on the lips.. My family told me not to I'm not going to do it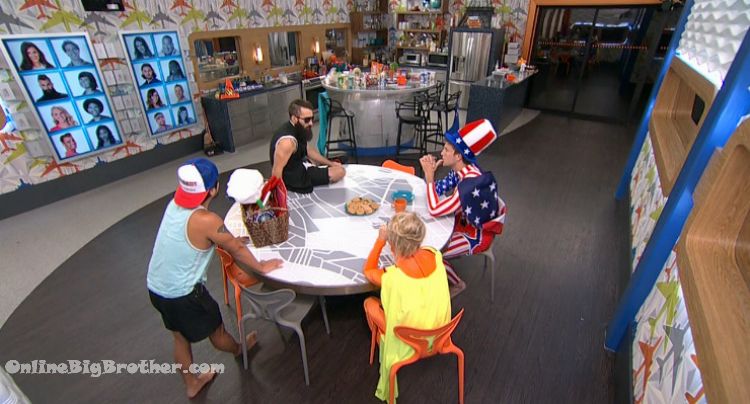 8:05pm Paul, James, Corey and Nicole
Paul is telling them Paulie is still going..
They talk about how Paulie is campaigning
Paul says he's only heard bits and pieces..
Nicole – he wants us to open our plane tickets
Paul – you are high you are on drugs..
James – this is the last one..
Nicole – they might change it .. why take the risk. .
Nicoe – The family comments
Corey – Aunt dying of Cancer..
Paul – I love the guy but gamewise.. I close my book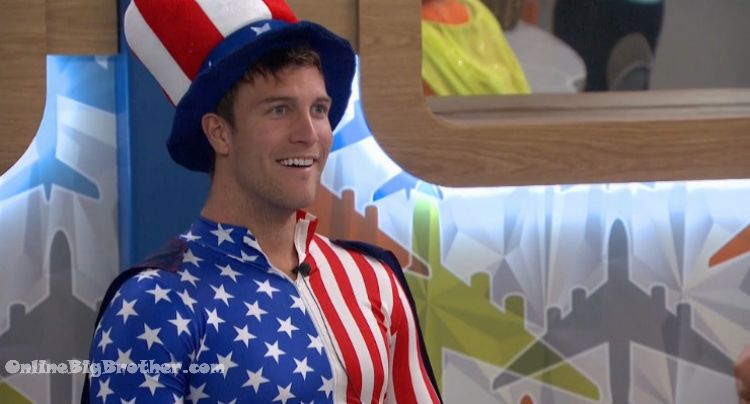 Nicole says Corey is pretty cute
Nicole – I didn't think you were super cute from meeting you I've grown to hin you're super cute.
Corey – likewise..
Corey asks James – We good
James- yeah
8:20pm Paulie is now with them. They talk about Zakiyah being a talented actress. Paulie says he was the the only guy that was fooled by Zakiyah. Natalie says she was fooled Zakiyah.
Paulie goes on about getting into fights and backing his boys on the team up if they get in trouble.. Feeds cut to the london room Michelle, Paul and Victor talking about them being on schedule with the number of players they have so they doubt there will be a returning player and doubt the tickets will get extended.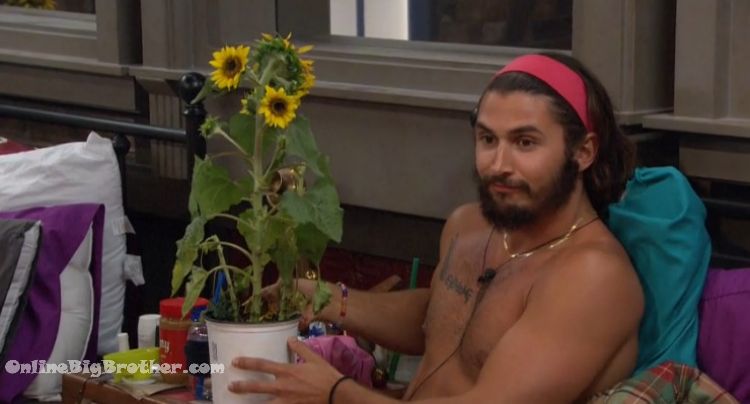 8:33pm London room Natalie, Paulie, Michelle and Victor
Michelle mentions that natalie was in the bathroom for a long time.
Natalie says on her end it was closure with Paulie. For him it was a little bit of campaigning.
Paul to Victor – talk sh1t tomorrow to shake them up (Nic/Corey)
Paul to Michelle – talk sh1t do your thing
He wants them to rattle Nicole and Corey before the HOH. Tells them Corey and Nicole are out for blood.
Victor teases Paulie's campaigning efforts telling them he won't put any of them on the block.. Victor says who's paulie going to put up this pot.. (See image)
Natalie- he says he only has 2 more weeks in him.
Paul jokes that they are keeping paulie to take out Victor because he's too scared.
Paulie – I count him say 'you know what I mean' 63 times
Michelle says paulie says f*** every second word.


Victor shows how he curls into ball when Paulie talks.. "I disappear into a hole"
When Paulie talks.. "I disappear into a hole" #BB18 @DawgsBigBrother pic.twitter.com/WCVN2MiwfG

— OnlineBigBrother.com (@bigbspoilers) August 18, 2016
Natalie is saying she's leaving the house with a smile.. Victor says when he left he met Julie with a smile.
9:00pm James joins the London room crew..
James says they think Natalie will vote the way he says.
Natalie is pissed she says she's voted her own way. She said there was many times her and James argued about the votes.
James says Corey is a little worried..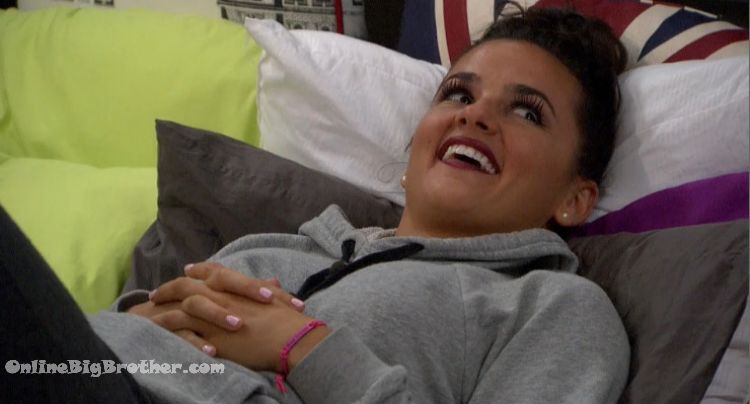 9:12pm Natalie and James Cam 3-4 London room
Natalie – If you don't try and win this HOH i'm going to pop you in the head.. Pop him in the head America..
Natalie – that is why I don't try and get very affection with you I know my feelings for you emotionally are strong I don't want physical feelings for you liek that.. Obviously I do have physical feelings for you I'm avoiding that Aspect because that's not healthy in this game.
James- what's all this back rub stuff you be talking about , that's physical
Natalie says she would never sleep with anybody in the house, "That's weird"
James- super weird..
James – I could wake up in a bed and you could poop on me I wouldn't be judgmental
Natalie says if they give it a try and it doesn't work out she still wants to be friends with him. Feeds cut..
Natalie – If I go home next week I had the best time with you, You really made me trust men in general. You really made this game enjoyable you made me feel really protected and it was nice.
Nat – it was nice to feel that way when the whole house was sitting on my. There was times I felt alone. Nobody would talk to me in the house, You always talked to me protected me.
Paul joins them.. They talk about giving Natalie the HOH.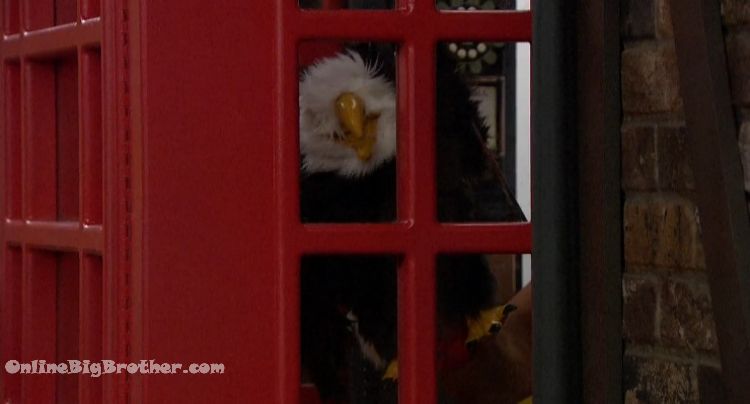 9:38pm London room
Victor playing with the eagle puppet.. (Hilarious)
Everyone laughing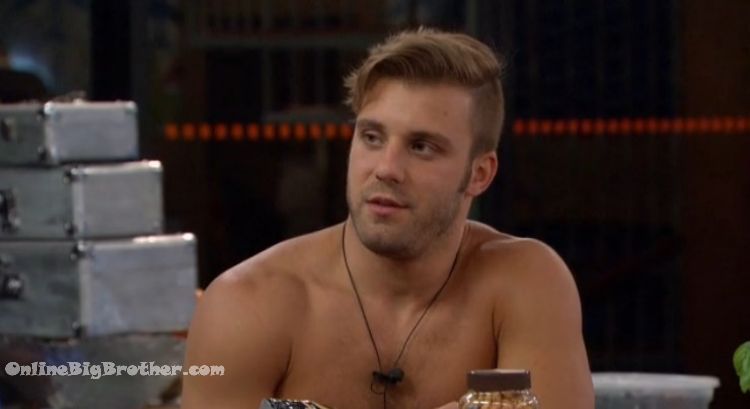 9:39pm Paulie and Corey
Paulie – I might sign with Cody's agencies and do what I do
Paulie – ok the jokes done (Victor with the eagle)
COrey – I know.. Oh my god…
Paulie – the thing about life man the thing about scorpios we always end up on top ..
Paulie starts talking about Cody and Meet and Greets..
Paulie says he's going to request a sleep aid.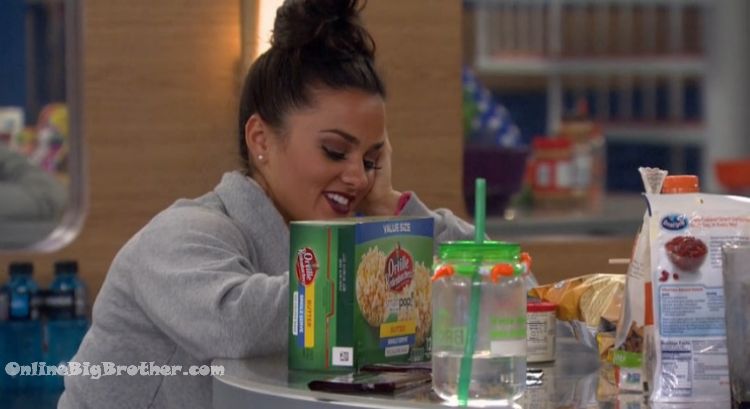 9:53pm Natalie and Corey
Corey is asking her who she's voting for.
Natalie says he's always respected her and she's always respected him.
Corey says it's him, Nicole, James and her hooking up and moving forward, "we can kill it tomorrow"
Nat – I need to win a comp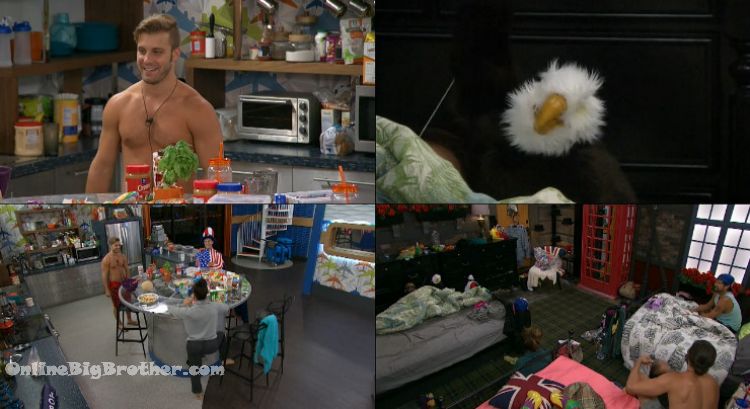 10:04pm
Paul doing a puppet show.. Roasting each houseguest. (it's awesome)
Paul as Baldwin doing Glenn – who wants some pasta tonight..
Paul as Baldwin doing Jozea – GIrl.. she's a snake girl.. in the hammock all day.. James.. mastermind.. Michelle don't worry about Michelle I got her.. Victor is a bromance.. I got a eagle tattooed on my a$$.. Corey is gay.. my gaydar is GGGGGrrrrrrrrr
..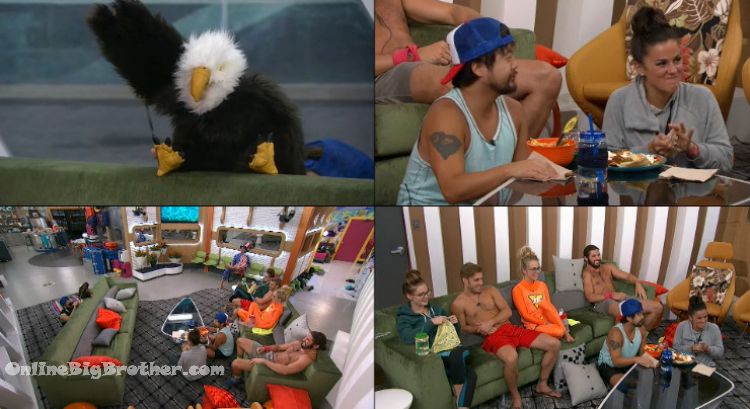 10:27pm Paul does roasts everyone (Flashback and watch this it's very funny)
Glenn – hey guys they call be penny G from the Bronx.. like Penguin G
Jozeas – Snake.. I watched your season.. all she does is sneak.. Gay gay gay gay.. when i'm around Corey my gaydar is wwoooooooooooo he's gay I know he's gay..
When he does Frank all he does is farts..
After Paul is done the roast.. Victor does a puppet show.
11:15pm Puppet shows over.. mass chit chat in the living room..
Michelle enjoying Victor's tickles.. #BB18 @DawgsBigBrother pic.twitter.com/Ef9vRWAvZu

— OnlineBigBrother.com (@bigbspoilers) August 18, 2016
11:35pm Paulie, Michelle, Paul, Victor, Corey
Listening to PAulie talk about gambling.. he says if they go to Vegas he'll put his entire stipend on black and if he wins he'll play the craps table if he loses, 'Oh well no more gambling for a week"
11:50pm Paulie, James and Natalie London room
Paulie – Thanks for hearing me out all week.. well for the past couple days. so.. you guys can let me know in the morning what you decide.
Paulie – I'm fine either way I've accepted both options, it's honestly what's best for your game I respect your decisions
jame s- alright man
Natalie – thanks Paulie
Natalie – I feel bad James.. my goodbye message wasn't nice
Jam es- yeah I know i figured it wouldn't be.. it's all good thought.. it's how you feel.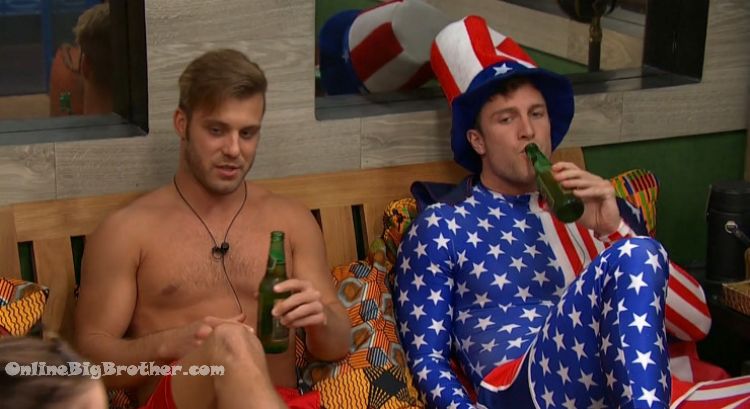 11:54pm Paulie and Michelle Safari room
Paulie says keep him here to take a shot at Vic. it's all he got at this point.
Paulie – the only thing I have is competitions.. I take a shot if I miss I lose the veto go home
Mciehlel – it's a good point a good pitch.. where is everyone else's head's at.. no one's talked about it I dunnno if it's set or what.
Paulie – I dunno everybody said they will consider it and talk about it.
Paulie – use me as a weapons I'll do what I have to do, Win the HOH send him home then I'm open for the following week.
Michelle – right
Corey comes by with the beers..
"CO-HOH"
WEEK 4 – August 14th to August 19th
This winner automatically becomes Co-HOH, sharing all HOH perks and responsibilities for the duration of the week, including choosing 1 of the 2 nominees.
[polldaddy poll=9496376]
[polldaddy poll=9499483]