POV Holder:
PAulie
POV Competition
July 30th
POV Used
Yes
POV Ceremony
Aug 1st
HOH
Paul
Next HOH
Aug 4th
Original Nominations:
Bridgette AND Paulie
After POV Nominations:
Bridgette AND Da'Vonne
Have Nots
Natalie, Paulie, Corey, Zakiyah
CBS All Access: Live feeds are only $5.99 per month – Try it FREE for 1 WEEK!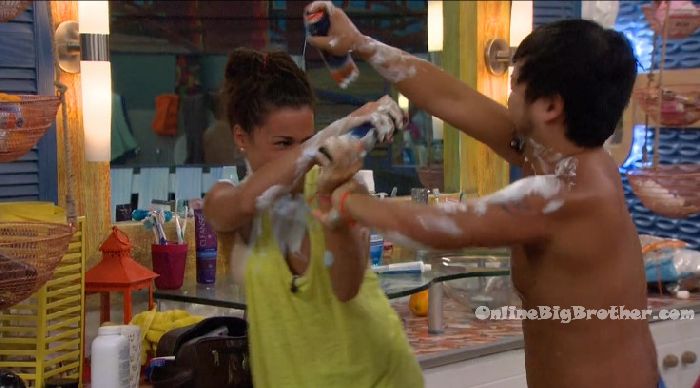 8:30pm In the bathroom – Natalie and James have a shaving cream and baby powder fight. James gets shaving cream all in her hair. Natalie yells you MOTHERTRUCKER!! James grabs the baby powder and coats her in it. Natalie asks AMERICA?! You voted him to be America's Favourite for BB17?! My eye balls are burning, my ears are ringing! Natalie calls for a truce. James agrees and then gets her again.
James and Nat Nat shaving cream and baby power fight@bigbspoilers #bb18 https://t.co/RlJcbemliP pic.twitter.com/UQigFA2WH7

— Dawg (@DawgsBigBrother) August 2, 2016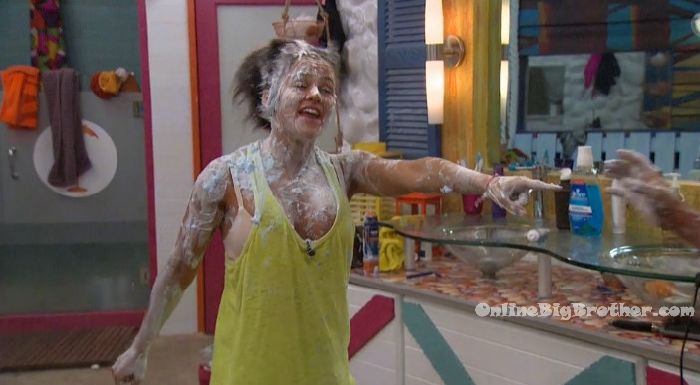 FLASHBACK and watch everything you missed: CBS All Access FREE Trial!
Friendship Truce @bigbspoilers #BB18 https://t.co/RlJcbemliP pic.twitter.com/dYc6NdaPXi

— Dawg (@DawgsBigBrother) August 2, 2016
9:10pm In the hot tub –
Vic, DaVonne and Bridgette are hanging out.
9:15pm – 9:30pm Natalie tells James I don't like showing a lot of affection on tv. Nat and James talk about how the other night she gave up his spot in their bed to Michelle. He says she should have asked him first if it was okay. Natalie says she's an event planner and is used to making decision without asking people. James says that same person that you gave up my bed to … is someone that doesn't have your back. Natalie says she knows he has her back but still have to be friendly with other people. James says yeah keep your friends close but your enemies closer.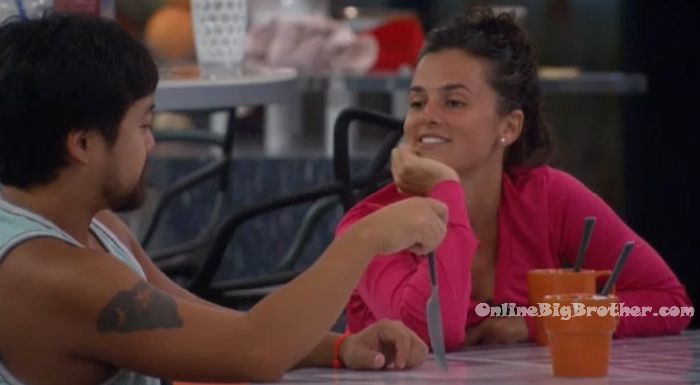 9:40pm Bridgette and Vic are talking. Vic talk about how Natalie said that he was disrespectful to women in her goodbye message. I'm a strong guy but I got sh*t on and it hurt. And my mom had to hear that. Vic talks about having to answer questions about it and how he took the high road and tried to deflect the questions. Bridgette asks is it hard for you to come back in and see her with James? Vic NO! She is just not my type of girl. I broke it off. She wanted to pursue it even after I told her I didn't want to. And she was like oh Victor broke my heart. She doesn't have to say those things. That hurt! I'll let her know one day.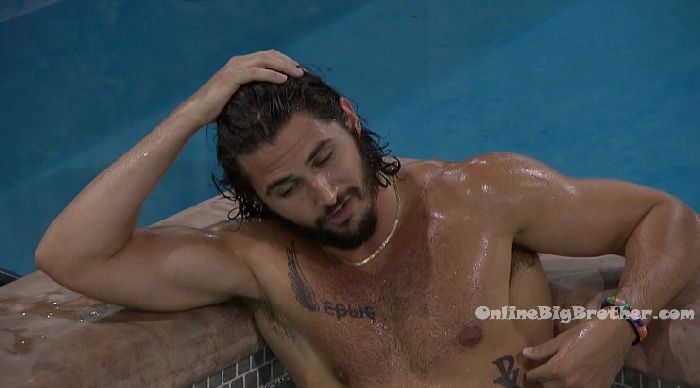 10pm Natalie asks do you really trust me? I feel like some times you don't. James says I do trust you. Should I? Shouldn't I? Natalie says yes. You're the only person I trust 100%. Nat sasy you know I would put up Nicole & Michelle. James says good job. Nat says and Victor. James says good job!
In the bedroom – Vic takes on a challenge to eat a whole box of cookies. He dunks each one into milk and finishes the pack.
10:40pm James goes to bed. Natalie gets up to run a couple laps in the backyard.
11:40pm This is what's on the feeds right now…

11:55pm – 12:20am In the bedroom – Nicole tells Corey that he was acting weird today. He asks her why she thought he was acting weird. Nicole says he was just quiet. Nicole tells Corey about the finale and wrap party. She says only 1 family member got to go to the finale. She says the rest of her family stayed in her hotel room which didn't have a tv because she still sequestered. She says they had to watch the finale on an iphone.
12:25am In the kitchen – Z asks Paulie can we talk at some point? Just stuff I'm thinking about. Paulie says okay we'll find some time.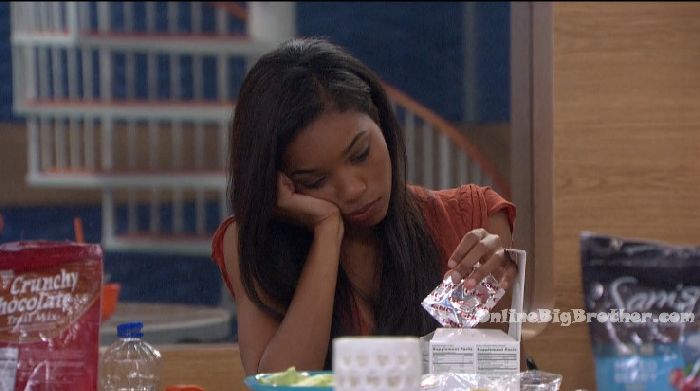 12:35am Backyard Vic and Paulie playing pool. Vic says I've got to get Z away from you. Paulie sasy I know. Vic says I want to hang out with my bro. Paulie says she sleeps when I sleep and is awake when I'm awake. I trying to figure out why. I care for her. She said she wanted to talk. I don't think its anything about this, I think its game related. Paulie sasy I feel comfortable if Corey or James won HOH. Paulie says I love mama Da .. this isn't personal. She's wanted all of us out at one point.
12:45am In the bathroom – Z tells Day you have me and Meech for sure. Da says I know James is voting for me for sure. Michelle says everyone I've talked to say they want Bridgette gone. Michelle says I just feel like they don't talk to us anymore. Z says I go over there and they say its nothing but a smooth week.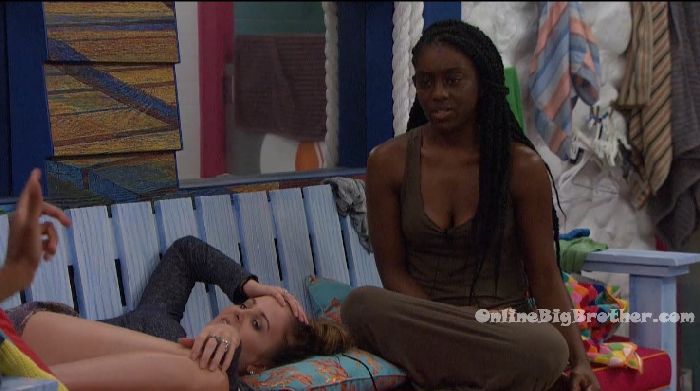 12:50am – 2:15am Backyard – Paulie, Paul and Vic playing pool. Vic says its good because we have 2 pawns. Natalie and Bridgette. Natalie should be on the block ever week. Paul tells Vic you know who you are slowly reminding me of.. Christian Bale from American Psycho. Paulie and Paul laugh. Paul heads inside. Paulie starts talking about how amazing Frankie Grande is. "He's a super good dude!"
In the bathroom – Meech, Z, Da and Natalie talk about pregnancy, tampons, STDS, birth control.
Paulie introduces Victor into the backyard. Paul pretends doing mixed martial arts on him.

(Hey all Simon here)
3:35am Natalie, Paulie, Paul, Zakiyah
The guys are working out.. just chit chat…
Paulie says he won't surf at Australia or new zealand..
Paul – I f****g hate insect hands down
Natalie – I got food poisoning from eating a scorpion
Natalie – I can't believe you hate blood sausage.. It's healthy for you.. You don't eat it everyday just BBQ's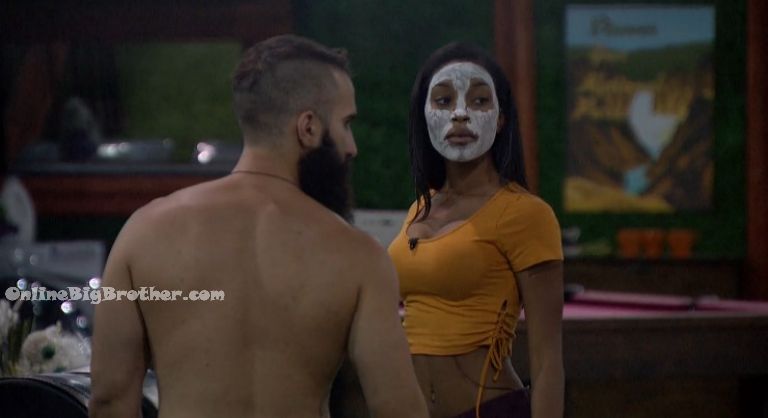 Paul – Zakiyah you look terrifying.. You look like a cannibal
Natalie – I would be a cuddle bug but I would be a good puppy.. Play cuddle.. Play cuddle..
If Natalie was a puppy at the pound, "I would be the first one chosen.. "
Paul is impersonating girls on snapchat, tinder and instagram using the "puppy" filter..
Paul – if it's a dog filter swiping left.. If it's a group photo swiping left.. Put a picture of your f*** face no filter.. Am I meeting up with a a f****g dog..
(Paul showing girls using "the dog filter" )
Paul explains that he's only met 4 people on tinder because he goes for the long game. He doesn't just message people wanting to "bone" he sees if people are compatable first. Adds that all the people he's met on tinder are his friends now.
Paul – if you can talk with me longer than an hour on a coffee date.. We're friends now
3:45am Natalie goes to bed..
Zakiyah wants to get a pocahontas tattoo on her arm.
Paulie recommends if she wants to get into modelling to keep the tattoos to a minimum tells her the one on her back is probably fine because it's on her back.
Zakiyah wants to remove that one..
Zakiyah has a longer reach than Paul, "Head kick for days.."
They go on about how Zakiyah could be a great fighter because of her proportions.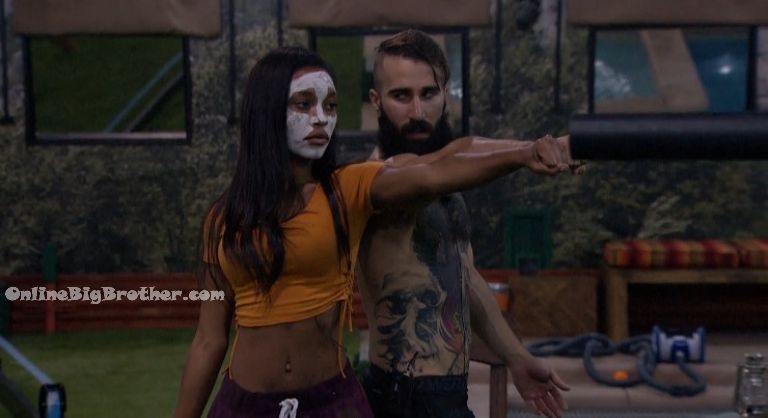 4:00am Paul going on about his MMA skillz
Paul – When I'm in the cage it's a completely different side of me.. It triggers.. It taught me to control when to do what when to release that emotion..
Paul – you drew blood… it's done..
Paul – my sons going to be into jiu jitsu by the time he's outta the womb.. By the time he's 18 stud.. Make sure he's not a d1ck head..
Paul – light him up pow pop pop…
The guys continue to work out Zakiyah asks them if they like girls with muscle bodies..
Paul – it's not my personal taste but I have friends that are really into it..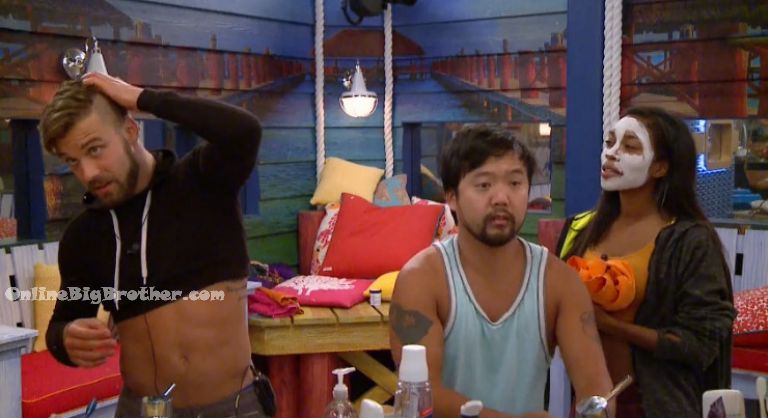 4:30am … They mostly come out at night…mostly..
4:46am Zakiyah and Paulie Backyard
Zakiyah – I just wanted to see where your head's at
Paulie – I don't care..
Paulie – everything changes with the wind.. I was going to talk to you when we get the chance.. I was also going to talk to MEECH..
Paulie says he's been pushing for Da'Vonne but it doesn't have to be this week it can be next week.. She has said she is coming after, Paulie, nicole and Corey that's 3 out of them 5..
Paulie – bridgette will come after 2 outta the 5 of us.. At the end of the day she's also mentioned Nicole's name so it's 3 outta 5 on both..
Paulie says he "Doesn't care" what happens wants the house to decide
Zakiyah – I want us on the same page..
Paulie – When it comes to this I don't care either way..
Zakiyah – I understand I feel eh same way .. I WANT TO BE ON THE SAME PAGE
Paulie – I feel like we are
Zakiyah – personally I want Bridgette out because I don't care for the girl…
Zakiyah says there's "Small things.. She told me what to do.. Sha;; sh1t" that Bridgette is doing all day she say it's "women to women things, working my nerves a little bit"
Zakiyah – I'm being petty..
6:05am Paul, JAmes, Paulie and Zakiyah still up chit chatting..
[polldaddy poll=9486231]
[polldaddy poll=9485811]
[polldaddy poll=9485817]