POV Holder:
Nicole
POV Competition
Aug 27th
POV Used
NO
POV Ceremony
Aug 29th
HOH
Nicole
Next HOH
Sept 1st
Original Nominations:
Paul AND Big Meech
After POV Nominations:
Paul AND Big Meech
Have Nots
Corey and Victor
Care package
Corey
Watch the next week of the feeds for FREE – 1 week Trial!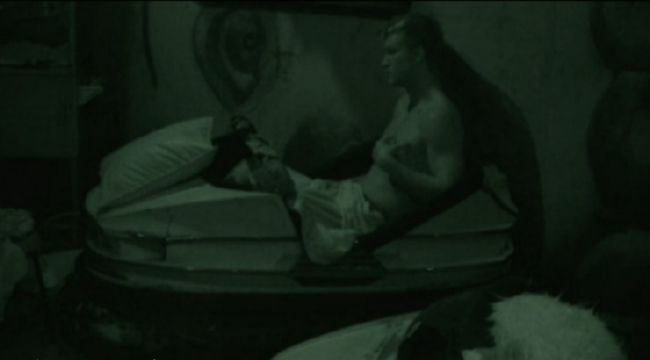 This is how good Corey's sleep was last night..
(Keep in mind a lot of people think it's double eviction tonight because of James' gut which has been wrong 100% of the time)
10:17am
Nicole getting ready for the day. Packing plenty of tampons and such..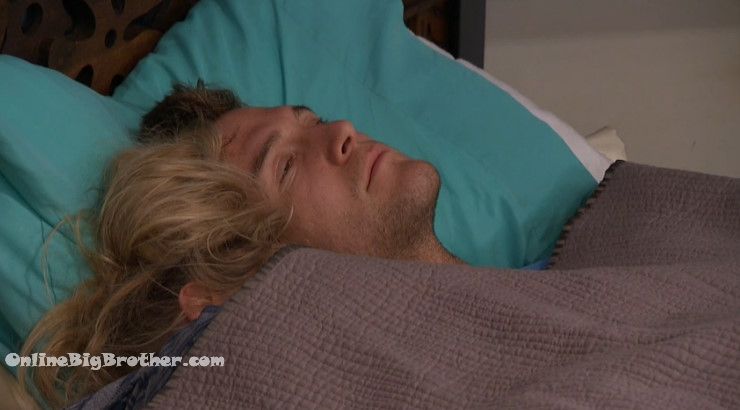 10:30am HOH Corey and Nicole
Nicole – who cleaned the kitchen all night
Corey said he did until 5am "Couldn't sleep"
He lists off everything he did.
Stairs, dusts everything, Chairs, stove tops, fridge, dishes, etc etc.. (it was pretty substantial.. maybe production gave him adderall he says he always cleans when on it)
Nicole – did you try to sleep..
Corey being sarcastic "I didn't try to sleep on the most important night"
Nicole – Coreeeeeeeyyyyyyy I have a very important day todayyyy
Nicole – did you sleep after 5.. It's cause all that Coffee you drink..
Nicole – I'm counting on you, it's the only way we'll still be here for sure.
Nicole – it's day 75 we've come a long way..
Corey – indeed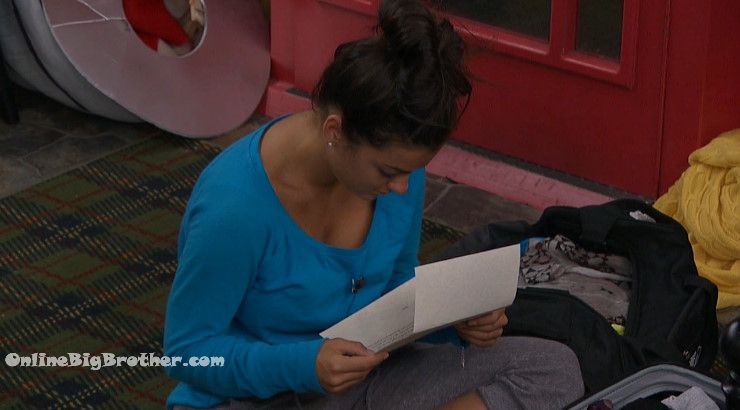 10:51am Natalie starts packing @11:03 JAmes wakes up
James- I really liked that song this morning.. Gave you hope..
Jame s- you dressing up today..
Natalie – yeah if they say we can dress up
Natalie says she has 2 outfits ready to go her workout outfit and her dress up outfit..
James says all his stuff is either in that Pile or on that hook. Natalie has all her stuff packed up on the suitcase.
James' gut is still telling him it's double.
James – you find all the things you were missing
Nat – no
Nat – I'm missing a lot of stuff.. Stuff I don't care about.. These black workout pants..
James – if you do go to Jury someone will give them back to you..
Natalie starts talking about how much weight she gained.
James- that's a cute shirt.. You haven't worn that have you
Natalie says no.
Natalie pulls out a pink dress "That's a cute dress.. I might wear that on eviction"
James – today might be your day ..
James laughs
Natale – thanks for saying that James..
James – no I don't want you to go.. What am I going to do without you… am I going to talk to mister jenkins..
James says he didn't mean anything by it just that the game is very unpredictable.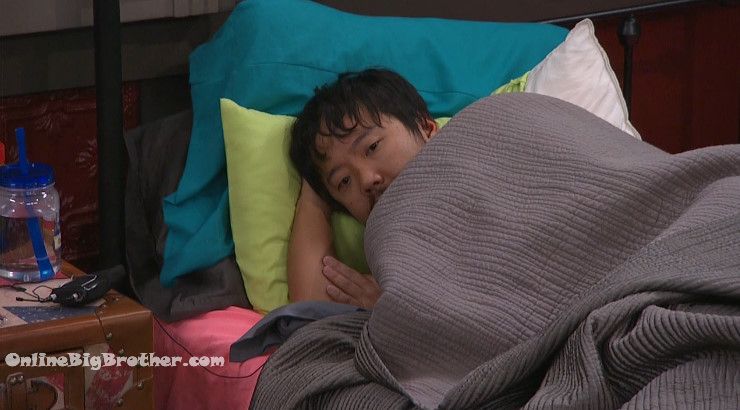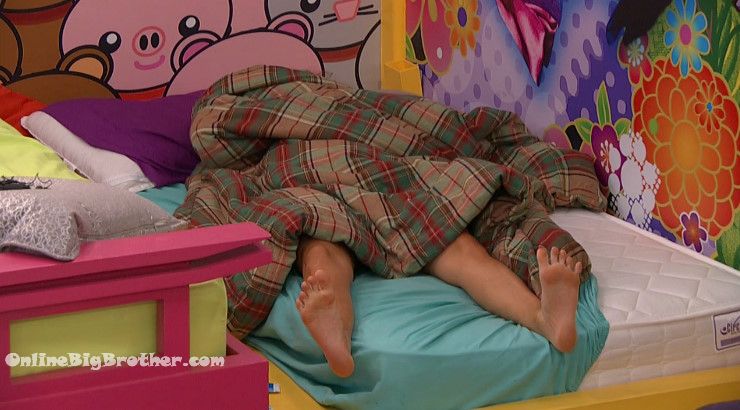 11:20am Michelle wakes up to find out she's on the block and going home..
Michelle wakes up to find out she's on the block and going home.. #BB18 pic.twitter.com/Mfa8ouf2Jn

— OnlineBigBrother.com (@bigbspoilers) September 1, 2016
11:30am
HOH Lockdown called.. Feeds will be down for at least a hour maybe 2.
1:12pm Paul and Victor London room..
Agreeing they have to win the HOH today.
Joking around
Paul – if I had to I would lose but i'm going to win
Victor – yeah I want to win and will only lose if I have to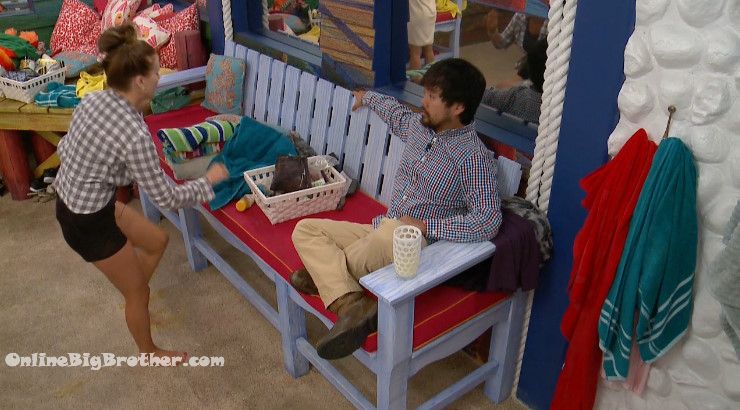 1:22pm James, Natalie and Michelle
James – hey I think you're going home
Michelle – really
James joking..
Jame s- you've talked to him yet..
Michelle – no
Michelle says it makes sense that it's us against them "So why don't they want Paul"
James- they want Victor for themselves… (ZOMG)
Michelle- I can hear them setting up the booth's outside.. With the drill
James – it'll be A/B True/False
Michelle – If I stay i'm trying my hardest to win and keep you both safe..
Michelle – Victor is creeping hard on Nicole.. It's scarey..
Jasm e- if he was doing that to Natalie.. I would be like BRO..
Michelle – do you see it Nat..
Michele – it's like scarey
Michelle tells Natalie if she's still here just know that Michelle will have her back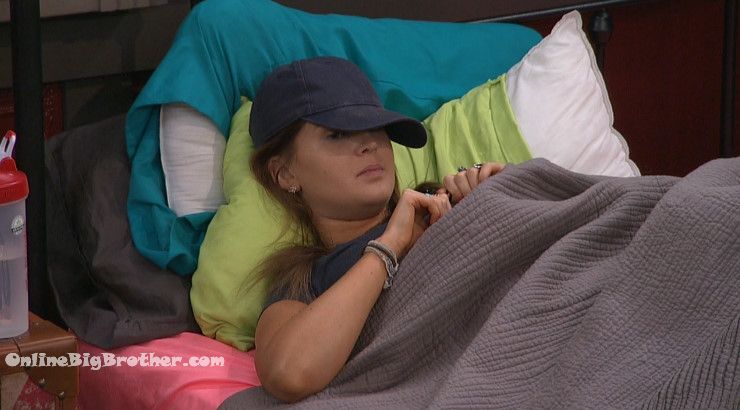 1:55pm London room James, Natalie and Meech
Meech – they would have to be stupid to keep me cause I'm gunning for Nicole
Meech – Victor makes me want to throw up.. he's really creepy.. you think Corey gets mad
Nat – he's infatuated by her..
Meech – why do all the girls like her
Natalie says none of the guys in this house are worth it except for James.
Meech says she's going to dump baby powder all over Nicole, Corey, Victo and Paul's face, "By losers"
Natalie – lets say you put Nicole and Victor up right.. Nicole's going to know that Corey needs to get that Veto for her.. so she'll drop that comp and give it to Corey.. you know what I'm saying
Meech – you know what's always a good predictor.. the MOCK vote.
Meech – I was talking to Paul and he's like Victor isn't telling me.. don't you think Victor would tell him if he's staying not going home.. there's no way victor doesn't know I feel like
nat – I don't know to be honest..
Natalie still running though scenarios.. Mentions how they should have taken Nicole or Corey out last week.. That would me Paulie came back and it would be Paul, Victor, Meech, Natalie and James trying to get Nicole and Paulie out.
Michelle agrees they would have been in a better spot. (But that means going against James' gut)
Natalie trying to get Meech to talk to Nicole and Corey
Meech – but they're not going to keep me
Natalie – at least you'll know MEECH .. I think you should talk to them
Meech – cause IO;m leaving
Nat – no just to clear your head..
Meech – when they say I don't know that measns I'm goign home
Nat says that is when you say you're not goign after them and you are not the bigger threat.
Paul comes in.. Meech says she feels like throwing up her anxiety
Paul says if Victor knew he would tell Paul.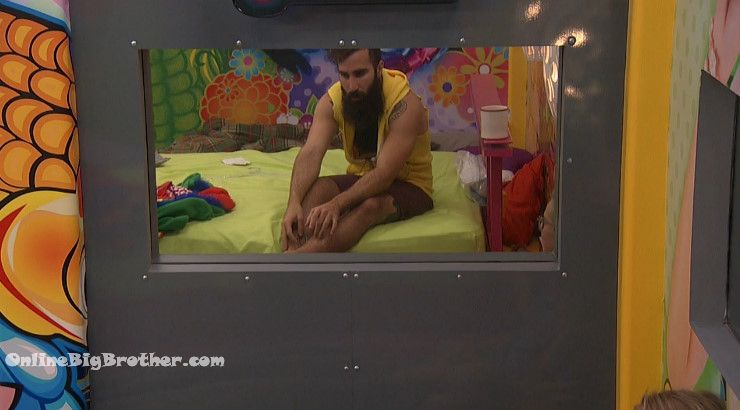 2:18pm Nicole, Corey and Paul Tokyo room
Nicole says if Natalie wins HOH she'll Vomit
Paul says Natalie and James were talkign about Double eviction, "They're both fully packed.."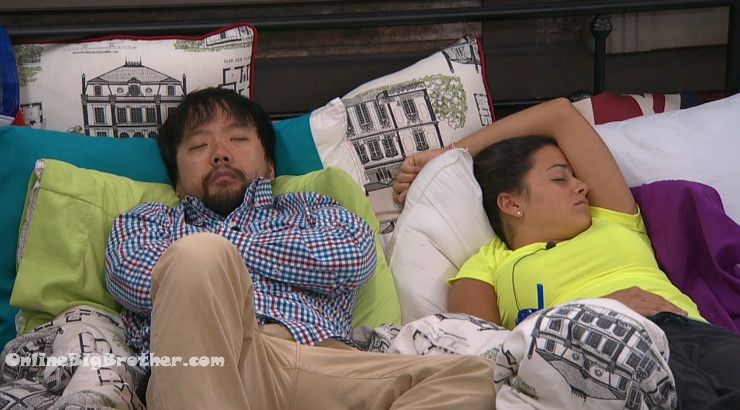 2:20pm James and Natalie
James saying Victor might throw this next HOH so that he's free to play in the next one.
James- this is kinda a bad HOH to win.. It's good and it's bad
James starts saying the HOH after this next one is more important with 5 people in the house you are goign up, "And if you don't win that Veto you're done'
Natalie says If Nicole makes it to final 3 with Corey and Victor they are both picking her
Natalie – Victor is really close to Corey too
James – it comes to who wins the next one.
Natalie – at this point of the game it's really about luck don't you think.. even if you win HOH your alliance can still get taken out.
James now saying it might not be a double tomorrow.
Natalie – Julie will tell us if it's a double right
2:40pm feeds on Natalie and James sleeping or FINAL 4 chit chatting laughing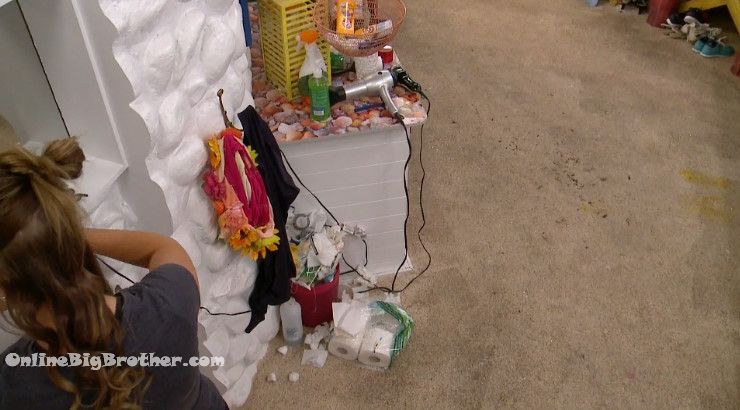 3:12pm Meech and Natalie getting ready in silence. Final 4 cackling in the Tokyo room at each others jokes.
3:21pm feeds cut to Jeff.. they won't be back until after the live show.
[polldaddy poll=9511194]
Show your support by making a donation.
Donations support this site more than anything. If you dig our spoilers please find a way to support us.