POV Holder:
Corey
POV Competition
Sept 3rd
POV Used
?
POV Ceremony
Sept 5th
HOH
Victor
Next HOH
Sept 8th
Original Nominations:
James AND Nat
After POV Nominations:
? AND ?
Have Nots
None
Watch the next week of the feeds for FREE – 1 week Trial!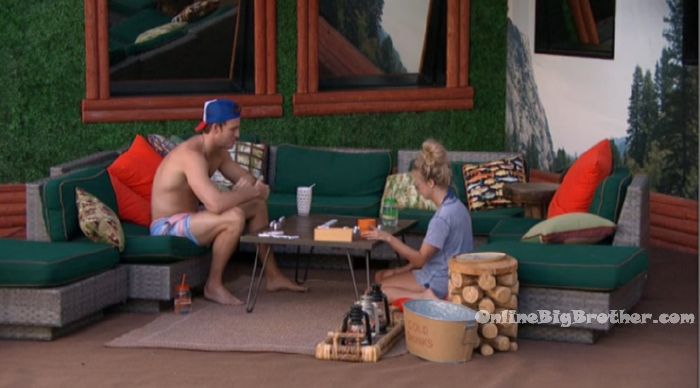 5:10pm Backyard – Corey and Nicole are playing dominoes. Meanwhile – Paul and Nat are chatting on the lounger about their lives outside of the house. Paul asks what time it is. Corey tells him. Paul jumps up and says nap time! He heads inside and tells them to wake him up if there are any drones. He heads up outside the HOH room and tries the Paris telephone. The secret code to get into the paris room doesn't work so he goes to take a nap in the HOH bed.
5:25pm Vic and James play a game of pool. James talks to Nat and says the she was in the DR but didn't come look for him when she came out. Nat says she did in the london room. James says he was in the havenot room. People can tell that there's tension between us. Nat asks who? James says Victor. Nat asks what did you say? James says I don't know. Nat – there's no tension on my end. I'm just trying to relax. James – well so what do you want me to just leave you alone. Nat – no, I just want to relax. There's no tension on my end but if there is on your end then we can talk about it. James – you're just all distant again. Nat – we're on the block together. James – we only have a few more days together. Nat – Okay, lets just have fun. The fact that people think there's drama makes me look worse.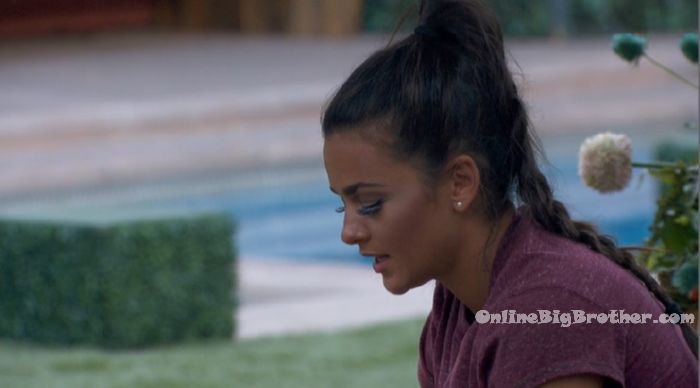 Watch the NEXT WEEK of the Live Feeds for FREE! Click here for your: 1 Week Trial

James – its crazy … I can tell! Nat – there is nothing wrong. There is absolutely nothing wrong on my end. If there is on your side then voice your opinion. Lets just enjoy our time. I don't like the constant fighting. James – brings up how she was getting upset about her mic. Nat – I've been binged 5 times today. Of course I'm going to be upset. James – I know but we know one of us is going home. I'm content with going home. Nat – I think you're over thinking this. I had fun last night. I don't know why were talking about this. I'm so sick of fighting. Please can we just stop! STOP! I can't any more. James – I'm just trying to talk to you. You make me feel this way. Nat – We can hang out and play dominoes. James – I've been holding us together for 80 days.. its just hard. Nat – The way you talk to me. You told me to be positive when I was getting dinged in front of everyone. You can talk to me in a better way. I don't want to talk about this anymore. I'm literally motivating myself every day to be positive. I'm done talking about it. I really don't like having these discussions. James – well when you're in a relationship… not that we're in an full fledged relationship but you have to talk about it. Nat – you know I don't know how. I just want to have fun and not have these conversations anymore. James – in 2 – 3 days we're not going to be able to talk any more. You're distant in here .. you might not want to talk to me anymore outside of here. Nat asks why would you say that?!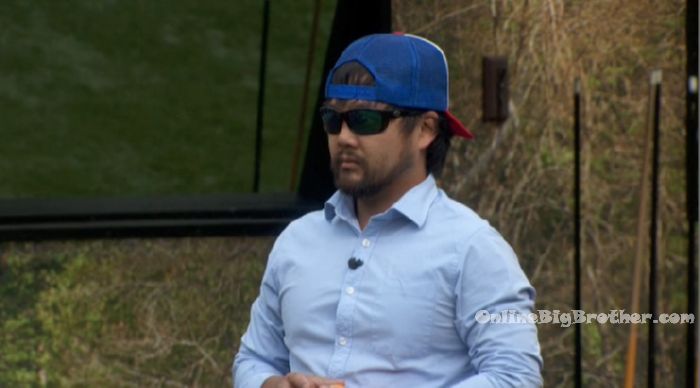 6:20pm – 6:35pm Corey gives Nicole a piggyback. Nicole asks this is what it looks like from your prospective? Corey says yeah. Corey and Vic play a game of pool.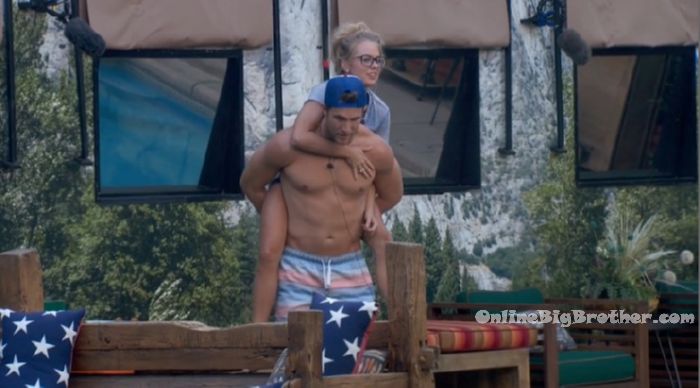 6:45pm – 7:20pm Kitchen – James says if you weren't in here I would have never gotten in a showmance I don't know who I would have latched on to? Nat says Bridgette. James says yeah I would have latched on to her before Frank stole her away. Nat says I am the sweetest think you'll ever meet and I can be just as mean too … if someone gives me a reason. They head out into the backyard. James asks big brother to turn on the hot tub tonight so we can give you some steamy action! Nat tells James no matter what happens with us. I will always care about you. Obviously I want to stay but if you do I would be so happy for you. its just a sh*tty situation. Big Brother turns on the hot tub. Nat – YAY YAY YAYYYYYYYY! Nat tells James she is going to ask for 1 sympathy vote. I don't want to go out without any votes. Do you think Paul will give me one? James says if they know who is going for sure .. then maybe but if they have any doubt they won't. James – Thursday I would ask. Nat – I feel like you know you're staying and I'm going. James – I'm telling you, I don't know.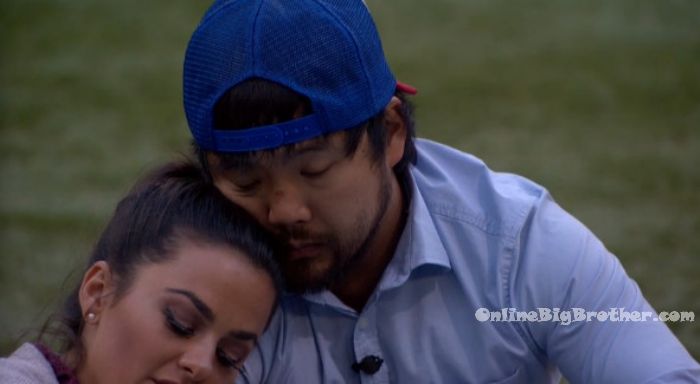 7:10pm – 7:20pm
Nicole shaves Corey's chest. Nicole asks if he shaves his stomach? Corey says you've got to go ALL the way down. Nicole says stop. Nicole shaves around his belly button and says this is as far as I go. Corey asks are you serious? You're a nurse. Nicole says its different with you. Corey – you have to do more with strangers.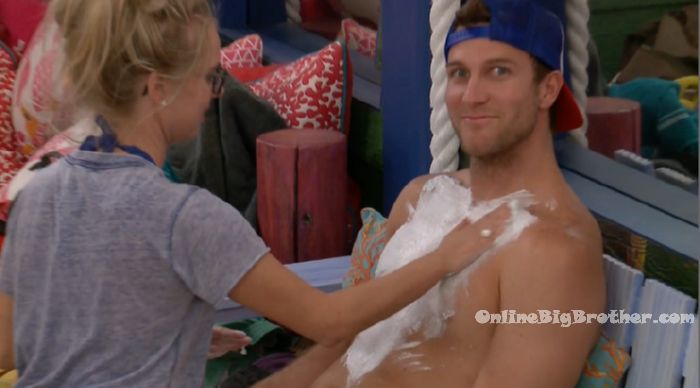 7:45pm – 8pm Corey, Nicole and Victor are playing dominoes. Nat and James are in the hot tub role playing about how aggressive guys are when they hit on Natalie.
James tells Nat – my plan if I stay is to throw everything. Nat asks why? James – so they think this dude sucks! Nat – then you'll be the next one out. James – I'm just kidding. Nat – I campaigned for you. James – I campaigned for you too to Corey and Nicole. Nat – I sh*t on myself. I told Vic and Paul to vote me out. I'm happy for you, I'm just sad I'm going home. James – don't feel like you sh*t on yourself. Nat – I did! I don't really care anymore. James – we both campaigned for each other to stay. It cancels each other out. Its still up to the house.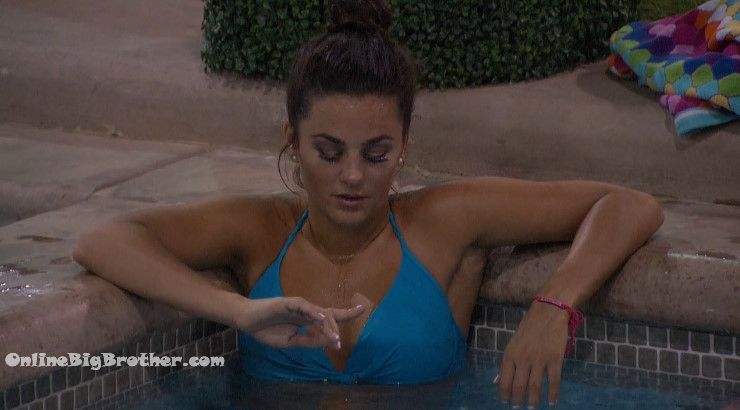 8:00pm James and Natalie Hot Tub
Natalie says he's safe this week because he's got a final 3 with Nicole and Corey.
James says he doesn't, "those are serious allegations"
Natalie says Corey has told her things she said to him.
Natalie – I'm going to leave this house with not only 1 vote.. It's going to suck..
James – are you a secret super fan that I don't know about..
Nat – shut up
Jam es- the first time I met you.. You were just worried about getting to Juru …
Nat – I was setting goals for myself.
James – I didn't get a vote last season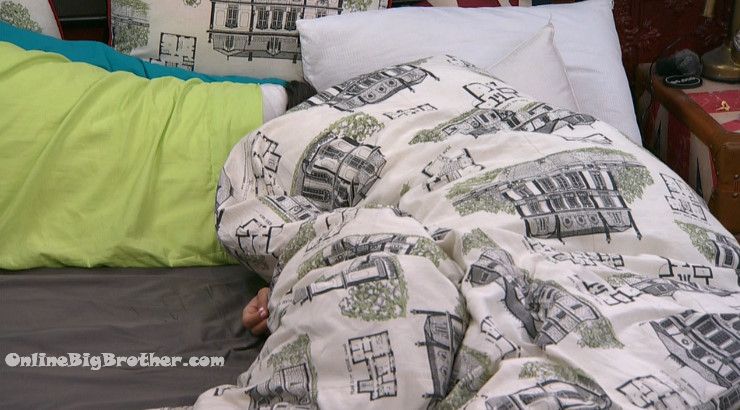 8:28pm London room Natalie and James
Natalie – I just know I'm going home and it sucks
James- someone tell you something I don't know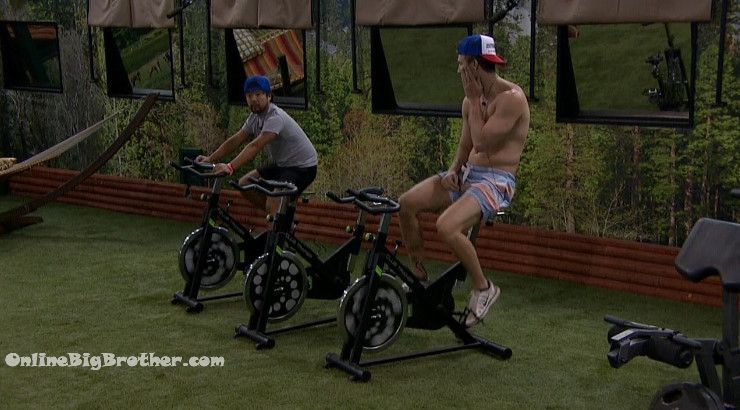 9:07pm James and Corey
James saying that Natalie is pissed off at him she blames him on what happened.
Corey says that is the dumbest thing he's ever heard.
James adds that Natalie trusted Paul and Victor. She listened to james and betrayed them and that is why she's going.
Cory – Oh my god..

9:53pm James and Natalie
Playing dominos poolside..
Natalie says Victor hates talking to her he won't even look at her.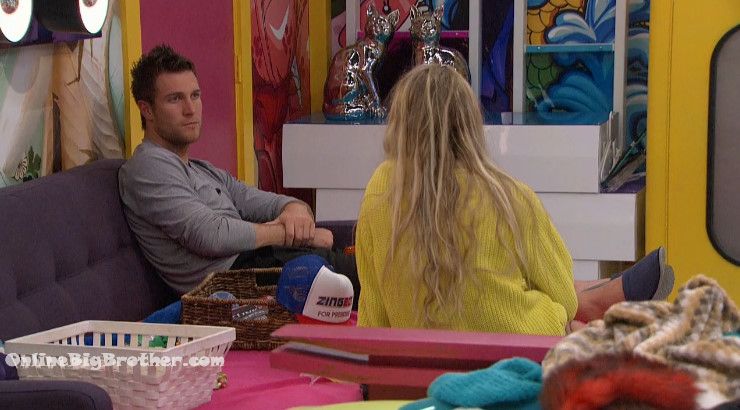 10:15pm Nicole and Corey
Talking about James "checking out"
They agree the only reason JAme would put them up is for natalie.
Corey says he's been dropping subtle hints to James.
10:30pm HOH Final 4
Paul says Natalie thinks she's staying.
Victor – it's working out perfectly
Paul – James thinks he's going
Nicole – she's going to crap herself. they are goign to think it's James when they hear the 3 to zero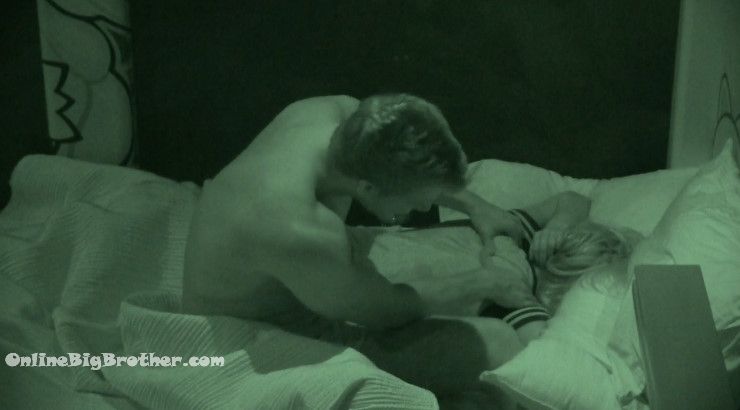 11:07pm Nicole – COooooreeeeeeyyyyy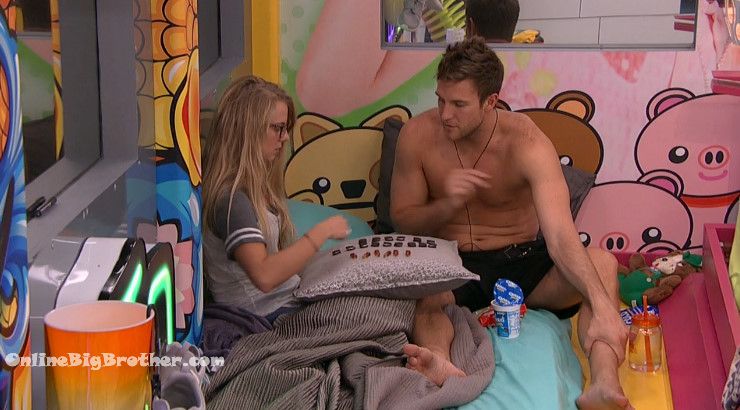 11:22pm – 11:40pm Nicole and Corey
Corey says he would be mad at her if she doesn't take him to the end. He says he'll never talk to her again.
Corey thinks Nicole has just as good of a chance to win against him.
Nicole disagrees says she 1000% cannot beat Corey in the final 2 she would be giving Corey 500K dollars.
Corey says Nicole will be final 3 100%..
Nicole – yo think so
Corey – 1 thousand percent..
Nicole – don't jinx meeeeeeeeee
Corey says him or James are going next.
Nicole suggest that James threw the Veto "He did really bad"
Nicole tells Corey to Take Victor if he can
Corey brings up not gettign evicted twice.
Nicole – by then you might pass him in comps wins..
Nicole goes on about how Corey was more strategic than Victor "He doesn't know how to campaign .. winning comps is important but.. Big brother is Social, Strategic and Comps.."
[polldaddy poll=9511194]
[polldaddy poll=9512103]
Show your support by making a donation.
Donations support this site more than anything. If you dig our spoilers please find a way to support us.