POV Holder:
Paul
POV Competition
Aug 20th
POV Used
YES
POV Ceremony
Aug 22th
HOH
Natalie, Meech
Next HOH
Aug 25th
Original Nomi1nations:
Victor AND Paul
After POV Nominations:
Victor AND Corey
Have Nots
Victor and James
Watch the next week of the feeds for FREE – 1 week Trial!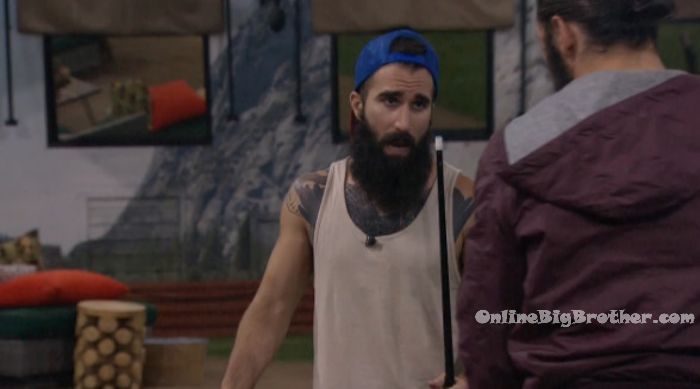 12:20am Backyard Paul and Victor are playing pool. Corey is watching. Nicole comes out and tells Victor she is sorry for getting mad at him. I'll wash your towels and clean your floor. Vic says you don't need to do any of that. (Nicole pulled a prank on Corey that backfired and made a mess. She poured baby powder down his shorts and it went everywhere in the kitchen that Vic had cleaned.) Vic says I`m okay. Corey says fool is freaking out. Corey heads inside. Paul tells Vic don`t get upset at sh*t like that because they`re going to use it against you. Vic says dude no, that`s disrespectful. They`ve seen me cleaning all day. Paul says dude who cares, bite the f**King bullet you`re on the f**king block. Vic says she`s not going to vote for me anyways. Paul says she`ll tell other people not to vote for you. Vic says she`s already probably done that, she`s with Corey. Paul says you don`t want to give her any ammunition. She`s going to say he`s so crazy and controlling. You`ve got to tip toe around everybody. Vic says I`m just worried about 1 person (James), she is literally so far up Corey`s a$$ she can`t see the light. Paul says she can tell James that you make her feel uncomfortable. All I'm saying is be careful. Vic says she's not voting for me. Paul says Michelle thinks she can say and do what she wants, when she wants with no repercussions. She's being rude. She already sh*t on me this week and claimed I was an atheist. Vic says if I stay or don't .. get power and then do what you want. Paul says she can't play next week and other people are putting me up anyways. Vic says but not right now. Sh*t on her next week. Paul says I won't f**k you up. She thinks she is gods gift to the world. Get the f**k out of here you entitled piece of sh*t. Vic says at this point I really don't care if I go home. I really don't like sucking up, its not in my nature. Paul says I haven't sucked up to sh*t. Vic says I haven't this whole season, I'm not going to start now. I kind of don't even want to talk to James any more. If its their move to get me out, let it happen. I'll tell them what I think on Thursday. Outside of here I am a real a$$hole.
12:30pm Kitchen – Meech says if I win HOH next week I am calling him (Paul) out on his bullsh*t.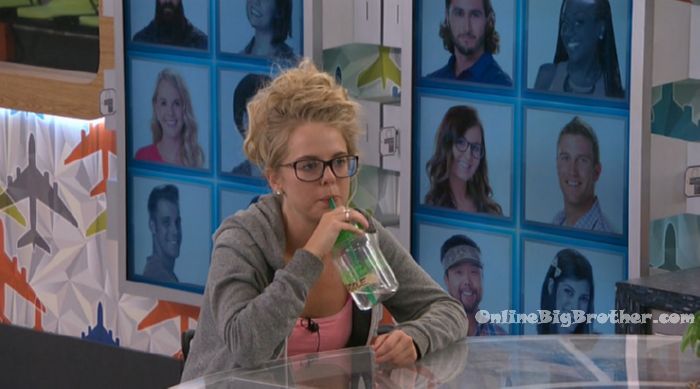 12:35am HOH room – Paul comes into talk to James. Nat tells James don't bring it in here, can you please take it outside. Paul says its just unnecessary. They asked me to look for my shirt. I accidentally touched her clothes. (Meech blew up on Paul because he touched her clothes and said what part of don't touch my clothes do you not understand.) I didn't deserve to be sh*t on. I was looking for my shirt and she blew up on me. She's been rude to me all week. I don't think I've given her a reason to be mad at me. She doesn't like being to what to do and assertiveness so I would rather avoid the situation. Paul leaves. Nat says I don't want to be a part of any other conversations. I won HOH and shouldn't have to deal with all this drama. He always wants to sabotage people and then can't handle when people do it to him. Nat says he (Paul) should get blindsided. When he finds out someone doesn't like him, he loses it. James says maybe I should act like I don't like him. Nat says I'm just not into bringing people down.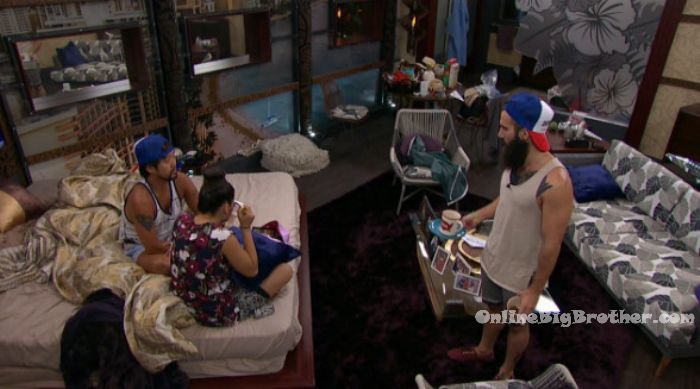 12:40am – 1am Backyard – Paul and Victor. Paul tells Vic I don't need 500k to be sh*t on by somebody. They're going to paint us as being aggressive. Vic says never cared. Paul says I want to piss in her washer. Why do my clothes smell like pee? Because you're a b***h that's why! Paul and Vic get in the hammock. Paul says I am sick of these people! Vic says I'm tired of this kiss a$$ f**king game. I'll have another conversation with him (James) but not today… Wednesday. Paul says the more we're together the more they're going to want you out. You should go hang out with Meech.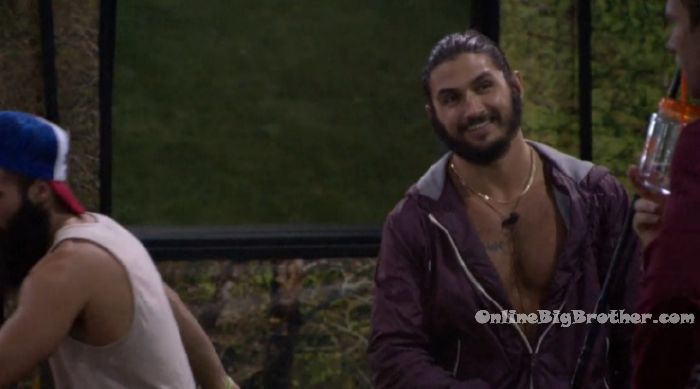 Nicole asks Nat if everything is still good? Nat says of course why? Nicole says I can just read him like a book. Nat says when I make up my mind. I make up my mind.
1:50am Kitchen – Nat, James, Corey, Nicole and Paul are in the kitchen chatting and eating.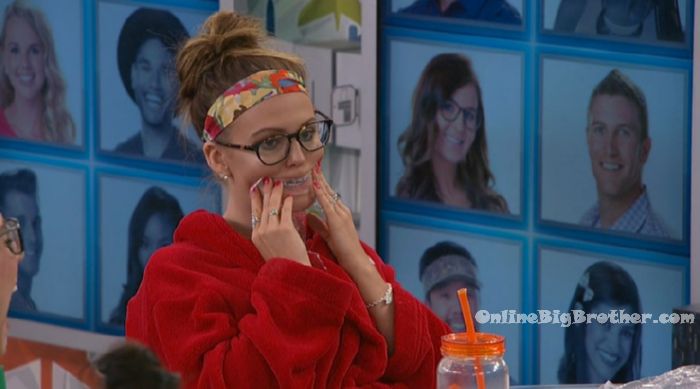 2:30am Nicole and Corey are in bed. Nicole talks about how if she won she would buy her brother a tractor and take her parents on a the trip of their lives.
HOH room – Nat, James and Meech are talking. James says that Paul knows I'm really protective of Natalie. Nat says he just uses everything to make himself look better. He thinks he is the master manipulator. Michelle says I just wish he went home that first time in the beginning. Nat says I hope its the wall comp and James wins so we're safe. Meech says and don't worry I would never blow up your game. Nat says she wouldn't blow up her game either.
4:40am – 5:25am Bathroom – Paul talks to Corey in the bathroom. Paul asks have you been campaigning for yourself? Corey says no, I'm not going to. Paul asks why not? I feel like you and Victor are the same. He is like whatever happens, happens. Corey says yeah I'm the same. The conversation turn to talking about Paulie and his downfall. They reminisce about the season and the people that have left.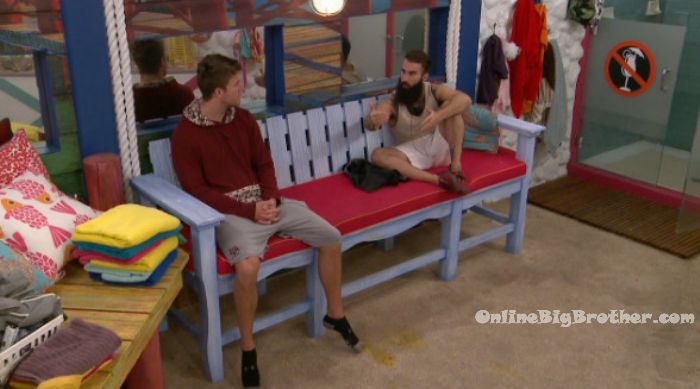 Show your support by making a donation.
"BB BRIBE"
WEEK 5 – August 25 to August 26th
The winner gets $5,000 to bribe one house guest. Bribes my influence voting, competitions, vetos or nominations. The bribe can only be given to one house guest, for one action, within the week leading up to the next eviction.
[polldaddy poll=9501597]