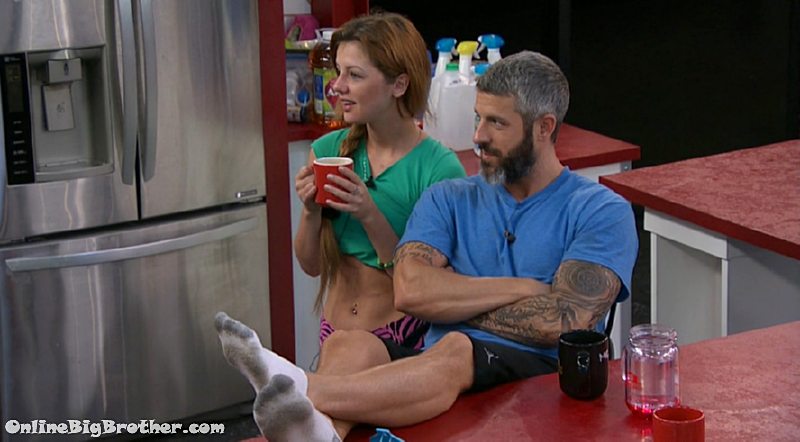 Matt's socks…
12:05pm nothing has happened this morning.. right now Paul and mark are talking about his favorite dog breed, Perro de Presa Canario. He lists off all the specialty breeds his family has had, etc etc.. His family own 3 of them. Paul says he feeds his 3 dogs raw chickens, "or a turkey.. when Turkeys are on sale I'll buy like 30 of them.. "
Paul – it's the healthiest a dog will be if you feeds them a raw diet.. there's no kibble tree.. they're an animal..
Paul goes on explaining the benefits of feeding his dogs a raw diet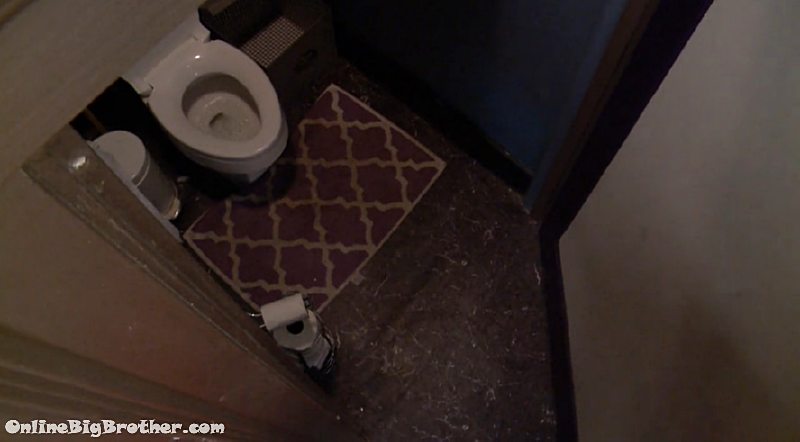 For those of you that have never seen inside the shitter of the Big Brother House..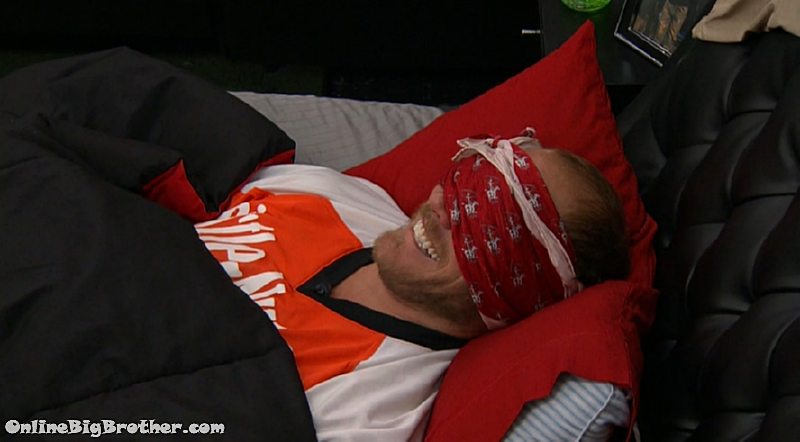 12:16pm Jason and Alex
Alex – jason, after we nap let's practice dates..
They start talking about Xmas and Paul having these specialty breeds.. Christmas has a bulldog.
Alex – my dog's a mutt and she's stupid..
Jason says they ask him questions then start talking about their dogs.
Alex laughs, "I don't want to talk about these f*ing dogs again"
Alex says Christmas and Paul will talk about dogs all day long..
Jason mocking Christmas and Paul and their specialty breeds.. that survive in a wild..
Jason – my dog can't breath because it's lungs are fused to its' ribcaged.. it's so inbred.. it can't move
They laugh..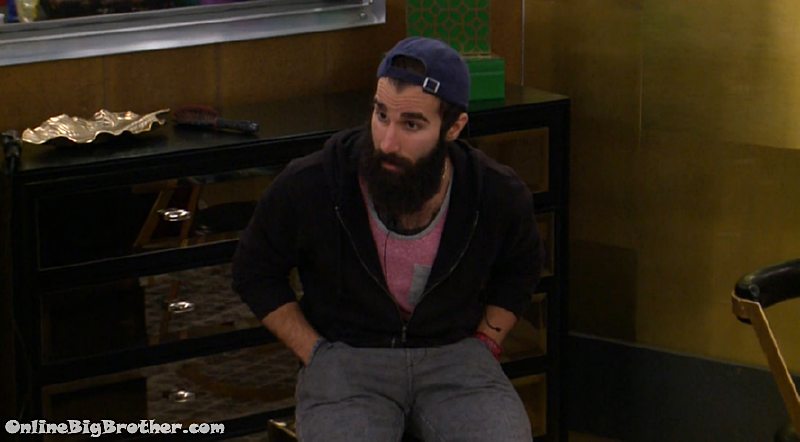 12:22pm Paul, Matt and Raven
Paul telling them that Alex and Jason HATE kevin.
Paul – Alex thinks she has Josh in her pocket which is not true.. if anything Christmas has Josh in her pocket.
Paul says it's good that Matt and Raven are looked at as floaters means Alex and Jason won't target them.
Matt – as long as Jason and Alex think they have josh.. and if they think there's no group larger than 2 they probably think they can beat any 2
Paul says Alex and Jason are going to keep going with the house plan.
Matt – if they win and they get Kevin out perfect..
Paul – perfect.. but they might be thinking let's steam roll right now.. I doubt it though
They agree that nobody out of their group will take the Apple to prevent them from getting the double POV.
Raven says Alex wouldn't hide her bracelet she still thinks it's Kevin.
Raven says kevin knows Magic tricks he's really fast with his hands.
They start complaining about Kevin being dissatisfied with the last 3 weeks when everything has gone perfect for them.
Raven thinks Kevin will vote against Matt.
Matt – if they (Alex/Jason) truly think you are floating that's amazing..
Raven – if it's me and alex up there (endurance HOH) we can be like we have a mutual target..
Raven – I know Alex has a soft spot for me.. I know she trust me I've never stabbed her in the back.. (Alex hates Raven)
Raven – I know if I was up there with you I could get her to drop down.. (Wall endurance)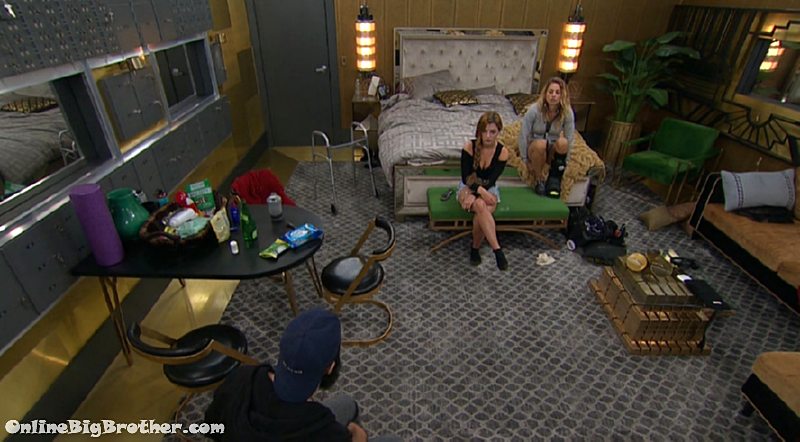 Xmas comes in.. They start scheming about where to hide the vetos if that is the next competition.
Raven says she has 3 spots that are great.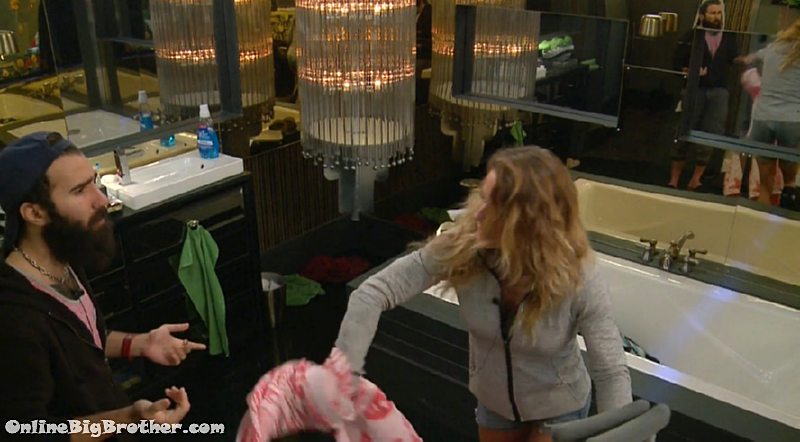 Paul leaves.. on his way down Xmas tells Raven that she needs Paul. Raven yells out the door "Paul Christmas needs you"
WHen Paul comes back him and Christmas shit their pants over this. "She's so annoying.. she reiterates everything I say"
Paul – Raven fully believes that her and alex have this bond.. ALEX hates Raven..
Paul – Jason whispered to me that dumb f*ing b1tch and that bracelet..
Paul isn't worried about Jason and Alex.
Christmas – When Mark was saying I can't be trusted.. was he saying that to Alex alone
Paul – It was to Alex and Jason
Paul – if Alex and Jason get put up I'll try and win the veto and pull Alex off.. I think Jason first is the best move.
Paul is going to get close to Alex and use her to take out Matt/Raven
Paul – Alex is a game players.. at that point she won't care she'll say you kept me safe thank you
Christmas is worried that people will start listening to Kevin when he says they are trying to get them to take each other out.
Paul says if they do it right it'll be fine.
paul says they need to tell Raven and Matt to turn up their silly sh1t because it urks Alex and jason
If they can get Kevin more pissed he goes to Alex/Jason and vets which will further piss them off at matt and raven.
Paul – Matt and Raven are really clueless as f** we've been overestimating them..
Xmas about Raven – she's f*ing stupid sometimes..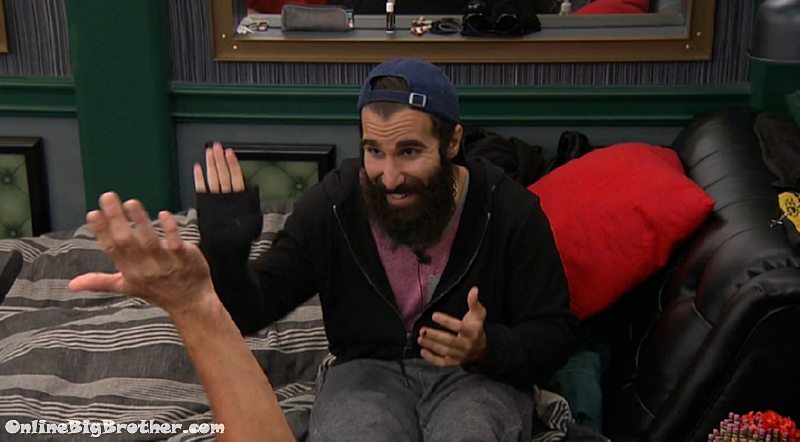 12:48pm Paul and Jason
Paul says he can't stand Raven, "She called me fat.. fat Paul"
Jason says Raven has gained the most weight in the house (Not sure if it's the most but she has gained)
Paul – why does she call Alex her mom
jason – I have no idea..
Paul – it's so weird.. They are so f*ing clueless..
NO HORSING AROUND! #BB19 @DawgsBigBrother pic.twitter.com/wVLfhuCBHT

— OnlineBigBrother.com (@bigbspoilers) August 23, 2017
Alex gives Jason a beat down.. #BB19 @DawgsBigBrother pic.twitter.com/ZwuuSbXnzz

— OnlineBigBrother.com (@bigbspoilers) August 23, 2017
Paul shows us Raven's technique .. when she picks something off the ground. #BB19 @DawgsBigBrother pic.twitter.com/vMm8K7NbDF

— OnlineBigBrother.com (@bigbspoilers) August 23, 2017
Donations help us keep the lights on. If you would like to support the site please consider donating.
Links to the ranking system
Rank your house guests here
For those of you that like Statistics here are some expanded reports.