POV Holder:
Corey
POV Competition
Sept 3rd
POV Used
?
POV Ceremony
Sept 5th
HOH
Victor
Next HOH
Sept 8th
Original Nominations:
James AND Nat
After POV Nominations:
? AND ?
Have Nots
None
Watch the next week of the feeds for FREE – 1 week Trial!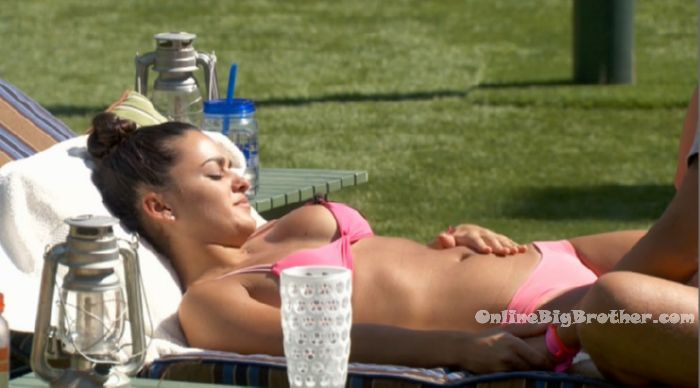 2:25pm Nat says everyone knows keeping you is better. James asks why? Nat says because I give them a run for their money. I turn it up in comps. I love how I'm such a huge threat. I try my hardest and don't even win. I just don't want you to stay in this game and they stick to that final 4. And you're the next target out. James says its good to be the single person in the house because everyone wants you for the vote. Nat asks you don't think we'll be put up as pawns? James says probably. But you think they would vote you out over Victor? With only 5 people left. Nat says I don't know. James says I wouldn't.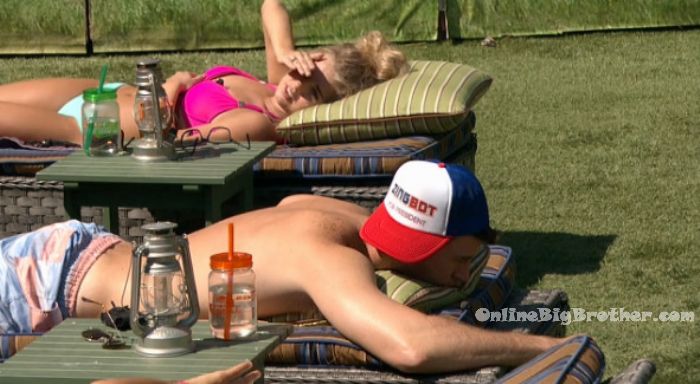 2:45pm – 3:15pm Suntanning… Corey says I think we could go to the end. You and me in the final 2. Nicole says don't jinx it. Corey says I think we could beat Paul and Vic. I really do think we could pull this thing out. Its just so funny we made a final 2 day one and look where we are final 5. Nat and James walk up holding hands. James asks if its okay.. A little public affection? Nat says yeah. They talk about whether or not Michelle was Dan Gheesling's cousin-in-law. Nat says she did tell me if she did have a secret she would whisper it to me when if she got evicted. James says she read Dan's book too. Why would you read his book?! Nat tells Corey .. I'm getting evicted .. so tell me what your secret is. Corey says I don't have a secret. You guys know everything about me. Nicole says I honestly don't think he has a secret.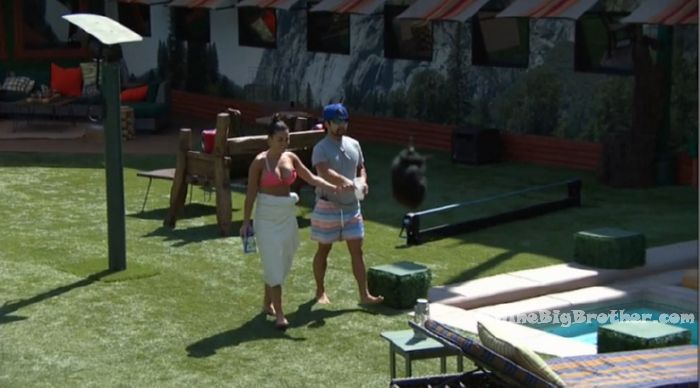 4pm – 4:30pm Backyard – Nicole, Paul and Victor are talking. Nicole says that Nat said she's been hurt. I said I've been hurt but you just have to pick yourself up and get back out there. And then I felt so sad she (Nat) said you have to ask me 100 times to go on a date with me. Vic says its different than just asking someone on a date… its different in here they sleep in the same bed together, they cook together, they do everything together… If I have to ask you after this 100 times to go on a date .. you can go f**k yourself. Paul says its all a facade. Its just so she can win America's Favourite. There are people we more deserving than that. Nicole says she said she would be mad fun of. Paul asks for what? Nicole says for dating him. She didn't say it specifically but she said her friends were going to make so much fun of her after. Nicole says and we're going to look like such a$$es if we don't support it. (Nat & James relationship) Paul says support my balls!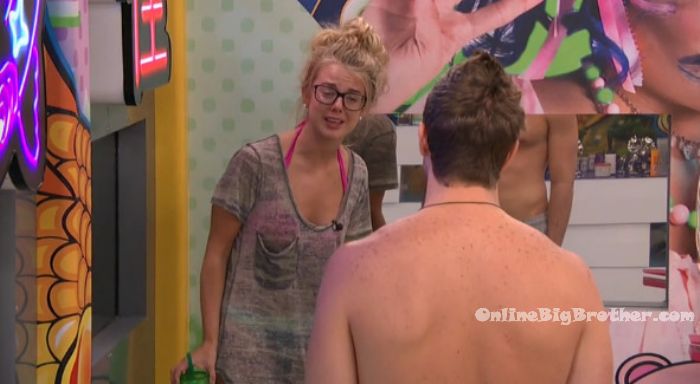 4:30pm – 4:45pm Big Brother blocks the feeds. When the feeds come back Corey had just said something that upset Nicole. Corey tells Paul and Vic – I'm in the dog house for sure!! Corey comes into the kitchen and tells Nicole – You know I'm kidding! Nicole why are you in such a bad mood. Nicole says that was the meanest thing you could have said to me. Corey says it was a joke! Nicole says not about the veto .. about true colours. Corey says it was a joke. Nicole says That was mean. I don't want to hang out with you. You know exactly what to say to hurt people! Corey says no I don't. Corey says IT WAS A JOKE! I do not mean it. Nicole goes to the bedroom crying. I really don't want to talk to you right now. That hurt my feelings. I don't know why you have to say that! Gosh! Corey says you know I was kidding. Nicole says I know. Corey says you joke all the time. Corey tells her to wipe her face off. Nicole says I'm so stressed. I haven't had my period in 90 days. I'm stressed. Its going to hurt my feelings when you say its my true colours. That just wasn't nic to say. Corey says you've said much worse. Nicole says I don't want to talk about it. I just want to chill by myself if you're going to be like that. Corey says it was a joke. Nicole says I'm just stressed and some times you just can't handle jokes. I'm already having a hard time. Sorry if I've said way worse things. I'll take all the blame for it. Its not the point to blame someone. Me, Paul and Vic were talking about the veto. I said I was talking like you Paul. Hopefully when I go home I talk more like me. Everyone was ending their sentences so short and then you did it so it was a joke. And you were like so you're going to be like this now!? And then you said something about the true colours thing. We were just joking. Corey says I knew you guys were joking so I made a joke. Now I look like the bad guy. Nicole asks why do you look like the bad guy? Corey says because you were crying. And you said you don't want to talk to me. Nicole says some times when you're crying you want to be alone. I was telling Paul that yours and my relationship is the most genuine. Corey says you said no one can make you cry … and then I made you cry. I don't feel good about that. Nicole says I admit I was just being emotional. You didn't do anything wrong.
Watch the NEXT WEEK of the Live Feeds for FREE! Click here for your: 1 Week Trial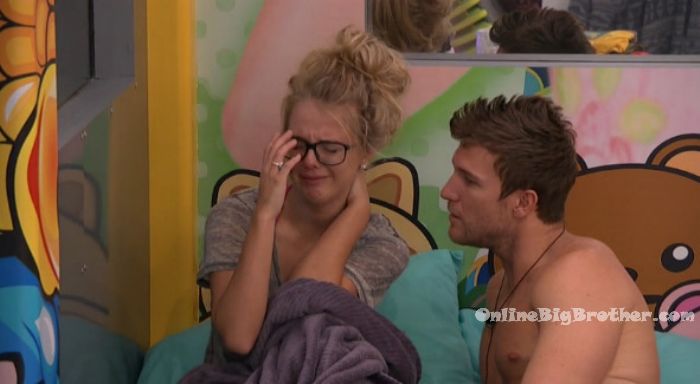 5:10pm Corey joins Paul and Vic in the backyard. And says dodged a bullet there. They ask if Nicole was pissed? Corey says yeah. Paul says she stays in there solves a riddle .. doesn't tell anyone and then puts you on the block. Corey laughs.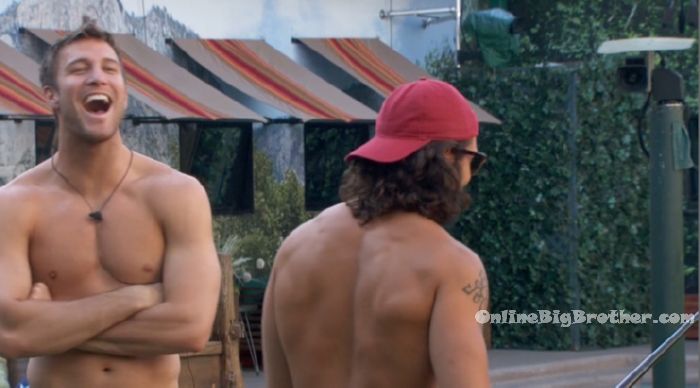 5:20pm Hammock – Nat tells James that she doesn't like to be touched because she feels fat. I can't wait to leave this week. You can stay here with these losers. I would rather work and make a half a million dollars than be in here and have to be fake and hide all your mistakes. They've done worse than me in this game so just the fact they're sh*tting on me. F**k them. Its not worth a half mil to me. Paul's been sh*tting on people all season. He just feels betrayed by me. If you go, I'm going to be alone.
6pm Nicole and Corey are cooking dinner. James is showering.
6:35pm – 7:10pm Backyard – James and Natalie are playing dominoes. Paul, Vic and Corey are on the backyard couch. James and Nat head inside to the London bedroom. Paul and Victor play a game of pool.
James hog ties Nat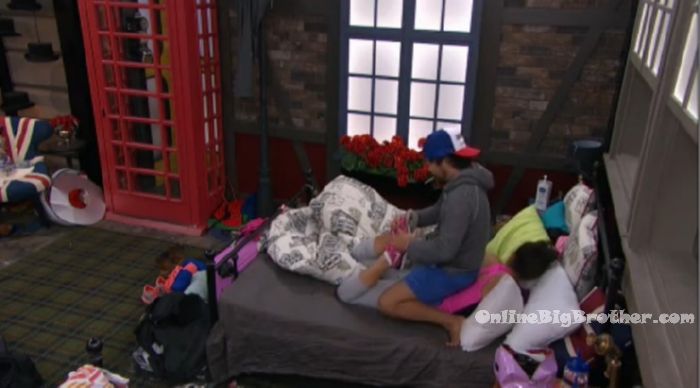 7:30pm – 7:40pm James and Nat are in bed talking. Nat talks about how her friends and family make fun of her for the guys she dates. They tell her that there are nice guys that are cute. James asks you have dated cute guys before right? Nat says yeah like 2. James – you get hit on by cute guys though right? Nat says not on social media. And at home I'm not around cute guys. James says you should come to Texas.
8pm Nicole and Corey are in the hot tub. Nicole says that Nat doesn't think she is going. She is going to be shocked when she does. She said that she isn't a relationship person. She's said before that she is.
Paul and Vic are in the kitchen. Vic yelling in the kitchen. Paul asks why do they (Nat & James) have to do everything together?! Vic – I don't know. (Funny how Paul and Vic never leave each others side either.)
8:20pm – 9pm Paul, Nicole and Vic are hanging out by the pool. Nicole talks about how Corey had another anxiety attack last night. I rubbed his back for like 30 seconds to a minute and he was snoring. Paul says he hasn't had one in a couple weeks. Nicole says yeah, he never got them before coming in here. Paul says Natalie is really starting to grind my gears. Her move was to latch on to a guy. She would even pinch my butt and joke around with me. I just didn't give care. I did not want a showmance. Paul says we still have to convince James that he's leaving. Nicole says she (Nat) definitely doesn't think she's leaving. She's pretending. Corey and Nicole head over to the hammock. They talk about random things.
8:30pm – 9pm HOH room – Vic is reading his letter and looking at his photos. Paul gets into the HOH bed to listen to Vic's music. Vic has a shower.
[polldaddy poll=9511194]
[polldaddy poll=9512103]
Show your support by making a donation.
Donations support this site more than anything. If you dig our spoilers please find a way to support us.