POV Holder:
Nicole
POV Competition
Aug 27th
POV Used
NO
POV Ceremony
Aug 29th
HOH
Nicole
Next HOH
Sept 1st
Original Nominations:
Paul AND Big Meech
After POV Nominations:
Paul AND Big Meech
Have Nots
Corey and Victor
Care package
Corey
Watch the next week of the feeds for FREE – 1 week Trial!
12am Hot Tub – Meech, James and Nat. James says there's only 23 days left. Meech says its comparable to how long it was from move in to when Vic first went home in the tennis comp. Meech asks James how many fan emails he gets a day. James says 5-10 a day. James asks so if we win do we put up Nicole up and Corey or Victor. Meech says Nicole and Victor. James says if Victor wins sorry Corey you go up. Nat tells Meech she needs to win this HOH. The odds are in our hands 3 against 2. James says if we win HOH we're pretty much guaranteed one of us is getting that seat. And then the other seat goes to one of them on their side. Nat says I think America knows I'm real spicy. I am not afraid to defend myself.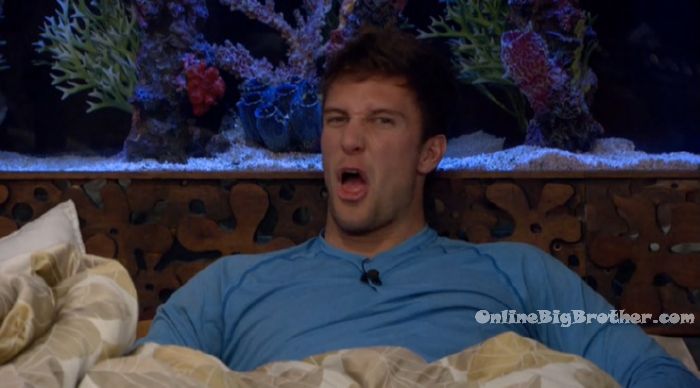 12am – 2:25am HOH room – Corey, Nicole and Paul. Paul asks so at 4 we have a 25 percent chance at winning? Or more? Vic says 50 percent chance. Paul asks how is that? Vic says there are two prizes. They conversation turns to talking about the BB Bribe. Corey says he doesn't know when to use it or how to use it. Vic says just give it to me to vote Meech out. Paul says f**k you. Paul says I want to be a pawn again just to get a tattoo of a pawn. A pawn with friendship BB18. Nicole laughs that he wants to go up again just to get a tattoo. They laugh about the week they had the HOH where they had to roll the ball down the board to get it into the box. Paul says Natalie got it into the box so many times and then when she goes the shot she got a 2. Paul says every time I mentioned 2 I was making fun of her. Nicole says she didn't catch on to that. Nicole talks about how she doesn't give any pain meds when putting in a catheter. (See photo above for Corey's reaction.) Paul and Vic leave.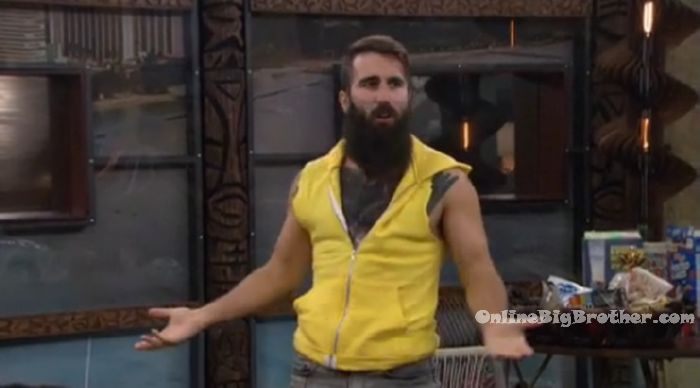 1:30am – 4:30am Bathroom – Meech and James. Meech says that she was in the hot tub the other day with Paul and he said he doesn't take any of the showmances seriously. They're never going to be together or last. Nat said don't say that. You don't know how people are outside of here. She didn't agree with him. Meech says I was watching out for you. She said she does know that she (Nat) never would have gotten this far without you. She has a good heart. James says she's been through a lot. Meech says I just hope she isn't being fake nice to me. James says no, she thinks of you as her best girlfriend. Meech says I've never seen Nicole hangout one on one with anyone. She used to in the beginning but now I don't even exist. She's the type of person that once she gets a boyfriend no one else matters. James and Nat head to the London bedroom. James tells Nat to get the girls together to go against the guys. Nat tells James that she made a promise to not backside him or go against him. James says unless it comes down to us needing to backstab each other to our faces. Like if it came down to in in a comp, I would literally sh*t on you to win. James laugh and says America you should see her face. Nat tells James that he has done so much for her in this game. You have defended me and protected me. Some times I don't feel like you appreciate me. James says I do appreciate you I do your laundry, I cook for you. Nat asks so its not just because you're on tv. James says no, I would do that in real life.

Watch the last month of the feeds for ONLY $5.99! Try it 1 week for FREE!
3am – 4:50am Safari room – Vic, Paul and Meech. Paul says if I was the target this week there is nothing I can do. I can't change anyone's mind. I am mentally prepared that I'm going. Meech says me too. That's why I haven't even campaigned to Nicole and Corey. I haven't talked to them, why would I now. Vic heads to bed. Paul and Meech talk about the past events of the house. Paul says if I survive this week and go on the block again I will get a pawn tattoo. Meech says a key would be cool. Paul says you should get a tattoo of tears. Meech says that would be hilarious .. a tear on my face. Paul says fool is gangster. Meech says Or Big Meech on my forehead. Paul continues to talk about random life stories.
Show your support by making a donation.
Donations support this site more than anything. If you dig our spoilers please find a way to support us.