POV Holder:
Nicole
POV Competition
Aug 27th
POV Used
NO
POV Ceremony
Aug 29th
HOH
Nicole
Next HOH
Sept 1st
Original Nominations:
Paul AND Big Meech
After POV Nominations:
Paul AND Big Meech
Have Nots
Corey and Victor
Care package
Corey
Watch the next week of the feeds for FREE – 1 week Trial!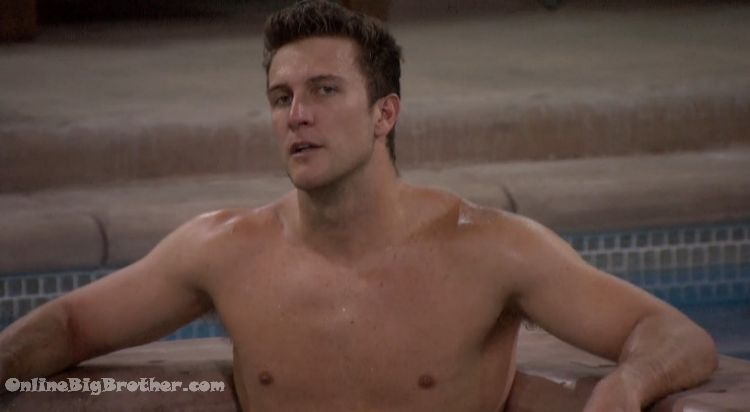 8:05pm Hot Tub Corey and Victor
Corey – I'll be friends with her forever.. We both just got out of relationships there's no way she should be getting mad at me..
Corey – I'll be cool and hang out with her at the wrap party and stuff..
Corey – wasn't James saying that he regrets his wrap party because was like around Meg the whole time.
Vic – hey he said when he came back no showmance have more fun at the wrap party.
(James telling these people he had a showmance with Meg)
Corey about Nicole – "She knows I'm not going to be all up her bu**.. Even if she was my girlfriend I wouldn't be up her bu** the entire time.. I would still be out mingling.
Corey – that probably bothers her , I like to meet people
Vic – Jealously is probably a factor for sure..
Corey – we hang out all day everyday .. 24/7 and I think she's going to be like well I don't hang out with Corey all day every day
Victor – he doesn't like me
Corey – ya .. she doesn't like me anymore..
Corey – that's totally not the case at all.. I'll hit you up in Ubly you can come to Dallas..
Corey says when Nicole got out of BB16 she was dating Hayden they were boyfriend and girlfriend.
Corey saying he's not coming out of the place with a relationship, "I'm sorry we can talk and tell people we are cool we are talking but it's not going to be like her and Hayden"
Corey – she thinks it has to be better than her and Hayden as soon as we get outta here and i'm like No NO NO NO..
Corey – sorry.. Looks how that ended.. You don't want to make that same mistake twice
Victor – she should just enjoy it for what it's worth
Corey says they're will be so many cool guys that want to hook up with Nicole.
Victor says he didn't want to get locked into a showmance.
Corey – Yup I know… fool got out early..
Victor – 4 days in regret..
Victor laughs "James"
Victor – I'm so glad I don't have to deal with her.
They laugh about all the guys with showmances getting "Locked up" during the wrap party.
Corey – Is Paul asleep still
Victor – he's f***d
Corey – he's not sleeping tonight.
They say the plan is to stay up all day Tuesday so they can sleep all day Wednesday.
Corey and Victor "Who has a hair on his face.. looks like a cat" #BB18 @DawgsBigBrother pic.twitter.com/qdQBPGQ4H0

— OnlineBigBrother.com (@bigbspoilers) August 30, 2016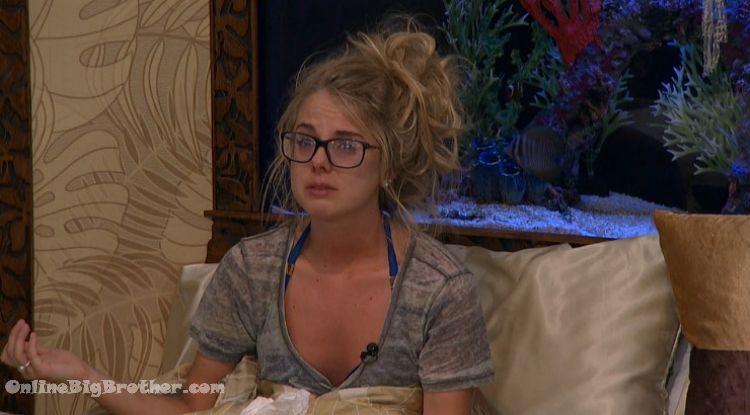 8:26pm HOH Corey and Nicole
Corey saying that whole interaction they had "was not natural"
Nicole says she's stressed. Corey says he's exhausted.
Corey is getting pissy because he wanted her to come outside this morning to motivate him while he worked out.
Corey – you made some comment about working out.. Like I don't care you worked out"
Corey – you look like I hurt your feelings..
Nicole – noooooooo you're not hurtinggggggggggggg
Nicole – I'm going to be starting my period probably tonight.. Having this power this week is hard.. I could have thrown my game away this week and don't even know it..
Nicole – doesn't have to me it's you.. I feel like I get a lot of space and I don't feel like I have any space..
Nicole says she's getting overwhelmed "I really like Vic and Paul I just can't hangout with them all the time.."
Nic – I feel bad that they don't think I want them to study earlier.. Sketch sketch sketch I might go on the block..
Nicole starts to cry.. "Before she goes she's going to try and take me down.. Stop trying to ruin my game"
Nic – I'm sick of it I haven't done anything wrong…
Nic – I'm little I can't carry all this stress.. All these people have been coming to me since day one.. Thinking about Jury.. it's just fricken hard..
Nic – I can't make all these people happy all the time..
Nic – I can be be strong but not all the time strong.. It catches up to me.. And I'm starting my period..
They laugh
Corey – fools emotional
Nic – I am
Corey – I know what you're saying but be grateful for getting this far.. You are in a good spot stay positive about it.. You know try not to be sketchy be happy.
Corey tells her not to bring negative attention to herself
Nicole – I'm not COREYyyyyyyyyyyyyyyyyyyyyyyyyyyyyyyyyyyyyyyyy
Corey says nobody cares if Michelle craps on Nicole other than Natalie and natalie or James will be going next
Nic – I feel like I've worked really hard.. I don't want to give the jury members the satisfaction of me walking into that house.. I refuse..
Nic – and I don't get to cuddle you at night to release my stress..
Nicole says she can see herself sitting in the final 2 she's felt it from the beginning. She's really worried of getting out during the double that she thinks is on Thursday. Nicole points out if she leaves thursday she would have latest 2 more days than her last season.
Nicole says she's weirded out about what is going on in the house. Says she's worried Victor will vote out Paul.
Corey – then should I offer him the 5 thousand dollars..
Nic – no
They talk about Corey giving her the 5grand and she can give it back after the show.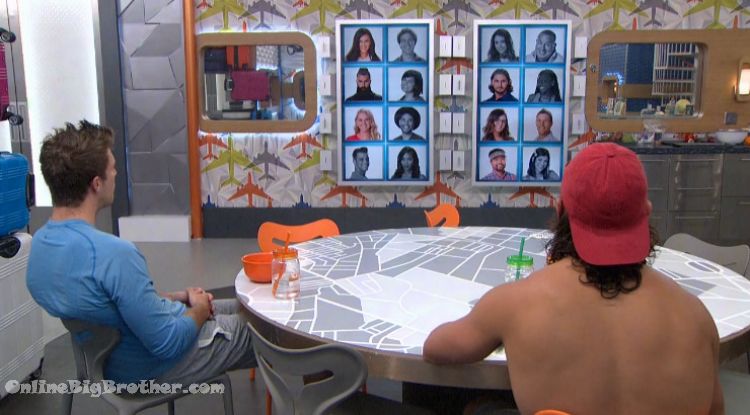 8:58pm Bros…
Corey – there's only 4 Jury members and we still have to put in 5 Jury members.
They are convinced the double is Thursday.
Vic – I thought Frank was going to last a lot longer
Corey – once him and Da started butting heads..
Vic – I never say that.. he was in a good spot after I left.
Corey – he changed.. i don't know if he got way too comfortable.. he was playing a lot like Paulie did.. making all these alliances finals.. and they all came out..
Corey – he was throwing the people under the bus left and right..
Corey says Frank and Day go in a big fight in the Tokyo room, she told everyone he was goign to put Paulie and Corey up Frank told the "You know I wouldn't put you up right"
Corey laughs says after that Frank went downhill.
Talk goes to Slop farts…
Corey says the worst part f being a have nots is the farts.
they laugh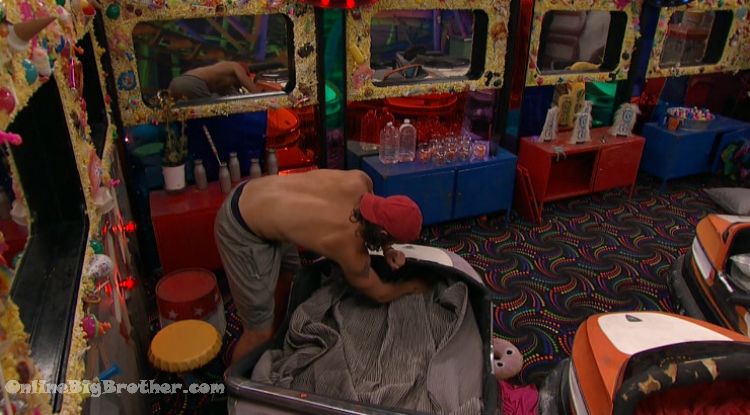 9:31pm Victor wishing he could punch a hole through the bumper car
Victor says he's not going to complain too much Corey's been a have not 4 times.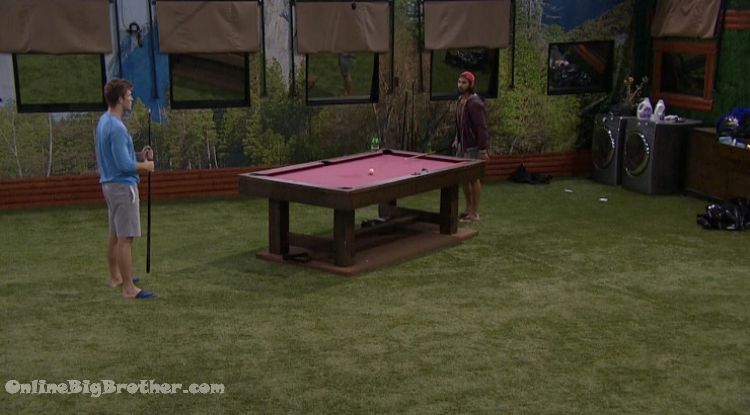 9:50pm Bros playing pool… Chit chat..
10:20pm Kitchen Natalie and Nicole
Natalie asks her if she has animals at her house
Nicole says she has pets but no farm animals.
They laugh about the guys not knowing what to do when they cry.
Nicole – I'm going to start my period too I can tell. I'm starting to get cramppppppppps..
Nicole whimpers about HOH says that everyone knows each other so well now.
Natalie says she hated being HOH
10:39pm Everyone eating chit chat in the kitchen
Natalie mentions that James never did 1 dish since this week
James – I don't want to let Victor down.
They joke around that JAmes is "Domesticated" now
11:00pm Big mutha F-ing big meech studying.
(She must think she's staying)
Natalie joins her.
Natalie says she wants the green light that Michelle is 100% safe, "I know you are safe"
Michelle says she's only been called into the Diary room once and everyone else has been called in a lot.
Natalie says maybe Paul is goign home and production is trying to get as much funny out of him
Michelle says she thinks it's best she doesn't talk to Corey and Nicole.
Natalie agrees.
Michelle says Victor is super annoying this week like he use to be
Natalie – he won't do dishes anymore you noticed that
Michelle – James is doing them now, maybe he's afraid of Victor
Natalie – yeah maybe i don't know..
Michelle – I want to call Victor out on Thursday..
Natalie says not to in case Victor wins the HOH.
Michelle goes over her speech
"well guys it's been a very very boring week it's been kinda crappy.. but i'm up against a person that will butt kiss you all.. I won't give you a generic speech like have a great season, I really enjoyed getting to know each and everyone please keep me here.. no i'm not about that what I can do is threaten you all if you guys vote me out I will hysterically start bawling and I know you guys wouldn't want to send me out to Julie like that."
Meech – is that funny
Natalie – eyah that's good.
Natalie says she can feel it that Michelle will win the HOH. Michelle laughs says Victor will end up kissing their butts.
11:31pm hot tub Natalie and Michelle
Natalie says if Meech wins the HOH and puts up Nicole/Corey and Victor wins the POV he'll take one of them down then the renom would have to be Natalie or James.
Natalie – we'll have to discuss it with James..
Michelle says she's going to target Nicole next week and if Nicole wins the veto she'll put up Victor.
James rolls in with some cookies..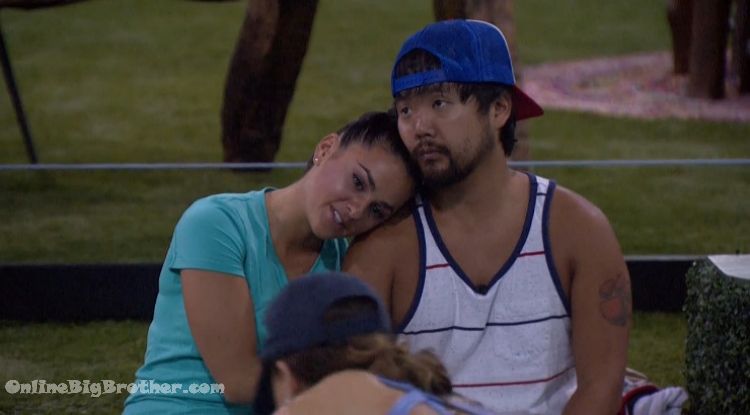 11:44pm Hot Tub
James – i'm going to get fit when I get outta here..
Natalie says she really wants Michelle to stay.
James says Paul is the target he's going home.
James- my guts telling me Paul's going home my guts been right 99% of the time..
James – I do know if we don't win HOH 1 if not 2 of us will be on the block.. that's what my guts telling me
Natalie says if Paul stays Victor and Paul are winning the game.
James – If you were going home she would tell me.. she told me Paul was teh target in the HOH room..
Meech – when
James – before the nominations
Meech – ohh.. I didn't now that..
11:52pm they are glad they sent out Victor because than Paulie would be back in the game "ruining their lives"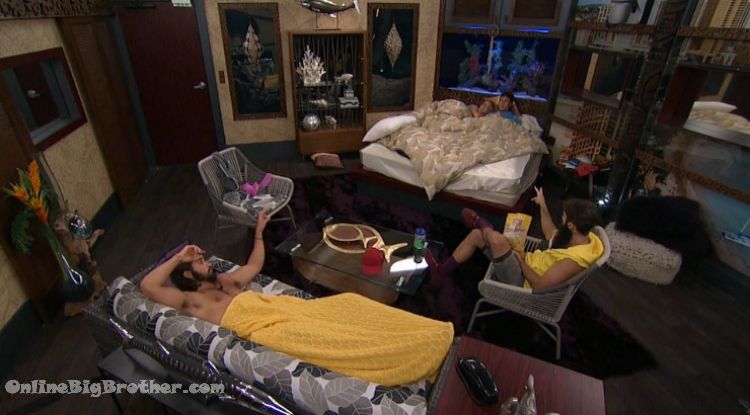 11:50pm HOH Victor, Paul, Nicole and Corey
Corey wondering if Meeech is goign to campaign.
Paul and Nicoel suggest that maybe Meech "Checked out"