POV Holder:
Nicole
POV Competition
Aug 27th
POV Used
NO
POV Ceremony
Aug 29th
HOH
Nicole
Next HOH
Sept 1st
Original Nominations:
Paul AND Big Meech
After POV Nominations:
Paul AND Big Meech
Have Nots
Corey and Victor
Care package
Corey
Watch the next week of the feeds for FREE – 1 week Trial!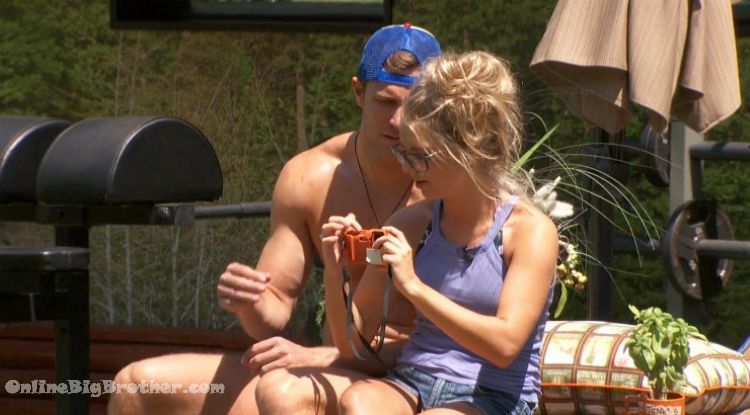 12:20pm HOH pictures…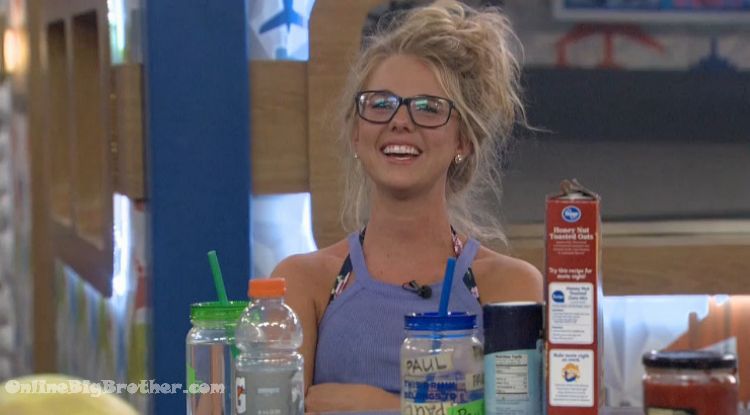 2:11pm Kitchen Victor, Nicole and Corey
Nicole – look at the size of Corey's back I'm fascinated by it..
Vic – you are fascinated by anything Corey .. I'm not hearing it anymore..
Vic – have you seen his toes.. He has the best toes..
Nic – I'll stop
Vic – you can do it just leave me out of it.. Vic look at his back.. I never cared.
Nic – why can't I tell you
Vic – I have seen Corey for 77 days, I know what he looks like
Nic – it's not what he looks like I think he's even cooler personality wise..
Vic – that's fabulous I think he's cool personality wise too..
Vic – tell me something I don't know about Corey.. You can't ..
Vic – the stuff you know about Corey I don't know I don't need to know.. Ohh he's a great cuddler.. Never cared..
Vic – he's kind he's gentle.. Not with me, it doesn't f***G matter.. Literally. .
Nicole – ok i'm done…
Corey – tell me about Mariah I don't care about Corey..
Victor – I love the guys.. Great fabulous.. That's all you
Vic – Am I going to bonme Corey.. Do we snuggle.. Dopes he sleep in my bed.. No..
Vic – do you hear me go CORRREEEEEEEEEEEY
COrey – COORRRRRREEEEEEEEEEEEY… 1 hundred and fifty times..
Vic – COOORRRRRRRRREEEEEEYYYYYYY, every 10 minuutes
Corey – I like it
Nicole – do I really say it that much
Vic – oh no… YES..
Nic – I'm going to stop saying it for the rest of the day,..
Vic – have you seen his finger nails.. He has the best finger nails..
Nicole says Corey compliments her a lot he just doesn't do it in front of people.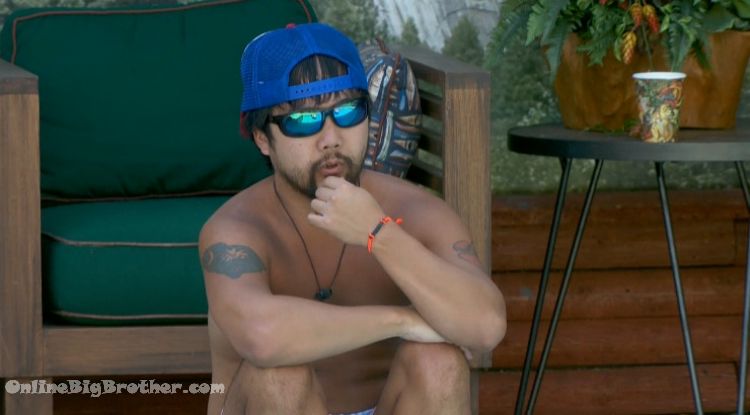 2:31pm James, Nicole and Natalie
James giving Natalie a rundown about what to expect with fans. James says that people thought the Nolan twins were tacky.
James- I think you are going to be OK… I think America likes your peppiness..
James – I'm probably going to have some people say Ohh I don't know why you got called back JOhnny mac should have been called back or Steve should have been called back..
James – everyone is entitled to their opinions..
James- we'll help each other get through it.. But I honestly don't think you have a bad.. You know.. A bead persona about you..
JAmes says the most questions Natalie will get on the outside is weather her and James are together.
James- what's the deal with you and James, Makes sure you have a good answer because I'm going to go back and read all your Q&A's
James- remember what I said if there's bad stuff written about you what do you do
Natalie says never comment back just ignore it.
James – they're you go
James- if it makes you feel any better just delete and block
Natalie hopes she has a good edit
James says a lot of people will like Natalie, "I've been telling America you are a sweet girl.. So.. "
James – and they know I like you
James says all the fans he had likes Natalie
James- if anything you might have stolen my fans.
James says the people he would be worried about getting a lot of hate are Paulie, Michelle, Frank, Jozea and Tiffany..
(Does James have any fans left beside the hardcores ?)
Natalie goes on about not being good with technology
James says she's got Instagram, twitter all she needs is snapchat and Facebook.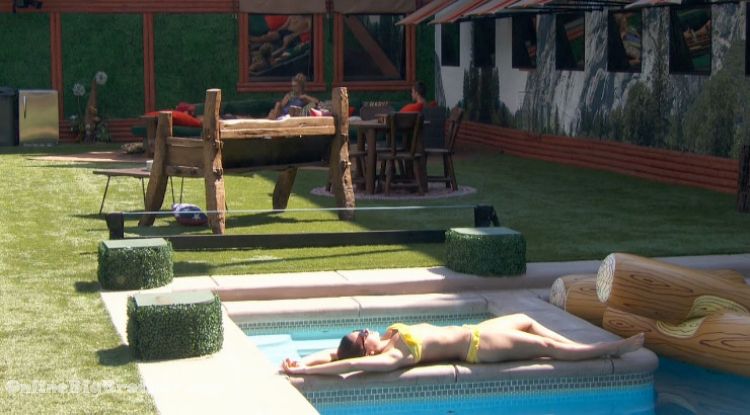 2:51pm Chit chat..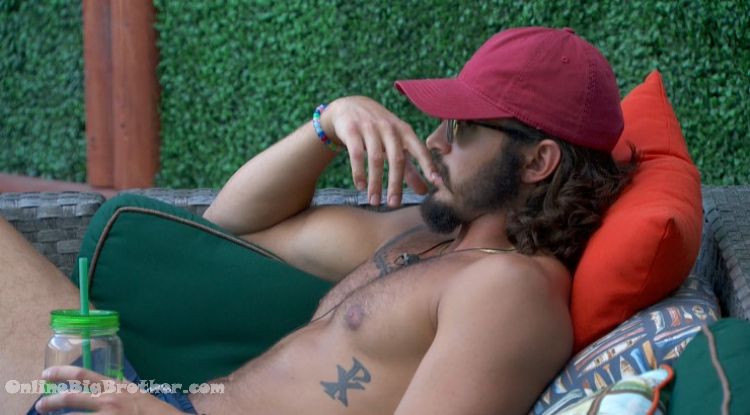 3:00pm Backyard Victor
Victor says he's sad that Michelle is going home he likes her a lot but she's with the wrong people right now, "I have to stay loyal to my people"
Victor adds that the final 4 is still strong.
Vic – we have no choice but have to win HOH.. if I win I will FOR SURE put up James and Natalie with the intention of James going home.. Cause in this game revenge.
(James is also in the backyard with Natalie poolside. James says something to Victor which spooks him)
Vic tells James he's talking to the live feeders..
Vic – my game talk is in jeopardy just know that Karma is sweet..
Vic says if he doesn't win HOH he's going up, "Hands down" he's got to embrace being a "Comp beast"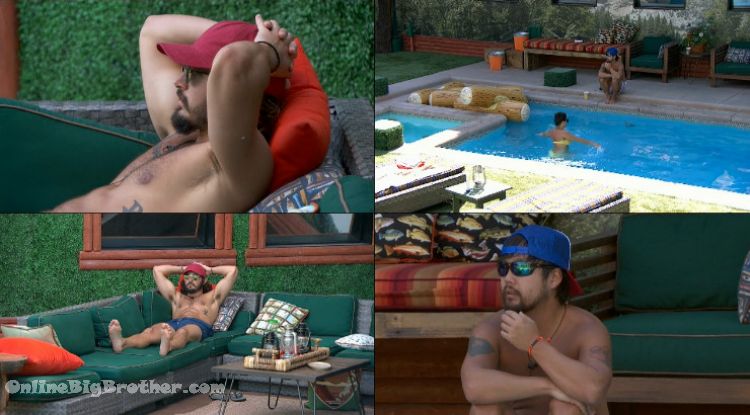 3:04pm Backyard Victor starts talking in this Aussie accent doing his nature show.. "BB nature watch with Victor arroyo"
"We are studying the animal behaviors with Natalie and james once again in the wild. Natalie just prances around the water hole while James watches from afar wanting to get close but ever so distant.
"You can see he's flirting doing his mating talks.. But Natalie is not buying she stays in the water hole playing what we call hard to get.. "
"There relationship has flourished in the Big Brother house they are so close yet so far.. "
"He have Corey.. A tall lanky animal 6, 5 he's pale in skin but trying to get some complication.. They're he is flipping over.. In these moment he's the quietest relaxed .. "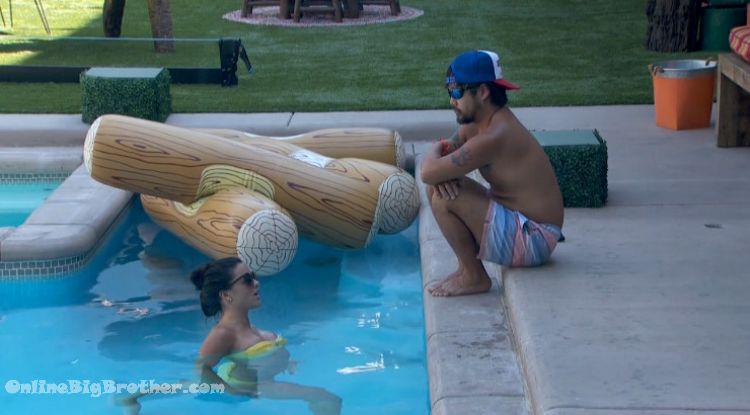 3:07pm James says he's never won a mental competition.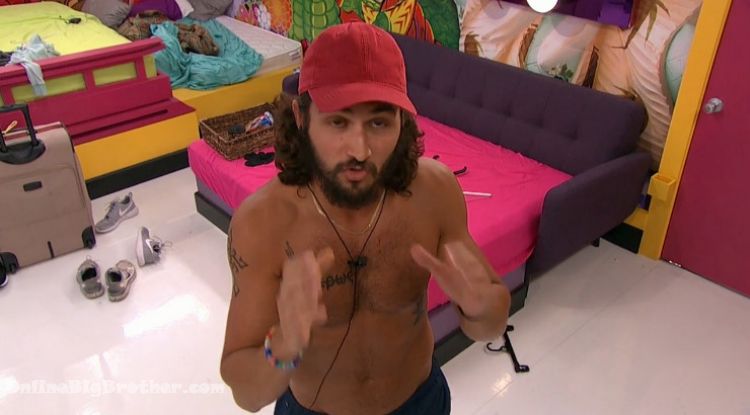 3:10pm Victor continues the nature watch in the house where he sees "an amazing species" (Meech)
"She sleeps on average 17 to 18 hours in a day she seems so cuddly and relaxing but when she awakes.. She can be very vicious.. She goes through phases.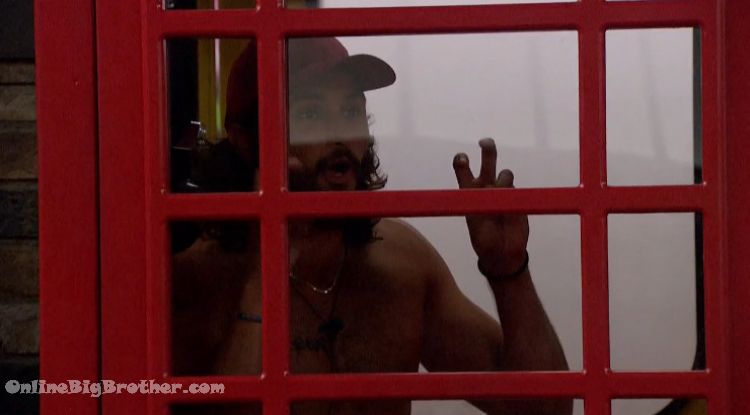 "one day she can be relaxed another she's a wild beat.. She has tendency what they call 'Calling people out"
"Amazing species that one..as lifeless as she can seem she can be a raging bull it's very spectacular" to see we see it every day.. The one they call Big Meech covered head to to.. I estimate today she will wake up at 5 o'clock having slept all day.. Ohh she's moving .. look at her turn over. "
"I might have woken the beast.. I might get a ear full later.. We will see.. .that is BB nature watch with Victor arroyo"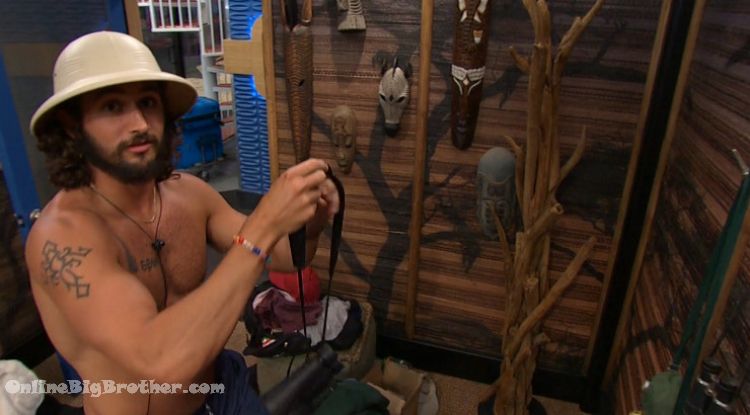 Victor takes the Binocular and Safari hat from the safari room. He tells Production he's not taking it outside.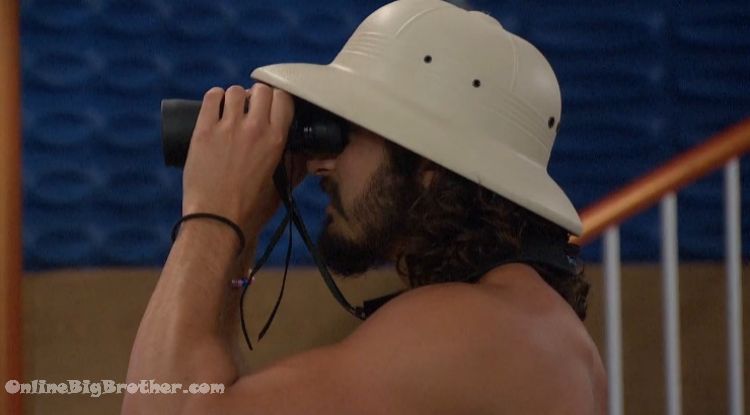 "there he is that is the one they call Paul he is the crazy creature nin the BB nature watch.. he's biting his nails he's in the presence of James which is one of his nemesis. He's dormant in the day and active at night. He's a night species.. He's what the BB nature watch like to call playing nice.. he has a distaste for James and Natalie for they have wronged him in the past.. "
"It's fascinating to see all three of those creatures hanging around the water.. oh my gosh.. he plays with his beard that is a sign of anger."
Victor says he will now go outside and try to interact with the creatures…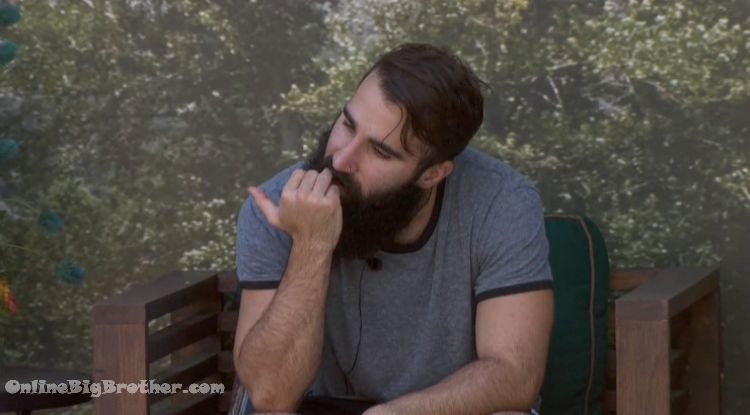 3:27pm Backyard everyone but Nicole and MEECH
James is talking about cutting your right foot off for 2 million dollars in cash.
Chit chat..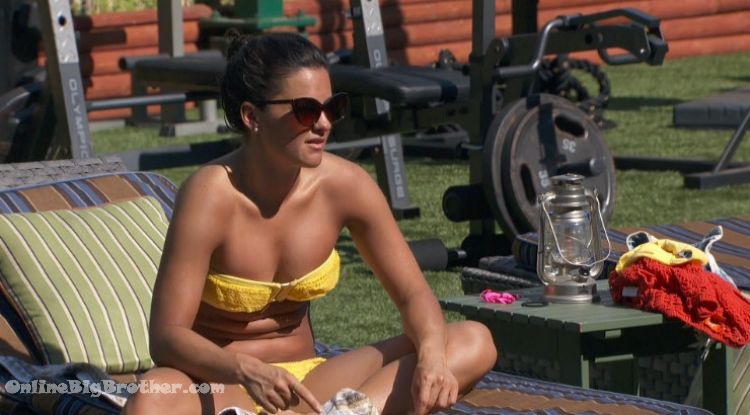 3:49pm James and Natalie
Natalie saying that the best case is for Meech to win HOH for Nicole and Corey it's Victor. (Natalie is going to be pissed when Michelle leaves.. this weekend is going to be good)
James says his money is banking on it being a double eviction
Natalie – 1 of us has to win (HOH)
Natalie now saying "Honestly" she likes everyone in the house
James- I'm ready to go if I go I go..
Natalie says she's ready to go too if tit's the 2 of them on the block she'll sacrifice herself for James.
James says Nicole knows her butts going on the block if Victor and Corey drop and it's just James, Natalie and Michelle in it.
Corey joins them.
4:30pm
Nicole, Mihcelle sleeping
Victor's been walking around trying the phone's, coutning things etc..
Paul, Corey and Natalie chit chat.
James somewhere off camera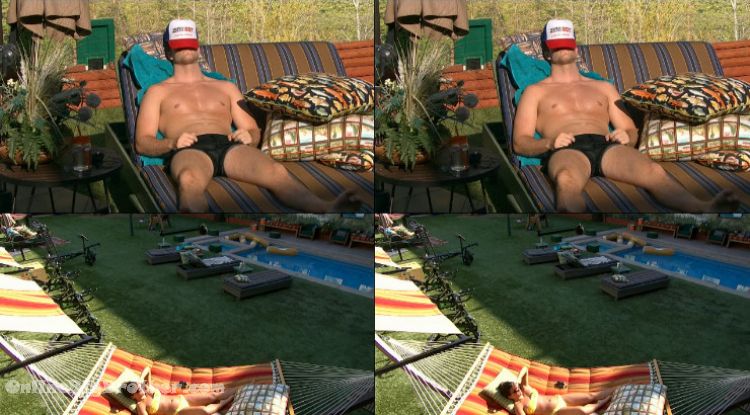 4:50pm