| | | | |
| --- | --- | --- | --- |
| HOH Part 1 | Paul | HOH Part 2 | ? |
| HOH Part 3 | ? | Final HOH Winner: | ? |
5pm – 5:40pm James and Paul are playing cards and chess. James makes a sandwich. He says the turkey meat label says sell by Sept 11th. James isn't sure if he should eat it. Nicole tells him to smell it. Do whatever you want. James smells it and says he isn't sure. Nicole smells it and says its rotten.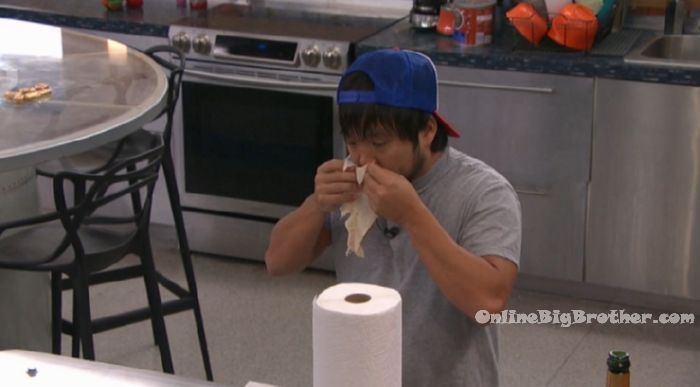 5:45pm – 6pm Nicole and Paul head into the bathroom and talk. Paul tells James that the reason why Nicole has been sleeping all day is because she's sad. She's checked out. Nicole that means he better try and win if he thinks I'm checked out. Has he been studying? Paul – no. He said he thinks the comp is going to be with house guests names. He was asking me how to spell Da'Vonne. He asked if there were two v's. There aren't there are two n's but I didn't tell him that. Paul – he's snake-y and it pisses me off. It is in his best game more to not win. Isn't that crazy. If we were oblivious, it would be his best game move. But we're not oblivious. Nicole – I told him there is no way I would take you to the final two…. you're rude. Paul – you have to sell it. He is banking on me and he's banking on you. He said I feel bad that I'm not bringing anything to the table. I told him I don't care, if I have to beat Nicole again then that's fine. It's better for me. James comes out of the diary room screaming GET READY FOR THE SECOND PART OF THE HOH COMPETITION!! Nicole – you're not funny. Paul – Nicole just sh*t her pants. Nicole heads back to bed.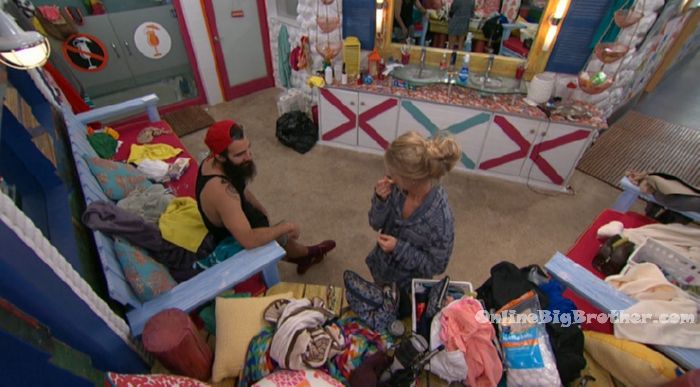 You can now get 1-month FREE with promo code: FALLACCESS – expires 9/16/16!
1-month FREE with promo code: FALLACCESS
Watch the next month of the feeds for FREE – 1 month free!!!
6:10pm 6:50pm Paul and James are in the living room talking about how the finale goes down. They head to the London room. Paul asks if the jury members have their minds made up already. James says Paul – do people change their minds? James – the people that are your ride or dies won't but the people that are question marks are the ones you just don't know. Paul leaves. James tells America the game doesn't stop when you make it to final 3. I have to make sure I'm good with Nicole and Paul. I can't let one of them go. If I lose the only hope I've got is if one of those two people take me. Its all a social game. I've only won one comp this season and I didn't even need to win that one. The only reason I won it, is because Paulie was on to me about not pulling my weight. If I make it to final 2, I did not have to win any comps. To show America if your social game is on point you don't have to win any comps. I think I have the jury votes. I think the jury will definitely vote for me. I know I'll have Nat, Michelle, Bridgette, Da, Corey… that's my 5 jury votes. Those are my five votes I would win over Paul. I'm so close. James takes a nap.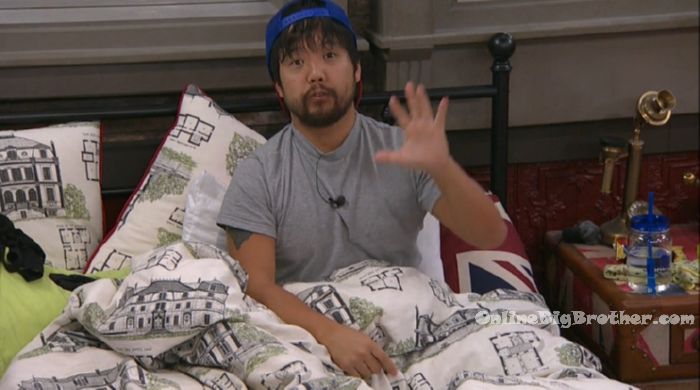 6:40pm – 7:35pm Nicole is crying in bed. She heads to the safari room and says I need to start studying stuff. I'm going to just study and cry. Its hard just not having Corey in here. He deserved to be here rather than someone who doesn't care. James is just driving me nuts. He's too cocky. He's done nothing and he's probably going to final 2. Paul joins Nicole. Nicole – he's too cocky. He's going to throw the comp. Nicole – so what I win it because he throws it!? Paul – so what .. then one of us is winning 500K and the other is winning 50K. Paul – tells Nicole to pull herself together. Win this comp. If he won I don't know which one of us he would blow up. I'm trying to keep him busy for you (So that James doesn't have time to study and Nicole does.) He will win if he is there (in the final 2). He is so cocky and comfortable. It pisses me off. I worked my f**king a$$ off and put myself there. I don't need to drag him there! He doesn't f**king deserve it. He keeps telling me to not worry about the jury .. because he doesn't want me to think. F**k you! Paul helps Nicole study the number of things in the house. Paul – we're going to make him (James) think he is in the middle. In his DR's he is probably sh*tting on both of us. If he thinks I am he must be high! Nicole – I would rather lose to the best. If I lost to him, I would NEVEEEERRRR forgive myself.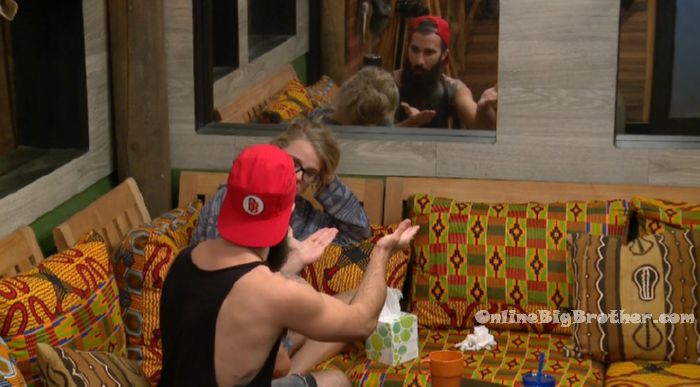 7:45pm – 7:55pm Nicole – I don't even know if I'm getting credit for the things I've done. I have been playing strategically since day one. I convinced Corey to give me that HOH. Michelle and everyone literally thinks I've floated. Paul – don't even think about that.. just focus on winning that HOH. Its good that Natalie is gone because he is showing his real self. He's said the c-word. He was talking about wanting to be hooked up with Corey's sister. I was like you must not like Natalie much if you've already moved on. Paul – Nicole we are 1 competition away from winning and you have the upper hand. Nicole – its feels like we (Corey & her) broke up. Paul – he'll be waiting for you.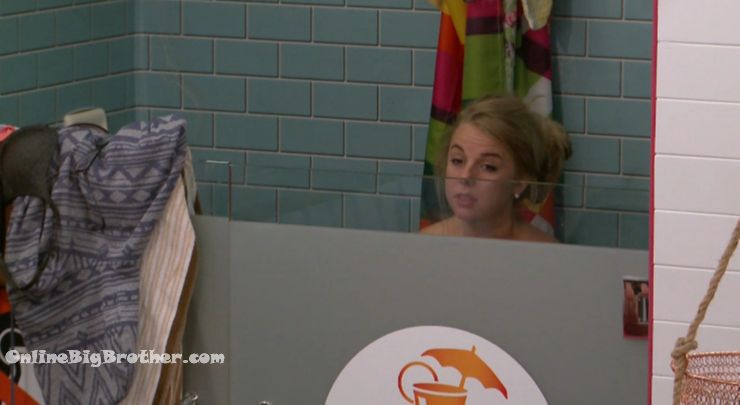 8:24pm Speculation about the next HOH competition. You can hear production pounding away outside.
Paul – it's going to be big…
They joke if two of them are napping the third person better nap or their schedules will be messed up and they'll spend all the time alone.
8:27pm
BAthroom Nicole and James
Nicoe about COrey – I like him a lot more than I thought I did..
She says she goes through spurts where she wants to cry.
(ohh man will she be sad)
Paul comes back..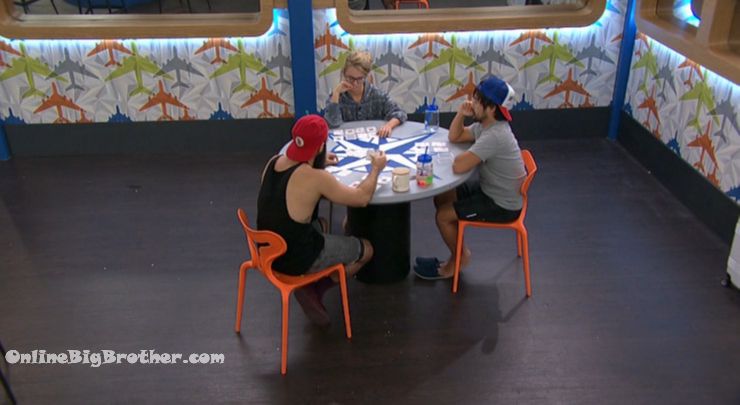 Cards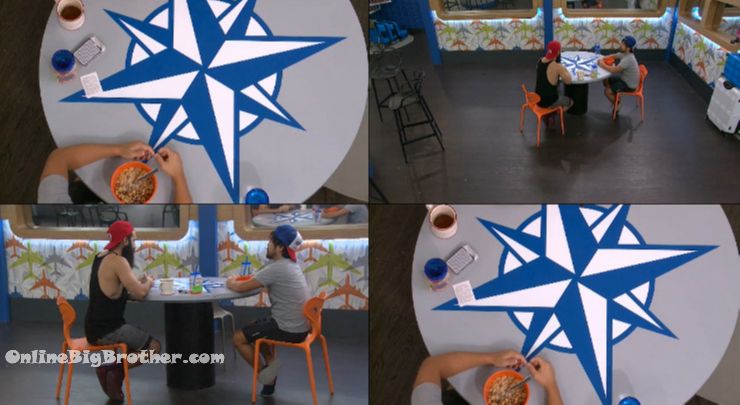 9:11pm James says Corey leaving has gotta hurt Nicole because Natalie leaving hurt him it took him a couple days to get out of it.
9:32pm Nicole studying in the bed Paul and James talking about Natalie's game.
At 9:38pm Nicole wanders into the have nots courting things.. She says it's disgusting someone left their water bottle.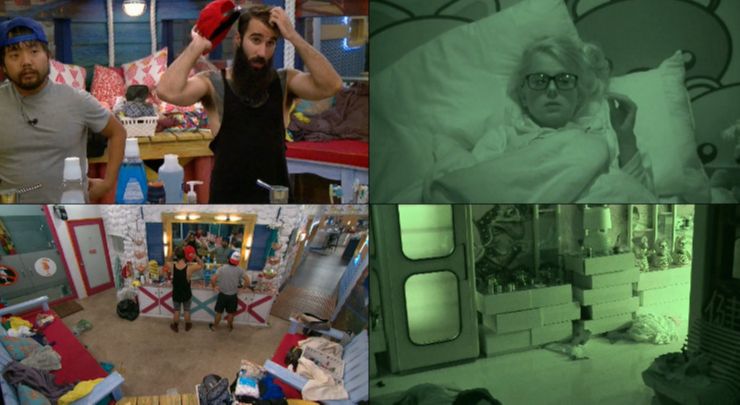 9:47pm Bathroom James and Paul
Paul points out that James has a lot of hair. James says his hair grows fast and thick some months he gets it cut twice.
James- I sh1t like a poodle too..
Paul – what
James- I sh1t like a dog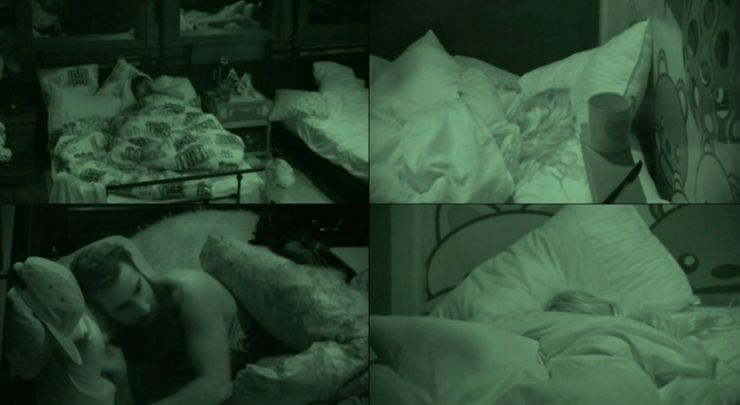 9:50pm Lights off.. Nicole just fell asleep
James and paul are getting ready to sleep.. Chit chatting.. James is talking about dreams.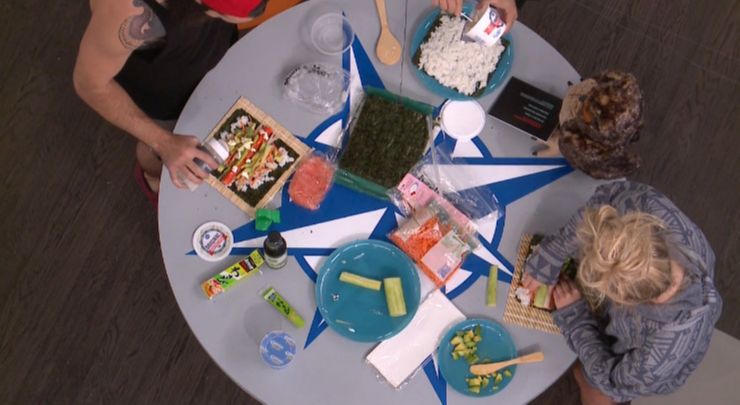 10:22pm POP TV gave them some sushi to make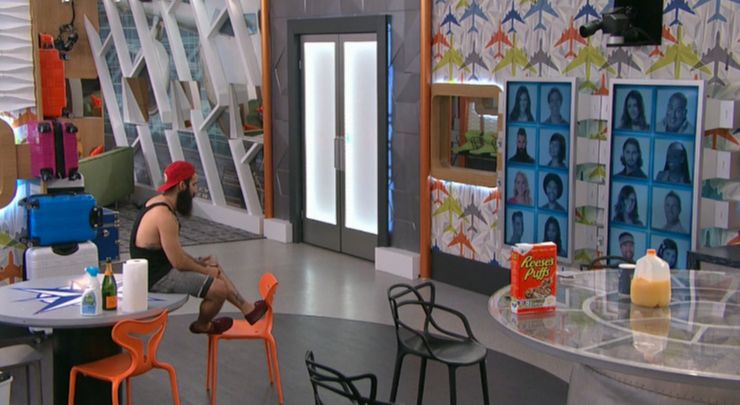 10:52pm Paul drinking champagne talking to the memory wall. James rolls through says he's goign to bed tells Paul to "Put away the yearbook"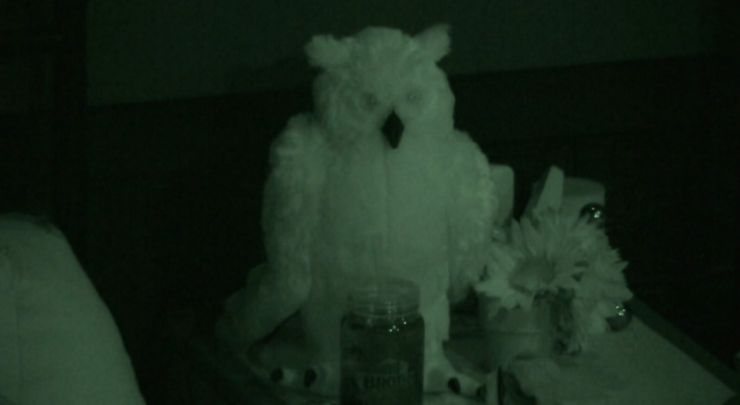 11:00pm Paul leaves the memory wall 'See you on the flip side night owls"
On his way to bed Paul whispers to Nicole that James is freaking out, 'He's really scared"
Paul – dude we're almost there.. if you win we win the game.. no more worrying for the rest of the week
Nicole – I think he's studying though..
Paul – no he's not..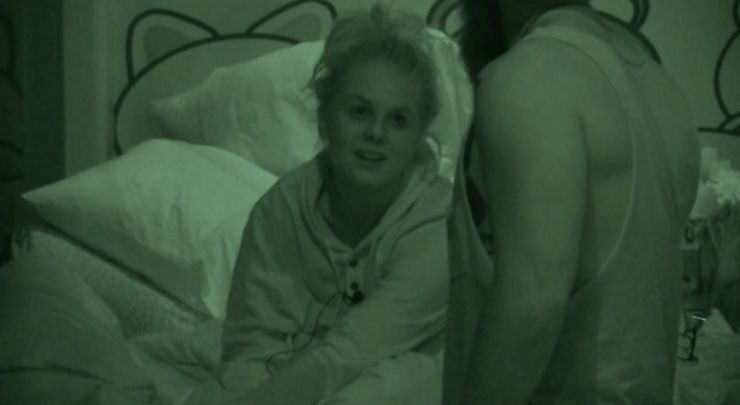 11:01pm James and Paul London room
Jame s- it's going to suck coming in third
James says he's worried about the competition, "I really want to win so I can;.. bring something"
James wants them both to have won a HOH part going into the final 2.
Paul – I wouldn't worry if I was you man..
James- you're going to win if it comes down to you and Nicole (in part 3 of the HOH)
Paul is saying even making it to the end without winning is impressive.
James- depends on the jury
Paul – either argument is valid.. like you said man you can't control it
Jame hopes it's a harness competition
they agree Nicole is very capable she did great in the BB comic.
James – she smoked it.. she smoked it like a blunt dude
12am – 3:35am All the house guests are sleeping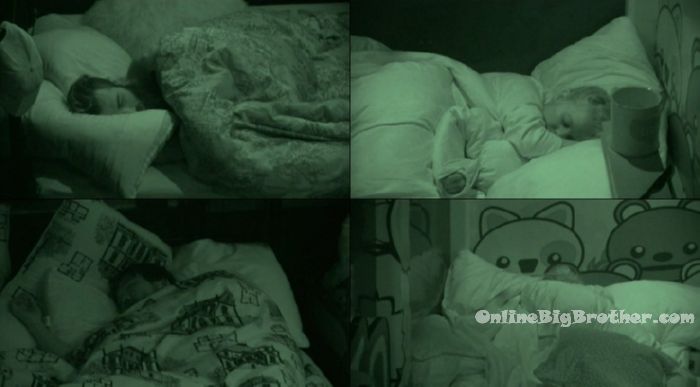 Show your appreciation by making a donation.
Without your support this site wouldn't be possible. Donations support this site more than anything. If you dig our spoilers please find a way to support us. ANY Amount is greatly appreciated :)
11:07pm everyone in bed Paul and James are asking each other random questions…