| | | | |
| --- | --- | --- | --- |
| HOH Part 1 | Paul | HOH Part 2 | ? |
| HOH Part 3 | ? | Final HOH Winner: | ? |
You can now get 1-month FREE with promo code: FALLACCESS – expires 9/16/16!
1-month FREE with promo code: FALLACCESS
Watch the next month of the feeds for FREE – 1 month free!!!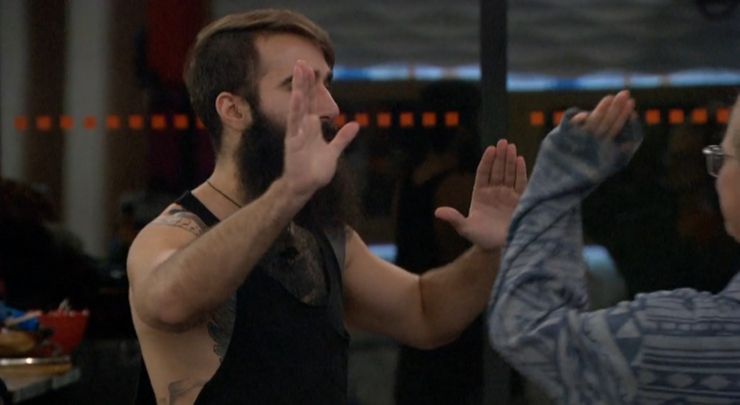 1:46pm Paul and Nicole Kitchen
Paul says James no shit about the dates. Paul bring sup James saying that Da'Vonne's name has two V's
Paul adds that James is spelling Glenn with 1 n
Paul – he has no idea about Joeza.. He even said If I get Jozea wrong I'm blaming you
Paul goes on about James shitting his pants right now.
Paul – he's kissing my a$$ he's like Bro you gotta win that final one.. Which means he's not even assuming he'll be there.
Paul says James told him he doesn't want to sit next to Nicole in the final 2.
Paul – you are going to win.. You are going to win..
Paul says he's been distracting James these past days so he can't study.
They start speculating what the second part will be like. Paul seems convinced it's a puzzle with departure dates.
Paul says when they get to final 2 he's going to cry
Nicole – me too
Paul – he doesn't want to win..
Nicole – he secretly wants to win though.. He's going to try
Paul – he's going to lose
Paul says on finale night he's going to carry her they will pull their keys out and run out to the stage.
Nicole – ok
Paul – cause we're right on top of each other.. I'll be like Nicole grab your key ..
Paul says James is trying to guilt trip him "He's saying being third place is going to suck balls and D1ck"
Paul – he's putting it in my head even if you win he's still going up .. he's banking on you winning..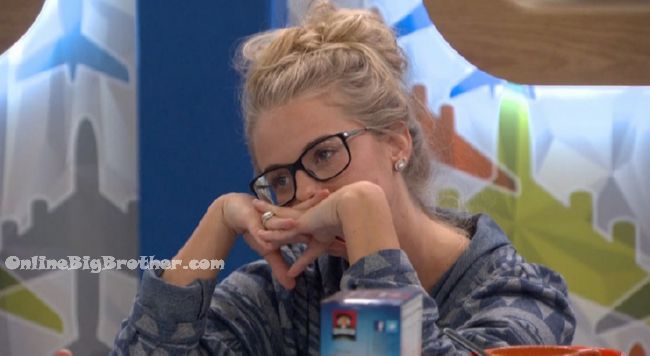 Nicole – once I win this I'm telling him I'm not taking him
Paul adds that James is trying to secure his vote in the event that Nicole wins the final HIO hand take shim. Paul thinks James is banking on that happening.
Nicole says Paul can still pretend he's taking him but she's not.
Nicole – he's asking me why I went poop.. Saying I have nervous poops
Paul – he's nervous man.
Nic – he thinks I'm taking him 1000% doesn't he.. Now he's starting to second guess it.
Paul says James thinks he's going to beat them in final 2, "Which he would"
Nicole agrees.
Paul – he can't hold it in because he's so excited he's lilie holy shit i'm going to win this game as long as they pull me along
Paul says James has Michelle, Nat, Da'vonne or Bridgette locked in Jury. Paul explains if James is against him he can count on Da'vonne vote if he's up against Nicole he's got Bridgette's vote.
Paul – he needs 1 vote.. Who's that 1 vote
Nic – could be a lot.. Z could even switch..
Paul – he knows Natalie and Michelle will not vote for me over him.. He knows Da;'Vonne isn't voting for me.. And if I pull him up you hate me..
Paul – i'm convinced he doesn't want to win it because he knows in the end he will lose that HOH comp..
Paul – if you win he's going to be up my a$$
Paul – go in … level headed.. All you have to say I'm winning.. Don't panic
Nicole brings up the coconut comp and how she kept her cool during it
Paul reassure here even if she losses this next HOH he will beat james and take her.
Nicole – I feel like it's not till tomorrow though
Paul says the competition is today.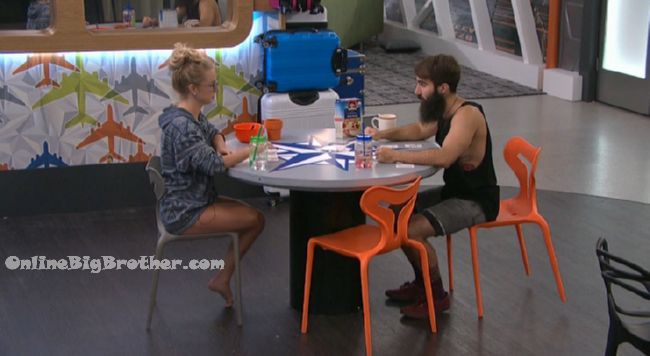 They start whispering about James acting sketchy and lurking around trying to spy.
Paul – he wants to see if I come talk to you
Nic – but I can see his silhouette
Paul – he's freaking out even more.. He needed to win that Veto..
Nic – that endurance.. (I think Paul is meaning part 1 of the final HOH)
Paul – he was telling me the night before he was going to be up there for 10 hours..
Paul says there is no way James threw that competition.
Paul – I beasted that out.. I did not trust him
Paul – I don't trust anything this fools says I know if I get there I'm getting there myself.
They talk about how excited they are for the money. Nicole says even the stipend is a lot says her first season she got 15 thousand. Feeds cut..
Paul – if you win he will be giving you a ear full he will be giving me a ear full.. but he's got be very careful because we'll talk
Nicole- he has no idea
Paul – literally no idea .. he's paranoid about it but he doesn't think anything is there, you got to keep selling it.
Paul – what I like about this situation is he thinks he's so smart and has it figured out and he's so confident and so cocky..
Nicole – there's only 1 derrick you can't play Derrick's game..
Nicole points to the Diary room (Where James is) "He's not Derrick.. he is"
Paul – he gets under your skin
Nicole says in the DR and to America it might look like James is playing Derrick's game, "I played with Derrick and I know how I felt about Derrick and this is a completely different feeling.. he's not good he's not sneaky"
Nicole – he's thrown every single comp
Paul – he even told me he would coach Natalie and tell her to never win a comp which is smart because Natalie would have made it far..
They agree the EGG one he tried to win
Nicole – he threw the ice luge..
Nicole – he's pretending to throw..
Nicole wonders if James just sucks at competitions
Paul – he's not the brightest bulb.. he's not
Paul says James has just gotten lucky and he's playing it off like it's his strategy
Nicole – it's pissing me off.. every comp I didn't win you want me to say I threw it too
Paul – that is what he's doing..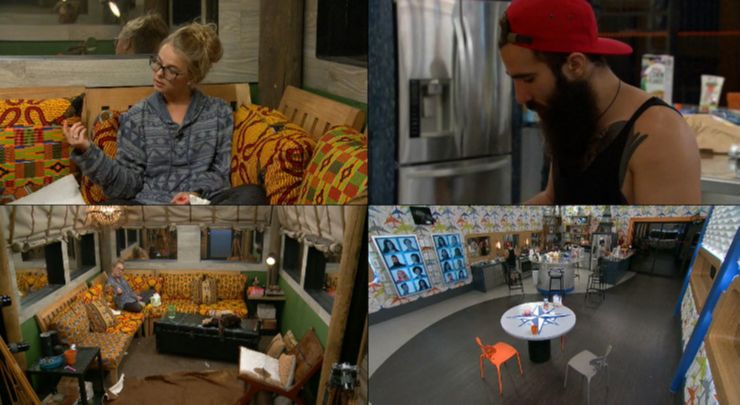 3:15pm Nicole studying the boys making food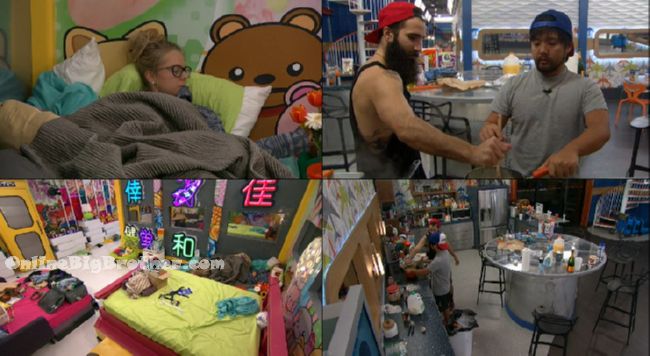 3:55pm Nicole studying Boys making food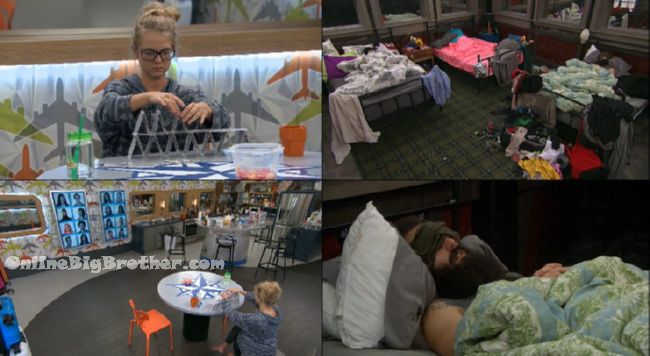 4:50pm Sleeping and Card castles.. Maybe some solitaire.. shits getting real .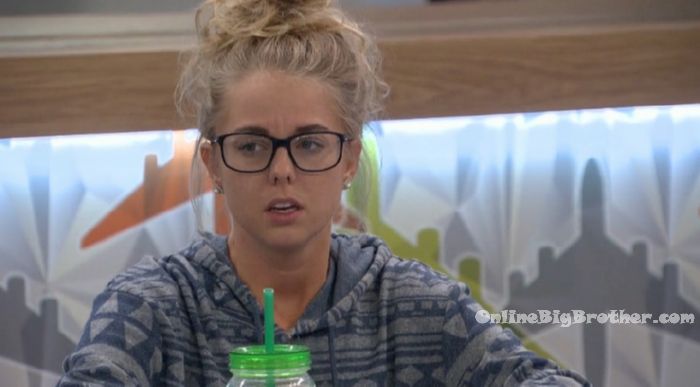 5:10pm Nicole is alone talking to the live feeders in the kitchen. Nicole – If you're going to be on Big Brother, work out your arms. If a comp has to do with legs, I'm good. Arms, no! All of the comps other than the comp with the butter have to do with arms. Nicole then goes and studies the Departures wall. James joins her. James – now that I got to know you, you're like a sister to me. Before coming in here I thought you were my type of girl. Ever since I saw you on that tractor. I was like man if they put Nicole on a season with me … I would be like sorry Hayden! Nicole – this season is INSANE! The crap that I went through. James – last season went by so fast. This season you had to work! I saw Johnny Mac sleep half the season and I though maybe I should sleep half the season. Nicole –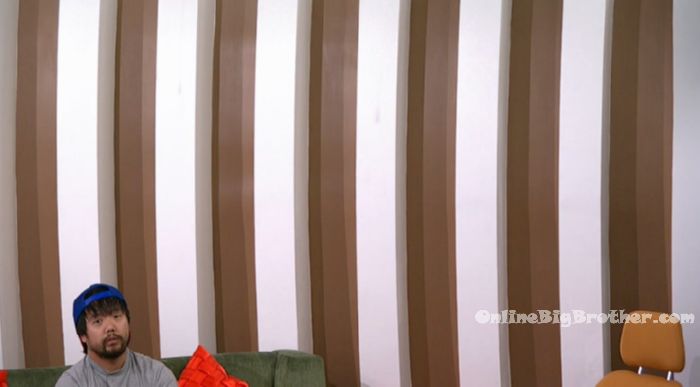 6:15pm – 7:05pm In the kitchen – Paul, James and Nicole are chatting about random things. James is talking about when he worked in a prison for 3 years. It's the only job where your customer service doesn't need to be good and you still get paid. They talk about the finale, their families, etc.
7:15pm – 8pm The final 3 playing cards. James wins a round and says "EAT MY A$$!" James wants to play for starburst. Paul asks why?! James say its better to play for something otherwise what't the point. What else are we going to do… lets play for bragging rights. Just like what's the point of "just the tip!" .. whats the point.. I would rather not at all. James goes to the diary room to request monopoly. Paul – why is he so happy? Did you boost his confidence. Nicole shakes her head no. James returns. Paul says he's going to go to bed. This sh*t is dragging out. The conversation turns to talking about the HOH part 2 competition. Nicole says we didn't have the face morph comp this season. Paul – maybe its the next one. Nicole – we're going to be harnessed to something.
Without your support this site wouldn't be possible. Donations support this site more than anything. If you dig our spoilers please find a way to support us. ANY Amount is greatly appreciated :)
[polldaddy poll=9517035]