| | | | |
| --- | --- | --- | --- |
| HOH Part 1 | Paul | HOH Part 2 | ? |
| HOH Part 3 | ? | Final HOH Winner: | ? |
You can now get 1-month FREE with promo code: FALLACCESS – expires 9/16/16!
1-month FREE with promo code: FALLACCESS
Watch the next month of the feeds for FREE – 1 month free!!!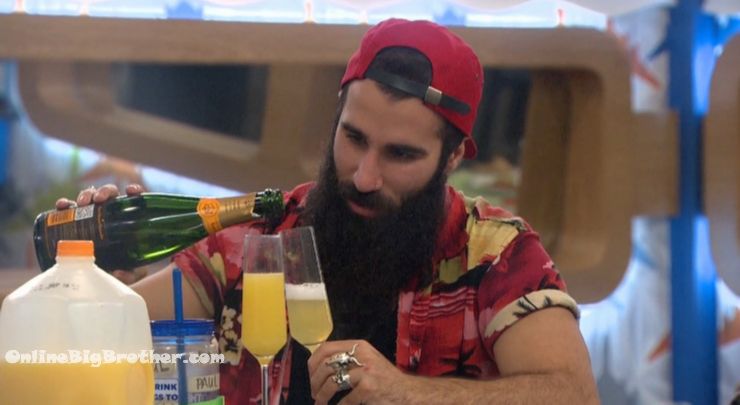 10:46am Houseguests get the small table.. They're eating french toast and mimosas
Paul – dude I'm pounding this bottle of Champaign.. I'll be literally wasted.. James You gotta drink bro we're not competing for another couple days ..
Paul – we're final 3 time to have fun
Nicole – I agree
Nicole says she liked to drink when Corey was in the house
James- Close the yearbook
Paul – Close the year book
Nicole – He's like the cutest guy ever
Paul – you guys getting a heavy comp out there. No pussy footing ..
Nicole asks them the worst fight they've had.
Jam essays the last one with Natalie.
Paul says the one with Meech where he was trying to talk to James in the Kitchen..
Paul – you want to take shots.. I'll give them right back..
James- kinda sucks that third place gets nothing, First place should be 1/2 a mil is anything.. Second play should be at least 200 thousand and third place be 50
Paul – ya I agree ..
Nicole – ya .. well one of us gets nothing
Paul – that sucks
James- b@lls
James- you get to be in all 40 episodes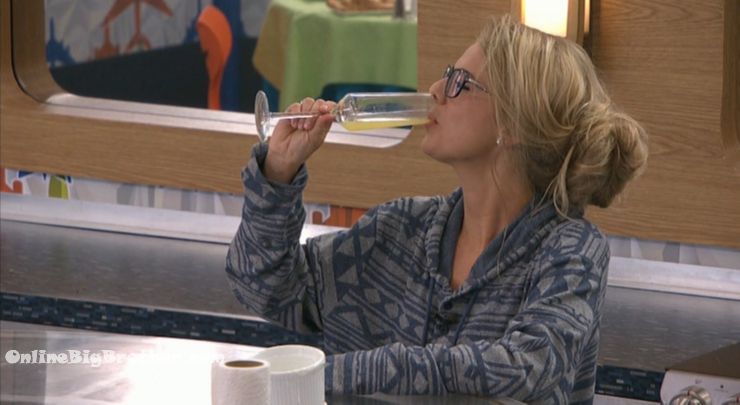 Nicole tells Paul she doesn't want any orange juice just champagne
Paul – cheers buddy congratz on final 3 ..
Nic – we can't be nominated anymore
Paul laughs says the two people that were nominated 1 time..
Nicole says she was nominated by him
Paul – At least you got your stripes from the block king this season
Nicole says if Michelle put her up she would have been pissed
James- especially if she tried to take you out too
Nic – key word TRIED
Nic – I'm happy I got her out of here I'm not going to lie
Paul – I'm happy
James says they drink their mimosas and go to sleep
Nicole says that is the plan
Paul wonders when they get restocked. As food is running low
Nicole – not till Saturday
Nicole hopes they get Turkey
Paul – Guys I'm wasted..
"cheers buddy congratz on final 3.. I'm wasted" #BB18 @DawgsBigBrother pic.twitter.com/M5FBFJoz4r

— OnlineBigBrother.com (@bigbspoilers) September 15, 2016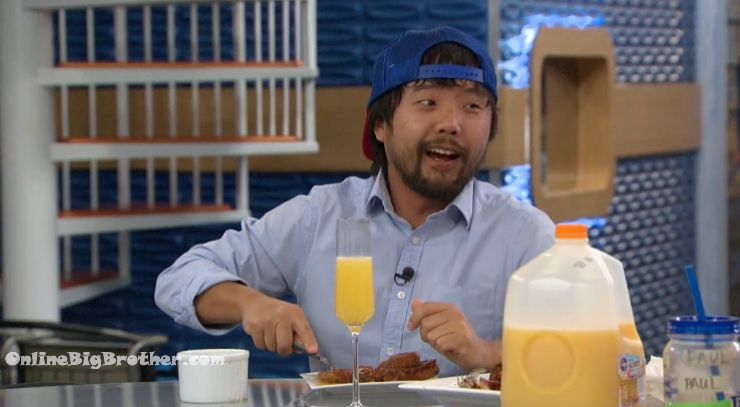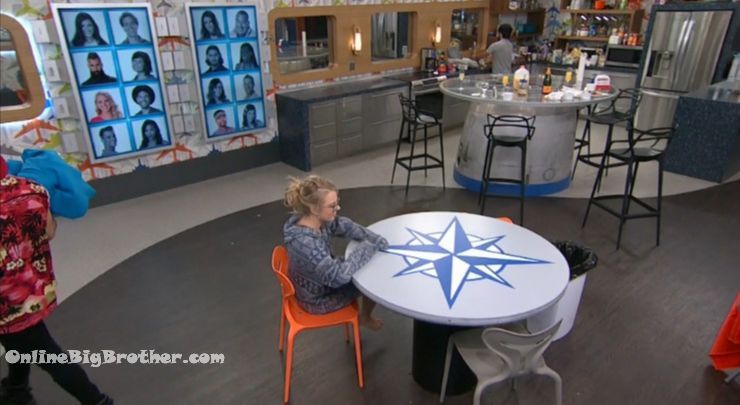 The small table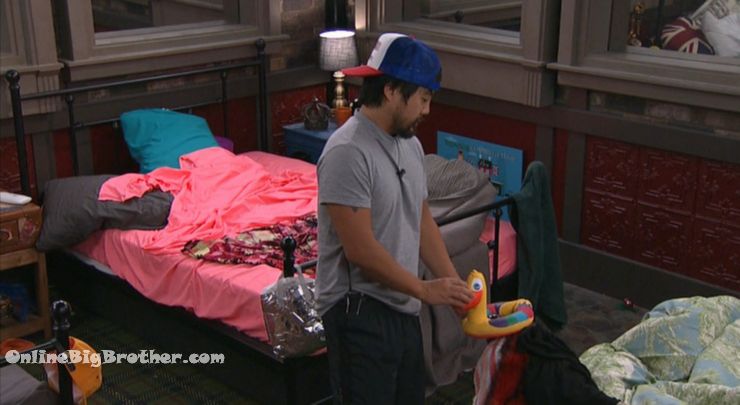 3:30pm James and Paul London room
James – c'mon pussy wake up
They talk about the baby pelican Paul got.
Paul – he must be relevant.. I must have silly fans
Paul is certain production took away the Pablo that Michelle stole
Jame s- I don't see why they would snatch it from a fan..
Paul – I would have given it away regardless.. I hope a fan has it.. cause that's what I was going to do..
Paul – most of the shit i'm keeping will go tto fans.. I'm keeping baby Pablo
Paul says he drives a Chrysler crossfire
James says those are expensive
Paul says they are not it's 2005 he could sell it for 5 grand it's got 130K Miles on it.
James says he buys Chevrolet because "They're the longest dependable trunk on teh road.. trust Chevrolet to get your family from point a to b"
James says he has a 2007 truck cost about 11K, he bought it used
James- 4 wheel drive.. crew cab.. can fit 7 people
James – that thing has power.. 5.8L V8
James goes on about his Z71 truck and it's towing capacity
James says he got a lift kit installed 4 months before the show started, "it's hot HID the super bright lights.. it's got a in dash in it you can watch movies.. it's a nice truck.. very clean"
James – that's my baby.. it's got 158K miles.. it's paid off.. no leaks
James says he had a dream and his roommate crashed his truck.
Paul – 6 days and a wake up
Paul – how do you feel about this next comp
Jame s- umm… I mean I just.. I'm a little nervous.. it is something.. if it is mental; I hope I can beat her she might crack under pressure maybe I can beast it out
Paul – worst case scenario at least 1 of us is up there
Jame says when Nicole fell in last night's HOH he was like 'thank god'
Paul -dude me to
James- as long as 1 of us is up and still in the running.. if I win this comp set dude.. we're set don't even worry about it DONE
James – Victor and Natalie will be so proud of us man.. Victor is goign to toss you off the stage he'll hug you so hard..
Jame s- I think you are goign to cry man
Paul- If I am final 2 I will cry.. it'll be such a feeling.. holy f*** man.. it's just gratifying to see hard work pay off.
Paul – I am mentally and physically exhausted because of this house
Paul – it chewed me up and spit me out
James – it's been a rough season.. I know I keep saying it's not my first rodeo but damn, last season it was fun I don't know why it was fun last season.. yeah I went out 7 place and didn't win the game but it wasn't stressful..
James – this season was stressful, it had me like.. well a lot of it was arguing with Natalie.. it was the showmance.. and everyone calling each other out the fighting the yelling.. the he said she said..
James – this season got good ratings
Paul – pretty sure it did man
4:20pm James building a card tower.. Paul lingering around making coffee..
Without your support this site wouldn't be possible. Donations support this site more than anything. If you dig our spoilers please find a way to support us. ANY Amount is greatly appreciated :)
[polldaddy poll=9517035]