POV Holder:
Corey
POV Competition
Sept 3rd
POV Used
?
POV Ceremony
Sept 5th
HOH
Victor
Next HOH
Sept 8th
Original Nominations:
James AND Nat
After POV Nominations:
? AND ?
Have Nots
None
Watch the next week of the feeds for FREE – 1 week Trial!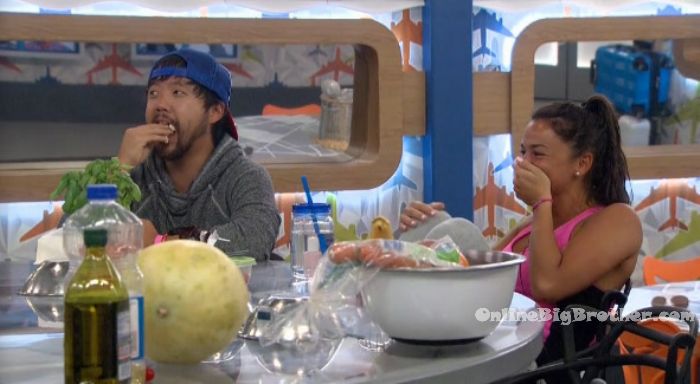 12am Kitchen – Nat says I have a feeling a few cast members aren't going to be liked by other cast members. James agrees. Nicole and Corey join them. Nicole is bragging about beating Corey in dominoes. Corey tells her he'll meet her on a basket ball court any day. Nicole says you're so bitter after you lose. Corey asks what makes you think I didn't let you lose. Nicole says you of all people would not let me lose. Corey asks what does that mean. Corey and Nicole head to bed.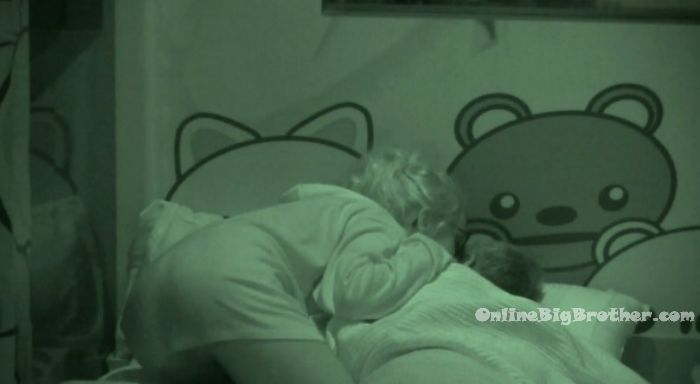 1:10am HOH room –
Paul asks James to come up to the HOH room to talk. Paul says I have something to ask you. Paul says pertaining to the week that I was put on the block, me and Vic. When that was happening you know I was told that Nicole and Corey were the ones that told Nat that I was coming after you. But I found out that, that's not the case. I was told that you were the one that told Natalie that. I just wanted to know if that was true? James says its not. I promise you. Paul says Honestly I don't care at this point. But I was told it was you. James says remember on eviction night and Natalie looked pissed off, that's when Nicole told Natalie in the bathroom. Paul asks How sure are you that Nicole told you that? James says after the live show Nicole told us both in the bathroom again .. but she didn't say that you were coming after her. She said that Paulie told her that you said to him. Paul says I know that you're a straight shooter but Natalie is telling me something completely different. I'm not trying to toss a wedge between you two. You're both on the block, that doesn't do anything for me but I was apologized to by her and then I was told that you were the one that who gave her that information. James says I didn't, I swear. Vic says she basically said that she got bad advice from you and she regretted taking that advice. James asks WHAT?! She told me that she campaigned for her to go home.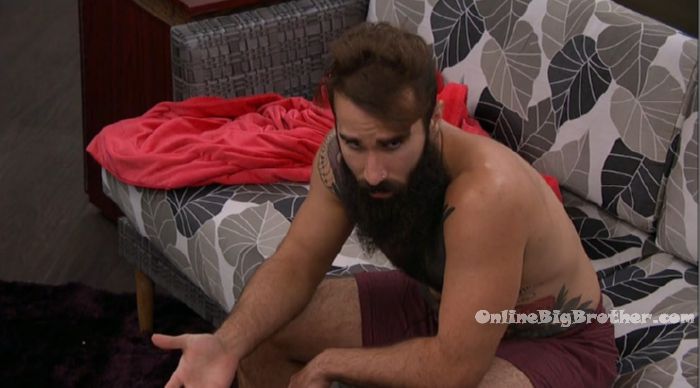 Vic says she came up here the first time and said sorry, I got information from James. Some bad information essentially. Paul says some times you trust people and it ends up backfiring in the end. Essentially saying it was your fault. After the veto, this morning she tells us that she wanted to campaign for us to vote her out. She said that if she had won the veto she would have used it on you. I'm not buying that. I could be playing this game with my mother, and I wouldn't use it on her because its not a life and death thing. James says I promise you I have nothing to hide. Paul says I am telling you right now .. man to man I was not coming after you. Paul says I am not going to tell Nicole and Corey, this is just for me. Vic says its just very suspect. James says we've had fights down there and she's apologized. Vic says it is hard for me to go after someone who is taking the blunt of the blame for something they didn't do. James says I was the deciding vote to vote you out. James says she (Nat) told me if I link up with certain people she would never talk to me again. Paul says I was made public enemy number one and I don't know why. James says it was nothing made up it was just what I was told from Natalie and from Nicole. Paul says I respect the way you handle things. It could have just been a game move or a reverse psychology move. James says I'm not going to relay anything. James leaves. Paul tells Vic we need to make sure he doesn't tell Nicole and Corey because they might be like YO?! What are you doing?! Vic says you can just say you were throwing a wrench in their (Nat & James) relationship. Paul says we have to tell them before, he tells them. Vic thinks they don't tell Nicole and Corey. Paul says its better if I take the blame for this one. I was made to be public enemy number 1 and needed to find out why. I'll go tell them (Nicole and Corey) they're (Nat & James) are so full of sh*t.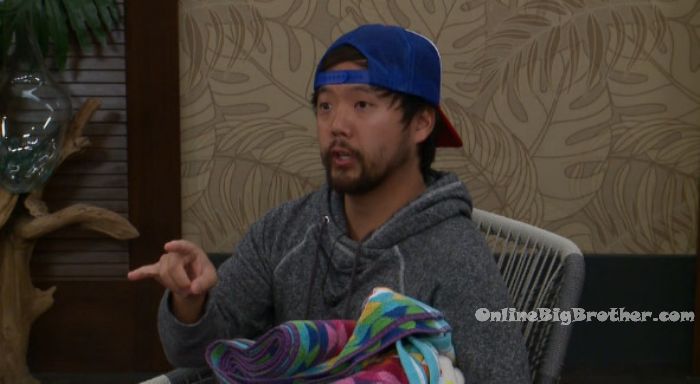 Watch the NEXT WEEK of the Live Feeds for FREE! Click here for your: 1 Week Trial
1:25am – 2:45am James joins Nat by the hot tub. Nat says Nicole is making it to final 2. I can honestly see Nicole and Paul in the final 2. Nicole even knows if you made it to final 3 you would her to the final 2. James says at this point in the game I don't even know who I would choose. Nat asks did they tell you I was going home? James says no ones told me anything. James tells Nat about his experience being a prison guard. James and Nat head to bed. Nat talks about how she didn't realize the show was about back stabbing and lying. James says I can't wait to see your diary rooms.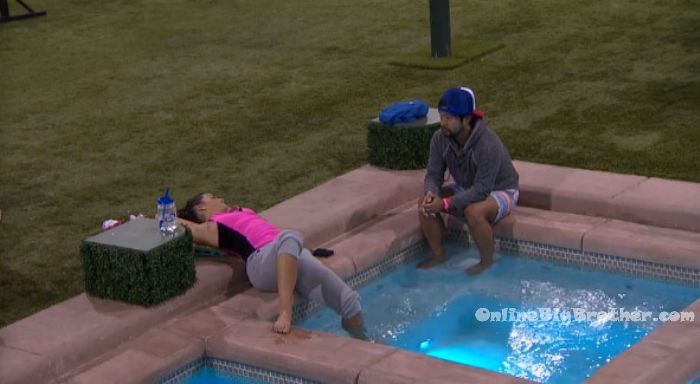 2:10am – 4am HOH room – Vic says well Natalie the best player in the game got the worst player in the game out. Paul says Look Natalie I thought it was really disrespectful of you to pinch my butt. Vic and Paul talk about random things. Vic says imagine if we get to day 93 and we're not on the block. Paul says if we get to final 3 … we've won. If we wanted to play smart we would get rid of James and then Corey and then have 2 girls. Vic says I don't want to do that I want to play loyal. Paul and Vic shut off the lights and get in bed. Paul laughs you wake up in a straight jacket and all of this was a figment of your imagination.

4:10am
All the house guests are sleeping..
[polldaddy poll=9511194]
[polldaddy poll=9512103]
Show your support by making a donation.
Donations support this site more than anything. If you dig our spoilers please find a way to support us.