POV Holder:
Corey
POV Competition
Sept 3rd
POV Used
?
POV Ceremony
Sept 5th
HOH
Victor
Next HOH
Sept 8th
Original Nominations:
James AND Nat
After POV Nominations:
? AND ?
Have Nots
None
Watch the next week of the feeds for FREE – 1 week Trial!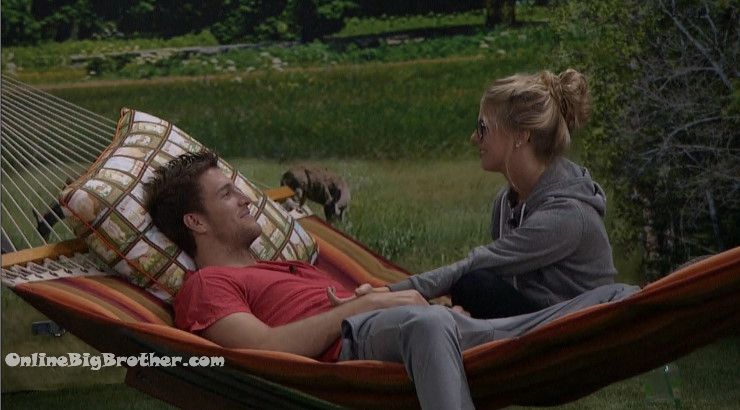 9:02pm Hammock Nicole and Corey
Nicole saying she's been giving Paul too much credit in Competitions. "You whopped his but yesterday"
Nicole says Natalie "Smoked" her in the POV
Corey – she smoked everybody.. She beat Vic she beat Paul…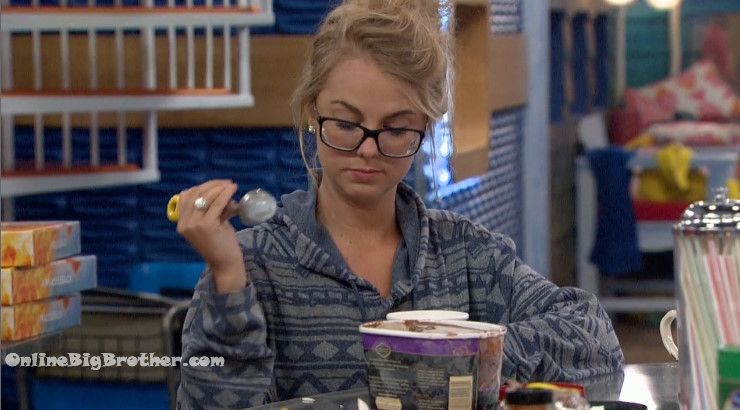 9:18pm Nicole – There's lots of Calories in this..
Nicole – you're not going to want to eat ice cream after that
Corey – you don't know me…
Nicole talks about back home her family doesn't have to buy meat. Family raise pigs, beef and Hunt they have a freezer full.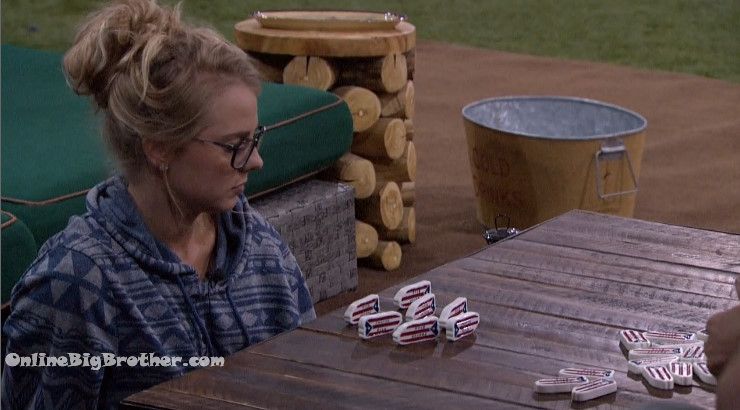 9:30 dominoes..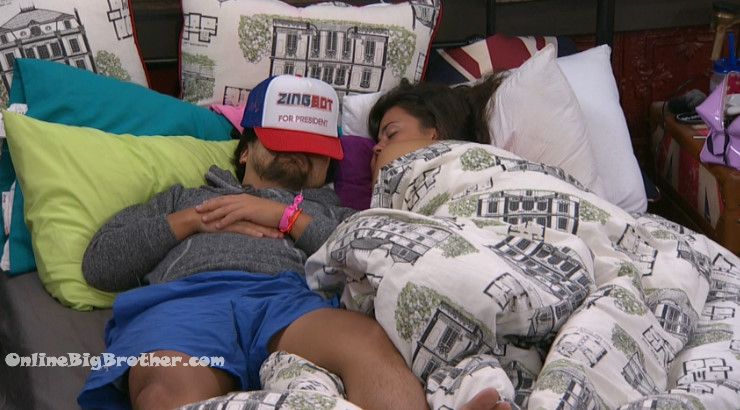 10:01pm.… This…

Nicole decides to clean the kitchen "I'm so grossed out.. And I'm changing my shirt.. " (the ants are all over the pizza boxes)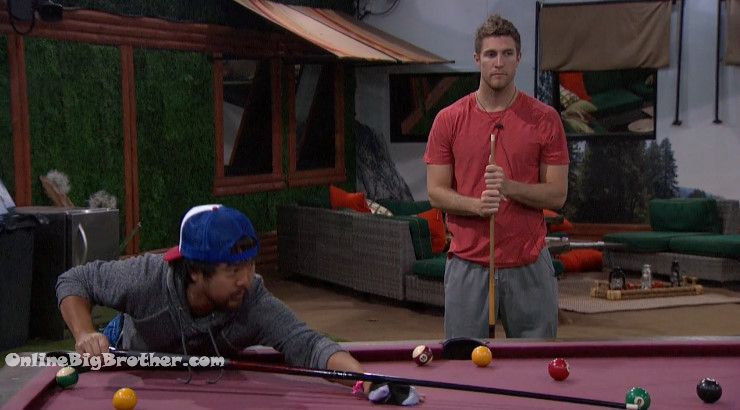 10:50pm James and Corey Pool..
James misses a shot "C'mon what the hell"
Corey misses a shot "Shut up"
James – where's everybody at
Corey – sleeping like a little baby..
James – "C'mon get your angle back right.. "
Jame s- you know what's crazy the 3 months we've been here it hasn't rained 1 time
Corey – not that we know of
James – at least in Texas it would have rained onced..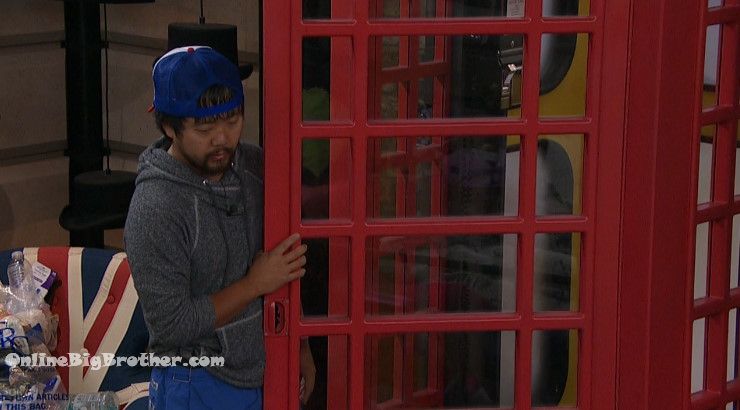 10:55pm London room Natalie and James
Natalie – I want you to hang out with other people, I really do
11:16pm Natalie and James
Nat – Even my calves gained weight
James – muscular
Nat – I'll work out twice tomorrow.
Natalie says it really upset her that they trusted "Them"
James- sixth place.. that's huge.. I'm psyched about that.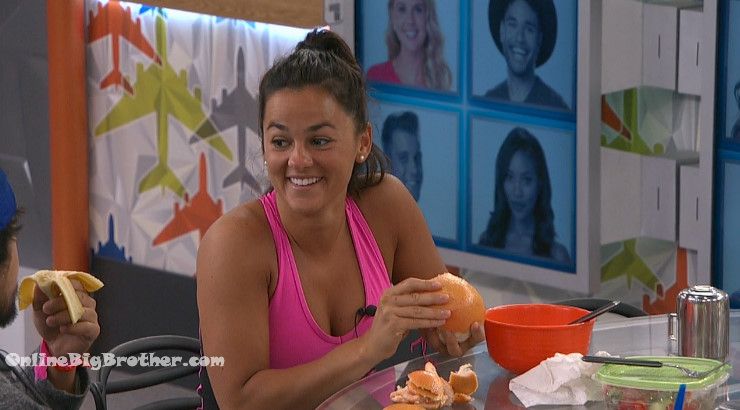 They head inside to eat fruit.
Natalie – this is good I'm glad I made it this far..
James- look at all the people you beat..
James says Natalie knew nothing about the show she did great for just "Signing papers"
Natalie – that is what i literally did just signed papers..
Natalie – If I had prepped i would have CRUSHED it ..
James – you did it on you own your social game is on point.. your smartest move in the game was befriending me..
Natalie – if Tiffany was able to get the fatal five with the spy girls that would have been 8 girls..
James says last season he had a 8 person alliance and it fell apart because they couldn't win HOH's
Natalie – I sometimes have to remember this is just a game but I really wanted to change my moms life..
Natalie – when I get off this show I'm goign to follow my dreams and do what I want to do.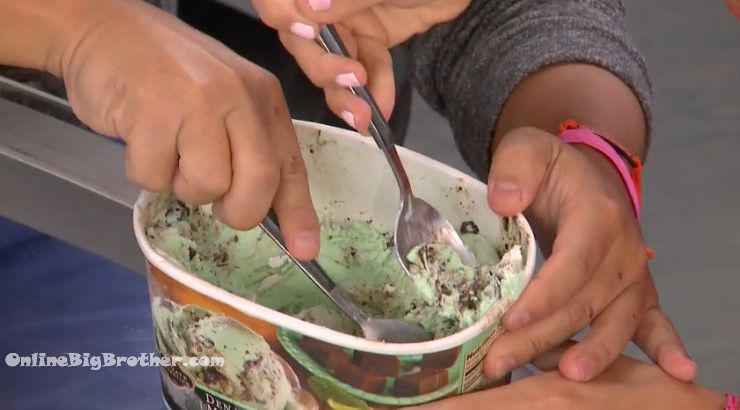 11:53pm Natalie and James eating out of an ice cream tub
Natalie – the one thing I learned this season was have a tougher skin and stick up for myself
Jame s- walk or be walked on..
natalie – all season getting walked on all over. I got my revenge..
They go on about getting Paulie out being the "best" game move..