POV Holder:
Corey
POV Competition
Sept 3rd
POV Used
NO
POV Ceremony
Sept 5th
HOH
Victor
Next HOH
Sept 8th
Original Nominations:
James AND Nat
After POV Nominations:
James AND Nat
Have Nots
None
Watch the next week of the feeds for FREE – 1 week Trial!
Corey did not use the POwer of Veto. Natalie and James remain on the block.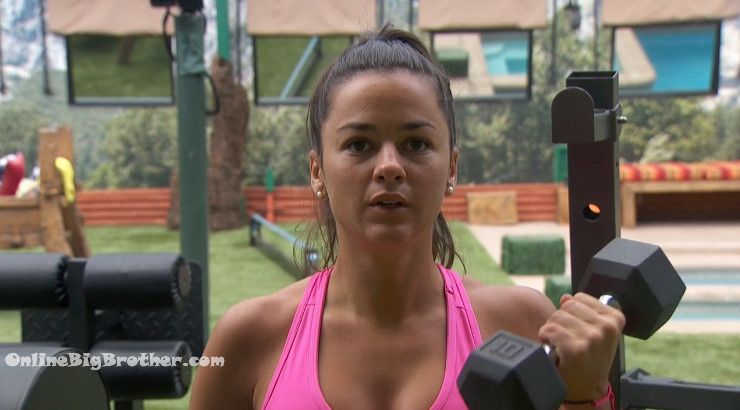 Pre POV Ceremony workout..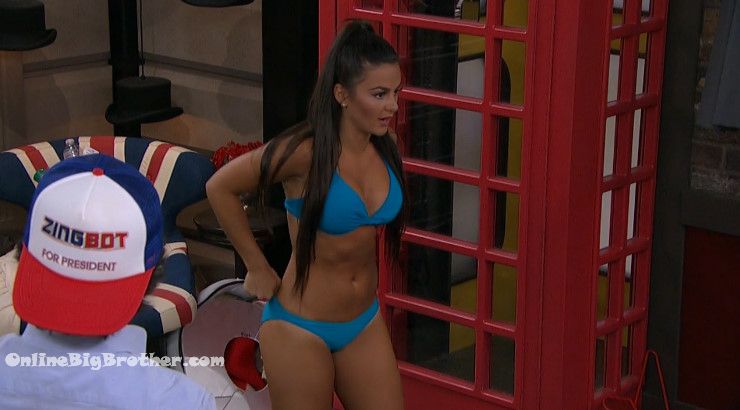 11:29am London room James and Natalie
Natalie – that was a really nice speech.. "I'm not going to campaign against her.. "
Natalie – we made a really dumb game move trusting Nicole and Corey..really dumb game move.. What a dumb game move
Natalie says they should have trusted the people in "This room working together to get Paulie out" (But Natalie PAul lied about FRIES!)
James- hey that was my fault..
Nat – that's not your fault
James – ya..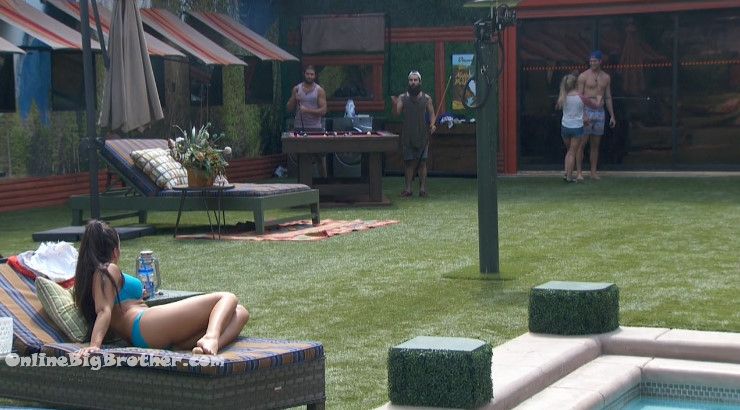 11:34am Suntanning Pool games etc..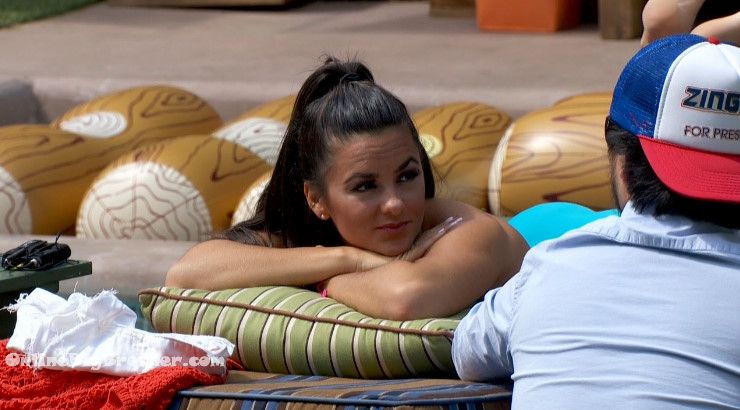 11:38am
Natalie – I'm going to get dressed up every day just to feel better..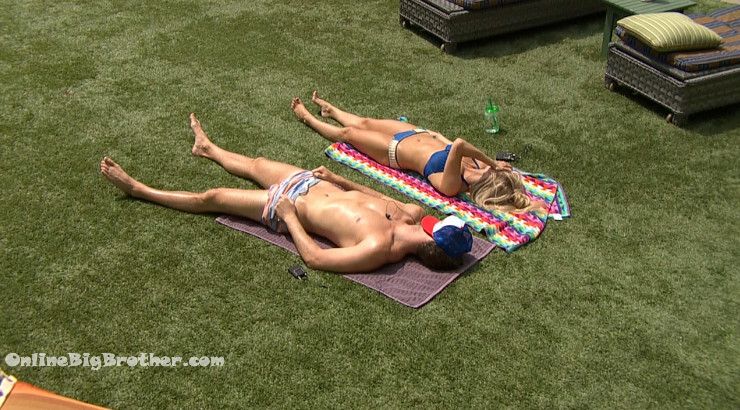 12:24pm Suntanning and Pool…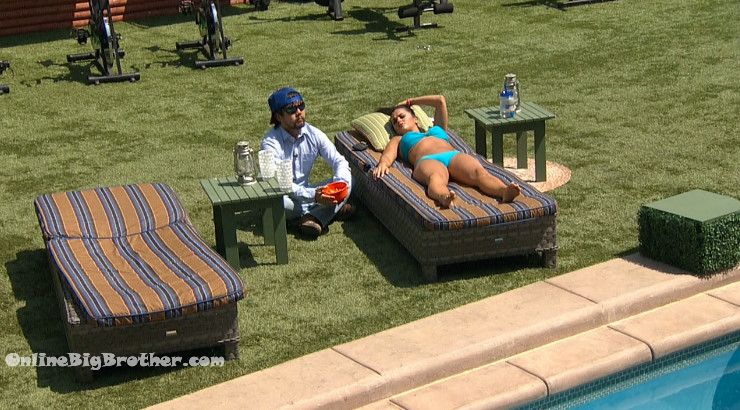 1:33pm Natalie and James.
Natalie – why are they whispering.. It is what it is.. It's so annoying..
James – ya I know
Nat – it's' always Paul
James- he's a little gamer..
Natalie called into the Diary room.
Looks like a domino game has started up!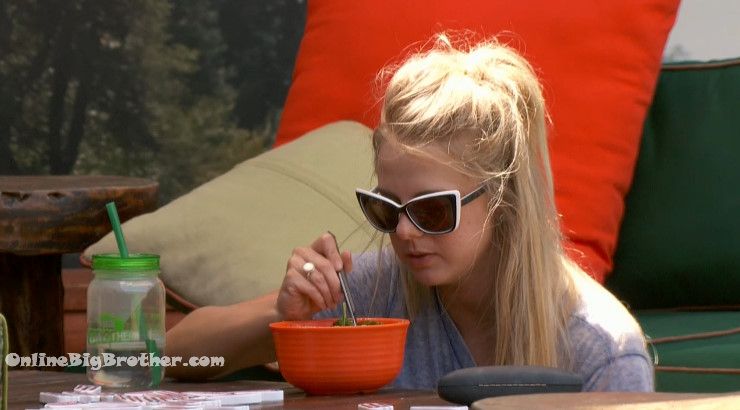 1:45pm Victor, Paul and Nicole..
Talking about Natalie trying to get to Nicole and Corey trying to make Nicole feel bad for her. Nicole says she has trouble feeling Sympathy towards Natalie.
Paul says Natalie is full of sh1t
Victor – she just plays Victim
Corey joins them. Paul says he wishes he could send Natalie and James both out at the same time since they both want to go out so bad..
Back to dominoes ..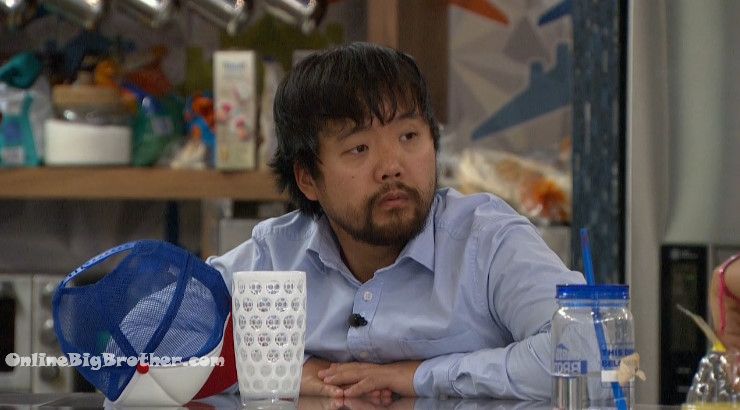 2:00pm Kitchen James and Natalie
Natalie going on about Nicole talking sh1t about her all season and she never started talking about Nicole until after Meech told her all these bad things she was saying about Natalie.
Natalie – she cuddled with you to separate us.. That's weird to me
Nat – I wasn't an evil dickl where I was mean to people.. I came into this game as myself and I gave it my all.. I lost myself a couple times in this house 100%..
Nat – if they used something I said that isn't cool at the end of the day me nad my family know who I am.. Friends know who I am.. I know leaving this house that not 1 person was perfect this whole game.. I know that so if People are going to bash me.. I know in my heart I wasn't trying to be malicious everyone had parts to everything.. I really don't care ..
James- ya
After a long feeds on fish..
James- you are really special to me whatever does happen.. And if you do decide either way..
Nat – what
Jam es- all i'm saying is you came here for half a million dollars.. If you get an inkling your staying and you need to campaign
Nmat – NO that never crossed my mind to campaign.. I know you were the target I campaign to keep you. It's up to them.
James – i Just want to let you know now seriously..
Nat – James it's oK seriously..
Nat says "we should campaign to keep ourselves .. I told you that and now that I'm on the block with you I still am not going to campaign against you"
Natalie goes on not knowing anything about Big Brother. She thought it was like the real world. "Cool comp.. Win cool things and we just had fun"
Nat – no idea someone gets nominated.. NO idea..
Nat – but I did try something new
James- you met a country Asian guy
Nat – I'm very content.. Staying or leaving I'm very content..
James – I'm banking on maybe survivor calling or Amazing race. You know.. I think that would be really cool.. But Survivor would be my sh1t
Nat – you actually would be very good
James-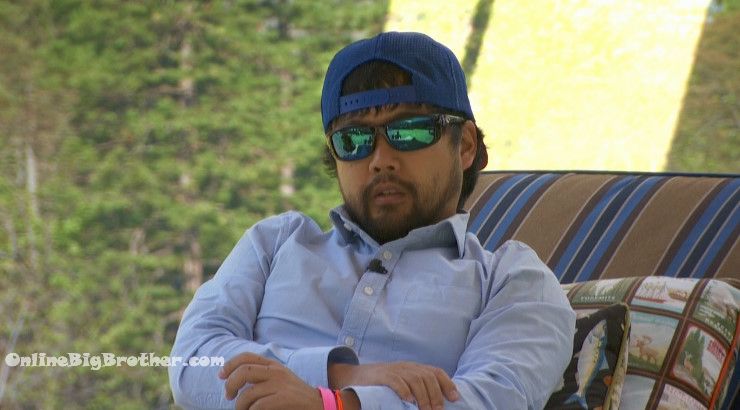 2:22pm
Natalie and James backyard..
Nat – I'm goign to miss you
James- i'm going to miss you too
Natalie says the one thing she learnt by being on the show is how important family is over work she's was so busy with work prior to being on the show that she negelected what is reall important to her.
James agrees says one of the reason he left the military is because he was working away his whole life and missed family and friends. "All i had is my military family.. I was always gone on the weekends.. friends would text me. ask me out I would say I can't training this weekend"
Natalie – Paul's done so much.. they've all done so much..
2:56pm Corey, Nicole, Victor, Paul are playing Charades!!!
(they did ask Natalie and James)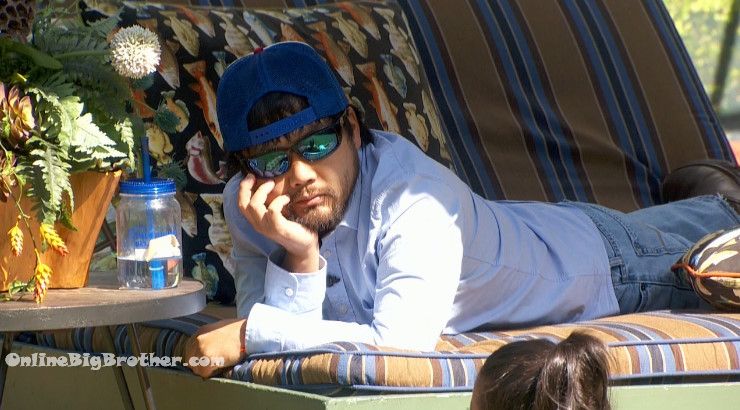 3:08pm Natalie and James
natalie says she never drank between 21 and 23 but when she was 25 "I was living live.. I kinda lost myself… found it again when I was 26"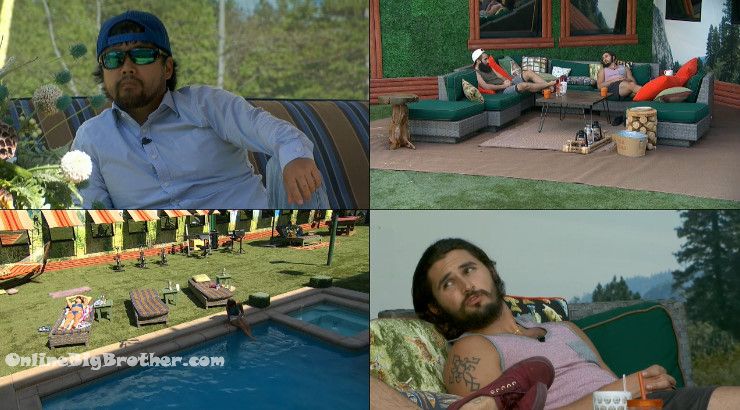 3:18pm Paul and Victor
Paul – 2 in 5 shot
Victor – winning the grand prize
Paul – I'll take that..
Vic – 40% chance of winning something..
4:16pm Nicole, Paul and Corey
Nicole sarcastically saying sh'e Boy crazy and that is the only reason she was cast on the show was because they knew she would get with a showmance..
Corey to Nicole "BOY CRAZY "
Nicole claims she's not boy Crazy.. "That's the ironic part of it all"
Corey – you always had a boyfriend and you are not boy crazy
Nic – you are not sleeping in Tokyo tonight..
Corey to Nicole "BOY CRAZY" #BB18 @DawgsBigBrother pic.twitter.com/F8w8tsUvxP

— OnlineBigBrother.com (@bigbspoilers) September 5, 2016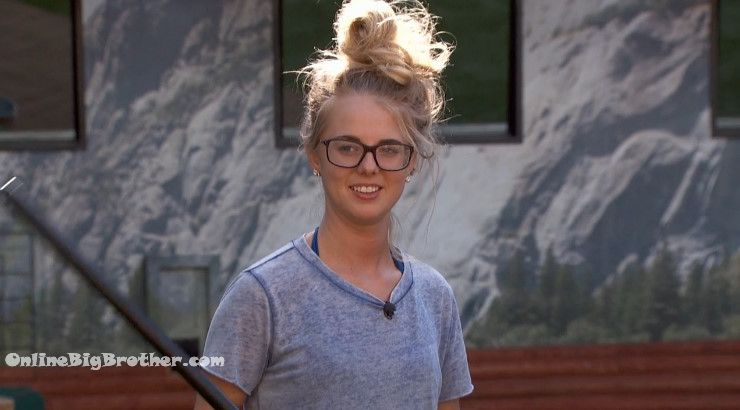 4:45pm Feeds.. (it's a 10 minute old screen cap but you get the idea)
Natalie and Paul talking in the backyard
Natalie says taking a shot of tequila is like venom to her.
Paul likes taking a shot of tequila
nat – I love ginger beer it's so delicious.. I also like Corona (we're soulmates)
Natalie going on about how Paul and her sister are "the same human" they'll get along great.