POV Holder:
Big Meech
POV Competition
July 23rd
POV Used
?
POV Ceremony
July 25th
HOH
James
Next HOH
July 28th
Original Nominations:
Frank AND Bridgette
After POV Nominations:
? AND ?
Have Nots
?
CBS All Access: Live feeds are only $5.99 per month – Try it FREE for 1 WEEK!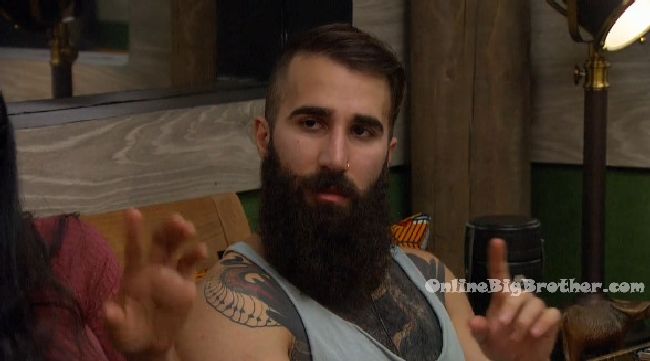 7:25pm Safari room – Nicole and Michelle are talking. Nicole says he (Frank) just wants to talk to me and get you to use it. He wanted me to come and talk to you and James to get you to use it. I said no not tonight. Z, Paul and Vic join them. Nicole says I don't get why he would throw names out there. I think its strategy to get voted out. Has he not learned his lesson. Nicole asks who do you want to go home this week? Z says Frank. Nicole says I want Frank out too. Paul says Frank can handle pressure. She (Bridgette) cannot. I don't mind which way it goes, if people want one thing I'll go with it. Paul says you know how he said he wouldn't campaign against Bridgette. I guarantee he does if the POV isn't used. There is no way. He is just saying that now. I will bet all my balls on it. All one of them. He isn't going to go belly up because of some girl he met 30 days ago. Z says we just need to get her a$$ out next week. Paul says if I'm not HOH next week I volunteer to go up as a pawn. Friendship! Vic says I plan on being HOH.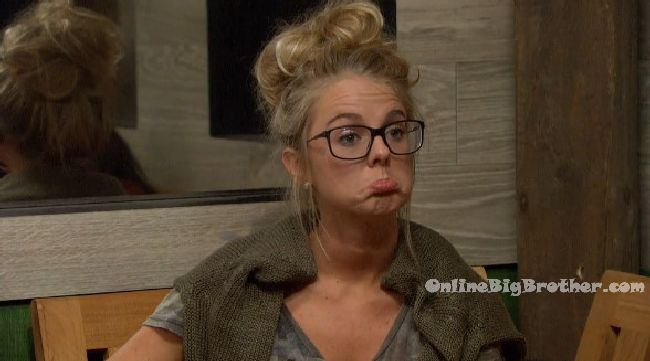 7:40pm In the kitchen – Frank & Bridgette. Frank says if the rest of the hosue gets on our side it just makes sense for us to go after James and Natalie. Bridgette agrees and says for doing all this f**ked up sh*t. They hear the phone ringing and run to go get it. Corey answers it and no one is there. He hangs up. Then the phone rings again. Corey asks WHAT?! I will find you and I will kill you. Frank asks they still didn't say anything? Corey says no.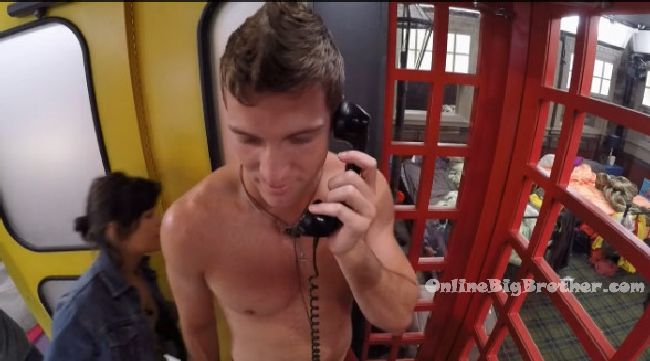 7:45pm Safari room – Paul, Z, Nicole, Michelle, Vic and Corey. Vic tells Corey he hasn't used him as his servant yet today. Nicole says they (Corey & Vic) have a weird dynamic. They even have a name Vicorey. Corey asks Vic what do you want me to do baby?!

8:05pm – 8:30pm Paulie tells Corey .. I just wish Michelle would tell him (Frank) I'm not going to use it. You know I love the guy and I would totally be on board for doing this but we've got to break him and Bridgette up. They're talking to too many people. If they're here alone the can easily not be a threat but together they'll just pick people off. Corey asks is Michelle considering using it? Paulie says no. She's not telling him. Paulie says if Frank goes home, you and I are chilling. Corey says Da will be gunning for us. We just have to make sure she doesn't win anything. Paulie says we have to win during the double eviction .. I would put her up next to Z … I mean knowing Z isn't going to go home. We're sitting good. The last think I want is Frank knowing he is going home and then turning heat on to us. Corey says we would get Bridgette too. Paulie says no body has any idea about James. Most people just think Paulie and Corey are just friendly. Paulie says I would rather have Michelle here to take out Bridgette or Victor. Paulie says it would be fun to flip the house.. It would be big brother to a T .. I just think everyone would be freaked out. James joins them. Paulie says I'm just trying to sleep as much as possible so Frank can't have his meeting. I think Michelle should just say I don't feel comfortable using it. The only way she would us it would be to make sure we send Frank home over Bridgette. She wants Bridgette gone over Frank. James says Michelle wants to say in her veto ceremony speech "I've decided to use the POV on .. MYSELF! (then make fart noises) James asks who do we go after next? Paulie says I say Da. I would want to push for Victor or Paul to win to take the shot. Paulie says I would rather all three of us not win unless Bridgette is gunning for you .. so that all of us are playing in the double eviction. Corey asks who do we not want to win HOH? James says Da or Bridgette. Paulie says I think Vic would go after Da… he's all about this guys thing. Z, Nicole and Vic join them.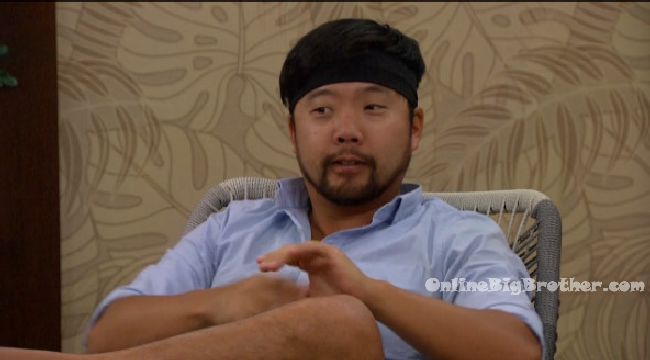 8:35pm In the kitchen – Frank says look at this little sh*t head! F**King Beating me in OTEV! When we get out of this house I'm going to stab you in the throat! Michelle says Do IT! Frank says I won't. I hate my picture. Yours looks great.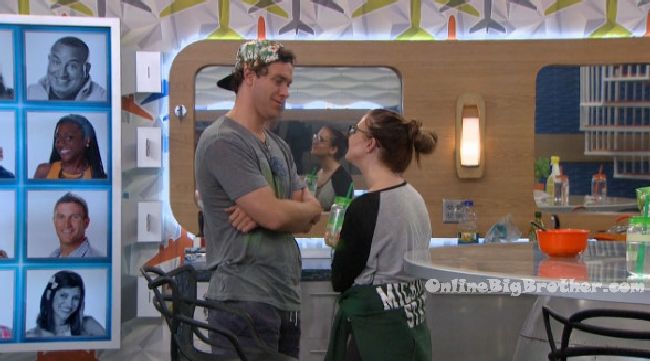 8:50pm HOH room – Nicole, Corey, Paul, Paulie, James, Zakiayah and Vic are hanging out. Meanwhile in the kitchen – Frank and Michelle are talking about BB alumni.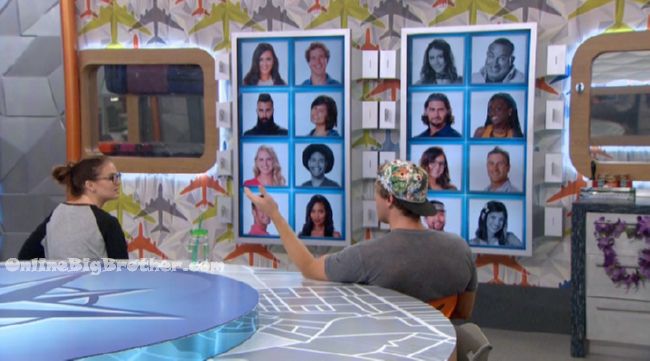 8:55pm Kitchen Michelle and Frank
Chit chat about past seasons and the current cast.
Frank says Zakiyah might be the Ashley edit because she never really talks game.
9:03pm
Frank and Bridgette
Frank tells BRidgette she should be in the HOH integrating with the group. BRidgette says she can't she's not good in groups. Frank heads upstairs to mingle Bridgette hangs out downstairs alone..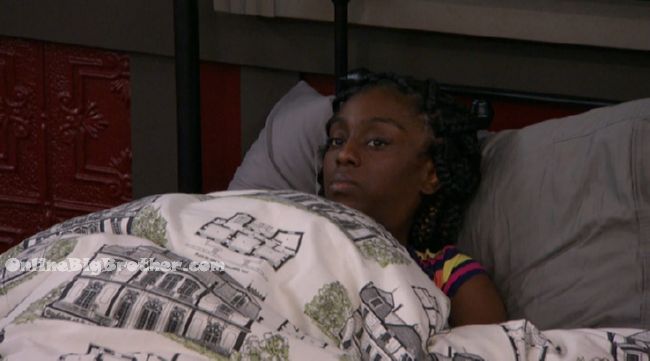 9:36pm James and Da'Vonne.
James tells her she's safe he won't be putting her up.
James says he's talked to Nicole, "She's not targeting any of us.."
James doesn't know who she'll put up guesses it might be Victor
10:15pm PAul and Frank ion the safari room. Frank is pissed because Da'Vonne and Paulie are sleeping together in teh HOH. Frank needs Paulie so they can have a meeting with James and Michelle.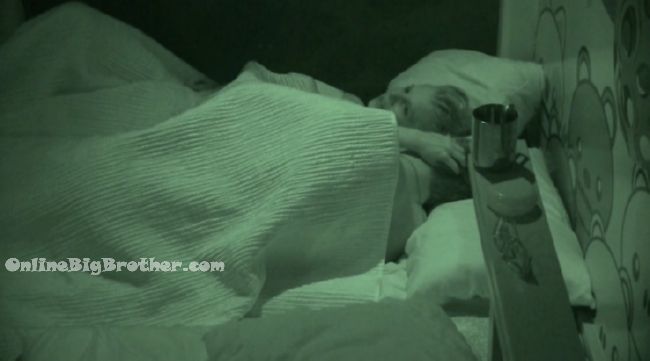 11:04pm .
Nciole and Corey were talking about how much they liked Paul now. The feel bad because at first they never liked him.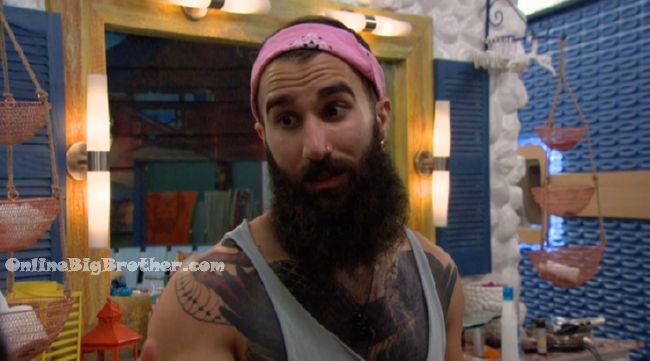 11:27pm Paul and Victor
Paul is saying all the guys are super cool with the exception of Frank he's got to go.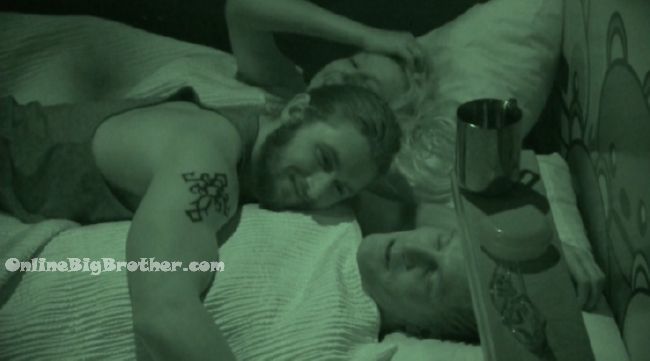 11:32pm Victor and Corey, "Feel my weight on your thigh"
11:40pm Frank and Bridgette in the kitchen. Frank is trying to pull this meeting off but is having trouble rounding up the people. Bridgette says she feels like it's them vs the house. Frank says he's getting the same feeling.
11:50pm Backyard is open. James, Natalie and Zakiyah chatting in the backyard. James assures them Frank is leaving.

[polldaddy poll=9477458]
[polldaddy poll=9477456]