POV Holder:
Big Meech
POV Competition
July 23rd
POV Used
NO
POV Ceremony
July 25th
HOH
James
Next HOH
July 28th
Original Nominations:
Frank AND Bridgette
After POV Nominations:
Frank AND Bridgette
Have Nots
?
CBS All Access: Live feeds are only $5.99 per month – Try it FREE for 1 WEEK!
Paul tells Paulie we need to leave Michelle's name out of it because if we say Michelle isn't going to use it (Veto), then he will keep going at her. We have to say even if she uses it we're not going to do it.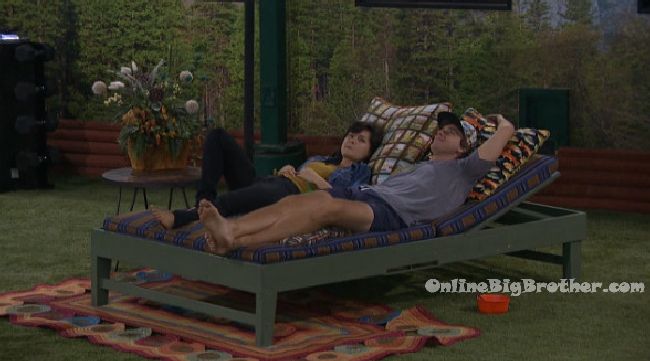 12:10am Backyard – Bridgette and Frank. Bridgette says don't leave me here. Frank says the main reason I don't want to go is to not leave you alone. Frank says the thing is we'll know by tomorrow. Bridgette says we need her to use it! Frank says no sh*t! Bridgette says I'm too much of a weirdo for this game. Frank says no you're not. Bridgette says yeah I am I get social anxiety and sh*t. I get annoyed and don't know how to fit in. Frank says you don't have social anxiety when you're not in here .. everybody has it when they're in here. Bridgette says I do have it when I'm not in here. That's when I started smoking cigarettes. Frank says you're not a weirdo.. the correct word would be unique. Bridgette says that's just a nice way of saying it. Frank says I'll give you a better work. You're interesting. Most people aren't interesting.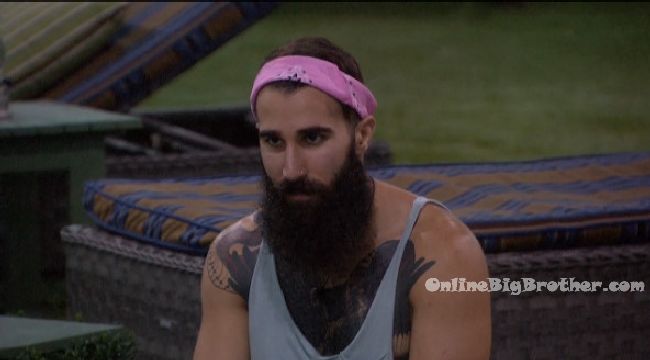 12:40am Backyard hot tub – Da, Z and Paul are talking. Paul says its on you, if you (Frank) convince her (Michelle) to use it you're sidekick (Bridgette) is going home. Why humor this .. why feed it to him. Its a waste of time, ear, conversation. Why waste energy over it. And I don't want to get quoted into something. NO, I didn't agree. I don't want to be cooped into any conversation like Well Paul was there. No, No I wasn't. I'm not down. Da says he does that so well. Paul says which it was my plan yesterday which is why I saw that I needed to back up when I saw Michelle was getting upset. Homie still sh*t his pants though. I guarantee if she stays next week he will be like Paul's got to go, you see how he was. Paul says the cockiness and ego still exist. You still walk around with your nose in the air. Fool you dug your own grave. Don't come crying to me. Victor and Paulie join them. Paulie says he is going to be pissed when this meeting doesn't happen. Victor says lets just tell him its not happening. Paulie says he's (Frank) had an influence in every HOH.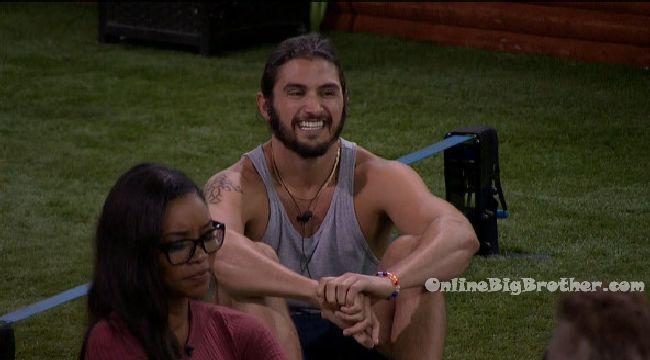 12:40am Havenot room – Bridgette asks please don't let this get back to James. I don't know what you tell him. Natalie shakes on it. Bridgette says I don't know how much gets back to James. Natalie says not much. Bridgette says to be honest I don't trust James. You obviously know why. (James made a deal not to put her up and then did.) I'm obviously afraid because you're with him all the time. Natalie says I'm not going to say anything. Bridgette says I need your help .. we're going to try and get Da out because she's the one starting all these rumors about both of us. Me and Frank, about him and Tiff, about you and James. She's the F**king reason Bronte went home, She that reason Tiff went home. Natalie asks do you know who put Bronte up? (Frank) Bridgette says I do know. You have to look at the situation, we were in teams. He put me up because he knew I was safe. He put Bronte up because at the time he thought she was safe. Tiff was the bigger target. We're waiting for Z or Da to be called to the diary room so that the entire house can have a meeting. James, Nicole, Corey, Frank, Victor, Paul, Paulie, You, Me. Michelle won't use the veto unless the whole house is on board. And James won't put up Da unless there is a for sure that she will go home and not come after him. What I might need you to do is to distract the one that isn't in the diary room. Natalie says I just don't know how I could distract anyone. Bridgette says just be yourself and talk to them. If this happens I am going to need your vote. Natalie says if you're on the block I am not voting against you. You're fine even if you're up there with him. You need to talk to Michelle. Bridgette says she doesn't want to talk to me. Natalie says from my perspective she is going to be scared that if Frank goes and you win HOH .. you're going to come after her and put her up. You have pull right now. It would be the perfect time to talk to her too.
1:25am Backyard – Natalie and James. Natalie asks James can you make sure Frank goes home? James says yeah. Natalie says I know Frank told Bridgette to not talk to Michelle. James asks why? Natalie says because he doesn't want her.. James asks getting information? Natalie says no. James asks close? Natalie says he (Frank) wants the power of veto for himself. He doesn't want her to have it. He thinks if he can get it, he can get the vote to save her. James says if he comes off the block, she is going home.
Natalie tells James she would rather throw up and eat her own throw up than get back with Victor. James says I just want you to be happy and its that's not with me then it is what it is. Natalie says I definitely want you .. if we don't end up together after the show.. I definitely want you to end up with someone good. James says I think whatever happens between us .. we'll be really good friends.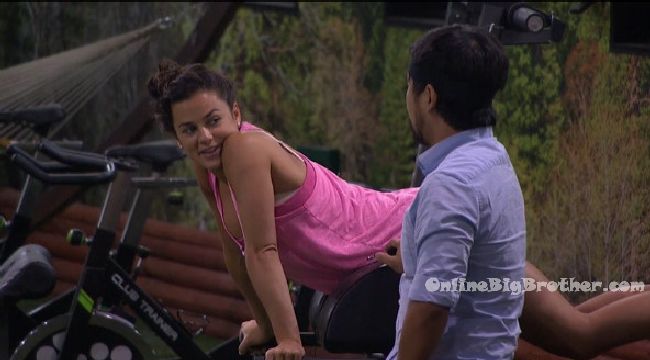 Frank tells Michelle if me and Bridgette are up there I go home. Michelle says people want her out too. Michelle says I'm going to talk to James and confirm it too. Frank says just touch base with Nicole and Corey. And then with Paul and Paulie. Frank says that Da and Z figuratively tag in and out so that he can't talk to anyone alone. She's paranoid, that's what James said.
2:10am Outside the HOH room – Michelle, Paul, Paulie, Da and Nicole. Paul says we just need to tell him, its not happening. Michelle tells Nicole I'm supposed to come to talk to you to ask if you're on board. Nicole says I'm not. Michelle says he keeps saying you're (Paul, Paulie, Nicole) are on board 100%. Paul says we just tell him that Bridgette is more of a threat than Da. Michelle says someone needs to squash that, because I'm getting annoyed. Michelle, James and Natalie head into the HOH room.

3am HOH room – All the house guests are up in the HOH room. James asks Paul do you want to start this meeting off? Da says hit it. Paul says why don't we just all talk about it.. instead of all of us acting stupid in front of each other. And making things uncomfortable. I'm pretty sure everyone knows everything. Frank says I want the power of veto used and I want Da put up in my spot. Paul asks Da did you know that? Da says yeah. The veto is not going to get used. Frank asks is that 100% sure? Michelle asks who wants Da gone say I. Frank says nobody is going to say that with her in the room right now… I hope. Da says at the end of the day there's only 1 truth .. to my knowledge. Or 1 truth to your knowledge .. so lets bring out the trust so tomorrow we know what the T is. SO we can go through the ceremony, breakfast, lunch and dinner and go on about our lives. Frank says but that's not what the game is necessarily about. That's not how people a want it to go down at home. All sit there hunky dory .. you know the game. Don't cha?! Da says according to you know I know it very well. To be perfectly honest I respect what you're doing even if it is at my expense. Da says I know you've been crashing all your meeting all day long. Frank says I know! You and Z have been tagging in and out all day. Frank asks if you know it isn't going to be used why have you been crashing all my meetings. Da says because you make people uncomfortable. Frank asks is that true? Because if it is I'll stop right now. Da says no one is going to say it. Frank says just like how no one is going to say it about you. Da says I was told this meeting was going to go a certain way and it isn't happening.. so I almost feel like should I exit?! Should I leave?! Paul says if everyone knows what is going on …I know ya'll aren't stupid. Paulie says f**k it .. I don't like how this meeting is going down. I was just going to pull you aside and tell you the numbers aren't on your side. Stop making yourself look like an idiot. Frank asks how am I making myself look like an idiot!? Paulie says no you're not making yourself look like an idiot, you're doing what you need to do. Alright I didn't mean for the idiot word to be the emphasis of the conversation. If no one wants to talk about it .. and you want to call a house meeting about it when it could have been done in private to save whatever character you might want to have saved. Frank says thank you Paulie. Paulie says I'll f**king say it. If everyone wants to come up here and sit around and giggle. F**k it bro! I hate seeing you do it. One of you are going home. Michelle says I did tell you if I did use it Bridgette is going home. Frank says that's fine .. people just can't shoot straight with me. People have back bones outside of this house and then don't when they come in here. Thank you Paulie for having a backbone. Thank you Da for having a backbone. Thank you Paulie and Thank you Da! Its all good in the hood. Michelle sasy I'm just sick of people saying they're going to vote Da out when they're not going to. Frank says don't worry about it, I'm not f**ked up about it. Frank, Paulie and Victor head down to the kitchen. Victor tells Frank we were just literally going to tell you.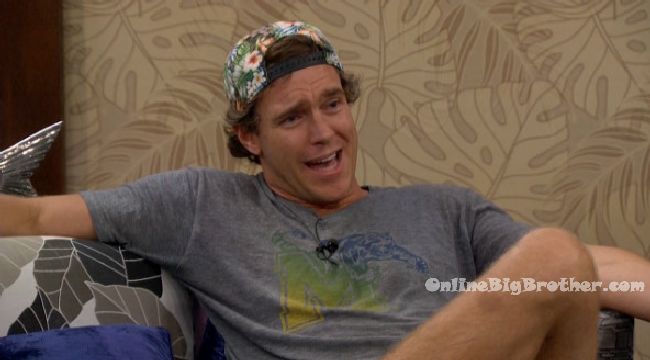 HOH room – meeting aftermath – Bridgette says I'm on the block no matter what. Michelle comments on how no one said anything. I didn't either but.. Paul says I was just opening up the conversation. Paulie says house meetings are a joke. James says I was under the impression I was supposed to tell Frank and Bridgette after I was the one that dumped all the blood. Paulie says I told him at the beginning of the week. Bridgette says he didn't want o go out to Julie and for her to ask him why didn't you try. Paul says f**k me if that's too kumbaya for the live feeders.
3:20am Kitchen – Frank, Paulie, Victor and Z.
Frank asks who's going home? They want me? Victor says you. Unless Bridgette does something. Frank says she's not going to. That's fine. I'm cool with it. Its all good. Frank says let me go get Bridgette out of there .. I feel like she is going to go ape sh*t on people. Frank goes up and asks her what she's doing. She says just chilling. Frank says okay, I was worried you might be going ham on someone. Frank says I would rather go home this week than next week. Paulie says if you're going to have balls, have balls. Don't call sh*t and then just sit there. Z asks why did you want me out? Frank says because you're associate with Da. Z asks its not because we're both chocolate? Frank says no that's not why. Bridgette was getting picked on a lot and I was taking it all kind of personal.
3:40am Backyard – Paul, Frank, Bridgette, Natalie and Z. Paul talks about how it was all just unnecessary when everyone knows what is going on. Z says I do not have beef with you at all. Frank says one thing I would never do is attack someone personally. Paul says I was irritated by it .. people were getting hurt.. and I was like someone just grow a pair of balls and say it. Paulie grew a pair.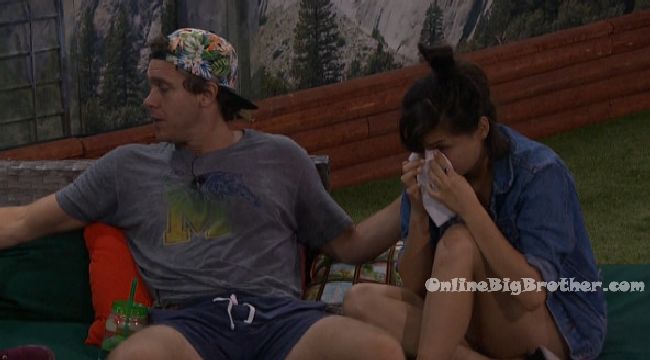 4am Da and Frank talk in the london bedroom. Frank says people say I called you a sl*t. Da says you did call me a sl*t. Frank says someone described it as you calling me a douche and I spelled out s-l-u-t to the camera. Da says no you said sl*t. Frank says it was tongue and cheek kind of thing. I call my girlfriend a hussy just joking around. Da says you call Z one too. Frank says I didn't, its not something I would say. Da says I'm glad we talked because its been awkward. Frank says I'm not happy with James. For breaking his deal and then not being honest about it. They talk about Bridgette saying she would shave off Michelle's eyebrows and resuscitate her. Da asks you dont think that's bad? Frank says no I don't. Da says ah.. that's bad. Da says you joker .. you told Michelle about our stipend?! (How the vets get a set amount and more if they stay past jury instead of the weekly stipend.) Frank says yes I did. Big Brother blocks the feeds.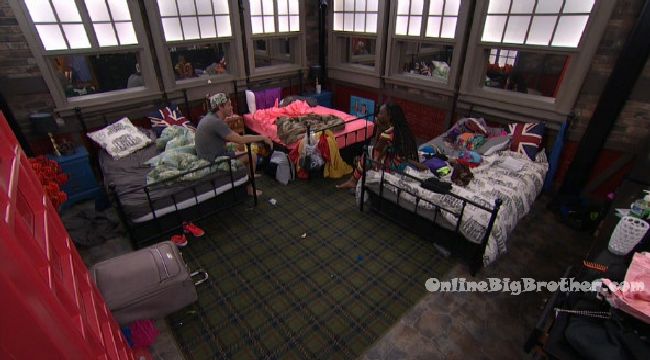 5:50am- 6:40am Da and Bridgette talk in the hot tub. Da says I'm just glad everything was brought to light. Bridgette says I am too honest. I didn't know what I was getting myself into. Da brings up how she heard about Bridgette saying she wanted to shave Michelle's eyebrows off and resuscitate her. I was surprised about that especially you because you're a nurse. Bridgette says I heard about that. I don't remember saying that but I do have a warped sense of humor. Then I heard you were making fun of me because I got sent home second and that I'm a loose cannon. Bridgette says I did say that your season was a lot of drama and that's why you went home. Bridgette says I heard Michelle said a lot of stuff about me too to the live feeders. I've done all these things for these girls and then they're mean to me. Da asks why didn't you use that veto to save Bronte? Bridgette says I thought she was safe.
Da'Vonne and Bridgette get a good talk in about their differences. They seems to be agreeing that people in the house has been pitting them against one another. Da'Vonne blames it all on rumors and people driving a wedge between them. Da'Vonne heard that Bridgette and Frank were plotting to get her out and that Bridgette made negative comments about Da only making it to week 2 last year.
They squash their differences and talk about the possibility of working together but at the very least keeping lines of communication open.
6am – 6:10am HOH room – James and Natalie talk about how Paul tried to come off like the good guy. James tells Natalie that what hurt him was how she would say she was all alone when Bronte got sent home. Natalie says I felt really alone. She was my best friend. You're my best friend too but she's a girl.

Updates from the day are coming this afternoon.. The houseguestys woke up late.
Michelle did not use the veto
[polldaddy poll=9477458]
[polldaddy poll=9477456]