POV Holder:
Paul
POV Competition
Aug 20th
POV Used
YES
POV Ceremony
Aug 22th
HOH
Natalie, Meech
Next HOH
Aug 25th
Original Nomi1nations:
Victor AND Paul
After POV Nominations:
Victor AND Corey
Have Nots
Victor and James
Watch the next week of the feeds for FREE – 1 week Trial!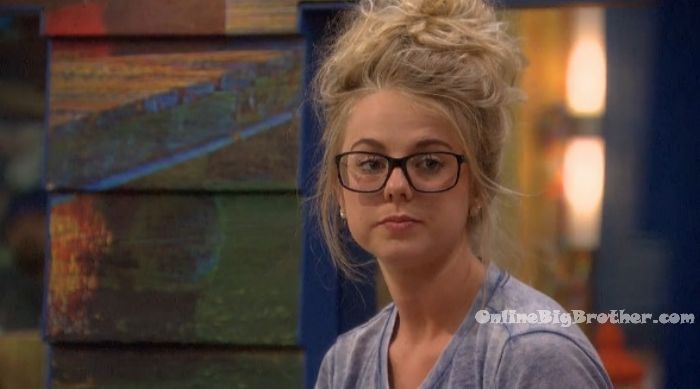 5:10pm – 5:20pm Bathroom – James, Nicole and Natalie. Nicole says the HOH comp is going to be physical. If I had to go up against Vic I would be crapping myself. James says I think we could beat Paul… you, me and Corey. And if one of us lose we definitely deserve to go home. Nat says I just don't like how he tries to sabotage people. Nicole says he can't sabotage us. He can bang pots and pans all night but I doubt that. Nat says I just don't know how he is going to react when Victor goes home. James says is it really coming down to my vote. Nicole says it is because I am never changing my vote. Paul thinks its going to be a last minute decision. Keep him thinking that. Nat says he came to me and I said its not me its James voting. He said well you can force James. I told him James is going to do whatever he wants to do. Nat says I get annoyed because he keeps bringing it up. I snapped at him today .. I'm not the ones voting. Nicole says he doesn't think you've decided yet. Nat says I just don't want to get cornered any more. Vic keeps asking me we're good right? We're good right?! Nicole says I just don't get why Vic thinks anyone would keep him in the game. He just doesn't understand the game. They head to the kitchen to make dinner.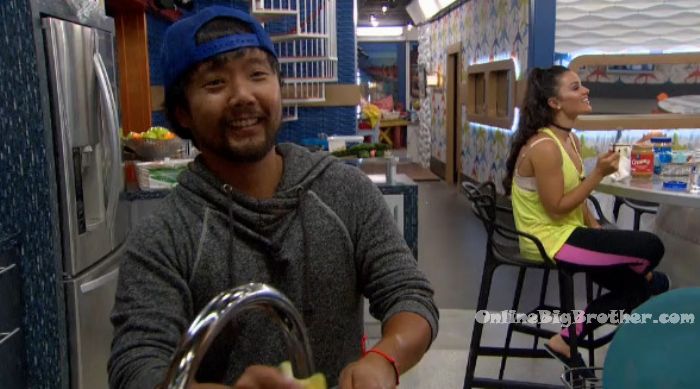 Natalie says I hate James America! America ya'll are wondering where James and I are going to go after the show. I hate him. James says put it on everything that you hate me. Nat says she won't. James says we're going to be best friends after.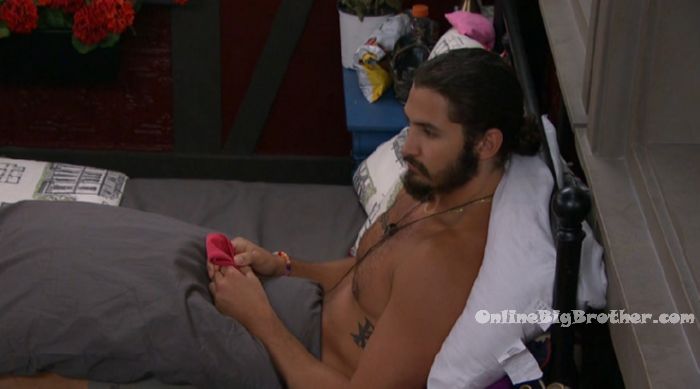 5:40pm London bedroom – Vic says I am just ready for it to be tomorrow already. Paul asks did you have that convo? Vic says I had one with Natalie and that didn't go so well. Because she literally told me when she first put me up that she would make sure James would vote for me. And now that I'm up she's like James is his own person. So I'm like okay, freaking sketch liar! Paul asks so how did the conversation go? Vic says that was the jist of it. Paul asks who else was there? Vic says no one. Paul says I told you it would be better to have other people there. Vic says never cared! I'll talk to James later. I'm just going to be straight forward with him. I'd be like if you want me gone I hope you would just be honest with me and it not be a blindside. I feel like it could go either way really. Just don't trust him now. Meech asked me last night is Paul mad at me? I said I don't know just talk to him. She said if he's not talking to me, I'm not talking to him. Then they brought up the Da thing again. Saying that you definitely knew. They definitely have a bad taste in there mouth about you. They get one whiff of power and they think they're safe forever. Vic heads to the kitchen/living room to do his prison workout.

6:35pm – 7:05pm London Bedroom – Paul talks to Nicole and tells her that he knows Vic is going home. Nicole asks did James tell you? Paul says no. Nicole says because I would like to know. Paul says I would appreciate you not saying that I'm saying this prematurely. I can bet on it. Just from what is going on. Nicole says I know that sucks for you but I am secretly very happy. I've been attaching myself to Corey's hip just in case he is going. Paul says its good that Corey is staying for you. The way it was done and moving forward I have a lot of questions about that I would like to ask you. Nicole says wait till its me you and Corey so we can talk together. Paul says I know exactly what is going to happen next week. I think its going to be you two.. nobody is touching Michelle .. and I don't think anyone would waste an HOH on me because they're going to want to separate (Nat & James). Its just obvious and from what I was told. Nicole says that makes sense. Paul tells them about how Nat and Meech kept saying it was a mistake to put them up only after I won the veto. Paul says Michelle thinks you, Corey, James and Natalie have a four thing. I don't believe it. Paul says one of us (Paul or Corey) are going to get the care package. We've never talked game because we've been on other sides. They've lied to me and put me on the block .. you guys haven't lied to me or put me on the block. Moving forward Vic is going. They know and we know. Paul explains how Nat and James are going to take a shot at Nicole and Corey. They're not going to waste an HOH on Michelle or me the lone wolf. You need to take a shot before they do. Paul says they're been sh*tting on you two for the past 3 weeks. Nat has been playing dumb all season but I'm the one that's the liar. They pitched us a final four before the HOH comp. They were in the middle and were trying to get us to go against each other. Nicole says they were trying to get us to fire at each other. They told me why don't you go downstairs and blow their sh*t up. Paul says I can put my nut sack on it that if James wins he is not wasting it on me. I want one of us to win the HOH so that two of them can go up and the other can be the replacement if one comes off.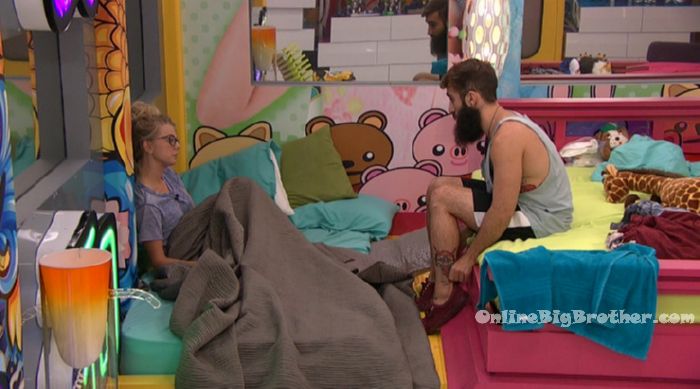 6:45pm 7:20pm HOH room – Meech, James and Nat. Meech says I'm worried they're going to wrap him in. James says they don't trust him. I just get a weird vibe. James says its in their best interest to keep us to take Paul out. They need us to get Paul out. Nicole definitely doesn't not want Paul to get to the end. Corey joins them. Meech says she doesn't want to move back downstairs. James says if I win HOH you can both stay up here and I'll sleep downstairs. Nat says yeah. James says if Paul did make it to the final 2.. Nat and Meech both say he doesn't have our vote. James says and one of us is sitting in the other seat. James says there is not more relationship building in here. There is really nothing I can do to change your opinion except to throw chairs at you and be this monster you don't know about. We all know each other. Its all game now. Nat says I want him (Paul). James says we just need to win the HOH and we put up Paul and Corey. And or we put up Nicole and Corey with Paul as the replacement nom. James picks up one of Nat's photos and says he's going to put it in his truck to say that's my girl. Nat says who says I'm your girl outside of here? James says you'll always be my girl. I'm very persistent.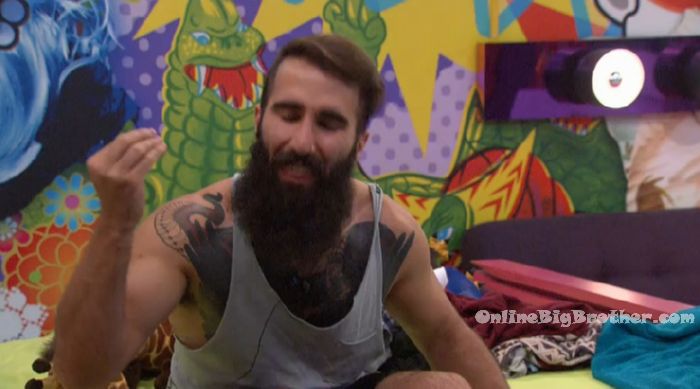 7:30pm Corey says I don't think James would switch his vote. Nicole says no but us talking to him (Paul) could get us in trouble. Michelle ran up there and James might switch is vote. James joins them to show them his beard. James leaves and Paul joins them again.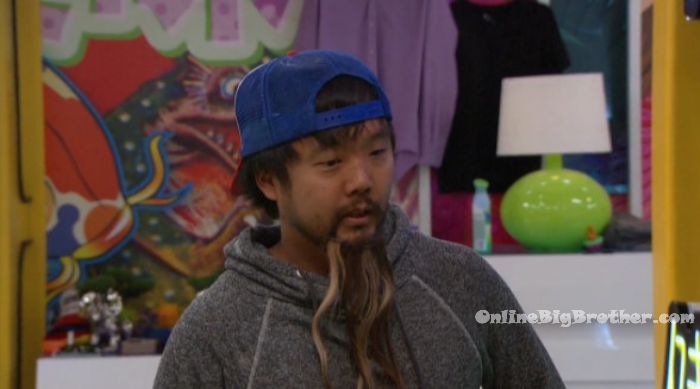 7:45pm Vic says on Thursday I am going to give props to Nicole and Corey and sh*t on James and Natalie. Paul says I wouldn't I would just sh*t on James and Natalie. if You make them the targets I would help me. Vic says I told you I wouldn't respect your game if you blindsided me. Go be nice to them upstairs while I go be sketchy with them. Vic heads up to the HOH room.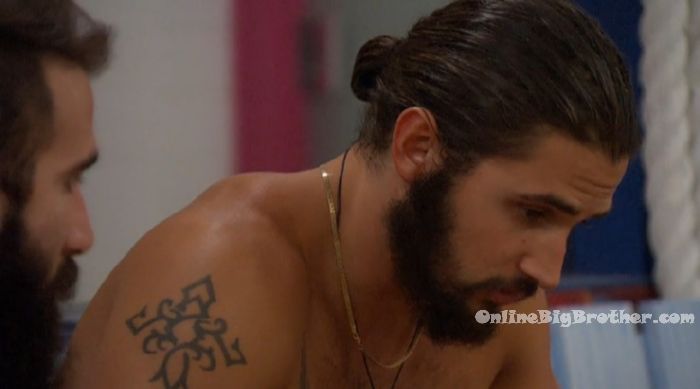 8pm Kitchen – Nat, James, Meech and Vic talk about Paul talking to Nicole and Corey now when he hasn't talked to them before. Vic says if they are working with him now one of you.. or two of you are going up. Meech says I want to call him out on his BULLSH&T! Vic tells her not to do it yet. Don't do anything dumb.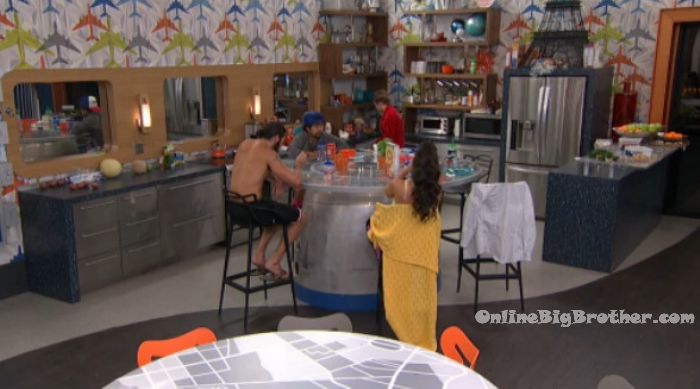 Show your support by making a donation.
"BB BRIBE"
WEEK 5 – August 25 to August 26th
The winner gets $5,000 to bribe one house guest. Bribes my influence voting, competitions, vetos or nominations. The bribe can only be given to one house guest, for one action, within the week leading up to the next eviction.
[polldaddy poll=9501597]
[polldaddy poll=9503412]